After breaking things off with fiance Pete Davidson earlier this month, Ariana Grande released a new song called "Thank U, Next" in which she thanked all of her ex-boyfriends for everything they'd done for her. Fans loved the track but couldn't help but notice that, in the Apple Music lyrics of the song, Grande seemed to have already moved on to an unknown girl named "Aubrey."
---
Though the words are a little hard to decipher when listening to the song, Apple Music's lyrics cleared things up...kind of.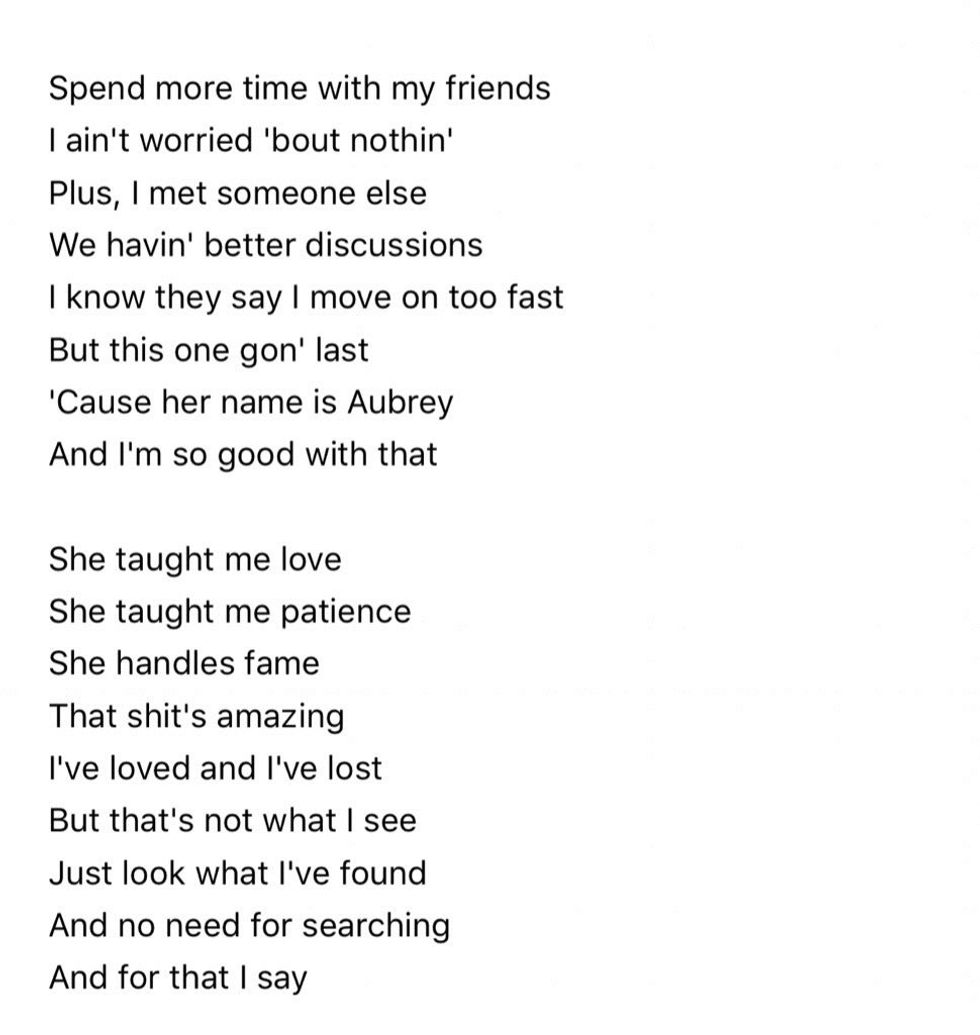 @KissyLot/Twitter
Grande fans everywhere went on the Aubrey hunt.
y'all hear ariana say aubrey or was that just me https://t.co/Yrz9AtG6ZQ

— 𝓜 (@𝓜)1541299699.0
me calling aubrey https://t.co/rknvU6NfN7

— . (@.)1541299526.0
she met someone new and her name is aubrey https://t.co/GEqbVxBwXL

— em (@em)1541301288.0
Of course, it wasn't long before the singer stepped in to make a correction. It turns out she had said "Ari" in reference to herself.
Her enunciation was slightly muddled, resulting in the misunderstanding with Apple lyrics.
@AppleMusic i said Ari fam 🖤😭

— Ariana Grande (@Ariana Grande)1541300317.0
cause her name is Ari .... n i'm so good w thaaaat

— Ariana Grande (@Ariana Grande)1541252905.0
Fans began to wonder how long the error would stay live on Apple Music, fooling even more people into believing Grande was in love with someone named Aubrey.
ariana calling apple music to fix the aubrey typo https://t.co/bAyIJH1WJQ

— 💨 (@💨)1541301557.0
Me googling "Who is Aubrey" when my dumb ass should have realized Ariana just didn't enunciate "Ari" properly https://t.co/tRtoJI21DW

— Sam Stryker (@Sam Stryker)1541303328.0
To be fair, there were also some Twitter users who wished there was an Aubrey.
ITUNES REALLY TESTED THE GAYS SAYINg "aUbReY" https://t.co/KlYl1uqYrK

— b (@b)1541300086.0
it was ari not aubrey BUT we only lost a battle not the war gays! https://t.co/knaSACn7vB

— 𓇬 (@𓇬)1541300635.0
Finally, a correction ended the confusion.
@spotify thanks for getting it right 🖤

— Ariana Grande (@Ariana Grande)1541300795.0
But the jokes just kept coming!
@ArianaGrande @Spotify i love you aubrey grande

— chris (@chris)1541300853.0
@ArianaGrande @AppleMusic u were good while u lasted aubrey https://t.co/FuTV8Hc4WJ

— 𝙩𝙮𝙡𝙙𝙖 ♡🌅 thank u, next (@𝙩𝙮𝙡𝙙𝙖 ♡🌅 thank u, next)1541340117.0
The Aubrey issue was a relatively small one. Fans love "Thank U, Next" for its heartwarming message and open mind.
no drags.... no shade..... jus love, gratitude, acceptance, honesty, forgiveness ... and growth 🖤

— Ariana Grande (@Ariana Grande)1541254215.0
ariana @ all of her exes https://t.co/b6Law0yjey

— 𝐚𝐦𝐲 (@𝐚𝐦𝐲)1541303166.0
ariana really had the audacity to name drop all of her exes and THANK them for teaching her things to help her lear… https://t.co/jymofFiHqc

— ! (@!)1541302003.0
Ariana Grande - thank u, next (audio) www.youtube.com
Don't worry, everyone...we'll all find our Aubrey someday!

H/T - Twitter, Teen Vogue