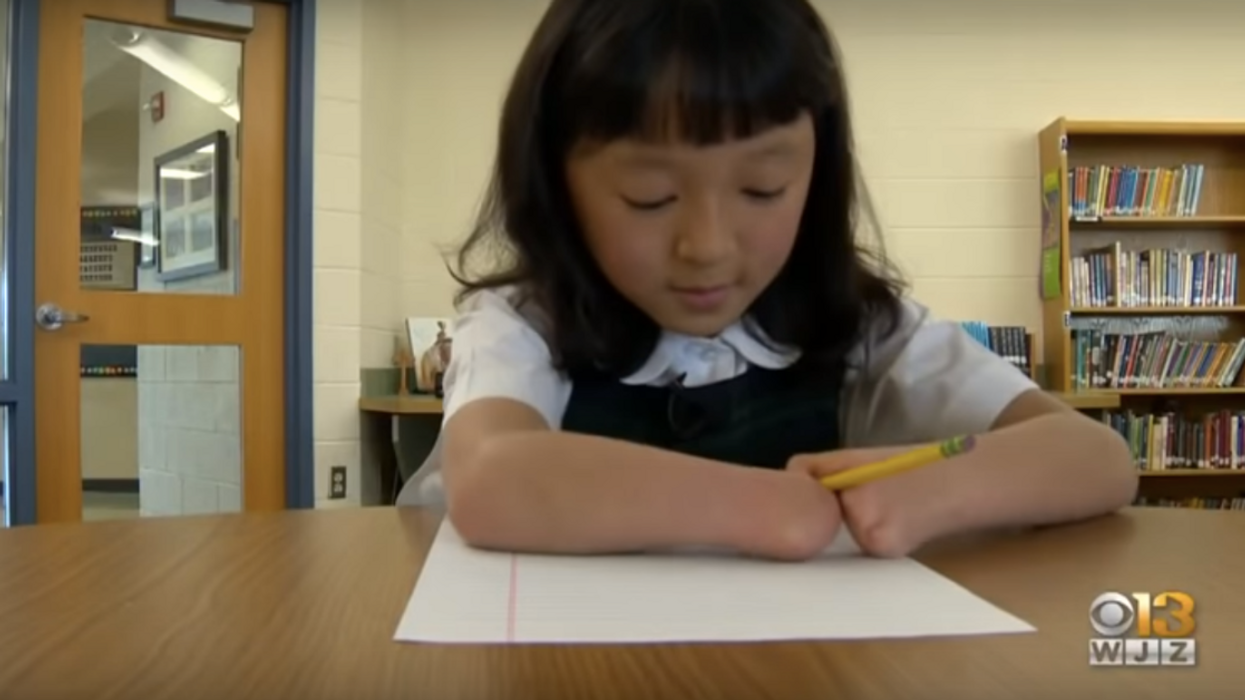 Sara Hinesley, a 10-year old student who attends St. John's Regional Catholic School in Frederick, Maryland, was born without hands.
That didn't stop her, however, from winning the Nicholas Maxim Award in the 2019 Zaner-Bloser National Handwriting Contest.
---
The contest awards students with a cognitive delay, or an intellectual, physical or developmental disability and, according to the contest's official website, is open to:

"...all students in grades K–8 (K–2 entries in manuscript and 3–8 entries in cursive) and includes a special needs category created in honor of Nicholas Maxim, a past participant whose passion for writing inspired the award."
Young Sara received the top prize: $500, a trophy, and educational materials.
She says she's "proud" to have won the contest, which judged one of her cursive writing samples, which she was able to create thanks to her own method of writing by gripping the pencil or pen with her arms:
"I felt proud and hope others who have challenges learn from me, that if you try your hardest you can do it."
Sara's mother, Cathryn Hinesley says she's thrilled for her daughter:
"Sara's a very independent girl. She is very strategic in her thinking and she just figures out a way to complete every task."
Cathryn Hinesley noted that the family at one point looked into obtaining prosthetic hands for Sara, but ultimately decided that the 10-year-old, who enjoys creating art, biking, reading, and swimming in her spare time, is doing fine without them:
"She is so amazing and functional without prosthetics that really there is not a need. She can do just about anything -- often times better than me or my husband."
St. John's Principal Karen Smith concurred:
"I have never heard this little girl say, 'I can't.' She's a little rock star. She tackles absolutely everything you can throw at her, and she gives it her best."
You can watch Sara in action below:
10-Year-Old Frederick Girl Born Without Hands Wins Handwriting Contestwww.youtube.com
The story prompted many observers to share their admiration for Sara's determination.
I love the Spirit of this girl! 10-year-old Sara Hinesley from Maryland was born without hands. #SoWhat Without han… https://t.co/FHJaGwyun0

— Tory L. Lucas (@Tory L. Lucas) 1555849775.0
We heard about Sara's awesomeness all the time. So proud for her and the Hinesley family.

— Blake Rutherford (@Blake Rutherford) 1555542487.0
This 10-year-old Maryland girl who was born without hands just won a national handwriting competition (Sara Hinesle… https://t.co/vaGkUZfDqH

— Serge Van Steenkiste (@Serge Van Steenkiste) 1555847227.0
Memo to Self: read this the next time I'm feeling sorry for myself. Live long and prosper, Sara Hinesley! https://t.co/ZtP92zZSQw

— Kitty Wooley (@Kitty Wooley) 1555720339.0
Sara Hinesley is your typical 10-year-old girl, but this resilient girl is overcoming obstacles with a smile. Sara… https://t.co/HKljD6Kdxk

— Australian Disability (@Australian Disability) 1555463256.0
Hinesley is in good company: Anaya Ellick, a seven-year-old girl from Chesapeake, Virginia, has no hands, does not use prosthetics, and won a handwriting contest in 2016.
These girls are going places.