Even television personalities are not immune to normal human bodily functions.
And when those moments happen—they just gotta happen.
Even if it's on Live TV.
---
During a segment on her self-titled talk show regarding football player Odell Beckham Jr., regarding an arrest warrant out for him after "a video from the LSU locker room shows him slapping the butt of an officer who resisted the urge to punch him," Wendy Williams let out a long, slow fart and continued on like nothing happened.
For streamlined, quality fart time, skip to around 9:25. You shall be rewarded.

Of course, fans noticed—you can't get away with anything on the internet these days.
And they, as one fan put it, are "unable."
Wendy Williams really farted on live TV. I am unable. https://t.co/rZBLijgauZ

— Psyflop (@Psyflop)1579440228.0
Sis didn't even try to hide it https://t.co/Qf7xuAstgZ

— Psyflop (@Psyflop)1579440360.0
Wendy Williams let out the wettest fart on her show yesterday sksksksjs

— R.I.P Betty White (@R.I.P Betty White)1579367542.0
Wendy Williams just let one out on live TV. 😂 Now don't you act like you don't fart nah what i'm saying 😂 https://t.co/wQAzwrn4Qd

— Sleek Whizz🦂 (@Sleek Whizz🦂)1579499227.0
Did Wendy Williams really fart on tv or did one of y'all edit that? Cuz if she did... 😭😂

— 𝕊𝕖𝕤𝕤𝕙𝕠𝕞𝕒𝕣𝕦 (@𝕊𝕖𝕤𝕤𝕙𝕠𝕞𝕒𝕣𝕦)1579487992.0
People were wondering how the audience must have felt.
Tha audience after Wendy Williams let out the mean wet fart on live tv https://t.co/id1RwygRnD

— Jay Tanjiro (@Jay Tanjiro)1579504684.0
@sternshow @HowardStern @shalomshuli @brenthatley @Siriusjay Is it just me or Did Ms @WendyWilliams fart on Live tv… https://t.co/OKQN7lmhR0

— erick (@erick)1579369678.0
She actually farted and it was loud af. Lmao catch it at the 9:28 mark🤣😂🤣😂 https://t.co/liQkvOpj6a

— Clinton-Clan (@Clinton-Clan)1579488277.0
i just saw wendy williams sneak a fart out while talking on her show and i'm literally crying

— K2️⃣ Kush (@K2️⃣ Kush)1579468897.0
Others pointed out this isn't the first time Ms. Williams has been caught red-handed—or rather, red-bootied—farting on live tv.
The burp/fart!! #WendyWilliams #fart #burp https://t.co/KO5uv1GimD

— Robert Guerrero (@Robert Guerrero)1579022739.0
🤣🤣🤣🤣🤣🤣🤣🤣🤣 How is she gonna burp and fart on the air and not say "excuse me?" 🤣🤣🤣🤣🤣🤣🤣 @WendyWilliams @50cent https://t.co/M3OzvscX8w

— Eric Richards (@Eric Richards)1579048684.0
New York's hottest club is: the Wendy Williams show. it has everything: Abby quitting, a reference to hair/makeup,… https://t.co/58tIWnmCtd

— harie 🥵 (@harie 🥵)1579057063.0
And her "cover" for it?
Was not so subtle.
Omgeeeeee when she leaned over and grunted ever so subtly I LOST IT 🤣🤣🤣💀💀💀🤣🤣🤣🤣🤣🤣🤣🤣🤣🤣🤣🤣🤣🤣🤣🤣🤣🤣🤣🤣🤣🤣🤣🤣🤣🤣🤣🤣🤣🤣🤣🤣🤣🤣🤣🤣🤣🤣🤣 https://t.co/wMMreGGAo6

— | · Tre' Tre' · | (@| · Tre' Tre' · |)1579489289.0
Sometimes you just have to let it out #WendyWilliams #fart #gossipgirl #celebrity #accident #MondayVibes… https://t.co/j59yWuh9XB

— SomethingToLaughAt (@SomethingToLaughAt)1579529003.0
Forget "Wendy Williams faints on live TV", here is "Wendy Williams FARTS on live TV" MUCH BETTER https://t.co/O80oHM690O

— ~ Bühler ~ ✊🏻⚡️💜🎶 (@~ Bühler ~ ✊🏻⚡️💜🎶)1579526514.0
Sis, you just plowed on through!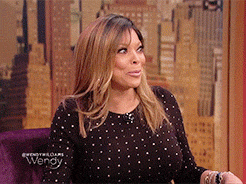 Giphy
Well, if it needed to come out, it's best that it did...even if millions of people caught that moment.