Seeing as how you're a proud citizen of Internet, we know you remember the Walmart yodeling kid. His cover of "Lovesick Blues" by Hank Williams became a certified hit around the world. Video of him yodeling the song in the aisles of Walmart went viral; people started doing trap remixes of it; there was a dance craze — things were NUTS for Mason Ramsey for a minute there. If you thought his fifteen minutes were up, his latest video is about to prove you oh-so-festively wrong.
---
Mason's a little bit older and wiser (and has a better budget) now. He's released a new music video just in time for the holiday season. This time, he's gracing our ear holes with the classic "White Christmas." The video features him up on stage while some kids dance around and decorate a giant tree. It's adorable.
The first thing we noticed, though, is that Mason is getting his man face. The little yodeling baby we all fell for is growing up!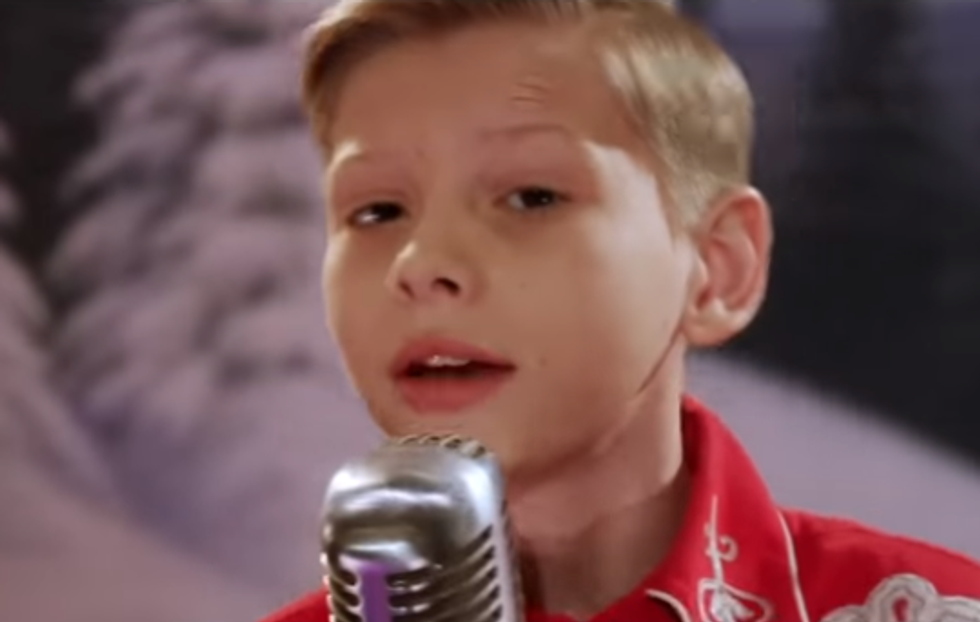 YouTube Screenshot
Press play and enjoy three and a half minutes of holiday awesomeness.
Mason Ramsey - White Christmas [Official Music Video] www.youtube.com
When he shared the video on Twitter, people fell in love pretty much right away. How could you not? He was adorable when he was yodeling about a girl calling him Sweet Daddy. This song and video prove that he's more than just a cute li'l Wally World country boy — the kid is legitimately talented! He hit the low note on the word "Christmas" for the first time and suddenly the game is changed.
Twitter was like:
@masonramsey @gracelahoud ummm this kinda slaps

— Tess Harkin (@Tess Harkin)1544064797.0
@masonramsey @halliray https://t.co/TudGafm6v2

— an actor has no name (@an actor has no name)1544048519.0
@masonramsey when is that post malone feature happening

— Abel (@Abel)1544048610.0
@masonramsey It's a bop https://t.co/q3rgl7xQZR

— Patrick Rogers📸 (@Patrick Rogers📸)1544056690.0
@masonramsey @hannahprenoveau Yes mason go off

— ---$taff T. (@---$taff T.)1544072728.0
@masonramsey @emersondkm BUT WHY IS THIS A BOP?!

— Julia Grace Lennox (@Julia Grace Lennox)1544055413.0
@masonramsey https://t.co/q8RmXrZaig

— Erik Rodriguez (@Erik Rodriguez)1544157271.0
@masonramsey Legit the most swag I've ever seen a kid have

— Medusa did nothing wrong (@Medusa did nothing wrong)1544066043.0
@masonramsey This is how @justinbieber started out, when are you gonna make a song ft @NICKIMINAJ and also avoid Ferraris.

— Kolbæ Smith (@Kolbæ Smith)1544054135.0
You're welcome for the Christmas classic you never knew you needed, guys.