Jose Guzman lost his home to a fire that broke out at his neighbor's house and spread too quickly for firefighters to contain.
But he made sure he didn't lose everything.
When he arrived at his family's home and saw that the fire couldn't be contained, he was determined not to lose their dog, Gabanna, too.
---
Guzman was away from home at a family barbecue with his fiancée Adriana and their three children Yvette, 2, Hazel, 4, and Yetzel, 6, when someone mentioned a fire in their neighborhood.
He was fairly sure it wasn't their house, since they hadn't been gone long.
"I didn't think it was mine because we had just left the house about an hour ago, but I decided to get in my truck and drive over there."
When he arrived at their home, however, he saw that his house was indeed on fire.
The blaze had started at his neighbor's house and spread to his. Firefighters had run out of water because of the severity of the blaze, and had requested assistance from other nearby fire crews.
He immediately thought of the family's blue nosed pit bull, Gabanna, who was still in the house. Without thinking twice, he rushed into the house to get her out.
"I knew something could've happened to me or both of us, but it didn't go through my mind at the time."
"That dog is part of my family. She's been with us through downs and ups and I couldn't leave her there. I would do it again if I had to; I would do it for anybody in my family."
Guzman found Gabanna in the only room in the house not already filled with smoke or flames: the bathroom. She had curled up in a ball under the toilet.
"I ran through the curtain of fire and made my way through the smoke to the back of the house, where I had her chained up."

"It was hard for me to get her leash unhooked, but I managed to get her loose and we both ran out towards the driveway"
Jose's daring rescue was filmed by his landlord's son-in-law, Adam Guzman (who is not related to Jose).
He posted the video to Facebook.
Guzman received second-degree burns to his face, right side, arm and left ear when he entered the house.
Gabanna also suffered burns to her nose and paw, and was pretty scared by the experience. Jose said they are both healing well and Gabanna is expected to make a full recovery.
Jose's fiancée Adriana said she wasn't surprised by his actions:
"He's that person that would do that for anybody. He's a loving dad, a loving son, a loving brother."
Facebook users were touched by Jose's rescue of Gabanna.

Leticia Rios/Facebook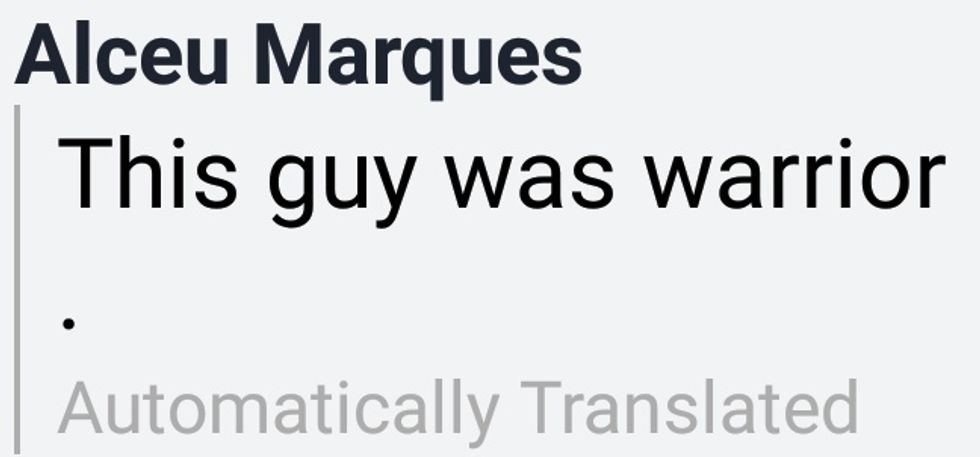 Alceu Marques/Facebook
Many people siad they would have done the same for their furry family members.

Zeta Clark/Facebook

Robin Cotten/Facebook

PerEsc Yady/Facebook

Gale Gaerlan/Facebook

Jackie Esposito/Facebook
The family have been staying with Jose's sister Roxana Martinez since the fire. Roxana started a GoFundMe campaign to try to help them get back on their feet after losing everything in the fire.