The Simpsons is without a doubt, one of the longest running and most infamous shows on television.
During the (almost) three decades the cartoon has aired, a ton of minor characters have come and gone.
---
Others evolved over time.
However, one character that remained stagnant on the show was Kwik-E-Mart Owner Apu Nahasapeemapetilon.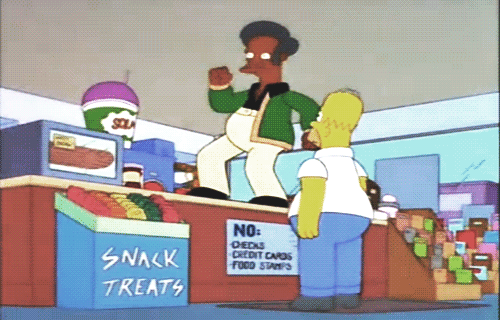 media.giphy.com
Nahasapeemapetilon first appeared on the show during the episode "The Telltale Head" in 1990. Despite being Indian, the character was voiced by white actor and comedian Hank Azaria.
People have complained about the character pushing racist stereotypes of people who are of Indian heritage.
Then in 2017, Hari Kondabolu wrote and starred in The Problem with Apu, a documentary discussing the racial stereotypes, microaggressions, slurs and general problems with the character and, as a result, how people of Indian and Asian descent are treated.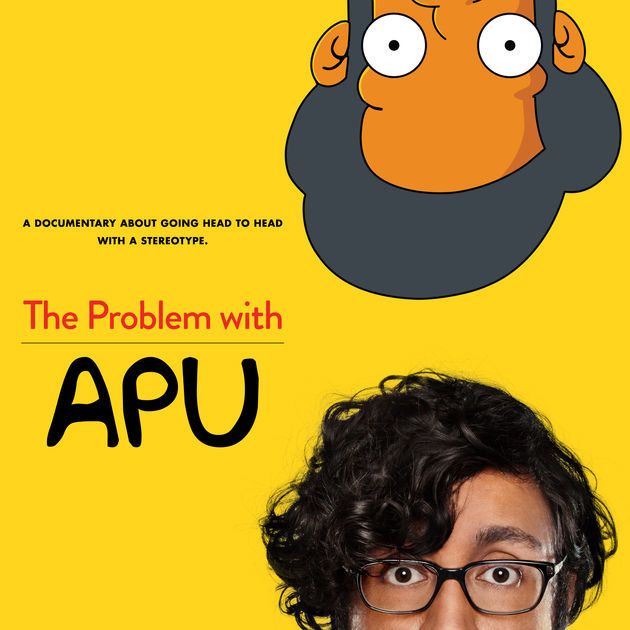 is3-ssl.mzstatic.com
It made huge waves and seemed to have an impact—even on The Simpsons producer Adj Shankar.

In April, Shankar attempted to crowdsource a new script to abolish the "Apu Problem" and instead, give a more positive and less stereotyped portrayal of the longstanding character—claiming to have the "perfect script" that would transform him into a "fresh, funny and realistic portrayal of Indians in America."
media.giphy.com
Azaria was on board with this, saying he was "willing and happy" to cease voicing the character and allow someone else to step in and give the character a new profile—and a new sound.
Azaria even said it was "the right thing to do, to me."

The voice actor said:
"The most important thing is we have to listen to South Asian people, Indian people in this country when they talk about what they feel and how they think about this character."
"I really want to see Indian, South Asian writers in the room, not in a token way, but genuinely informing whatever new direction this character may take including how it is voiced or not voiced."
.@HankAzaria addresses the controversy surrounding the character 'Apu' from @TheSimpsons. #LSSC #Apu #TheSimpsons https://t.co/pkmYgcX4Il

— The Late Show (@The Late Show)1524628996.0
But, as of right now it appears that transition won't be happening.

Shankar confirmed Nahasapeemapetilon is going to be removed from the series.
He stated:

"I've verified from multiple sources now: They're going to drop the Apu character altogether. They aren't going to make a big deal out of it, or anything like that, but they'll drop him altogether just to avoid the controversy."
Shankar said this came from two people who also work on the show, and someone who works directly with creator Matt Groening. He believes the removal of this character is a bad choice.
"If you are a show about cultural commentary and you are too afraid to comment on the culture, especially when it's a component of the culture you had a hand in creating, then you are a show about cowardice."
And he maintains that this doesn't address or resolve the issue at hand.
"It's not a step forward, or step backwards, it's just a massive step sideways. After having read all these wonderful scripts, I feel like sidestepping this issue doesn't solve it when the whole purpose of art, I would argue, is to bring us together."
People seem to agree, saying that dropping the character completely is a lazy and ignorant choice.

Shankar, Azaria, and many online would like people's criticisms to be heard and listened to and for changes in Nahasapeemapetilon to reflect that.
@artpigreviews what annoys me so much is that no one asked for this. no one bothered to listen to what anyone had t… https://t.co/kQpVJBJAM9

— 🍂Winter... orange? idk🎃 (@🍂Winter... orange? idk🎃)1540682699.0
@kaito1405 @NME People dont like apu bc they see him as an offensive stereotype Also him and manjula (his wife) are… https://t.co/hrcQ6FXdXh

— PS! (@PS!)1540629436.0
Some have said people are being a bit sensitive on the stereotypes.

Some people of Indian descent have said that they aren't bothered by the character.
@NME As someone of Indian heritage, I never ever had any issue with Apu's character, I (like probably many) felt so… https://t.co/ZoR0cEhkLs

— Arun Paul Kapur 🐺 (@Arun Paul Kapur 🐺)1540641337.0
@NME @Vilavaite This is sad! A society that can't laugh at itself is not a healthy one. I've had a laugh at Apu - never felt offended by it.

— Prashant N (@Prashant N)1540620404.0
But others disagree, saying those who are offended by the character have every right to be.

Especially considering many people who are saying people shouldn't be so offended are not Indian or South Asian, and therefore haven't experienced being held to these stereotypes and racial slurs.
Hey everyone Apu was a bullshit, racist character. Good riddance If that was a black character, with a white actor… https://t.co/eiKqhAH1tP

— Sports Anwartainment (@Sports Anwartainment)1540718367.0
Regardless, as it stands now Nahasapeemapetilon is going to be making a quiet exit from Springfield.