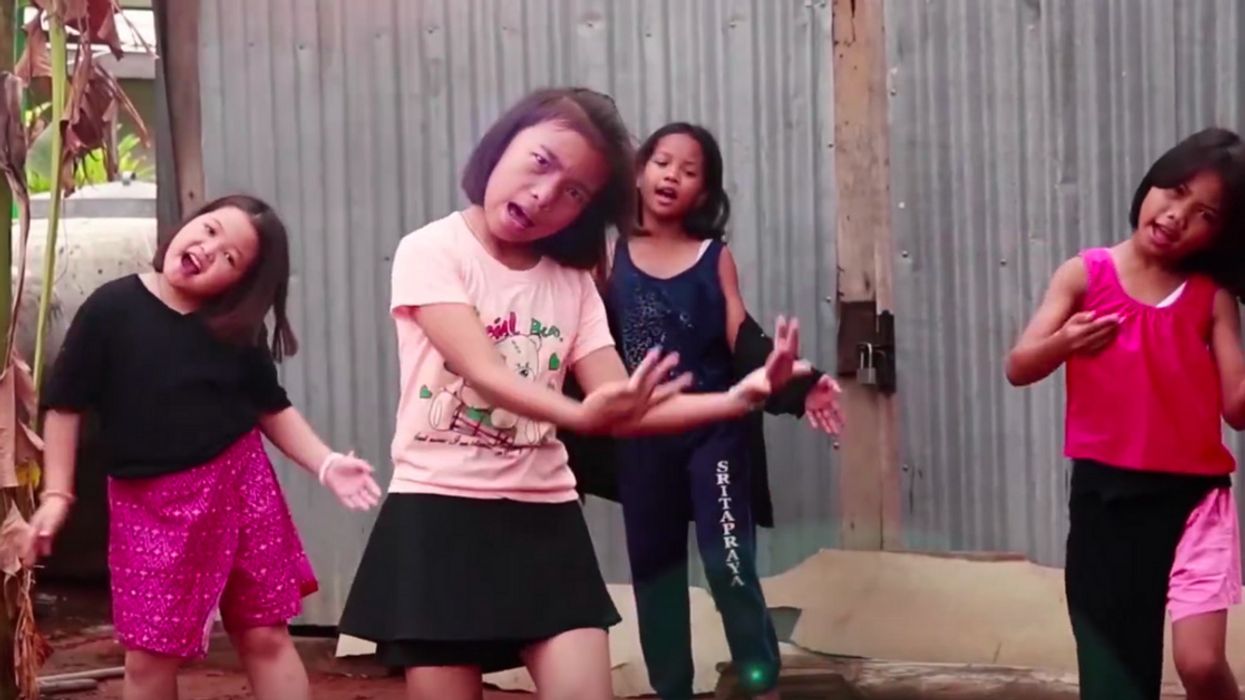 The phenomenon of K-pop music video reached an all-time high thanks to a low-budget parody by a group of teenage girls from Thailand.
Their YouTube video mimicking the South Korean all-girl group Blackpink singing ""Ddu-du Ddu-du" has now amassed over 42 million views and 298,000 subscribers.
For the Blackpink, this brilliant video is the highest form of flattery.
---
Mommaem, Kungten, Som, and Kwang are between the ages of 7 and 12 and are from the town of Deksorkrao in Thailand.

The girls pay homage to the prop-heavy production of Blackpink's video by demonstrating their resourcefulness in using everyday household objects and outdoor equipment.
Will this #BLACKPINK cover become one of your ultimate favorites?

— KCON TV (@KCON TV) 1534987800.0
And this one is the low budget Ddu-du Ddu-du I was talking about~ hahahhaaha So well-shot n edited! https://t.co/DKSSSp1hdo

— ALEXANDER 알렉산더♔ (@ALEXANDER 알렉산더♔) 1535104336.0
They've become quite the sensation on their own terms through their gimmick of masterfully recreating K-pop music videos. The girls prove that you don't need a massive production budget to make a memorable impression.

They're nailing the choreography, and their performances are on point.

Thanks to Kungten's older brother, Sitthichai Rakpinit, editing prowess, their parody virtually matches every angle and composition frame by frame.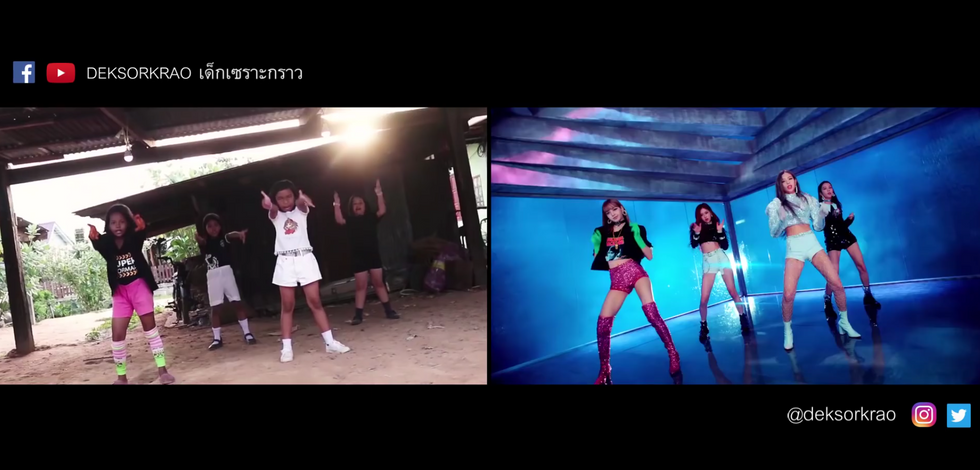 (DEKSORKRAO/YouTube)
Who needs a chess set to look fabulous when you've got an upside-down garbage bin and some marbles?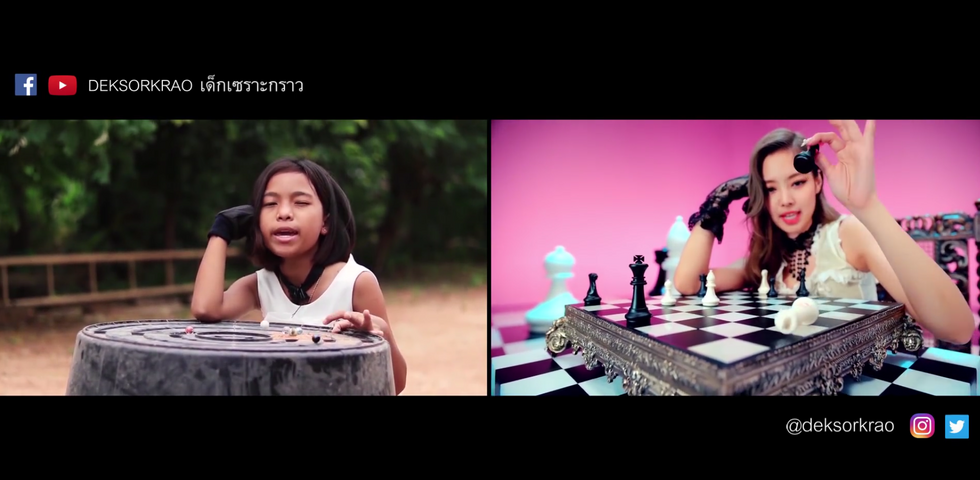 (DEKSORKRAO/YouTube)
The shower cap as a substitute for the crown is particularly brilliant.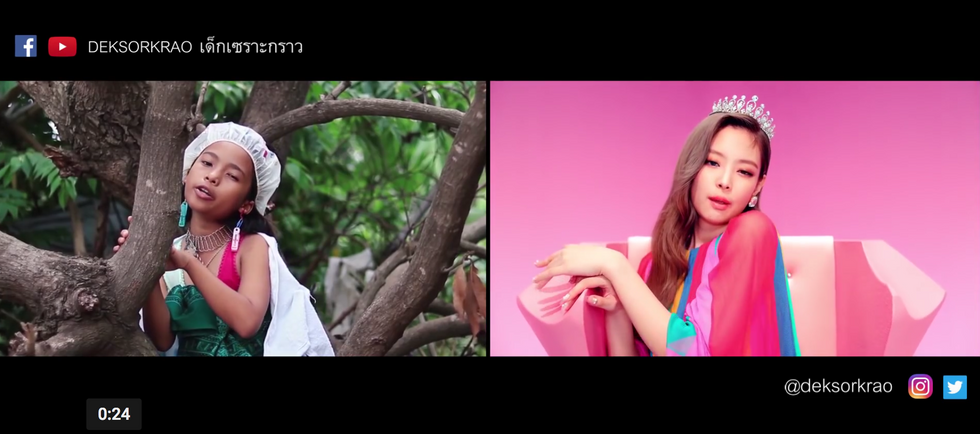 (DEKSORKRAO/YouTube)
People gave these young girls high marks on their flawless performance.

@KCONTV Hell yes!creativity👍

— iampinkybumblas (@iampinkybumblas) 1535002996.0
@KCONTV The furby really got me. 😂🤣

— Beth Ryan (@Beth Ryan) 1534990840.0
@alexander_0729 Great haha. Good alternatives hahaha

— Mereng Iz Meh (@Mereng Iz Meh) 1535123754.0
@alexander_0729 WATCHEEDD THISS SO FUNNY AF KKKKKK😂😂😂

— 🌸 김태형🌸 (@🌸 김태형🌸) 1535104360.0
@alexander_0729 Bro it's so good it's insane. The one who shot this should be praised and celebrated.

— CherryCindy (@CherryCindy) 1535104526.0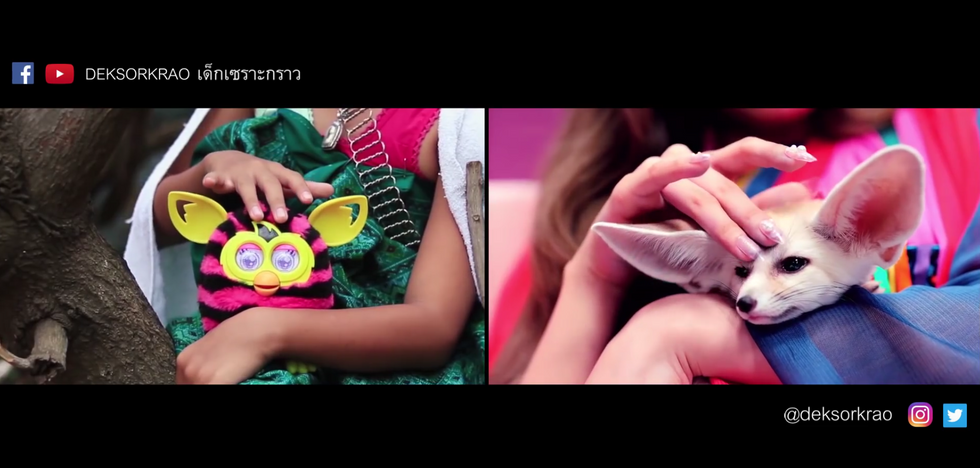 (DEKSORKRAO/YouTube)
Blackpink is a famous South Korean girl group consisting of members, Jisoo, Jennie, Rosé, and Lisa. The group formed in 2016 and were hailed as the New Artist of the Year at the 31st Golden Disc Awards and the 26th Seoul Music Awards, according to Wikipedia.

The original "Ddu-du Ddu-du" music video became the most viewed online video in 24 hours by a Korean performing group, and became the most watched music video of all time with over 36.2 million views within the first 24-hour period of its release, just shy of the record set by Taylor Swift's "Look What You Made Me Do" video.
@alexander_0729 Legends x legends

— CandY.Blink (@CandY.Blink) 1535104367.0
Here's the video with a side by side comparison of the parody and Blackpink's original music video.