If there is anybody who could audaciously pull off whimsy and elegance at the same time, Billy Porter has all the fashionistas beat.
The Pose actor's ebullient personality and charisma simply could not be contained in even the smartest of suits while on the red carpet.
---
After enchanting people in a gender non-conforming Christian Siriano designed tuxedo gown last year, Porter turned heads by going with a two-piece royal gown for this year's Oscars.
The glint from the gilded feathers adorning his turtleneck bodice caught every eye and the elegant songbird appeared as if he had just made contact on terra firma.
He has safely descended from the heavens.

The sartorial event was designed by British style icon Giles Deacon and the Baroque-inspired pouffed skirt was reportedly inspired by the interior of the Cupola Room at Kensington Palace—where the Duke and Duchess of Cambridge reside.

There is no denying Porter's fabulousness, but a photo of him getting a load off was the pose everyone is talking about. This is how the fashion icon bundled up after taking refuge in a tent following a brief downpour on the red carpet.
And he gave us comfort realness.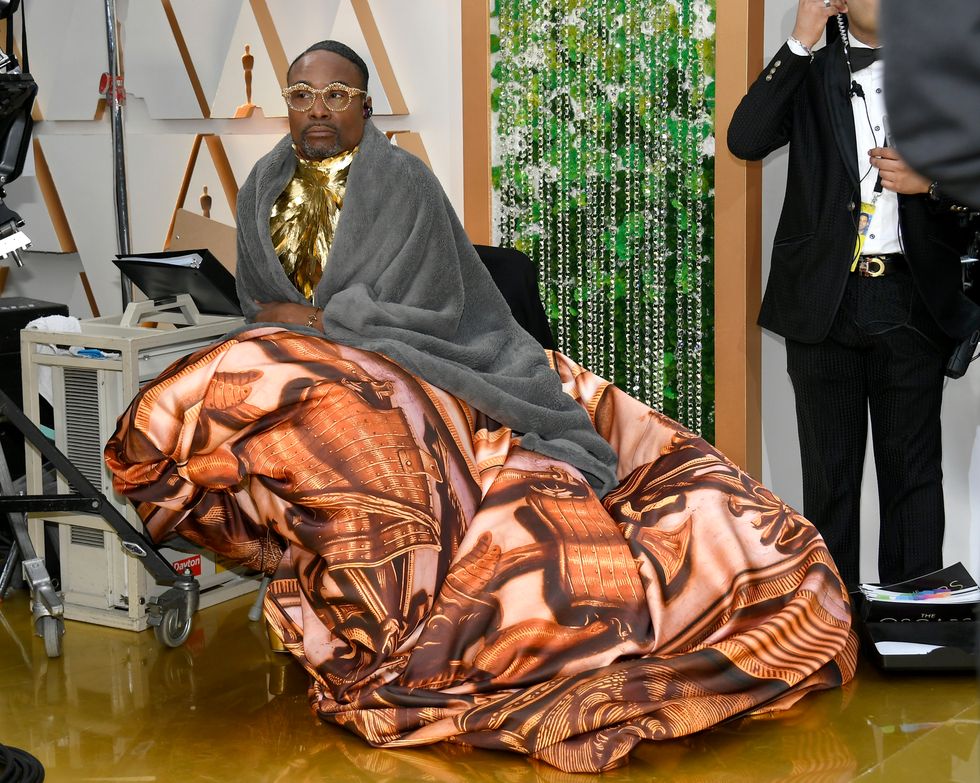 92nd Annual Academy Awards - Red Carpet Kevork Djansezian/GettyImages
When it comes to looking fabulous, there is no down time for Billy Porter.

Grey blankets are now IN!
Some people tried to get all sassy.
Most were here for it and wanted to cuddle up with him.
While some tried to mock his casualness, he humbly commented on LA weather.

He achieved something very unique here.
But not everyone can pull it off.
Once again, Porter made a fashion statement—and where is his trophy for cozy elegance?