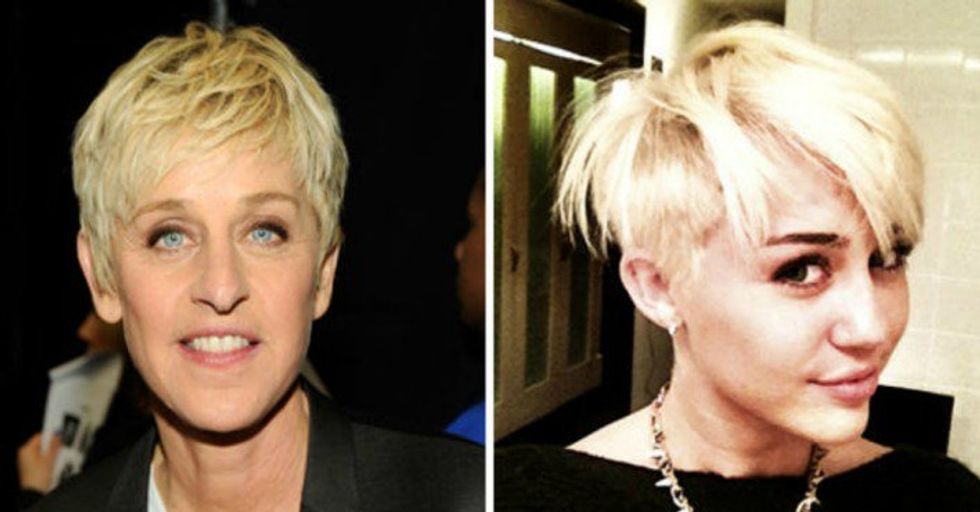 Coming out can be a stressful situation for anyone, but when you've got the whole world looking at you as you step out of the closet, it can be a little harder to open that door. Congratulations to these celebrities!
---
Facts from Wikipedia and IMDB.
1/10 Miley Cyrus, 2015
Miley Cyrus spent the first part of her career as the country-lovin' Disney star, Hannah Montana. As she got older, and transitioned away from that persona, Cyrus decided to be honest with her fans about her sexuality. In an interview with Paper magazine, she explained that she told her mother at a young age she was interested in women. I remember telling her I admire women in a different way. And she asked me what that meant. And I said, I love them. I love them like I love boys," Cyrus told Paper last week. "And it was so hard for her to understand. She didn't want me to be judged, and she didn't want me to go to hell. But she believes in me more than she believes in any God. I just asked for her to accept me. And she has."
2/10 Ellen Page, 2014
This Juno star decided to publicize her sexual orientation during a speech she gave at the Human Rights Campaign's Time to Thrive conference in Las Vegas.
Audiences rose to their feet to applaud her, as she proudly declared, "I am tired of hiding and I am tired of lying by omission. I suffered for years because I was scared to be out. My spirit suffered, my mental health suffered and my relationships suffered. And I'm standing here today, with all of you, on the other side of all that pain."
3/10 Jonathan Knight, 2011
The New Kids On The Block heartthrob was out-ed by fellow '80s teen pop start Tiffany. She told the press that she had dated Knight before, and "he became gay later." The frustrated Knight took to his website to respond. "I have never been outed by anyone but myself! I did so almost twenty years ago. I never know that I would have to do it all over again publicly just because I reunited with NKOTB! I have lived my life very openly and have never hidden the fact that I am gay!"
4/10 Ellen DeGeneres, 1997
Perhaps one of the most interesting coming out stories to make this list, DeGeneres came out both in real life and as a character on her hit TV sitcom, "Ellen." The character became the first openly gay leading character in prime time. Meanwhile, DeGeneres orchestrated her in-life coming out to correspond with the episode. She appeared on the cover of Time, next to the words, "Yep, I'm gay." Unfortunately, this took a dark turn for Ellen's career. Her show was cancelled the following year, and she didn't make a comeback for quite some time. Now, we all know her as the brilliant, hilarious, and generous host of Ellen!
5/10 Zachary Quinto, 2011
Though there were many rumors flying around about Quinto's dating preferences, this actor, most famous for his roles on "Heroes" and "Star Trek", came out in New York magazine. He said, "In light of Jamey's [Rodemeyer] death -- it became clear to me in an instant that living a gay life without publicly acknowledging it -- is simply not enough to make any significant contribution to the immense work that lies ahead on the road to complete equality. Our society needs to recognize the unstoppable momentum toward unequivocal civil equality for every gay lesbian bisexual and transgendered citizen of this country."
---
Continue to the next page for five more celebrity coming out stories.
6/10 Elton John, 1976
In October 1976, John came out in an interview with Rolling Stone, by saying, "There's nothing wrong with going to bed with somebody of your own sex. I think everybody's bisexual to a certain degree. I don't think it's just me. It's not a bad thing to be. I think you're bisexual. I think everybody is."
7/10 Clay Aiken, 2008
Clay Aiken became a father in August of 2008, which prompted him to publicize his sexual orientation on the cover of People magazine a month later. He said, "[Coming out] was the first decision I made as a father... I cannot raise a child to lie or to hide things. I wasn't raised that way, and I'm not going to raise a child to do that."
8/10 Wanda Sykes, 2008
While speaking at an anti-Prop 8 rally in Las Vegas, this comedian and actress came out to the public. Sykes said, "I got married Oct. 25, I don't really talk about my sexual orientation, I felt like I was living my life, I wasn't in the closet, but I was just living my life. Everybody who knows me personally, they know I'm gay. And that's the way people should be able to live our lives, really. We shouldn't have to be standing out here demanding something we automatically should have as citizens of this country."
9/10 Neil Patrick Harris, 2006
Neil Patrick Harris, most famous for "Doogie Howser, MD" and "How I Met Your Mother", came out on the cover of people magazine in November of 2006. Harris said, "The public eye has always been kind to me, and until recently I have been able to live a pretty normal life. Now it seems there is speculation and interest in my private life and relationships. So, rather than ignore those who choose to publish their opinions without actually talking to me, I am happy to dispel any rumors or misconceptions and am quite proud to say that I am a very content gay man living my life to the fullest and feel most fortunate to be working with wonderful people in the business I love."
10. Chris Colfer, 2009
Colfer's story is very interesting, since it wasn't much his choice to come out. In December, 2009, he was on the "Chelsea Lately Show", and Chelsea Handler said, "Your character on the show's gay. We know that you're gay. That's good for you. Congratulations. Don't be shy about that. Seriously. You shouldn't be shy about that because every time...an actor like you is helping a zillion other people that are scared to talk about their sexuality so good for you."
---
Continue to the next page to read 5 more BONUS celebrity coming-out stories.
1. Rosie O'Donnell, 2002
The comedian and talk show host said, "I'm a dyke!" during her stand up act at the Ovarian Cancer Research benefit at Carolines Comedy Club. Unfortunately, this had a hugely detrimental impact on her career, because people were more conservative at the time.
2. Portia De Rossi, 2005
De Rossi had been out to her friends for a long time, but the moment she made her interest in women public was during an interview with Details magazine and The Advocate. "I've had my years of being not open, many years of it... It's an honor for me to do this; it's just nice to be asked," de Rossi said in her September 2005 Advocate cover story, her first with the gay press.
3. Sean Hayes, 2010
Long dogged by rumors about his sexuality, the "Will and Grace" actor finally came out in The Advocate in April 2010: "I am who I am. I was never in, as they say. Never," he said.

4. Melissa Etheridge, 1993
The rock star came out in January 1993 during the Triangle ball, the first ever ball thrown for the LGBT community during a president's inauguration, in this case Clinton's. Etheridge recalls: "I didn't even think, Oh, I'm going to come out here...It was, 'Gee, I'm really excited to be here, and I'm really proud to have been a lesbian all my life.' And a big cheer went up through the whole hall, and k.d. [lang] came out and hugged me. I remember walking back, and my friend said, 'I think you came out!'"
5. Cynthia Nixon, 2004
The "Sex And The City" star was out-ed in 2004 when the NY Daily News and the New York Postreported she was living with another woman in September 2004. Nixon half-heartedly confirmed the rumors when she told the Daily News, "My private life is private... But at the same time, I have nothing to hide. So what I will say is that I am very happy."

---
SHARE by clicking below.