There are many leisurely activities train commuters keep themselves occupied with – like reading a magazine – while in transit. Sanding down your calloused feet should never be one of them.
The New York Post featured a video of a man taking his personal hygiene to a gag-inducing-level by doing it publicly.
---
When it comes to grooming in public, this dude committed gross negligence.

Candy Hatsune Wolff was mortified sitting near the vicinity of the foot sandman during her Wednesday commute around 1 p.m.
The other passengers were oblivious to the detritus from the foot skin swirling around in the car.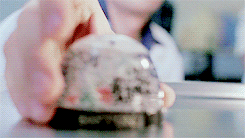 media3.giphy.com
@nypost Enter the Barefoot Sandman. @Hokie_Hoops @HokiesFB @hokiesports

— BCTowerofTruth (@BCTowerofTruth)1538707891.0
The man can be seen in the video using a Dremel to scrape off his callouses while on the southbound North Jersey Coast Line train headed for Long Branch.
@nypost @RadioFreeTom New Christmas ad for dremel

— chuck u farley (@chuck u farley)1538756699.0
Wolff took out her smartphone and recorded the scene.
She later told NJ.com, "I still don't know how he decided it was OK on the train. I guess the callus was bothering him."

"Should I take a picture? I don't want to humiliate him. Eventually I decided to."
Wolff believes she's the only witness and said that the man sloughed off his corns in peace.
@nypost https://t.co/ajhGcbPFUC

— Shawn Smith (@Shawn Smith)1538707674.0
Wolff posted the incident on her Facebook page, where it eventually caught the eye of Twitter.
@nypost @CarlNapolitano cmooon mannn

— Davar (@Davar)1538729223.0
@nypost Takes personal hygiene to a new level

— 🌻🌻Texas Gal 🌻🌻 (@🌻🌻Texas Gal 🌻🌻)1538707789.0
@nypost This man is the King of truly giving no F's.

— Jason Labay 😎 (@Jason Labay 😎)1538742917.0
@nypost Now that's just plain nasty!!!!! I'am sorry if I'am judging but don't you think this could wait until he's… https://t.co/20Hrri4XMz

— Dawn Harris-Young (@Dawn Harris-Young)1538742231.0
Others were more forgiving and gave him the benefit of a doubt.
@nypost Maybe he had rough day? Would probably be wrong to judge this sanding action.

— Shelly Hack (@Shelly Hack)1538742926.0
@nypost @RadioFreeTom You sure he's not homeless?

— Laura L🎃🌊🇳🇵🎵⚡🎃 (@Laura L🎃🌊🇳🇵🎵⚡🎃)1538748573.0
This isn't the first time someone publicly maintained their hygiene in public.
Another passenger was shamed for lathering up and shaving his beard while on board another NJ transit line.
@nypost I learned from the guy shaving video that you can't make fun of people. Maybe he was leaving homeless sh… https://t.co/ntZ281XHw1

— paulie walnuts (@paulie walnuts)1538744956.0
The man who shaved in transit was later identified as Anthony Torres, according to the MSN. He told the Washington Post he was unable to work due to medical conditions and a prior work-related injury.
But after he was shamed for his indiscretion from a video of him posted online, people eventually had a change of heart when they discovered he was a homeless person just trying to make himself look presentable for a family visit.

Jordan Uhl of Washington started a GoFundMe campaign for Torres and managed to raise $38,000 in two days to help him get back on his feet.