Reddit user Mister_Moho asked: 'What is the dumbest reason you've ever lost a friend for?'
Maintaining friendships as we get older becomes a challenge.
The fact is, people evolve as they move on to different chapters in their lives, whether it's work-related, changing schools, or raising a family.
And while we do our best to keep the friendships involving our besties who've seen each of us go through our various ups and downs in life, it's inevitable that some gradually fade into the background and are eventually forgotten.

Curious to hear from those who've lost touch with friends, Redditor Mister_Moho asked:

"What is the dumbest reason you've ever lost a friend for?"
Workplace friendships can change without notice.
The Hurt Coworker

"We were coworkers, best friends. This dude quits the job and blocks me on everything?? I still don't understand why."
– ToastedTurtle420
"He was probably hurt that you quit and apparently didnt know how to express his feelings in a healthy way, being a 45 year old man. 5 bucks say he got into his car after work that day, put on some sad music and cried."
– Waflstmpr

Gone And Forgotten
"I got laid off from my job a few months back that I'd only been at for just less than a year, and my best friend, whom I worked with during that time, of 5 years still hasn't contacted me. That sh*t hurt."
– HyrumCWill
"Got hired, became great friends with a guy that's been there 25 years. We both hated the 'new owner' who owned it 5 years. (I was brand new)."
"Worked side by side for 6 months, went out 3-4 days a week after work for a beer. Every Fri we set our schedule for Monday. I worked in the field, he worked in the shop. We both arranged our schedules to help each other out."
"He'd said many times, 'we' had the best system he'd worked in 25 years there."
"I quit at 6 months. He knew I'd be quitting, we both talked about quitting as the owner was an idiot."
"I called him that Fri to see if he wantedd to grab an afterwork beer."
"45 yr old guy literally yelled into his phone 'no one here likes you so stop calling.' I chuckled, thought.that's weird, but ok."
"Called back. He answered, was really serious. Said it again. Calmer."
"Said look guy, you were never one of us, and you proved that when you quit."
"It was the weirdest and most chick-like breakup I've ever had!"
"I thought, a week ago, we took the company truck on a delivery, and his wife made us sandwiches at his house for lunch?"
"Always wondered if he hated me because I 'made it out'?"
"I picked the time to leave right after a big project, so he wouldn't be stuck doing my job. The timing was perfect to hire my replacement. Was really weird. Guess I hurt a 45 yr old dudes feelings somehow?"

– BillyJackFaceKick69

Some people are terrible at communicating.
Non Answer
"Friendship of 20 years, She never told me why ('you know why") thats the dumbest reason ever."
– AssociateMany102
"Something similar like this. Best friend since kindergarten decides to suddenly ghost me after she ended up moving schools during junior year. The last several times we saw each other we never said much even at sleepovers. October, 2 months into the school year I noticed she has me blocked on social media. It didn't help that throughout the rest of the year where people asked me how she was doing since we were always close. Took them about Senior year to stop asking and getting fake sympathy from a few including my parents. Meanwhile some of her acquaintances who she still had contact with always glared at me in the halls. Looking back at it in that last year, I can say we had our differences…."

– _hot_maruchan_

Ghosted
"Same. I was good friends with a guy for 15 years. Hung out at least once a week, usually minimum of 1 day at the weekend if life was busy. We would game together most night, grab a takeaway at the weekend and nothing seemed out of the ordinary."
"We had a meal one night and had even been discussing plans for the future and the next day he cut off contact."
"Blocked me on everything including my number as my calls just wouldn't go through."
"After about two weeks I decided to go around his house and make sure he wasn't dead. No answer. I tried a few more times, also email and phoning. Eventually after about a month I had to assume he was dead as I didn't really have any contact with anyone else that knew him so I left it."
"After about 6 months I managed to find an old email messenger by accident I had forgotten about like 10 years ago and it said he was online so I reached out and he replied about 3 days later saying sorry he had been to some place for work and had to help there."
"Well turns out that was a lie as that location has never (and hasn't since) had a store at that location."
"He then gave me his 'new' number and said he would fill me in."
"Number was not his, and immediately after he sent it to be the messenger changed to 'this person can no longer receive messages from you as you have been blocked.'"
"Never got an explanation or what I've done wrong."
– Interesting_Tone6532

"I also lost quite a bit of money because of this as I had been planning to go to an event which I had pre paid for and he said he would go if I booked it. I had told him when I was booking it for and he had verbally agreed to go if I sorted out all the details. Well I got some back for cancelling it but not everything as I didn't want to go alone."
"The last thing is that his friend did the exact same thing to him over a girl about five years into us being friends, and he said to me then and swore that he would never do anything like that to anyone, and I believed him because if he was always pretty blunt when he didn't like someone."
Sorry for the long message, I've never really found the right post to rant about this."
– Interesting_Tone6532

Some friendships aren't meant to last forever.
The Drug Dealer
"Had a friend that got pulled over by police and caught with drugs with intent to sell. All good, I always knew he consumed and it was not my problem. One week goes by, I give him a ride home during the afternoon and when I meet him at the same day during the night, I find him looking for his stash that he left in my car without telling me. He was surprised that I got mad. Entitled and spoiled kid. I cut all our ties."
– shur_t

Bad Taste
"My best friend in high school stopped associating with me when I started listening to bands other than Green Day."
"I wish I was joking."
– StrixArcana
"I'd see this happening in middle school, but high school?! Damn, someone was superficial..."
– OP

"In middle school someone told me I wasn't "allowed" to listen to the Beastie Boys and Cypress Hill. I had to pick one."
– unit_79

You can't always predict everyone's behavior but based on their reactions to various circumstances can be very telling of who your "friends" are.
When their true colors reveal an individual to have a personality that contradicts the affable image of them you had before, it just shows they were never a friend to begin with.
The examples above were definitely reflective of the notion that it's not a matter of how many friends you have on your growing list on your social media friends lists.
It's the ones who will have your back no matter what that you want to hold onto.

As much as we think we can get along with everyone, that's not always the case.
There are certain types of people you gravitate toward and making a connection with them is easy. But there are also those with specific personality traits you know very well to steer clear from.
Try as we might, we can't be friends with everyone. The best we can do is be the best version of ourselves and stay within a community of people who you vibe with.

Curious to hear from the types of people strangers online prefer keeping a distance from, Redditor KnownNormie asked:

"What type of person could you never be friends with?"
Some people like in the following examples should be put in their place.
Too Many Theatrics
"Someone who constantly makes everything dramatic."
– Anxiety_Ridden_Camel
Space Hoggers
"Someone who obviously doesn't care about anyone's boundaries."
– Jay4025
Embracing The Dark
"Guilt Trippers"
"Those who think its cool and edgy to be negative about everything."
– Stormflier

How can people who think the world revolves around them expect to maintain or gain friendships?
All About Me
"Self centered people."
–needtofreemyself

The One-Upper
"Yeah, that gets old really fast. I am a reformed one upper. I would also interrupt people. I was hard to take when I was younger. I didn't learn to STFU until I was forced to take a sales job and discovered just how crap I was socially. The last twenty years I've gotten a lot better and now enjoy listening to other people's stories more than telling my own."
– MobileAccountBecause
Not My Problem
"The one who always blame others."
– Reasonable-mcArdles

We could all benefit from personal growth.
They Wait For Life To Happen
"Someone who doesn't want to learn more about life and its intricacies. I only want friends who think deeply about things and can have varied conversations on religion, politics, the world, and all of life. This life is too vast and insane not to seek depth in it.
– Glass-Philosopher302

Don't Take Life Too Seriously
"Someone who is always serious and can't take a joke. As well as someone who gets offended on the behalf of others."
– HoarderOfPaper

You Can Bet Your Life On It
"a serial killer."
– LongjumpingReturn555

All Creatures Great And Small

"Someone who doesn't like animals."
– InterestingMall8958

It's complicated to categorize exactly the kind of person I would prefer to not to be friends with, but I know that one of my biggest pet peeves that can jeopardize how much effort I put into all kinds of relationships is a person's lack of punctuality.
It says a lot about an individual who is perpetually late outside of an acceptable window between 5 and 15 mins–with a heads up about their tardiness.
If they're always punctual in regards to work obligations and business meetings but very late to meeting up with you for a coffee date, you're clearly not important enough for them to make an effort to avoid keeping you waiting.
And I got no time for that.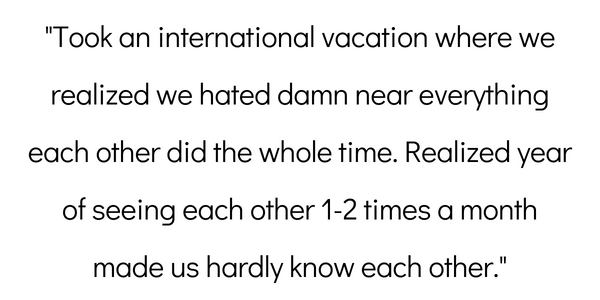 Friendships are one the most important and intimate connections young people make. Friends are the people you are close to, who you grow up with, and who are always there for you when you need them.
A majority of people have best friends. That's the one friend who you trust and love above everyone else. The one who has proven he'll always be there for you and the one you're ready to drop everything for.
However, not all friendships are meant to last. Sometimes, one or both of you will change. Other times, you'll just drift apart. And sometimes, the friendship will end because of malicious actions. Redditors seem to have a lot of those stories!
Curious about what broke apart once strong friendships, Redditor gli-tc-h asked:

"People of reddit what ended your friendship with your best friend?"
Work And Friendships Do Not Mix
"I gave one of my best friends a job at my convinince store when he was down on his luck. He worked in his dad's shop previously for like 6.50 an hour and his dad was toxic so he quit and came to work for me till je got a better job. The inferiority complex kicked in and he started talking down to me and talking about how I was spoiled and a daddy's boy "my dad gave me the shop.""
"I paid him the best money he ever made and he would routinely go off on me for perceived managerial issues or start stupid arguments with customers like not selling kids toy guns because they would be at risk and not selling cigarettes or beer to pregnant women, which I understand is a personal choice but as a business I can't just refuse to sell people sh*t their allowed to buy legally. Covid hit and he became a huge antimasker and I finally fired him after a huge blowout about me trying to establish a mask policy. He's a marine now and got married to a girl he knew for two weeks. We still talk but I've never trusted him since. It sucks because I think he was just like me but from a worse situation. If I was in his shoes maybe I would be way worse."
– joyesthebig
Uneven Investment
"I got tired of always being the one to put forth any effort. Fly across the world to meet up, attend family gatherings, reach out, be patient, make sacrifice. It was good times when we were together. So it was worth it for a while but when she moved close and still never bothered to make an effort, I was over it. Wish her nothing but the best."
– SpoonfulofYou
Not A Real Friend
"When I realized he was a bully. I just wanted his friendship and attention, and then I realized he was using me for kicks."
"I put up with his bullsh*t because I wanted to be liked."
– bananajr6000
Neither A Borrower Nor A Lender Be
"After 14 years of friendship we get an apartment and suddenly he loses his job as a personal trainer because of a dress code violation (he wore a hoodie to work, allegedly) and then 2-3 months of him not working. Then after he agreed to pay me back eventually, all he ever gave me was $400 from his mom (I paid over 14,000 for the year). So I paid the full year lease and he stayed 8 months total. I never talked to him again also because I found a receipt where he was trying to make a copy of my car keys make and model. F*CK THAT GUY"
– autumnsromeo
Flirting With Disaster
"Every single time that I would tell her I was interested in/talking to a guy, she would try to get with him. She was never successful but it hurt that she kept trying. I confronted her about this in a very nice and civil way and explained to her how I felt about this. She apologized profusely and promised it would never happen again. And then it happened again. I just immediately cut her off after that, no explanation or words needed. She knows what she did. Haven't spoken a word to her since"
– WhiskeyMeAway-
Just Didn't Mesh Well
"Took an international vacation where we realized we hated damn near everything each other did the whole time. Realized year of seeing each other 1-2 times a month made us hardly know each other."
– McJumpington
Me, Myself, & I
"Just made a post about this but she uses me as a therapist but when I try to vent to her, she gives me a few cliche words of support before turning the conversation back to her. It's gotten to the point where we don't talk unless she has a bad day and needs someone to talk to. She'll take days or even a week to respond to a funny meme but then immediately start dumping on me about things going on on her life. I'll invite her out to have fun and within a few hours, I'm being her life coach."
"Also, we just started to grow apart. She's turned into her parents and her parents are the typical snobby surban people that are extremely judgemental."
– Pear_Jam2
Completely Tacky
"She didn't invite me to her birthday party. It was my first time back from college and I would have been able to go. She made a whole Facebook event page and invited everybody but me. I found out through mutual friends, the kicker was no one showed up and she called me crying that this other girl didn't show up."
– ubettawuurrrk69
"A friend did something similar when he didn't invite me to his wedding. He called me years later apologizing when he needed to vent about his marriage."
– tamagotchi____
A Passive Lady Macbeth
"My husband at the time had to step away from his job because he was dealing with pretty severe mental health issues. We had a young child and I was a stay-at-home mom and it was really devastating not only financially, but socially as a lot of our social life revolved around his job and work friends."
"I was really good friends with a coworker's wife. The coworker moved into my husband's (higher up) position when my husband had to resign. We had to sell our home since we couldn't make the mortgage payment anymore. The friend came to help me pack, and while doing so told me that they always knew this would happen because the Lord had revealed it to the husband in a dream several years earlier. They had basically been waiting around for my husband to "fail" so that coworker could "succeed" and fulfill the Lord's prophesy."
"Yeah no. Said goodbye to her, moved out of state, and never looked back. I won't tolerate people using religion to be jerks."
– LittleWhiteBoots
...No Big Loss
"He peed in my college dorm room after he found out that I was still friends with his ex-girlfriend even after they broke up."
"He (let's call him P, no puns intended) was one of my first friends in uni and was dating this girl (let's call her N) when I met him. Initially N and I wouldn't talk much, just share a few memes with each other or talk about things pertaining to P (stuff like "hey can you make sure he's awake for this class", or "could you order this cake for his birthday")."
"When covid struck we all went back to our homes, doing nothing. My sleep schedule was pretty fcked up, turns out, N had an equally fcked up sleep schedule too. She would be awake at the same time as I, so we started talking more. Eventually she became more than just my best friend's girlfriend- she and I became friends independent of the relationship I had with P."
"One day P calls me and tells me that him and N broke up. I do my bit in consoling him, making sure he's alright, video calling him every once in a while, the whole nine yards. Throughout all this, I don't stop talking to N- for the very simple reason that she and I were friends now and even though the breakup was a tricky situation, it didn't warrant me ending my relationship with her."
"Eventually P finds out about N and I and confronts me about the situation. I try to explain my side of things to him but he isn't ready to listen. Not wanting to push this man (who has also just had a rough breakup) I give him his space just so he can wrap his head around it. No biggie."
"Months pass, complete radio silence. He removes me from his socials and stop talking to me completely. It was a little awkward initially because P and I were a part of the same friend group, but eventually he started hanging out with the group lesser and lesser. The friend group was aware of the situation and after multiple back and forths with both of us, they understood the situation and (thankfully) agreed that I wasn't in the wrong."
"By this time, N and I had gotten even closer. While the whole P situation was playing out, I had broken up with my long-distance girlfriend and gotten COVID leaving me with a ton of free time. I chose to spend this time with N: we would watch movies on video call, or play a few games online. I enjoyed my time with N a lot and I didn't tell her much about what was going on between P and I."
"When the lockdowns finally ended, we were called back to attend uni offline. A few of my friends and I moved out of the college dorms when we came back, but a lot of my stuff was still in the dorms. I casually mentioned to a friend of mine that I was planning to go back to my dorm room to pack up my old things and bring them to my new place. He pulled me aside and asked me if I had been to my dorm room yet. I told him I hadn't. He asked me to not go. He said, "I was talking to P the other day, and he said he vandalised your room. He also mentioned peeing in it.""
"All my friends found out a week before I was told this. I had no idea how to react. It was f*cked up and disgusting. I ended up telling the warden and having my room cleaned out by the cleaners. All of us in the friend group cut ties with him as he left for a semester abroad."
"A lot of people have since heard this story and the look on their faces when I reach the climax is priceless. As for N and I, we have been happily dating for the past 11 months. She knows the whole story now and we still laugh about it."
– oneandahalfpunjabi
People Really Do Change
"I knew my best friend since 1st grade, we where inseparable, then he became creppy. He started to follow me everywhere i went. In quarantine, we used to play with another kid. We where a trio. A month in, he became seriously toxic, me and the other guy would wait for him so we could all play, but when he joined, he couldn't resist 5 minutes before starting arguments. Saying lies bout me, telling me i was trash etc etc. We used to insult each other, in a playfull manner. Everyone could insult anyone, it was all cool between us. Each time we hang out he grew even more toxic, so i started distancing myself from the both. In the time i kept off two things happened"
"Other guy asked toxic friend for some hw answers, toxic guy gave him the wrong answers and tattled on him with the teachers"
"He started making up lies about other guy"
"Other guy dmed me saying "hey, toxic guy is going way out of line, think you could help me make a video about him bout how we are kicking him out?" I said, yeah sure!""
"We make the video, it was basically making fun of him for the things he did"
"Claiming i had aimbot cause aim assist"
"Saying i was a spammer"
"He would always camp/ ran away from battle"
"And that he was "working hard" to repay his depts (we had bets)"
"And that he was kicked off our group"
"Also sprinkling in a inside joke that tbh is offensive not knowing the context"
"TWO HOURS LATER"
"My mother calls me asking wtf did i do to him, she was saying that he was crying"
"Turns out, he called his mom, told her we where bullies, her mom got worried (obviously as a mother should) called the school, wich called out parents and shit went nuts. Apparently, he "never insulted us back" wich the lil shit almost got away with because our insults where verbal and none where on text, except for the whatsapp chats, we showed this too everyone, gave our side of the story, and they suspended us 3 for 2 days"
"He tried to apologize, but i shut him down, he tried to "try it again" but i reminded him he was the one that became toxic, i reminded him that we wanted things too cool down but he didnt want to back off."
"Havent talked to him in a year, i have too see him in 3 days"
"(Damm this should go on aita)"
– Automatic_Search_123
Liar, Liar
"She started lying about her life when we got to 7th grade in order to seem cool in front of other people. If i tried asking her why she was lying when others were around she'd either deny it or not know what I'm talking about, but i know for sure that she did those things cuz she made pictures of it and send it to me."
– confused-girl_lol
Lesson Learned
"She taught me the lesson that you can forgive someone, but that doesn't mean you should invite them back into your life. Kinda like being shown a landscape and being told it used to have landmines in it. You should think twice before going in there."
– walkinghomeat3am
MOH-Zilla
"She was my maid of honor at my wedding. Jealousy has taken her over since she wasn't having a wedding of her own. She started a huge fight at my bachelorette with my sister in law who was tired of her being mean to me and putting me down on my own bachelorette. She then on my wedding day made up lies to all my bridesmaids to get them to hate me / never talk to me again. Which ended up causing a lot of stress for me."
Once I found out what was happening I confronted her (weeks after my wedding) and she tried to blame me. Then we "never spoke again. Good thing too - I hear more and more from people about how manipulative and backstabbing she was. We were best friends for 32 years."
– Jscholtzy
Many Years Doesn't Make A Good Friend
"We had been best friends since high school, half our life. There had been several times where we would get into an argument or disagreement and she would ghost me for some time. The most recent time, she came around after I was diagnosed with thyroid cancer. Because I was diagnosed while in school outside of my home state and had health insurance in the state I was currently living in, I had to get my surgery and treatment in that state and had to cancel multiple trips home. I didn't get to go home for almost 2 years."
"Well, a few months ago, I had the opportunity to go home for the first time in nearly 2 years. I wanted to surprise my parents, including my elderly father. The reason I wanted to come home was because he had been having some health problems and I wanted to physically see my father. I had some vouchers that were expiring that covered one way and found a really cheap flight, but it would land at an airport nearly an hour away (30ish minutes with no traffic) and in the middle of the night over the weekend. There were no shuttles from the airport anymore and a taxi/uber would cost about $100 (almost as much as the plane ticket). My parents were unable to drive at night due to their poor vision. Before booking the ticket, I asked if she would be willing to pick me up from the airport, and if she couldn't, I would pay the extra money to go to a closer airport OR I just would not be able to go and see my father. She told me "book the ticket, I'll make it work. You need to see your father.""
"4 days before I was supposed to come home, she texted me saying she couldn't pick me up anymore because of her dogs (which I told her she could bring with in the car with her if she was worried cuz I know they're good in the car. Granted the whole round trip would be less than 3 hours and her dogs are alone for 8+ hours a day while she was at work) and she had run club in that morning and it would be "too much back and forth." Mind you, run club is an optional thing, not a mandatory scheduled job. I responded saying thank you anyways but I was disappointed since I wouldn't have booked the ticket if I knew she wasn't going to be able to come get me, especially since she said she would make it work."
"I never heard from her again. She never asked if I made it in to town ok, never asked how my father was doing (this was the whole reason why I was coming home after all!!), never once reached out to me again."
"I accidentally FaceTimed her 2 months later when I meant to FaceTime my dad. It was 3 days before my birthday. As soon as I realized I had FT'd her, I ended the call. She texted me a few hours later asking me if everything was ok. I said yes, it was an accident. Never heard from her after that. Not even a happy birthday, not even checking in. Nothing. Completely ghosted me. After 14 years of friendship. It was my last straw. I removed her from social media, deleted our text strain. Everything short of deleting her number."
"The other thing that always bothered me that she did but I never told her was, when I was getting radiation, I got my partner, parents, and another friend of mine shirts in support of me, with the thyroid cancer ribbon on it. It was to wear on my day of radiation. I was terrified that my cancer had spread and it was important to me to know I had support from friends and family, even if it was by wearing a silly shirt. Everyone else was fine with it and I bought them (didn't even ask anyone to pay for them!!!) and mailed it to them. When I asked for her address, she wouldn't give it to me and said she would make one herself. She never did. It was one of the most hurtful things anyone has ever done."
"So ya, after being friends for 14 years, half my life, I've officially cut her out and honestly, my life is better because of it. I wish her well, but the friendship was over and can never be repaired."
"And wow it felt REALLY good to type that all out haha"
– greenvsblack
Human ATM
"After a few years I became aware that he only wanted to hangout when he was short of cash and wanted me to buy the beer. I realized he didn't wanna see me when he had his own money to spend"
– Lubedguyballa1
Priorities
"I'm a leap year baby, I try to make a big deal of my bday since it only comes every four years. My 24th, I booked a beach house to spend it with my family, my other best friend and her. Told her two months in advanced. Paid for everything and family took care of the food, so all she had to do was show up. The day comes and she said she couldn't come cause she couldn't get off work early enough (we were there on a Thursday-Sunday) so I thought she'd at least make an effort to come on the weekends. She never came. Then a week later, she tweets that she's compulsively took time off work to watch F1. Felt like she couldn't even make time for me but can make time to watch cars racing."
– kkhhaayyccee
It's never easy or fun to lose a friendship, but it is sometimes part of life.
Sometimes, it's something that will always haunt you, but you can learn from that. And other times, it's just a way of expelling toxicity from your life, and you can find better friends who will enrich your life.
When we first meet someone–whether through mutual friends, at school, or in a new work setting–we generally feel people out to determine if they're worth getting to know.

While the process could take time, some people make our jobs much easier after spotting instant red flags.
Curious to hear about our general radar of people, Redditor xxFluffie asked:

"What is something that makes you immediately dislike someone?"
Some people just think they are absolutely hilarious and never realize they're the only ones laughing.
Next In Line
"They laugh about having screwed someone else over. If you think you're not next, well, you'll learn."
– whiznat
Unfunny
"when you mention you don't like a thing and they immediately do that thing 'as a joke.'"
– wayfinder
Playing Devil's Advocate
"Kneejerk contrarians. People who, no matter what you say you like or believe, just have to dismiss it and say they like or think the opposite."
– BubbhaJebus

People who put others down get slammed here.
Bad Parents
"When they treat their kids sh**ty in public. I don't mean handling tantrums, setting a rule, having to hurry to the train etc. I mean perfectly normal-behaved kids getting in trouble for trailing along peacefully, looking at things, asking questions etc."
"If you don't like tiny humans who learn the world, why have them??"
– raxeira-etterath

Public Humiliation
"Treating people sh**ty in public for laughs. Like being rude to service workers because they think it's funny. Big red flag."
– Ok_Personality_1080

Simply Uncalled For

"Someone who is a d*ck to other people or animals for no reason."
– xebt1000
Those with ulterior motives rubs people the wrong way.
The Scheme
"If they try to get me to join their MLM scheme."
– spazmcgee1

Hard Sell
"A guy I used to be friends with in high school reached out a couple of years after graduating about a business opportunity he wanted my opinion on because 'you've always been smart', then he set up a Skype call and brought some other dude into the call and they started trying to sell me on what was clearly an MLM scheme. The guy went from friend to 'I'm never talking to you again' in a matter of 10 minutes."
– Mental-Afternoon-164

A Timeline
"Good gawd, this! I've had more than one exposure to this abject bullsh**tery..."
Back in the late 80's/early 90's I was invited to a meeting of literally the OG "Pyramid" where you're recruited to pay in, and then you go out and recruit others to pay in, and the last in line got f'kall.
In 1995 I had a coworker try to reel me into Amway, which was a hard no.
In 2000 it was Pampered Chef, though to be fair they did have useful products.
In 2009 a coworker tried to get me into some stupid video calling service that was obviously stupid from the description. He even got offended when I called bullsh*t.
– Mystical_Cat

I Can Do Better
"Being a b*tch just to stroke their own ego."
"We get it, you can lift 5lbs more than the 12 year old, you don't have to rub it in their face just because you're slightly better"
– Livia_Pivia

Can't Top This
"Oh, you did <story that's been told>? That's nothing! I did <implausible story>.
"I get the whole empathy through relating common experience, and I'm someone who does that (which drives some people crazy on its own), but there's a big different by empathising through common experience, and one-upmanship."
– Tisarwat

Lacking Conversational Etiquette

"Starting to talk over me when I was already talking."
"Stop it you rude, arrogant jerk."
– R33Gtst

If one or more of these traits sound familiar to you, you're not alone.
We don't have time for braggadocios, pyramid-schemers, and conversation interrupters.
And that's just for starters.

Want to "know" more?
Sign up for the Knowable newsletter here.

Never miss another big, odd, funny or heartbreaking moment again.
A couple breaking up amicably is civil and preferred, but it doesn't happen all the time.

Sometimes there is plenty of yelling, name-calling, and even harm done as the result of heartbreak.
Curious to hear examples of why people are no longer with their exes, Redditor into_the_void22 asked:

"What's the craziest thing an ex friend/lover has done to you?"
These Redditors found out they were not the other's "one and only."

WTF
"She met me for a date, went to go meet her parents. I had a beer with her dad while she went upstairs and f'ked her brother-in-law. Then she came downstairs and left with me to resume our date. I found out after the fact, got tested and dumped her a**."
– Sol-Blackguy
A Double Life
"Found out my long distant boyfriend of three years got married and had a baby while we were together. He was in my town every weekend... It was nuts."
– pyrexsony
The Therapy Failed
"Cheated on me. Then cheated on me again after we went to months of therapy. Then emailed my parents and told them I was bad at sex."
– lowlybananas
These exes revealed their true colors.

The Catfish Attempt
"Attempted to catfish me on blackplanet using a picture she manually snapped from a magazine as her profile picture. I could see the seem down the center of the picture. I knew it was her because she had a very poor grasp of grammar and she makes specific mistakes that no one makes. When we 'met' on the site, before I realized who she was, I asked why she was single. She stated that her ex died two years ago. Considering she pulled a gun on me in a prior instance, that may well have ended up being true."
– Agreeable-Ad-4791

The Squatter
"Got mail delivered to my house when she found out I was going to break up with her. Then wouldn't leave when I did break up with her. I called the police and since she received mail at my house they said it was officially her residence as well. I had to call my land lord and have him evict me to get her to leave. Once she left he rescinded the eviction notice and I moved back in."
– armhat

The Early Morning Complaint
"Called me at three in the morning to yell at me and call me a wh*re for 'liking' a YouTube video by Dashie a month before."
–curiositykills33
Pot Calling The Kettle
"Tried to tell me she was pregnant when i broke up with her for being a compulsive liar which just confirmed that she was indeed a compulsive liar."
– DarthVader9696

Some exes thought violence was always the answer.
No Room For Negotiation
"Woke up from a heavy night of drinking next to my ex. She asked if I wanted to try to put a baby in her and when I said no, she pulled a knife on me asking if I wanted to die."
– onmysadboyshhhrn
Auditory Assault

"One time my gf at the time was staying over. I'd been at work late the night before so I wanted to sleep in. She tried to wake me. It didn't work so I fell back to sleep. So after an unknown amount of time (I was in deep sleep) she apparently lost patience. She put her mouth directly against my ear and screamed as loud as she could... A high-pitched horror movie scream. The pain was immediate. It's been about 15 years and my left ear (if I'm in a loud place) buzzes like I've got a wasp in my ear. It sounds exactly like a blown-out speaker."
– Crackracket

Sometimes We Make Bad Choices
"Had a girlfriend edit old Facebook messenger timestamps to make it look like I was cheating on my new girlfriend."
"Would like to say that my taste got better but I got stabbed after that by an ex."
– Tobadiahtheblack
Ouch
"Came over to my house and punched me awake because I didn't answer her phone call. Because I was sleeping."
"Oh and she stabbed me with a pencil."
– lotus38
A Dramatic Exit
"Ex Boyfriend just absolutely lost it when I had enough and ended things. He took my dog when he went back to work (away from home), told my parents I was suicidal so he had to know where I was, and when I tried staying at either of my parents' places, my vehicle would get vandalized."
"Threatening to take me to the police because he had someone do something to his house and demanded that I give him money because it HAD to be me (I was at the bar on the night in question). Blackmailed me for my dog, threatening that he was gonna have one of his friends shoot her, or that he was going to release her in traffic and if she gets hit it's my fault."
"My work had to create a plan where the building would go on lockdown should he show up as he was threatening that too. The final straw was when my brother left his phone out and my ex was non-stop calling it.... I picked up and lost my absolute sh*t. I found a place to rent, told nobody (not even family as my dad thought I was being dramatic and should forgive him because he's a good guy on paper; yeah that man can be another post), and somehow made out all right but drank a bit in this time."
"My mom sent me a picture one day of my dog in her house, I hauled a** to her house. She will never admit to it but I think she paid him money so I could have her as she was important to me. Now, she is snoring in bed beside me 6 years later."
– MajesticCanadian92

What's With The Dognapping?
"She made a key to my house and stole my dog after we broke up. She then called me and told me she found said dog running loose in my neighborhood. Neighbor had it all on video. Dog was very confused."
– Saltwindandfire

Sneaky Time Capsule
"'Helped' me pack. Knew I was putting things into storage. Put RAW chicken into a Rubbermaid with appliances they knew I wouldn't open for months…."
– bellcait

Violent Concert

"She attacked me with a ukulele, while screaming."
"We had been arguing, heatedly, and she went to another room. I assumed she was just getting some space and cooling off. A moment later she came running out of the room, screaming and swinging a little guitar at me."
"We didn't break up then, but eventually did and that incident was the main reason. However, until then I could never be calm if she was in another room."
– Absurdionne

Let's end the thread on a positive.
Sometimes, the "craziest" things done by an ex are not always abusive.
Gift That Keeps Giving
"My ex donated a kidney to me, it still wows me how she decided without even a moment of hesitation. Great person for sure."
– theoldcollegetries

The most disturbing thing about a person not taking a breakup well is that it unleashes a side of them that was only indicated as hints of a red flag.
The good news is, the display of someone violently unraveling after you break up with them is a reminder of why you never should have been with them in the first place.
The bad part in all this?
Well, that would depend on whether or not the person you broke up with is prone to stabbing you with a pencil in a moment of unbridled fury.

If you or someone you know is struggling, you can contact the National Suicide Prevention Lifeline at 1-800-273-TALK (8255).
To find help outside the United States, the International Association for Suicide Prevention has resources available at https://www.iasp.info/resources/Crisis_Centres/
Sign up for the Knowable newsletter here.

Never miss another big, odd, funny or heartbreaking moment again.