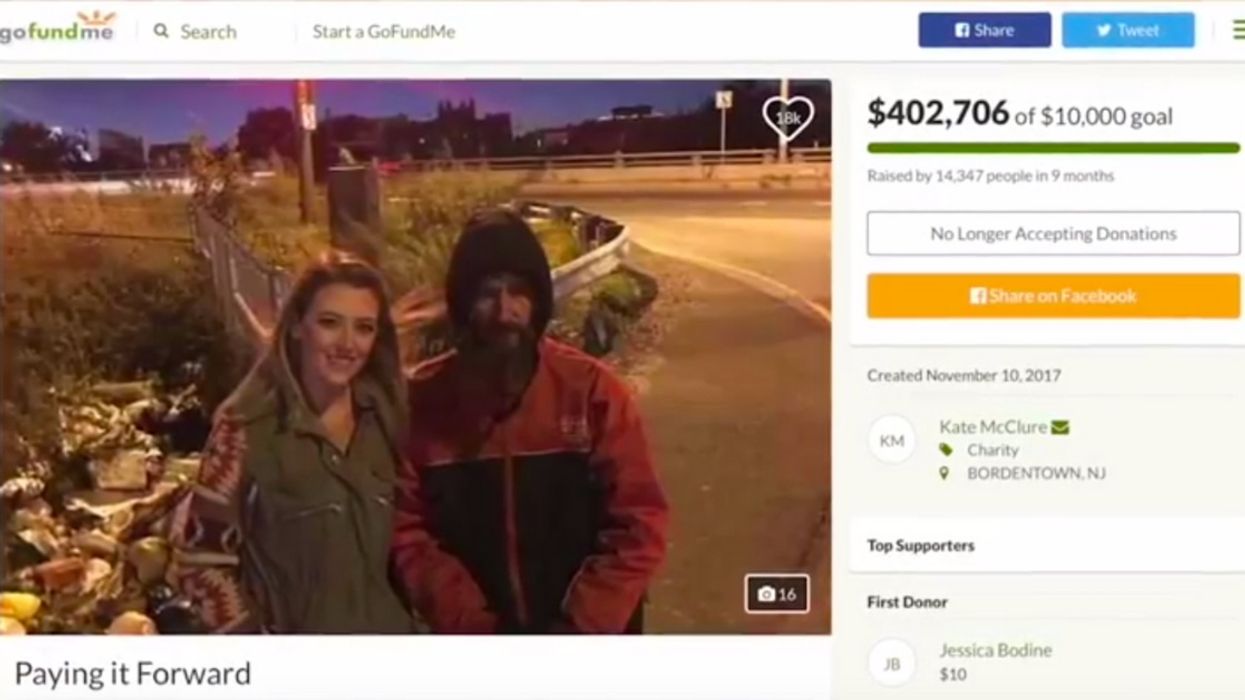 The attorney representing Johnny Bobbitt — the homeless person for which over $400,000 was raised through a campaign fund by a couple wanting to reward him for an act of kindness — learned on Tuesday that all of the money raised is now gone.

According to the Philadelphia Inquirer, Bobbitt's lawyer, Chris Fallon, said, "It completely shocked me when I heard."

"It came as a complete surprise to me."
---
The lawyer for the homeless man who sued to get the 400K back from the couple who started a GoFundMe for him says "… https://t.co/uS5YpNvdVU

— The Daily Beast (@The Daily Beast) 1536102334.0
Fallon found out about the fund's empty status through Tuesday's conference call with Ernest Badway — the lawyer representing Kate McClure and Mark D'Amico who had started Bobbitt's GoFundMe page.
Bobbitt reportedly gave his last $20 to pay for McClure's gas one night when her car broke down on Interstate 95 in Philadelphia.

To thank him, McClure and D'Amico helped raise money through the online campaign with the goal of finding the 35-year-old Marine vet a home.
The campaign raised over $400,000 thanks to generous contributions from over 14,000 people.

But the heartwarming story turned sour when the couple allegedly denied Bobbitt access to the money for fear he would squander it on drugs.
The couple never helped Bobbitt acquire a home, but instead used a portion of the raised money to buy him a 1999 Ford Ranger and a camper that was placed on McClure's family property – both of which were under the couple's names, according to ABC News.
After Bobbitt continued to struggle with his drug problem, the camper was eventually sold and Bobbitt found himself homeless once more.

D'Amico claimed Bobbit had spent $25,000 in less than two weeks on drugs, overdue legal bills, and sending money to his parents.

Bobbitt filed a lawsuit against the couple for mismanaging the raised money and using some of the funds for their expensive trips and a new BMW.
@thedailybeast Sadly...no one is surprised! But they do have items that can be sold for retribution though...wasn't there a new BMW?

— Wink (@Wink) 1536102553.0
New Jersey Superior Court Judge Paula Dow ordered McClure and D'Amico to wire the remaining campaign money to Bobbitt's attorneys into a trust within 24 hours, but according to the application for sanctions, the couple missed the deadline "without explanation or request for extension."
@NewsChannel9 Absolutely pathetic, if the facts here are true. Between Internet justice and karma, these two are i… https://t.co/sc8FB8k1FG

— Peter 🚵 (@Peter 🚵) 1536158040.0
The Inquirer said that Bobbitt's lawyers asked for the couple to be held in contempt of court for not depositing the GoFundMe money by the deadline.

Fallon estimated there should have been $250,000 in the account at the time.
During Monday's appearance on NBC's Megyn Kelly Today show, D'Amico denied spending Bobbitt's GoFundMe money except for a $500 gambling spree at SugarHouse Casino, but claimed he put his winnings back into Bobbitt's account.
He told Kelly that over $150,000 of the donation money still remained in the account; he told the studio audience the couple was willing to open the accounting books to share the transaction history.
@FPWellman @phillydotcom This is just disgusting! How can they live with themselves? They actually thought they wou… https://t.co/2I8MlIfrxw

— Lillian Katz (@Lillian Katz) 1536156280.0
Jacqueline Promislo, one of Bobbitt's pro-bono lawyers, is skeptical. She fears the couple will leave the country with the raised money after all the publicity.
"We're really concerned about the flight risk," Promislo said.
@gofundme I know lawyers are involved at this point, but how will you intervene to ensure John Bobbitt gets his fun… https://t.co/TX58CyzYnr

— Laura Marie (@Laura Marie) 1536089319.0
They used the old "helping a veteran" story to raise $400K then spent it on themselves. | Johnny Bobbitt's lawyer s… https://t.co/TiUeKyn8Ap

— Fred Wellman (@Fred Wellman) 1536091438.0
@thedailybeast Sometimes you just can't trust 'good Samaritans' especially when they have access to the money and y… https://t.co/tjK7FzOXoG

— Mary Hilton (@Mary Hilton) 1536102566.0
@thedailybeast Not surprising when it comes down to it. Maybe they saw all that money and thought "we deserve this! We did all the work!"

— Addison Aameson (@Addison Aameson) 1536108669.0
@thedailybeast Tough story. Greed took over seemingly well intentioned people. Likely justifying their action of in… https://t.co/5X9CCtn4Iz

— Nuance in Truth Society (@Nuance in Truth Society) 1536103303.0
Fallon revealed for the first time that D'Amico had offered to write Bobbitt a check. After Monday's Today appearance, D'Amico emailed Bobbitt and suggested he drop his lawyers and accept whatever balance remained on the account.
GoFundMe spokesman Bobby Withorne told the Inquirer that the company deposited $20,000 into the escrow account Bobbitt's lawyers created to help him get back on his feet.

The money would go towards six months of housing and food.
"We are working with law enforcement officials to ensure Johnny receives all of the funds raised on his behalf."
"While we assist law enforcement with their ongoing investigation, GoFundMe is also working with Johnny's legal team to ensure he's receiving support while the remaining funds are being recovered."
The couple's lawyer told The Associated Press that the Burlington County couple had no comment over inquiries regarding the GoFundMe money.

H/T - Time, YouTube, ABCnews, Twitter, PhillyInquirer