Jimmy Fallon is the much beloved late night host who gives so much of himself on The Tonight Show entertaining his guests and viewers at home.
But he's also known as an absolute sweetheart.
---
This was evident at a restaurant in the Hamptons on Monday night.
Fallon picked up the neighboring table's bill to express his gratitude for being left alone while dining with his wife and producer, Nancy Juvonen.
Jimmy Fallon, aka the nicest guy in late night TV https://t.co/8vqGKmY4W1

— Metro (@Metro)1535542808.0
Enzo Lentini, the manager for Il Mulino, told Newsday that the talk show host usually comes in on Sundays, but he happened to come in on a Monday.
Due to the Hampton Classic Horse Show running through the weekend, the restaurant was busy for a Monday night. So Lentini ushered Fallon and his wife through the kitchen door.

"I walked him downstairs, through the kitchen and into the dining room."
"He's like, 'Enzo, where you taking me!' The kitchen [staff] got a big kick out if it, too — they were all clapping when he came through."
When Fallon and his wife sat down next to a table with two couples about the same age as the late-night host, they instantly recognized him.

However, Fallon and his wife of eleven years were able to enjoy their dinner undisturbed.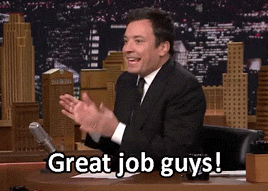 Lentini explained that the visiting New Yorkers appeared starstruck, but they respected the couple's privacy.

"They wanted to jump out of their skin. But they were cool — they didn't want to interrupt him."
Heartwarming https://t.co/XQCW42IjcK

— bitteranagram (@bitteranagram)1535554276.0
After dinner, Fallon surprised his fellow diners with a grand gesture.
"He went up to them and said, 'I appreciate you guys not wanting to disturb us. I knew you wanted to say hello."
"So he picked up the tab. With tip it was $1,136."
According to Newsday, the story was confirmed by the celebrity's spokeswoman, Claire Mercuri.
We've heard that @jimmyfallon is the nicest guy on the planet, and he proves it out here on Long Island! More in… https://t.co/EY1kaeI9d6

— Cooper Lawrence (@Cooper Lawrence)1535528987.0
@CooperLawrence @jimmyfallon @1061BLI Jimmy truly is a great guy and very generous no joking

— Mitch (@Mitch)1535540271.0
Although it was generous of him to pick up a stranger's tab, some commenters couldn't get past the fact that diners in the Hamptons could afford the meal.
@CooperLawrence @jimmyfallon @1061BLI My guess is, if the person ran up a $1K dinner tab, they're not so hard up for money.

— Lisa (@Lisa)1535540393.0
Regardless, it was the thought behind the gesture that counts. It was meant as a sincere "thank you."
@PageSix I get the impression that those strangers didn't need the help. Nice gesture nonetheless

— Willie FistaGash (@Willie FistaGash)1535622853.0
No matter what the typical patron could afford when dining out in the Hamptons, Jimmy Fallon is still just an overall nice guy.
@MommyMagic111 @jimmyfallon could he be any more sweet?! and THAT'S why we love him ❤️

— Evelyn Robinson (@Evelyn Robinson)1535549848.0
@EvelynRobinson @MommyMagic111 @jimmyfallon We need more people like Jimmy in the world

— Sharon Zurcher (@Sharon Zurcher)1535590818.0
Why did this news not surprise me he's the sweetest man in the world.. facts https://t.co/sO5l3V30kj

— zoe (@zoe)1535500875.0
Dear @jimmyfallon, "Thank you" for paying it forward with kindness (https://t.co/YMVBUiHTXM). Your gratitude toward… https://t.co/rX3skZTwPu

— Il Mulino New York (@Il Mulino New York)1535566446.0
H/T - Newsday, Twitter, ThisInsider