On Sunday, August 19, Afshan Azad — perhaps better known as Padma Patil from the Harry Potter series — married fiancé Nabil Kazi. Several other familiar faces were in attendance at the ceremony, including costars Bonnie Wright and Katie Leung, resulting in a bit of a Harry Potter reunion!
---
Azad had the night of her life, posting online:
Yesterday was the most epic night. My handsome husband and beautiful in-laws went above and beyond and blew me away with the most magical Walima party. Historically, the first wedding to EVER happen in this venue, it was absolutely breathtaking. My very own Royal Wedding!

Fans probably remember Azad best for her scenes at the Yule Ball as Ron Weasley's date in Harry Potter and the Goblet of Fire.
She didn't seem to have much fun that night.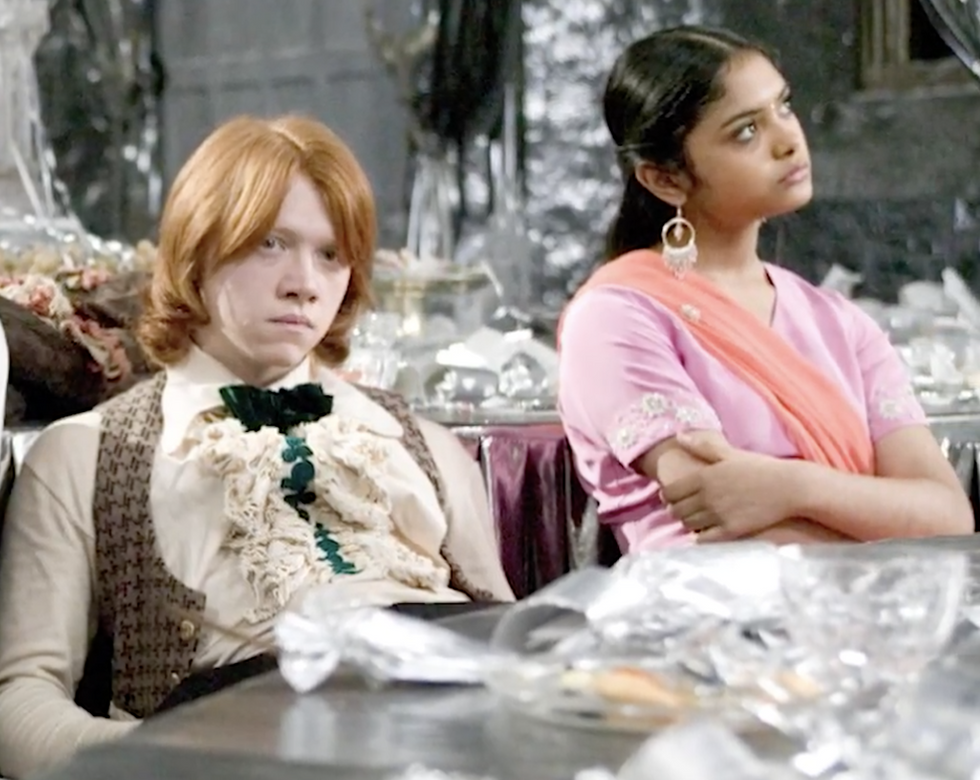 YouTube
Despite the gorgeous setting...
— the yule ball scene in harry potter and the goblet of fire is so incredibly beautiful ♡ https://t.co/3uvzkLgaoU

— lottie • pinned (@lottie • pinned)1534351667.0
It was never meant to be. We know Azad was much happier with her real wedding, but that doesn't mean she's forgotten about her Harry Potter days.
Bonnie Wright, who played Ginny Weasley, posted on her Instagram:
Over the moon to have been there with you today Afshan. We love you so much! Congratulations to you and Nabil, wishing you so much joy in your married life together.
Katie Leung, who played Cho Chang throughout the series, also posted a picture with this caption:
Celebrating our beautiful bride @afshanazad's special day. #walima
Azad's wedding seemed to go much better than Padma's Yule Ball experience.
This mini reunion seems to have gone better than one between Tom Felton (Draco Malfoy) and Matthew Lewis (Neville), who ran into each other in Los Angeles on the same day as Azad's wedding.
So seems like pretty much all of the HP cast has moved on from their Potter phases except Tom Felton like he'll sti… https://t.co/uzjKsqMu52

— suzie (@suzie)1534659221.0
Felton made another attempt to lure Lewis to the dark side, but a true Gryffindor would never budge.
It seems that being a part of the Harry Potter cast means you'll always have a friend when you need one!