Here is something that will lift your spirits with a fluffy thwack to the face this holiday season.
Brendan Edwards is a firefighter in Boston. But when winter rolls around, he ditches the uniform and dons an elf costume and wreaks havoc on the streets in the most jovial way.
According to his Instagram page, Edwards is also a father and has a penchant for making people laugh by challenging random pedestrians to pillow fights — as Buddy the Elf.
Here is a sampling from Ewards' Facebook page of his riotous encounters with willing participants.
Unsuspecting city folk are surprised by a spontaneous duel. And most of them are totally up to the challenge.

Let the feathers fly.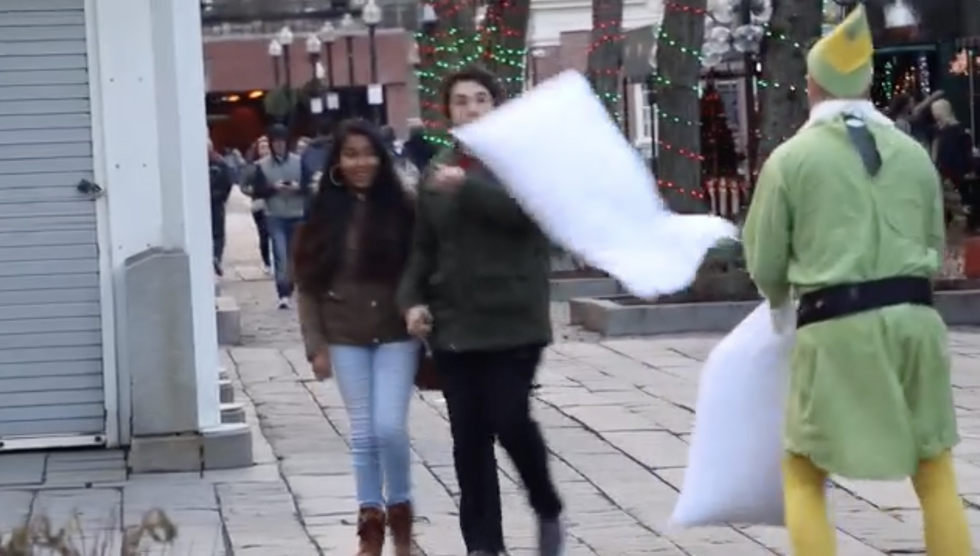 Brendan Edwards/Facebook
@ABC LoL!! How fun 😁It's nice to see theses kind of stories and people having fun. So refreshing.

— jennyrae (@jennyrae) 1544325485.0
@ABC Oh it's on like Donkey Kong! 🤣😁

— Tyler Petersen (@Tyler Petersen) 1544325239.0
Buddy does not discriminate when it comes to his opponents. All ages are welcome to knock this elf to the ground.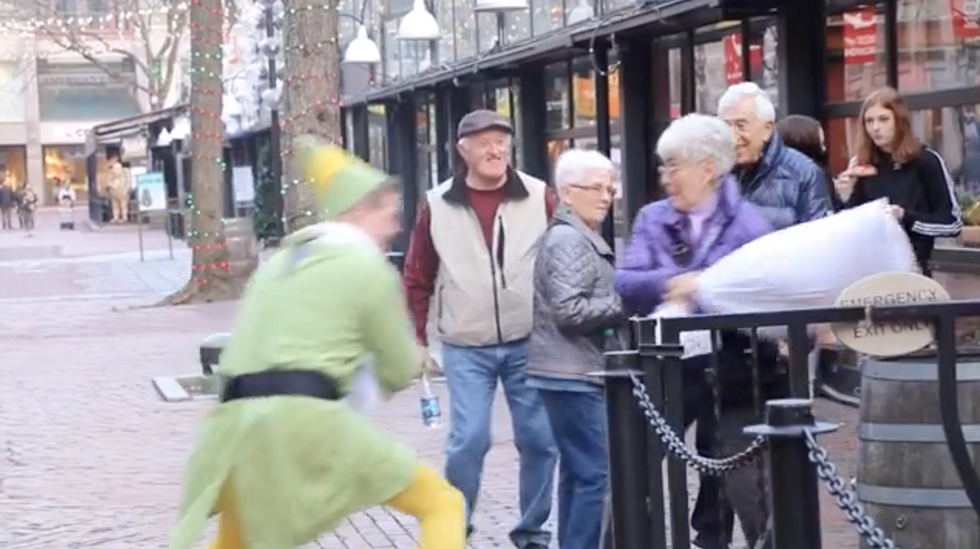 Brendan Edwards/Facebook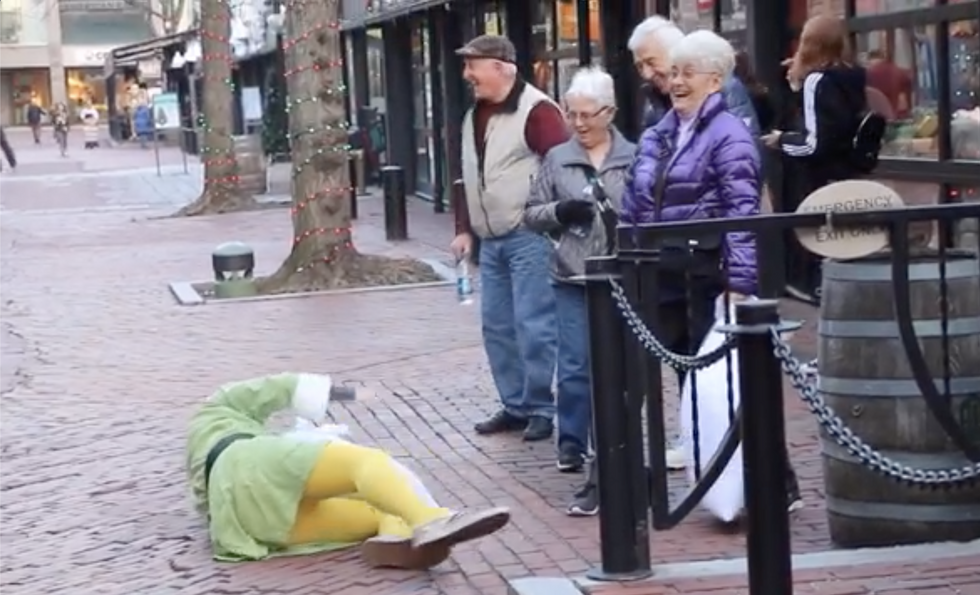 Brendan Edwards/Facebook
@ABC Ha! Love the woman with gray hair. She's like "Here, hold this while I throw a beat down on this elf" 😆

— shane 🏳️‍🌈 🌊 (@shane 🏳️‍🌈 🌊) 1544443824.0
"Hey Boston. It's your very own pillow-fighting elf. Find us in the city today, maybe even surprise us with your own pillow," he challenged followers on Instagram.

And with a gleam in his eye, he said, "I know I'm gonna bring a surprise of my own."

Turns out he brought along a partner in crime to fight alongside him: his girlfriend, "Jovie," for twice the fun.
"Buddy" the pillow fighting elf is back at it and he's brought "Jovie" as backup. https://t.co/DF5jqWEoBd

— WTHR.com (@WTHR.com) 1544472236.0
People are delighted with this mischievous sprite forcing everyone to get in touch with their inner child.
@ABC Priceless..everyone remembers what to do..instantly

— James Williams (@James Williams) 1544325030.0
@ABC It's not a pillow fight until feathers fly! https://t.co/SD0gn1WGMJ

— Judy Schear (@Judy Schear) 1544476398.0
@ABC This is what the season is all about! Spread love and make someone happy.

— Pope dogg macintosh (@Pope dogg macintosh) 1544333073.0
@ABC Hilarious, that's just to funny. He sure made alot of people smile and laugh.

— TRUMP ARMY EATO (@TRUMP ARMY EATO) 1544414773.0
When it comes to tensions the country has experienced of late, this fireman is definitely putting out fires on and off the clock this holiday season.