The Wright Way Rescue animal shelter in Cook County, Illinois, has a Russian Blue cat named Bruno up for adoption.
According to their Facebook post, Bruno declares himself as being "Too cool to be homeless."
We would have to agree.
---
The animal shelter is seeking an owner to adopt the 7-year-old cat.
What makes Bruno special are his unique traits.
He has extra digits—which makes him a polydactyl. Also, at 25 pounds, he weighs more than the typical Russian Blue cat by almost 15 extra pounds.
Based on photos of the precious kitty, there's a whole lot of him to love.
The Facebook post reads:

"There's a lot of me to love! I am perfectly healthy other than being overweight. I am on a diet, though."

"I am walking, playing, and doing tricks like this to lose some weight."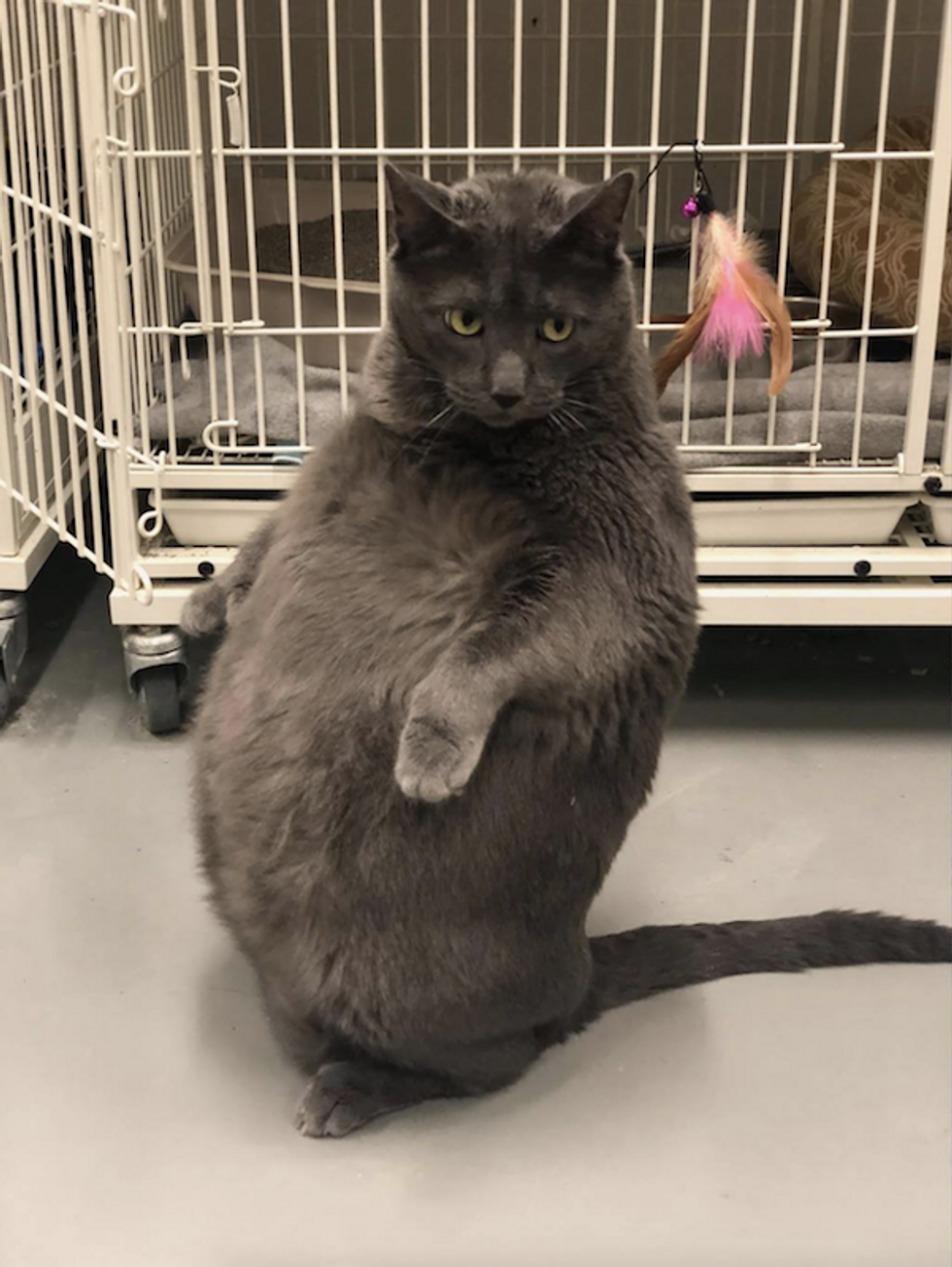 Introducing: Bruno.(Wright Way Rescue/Facebook)
@wsvn OMG HE IS SO CUTE ❤️❤️❤️❤️❤️

— Eileen Salerno (@Eileen Salerno)1534555261.0
He's a very affectionate cat according to his description.

"I like when you scratch the sides of my face and neck."
"I like to be pet on the top of my head and spine only."
However, patting his belly is off limits.
"I know my tummy is so tempting to touch, but I would prefer if you didn't. I may swat my hand and pretend to bite if you do."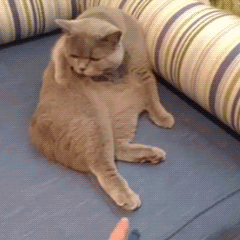 Cat lovers instantly fell in love with the pictures of Bruno standing on his hind legs and showing off his protruding belly.
According to the Facebook post, Bruno standing on his hind legs is a quirky trait he does to communicate that he's ready to eat.
@WGNNews How does he stand up like that!?! He's adorable, wish I could have him.

— Libby the Angry Liberal (@Libby the Angry Liberal)1534543209.0
No one knows how he learned the trick.
"No, my foster parents did not teach me this. They are not sure how I learned."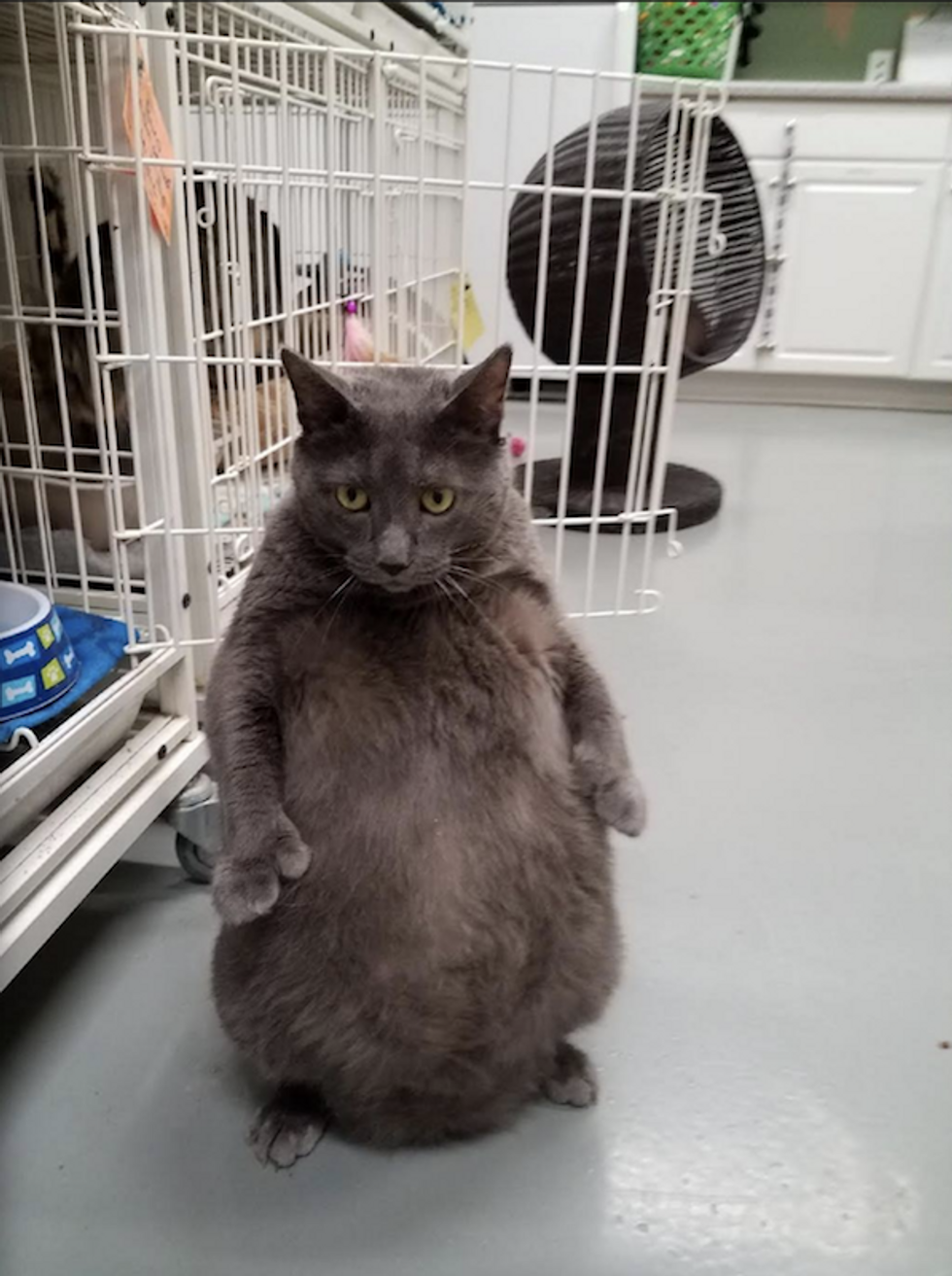 Feed me.(Wright Way Rescue/Facebook)
Bruno also likes to be pet while feasting.
He'll still eat if you don't pet him. But Bruno will keep meowing and stare you down until you give in and provide kitty canoodling.
We did warn you he's high maintenance, right? *Grapes strictly for prop - all cats are super spoiled*… https://t.co/bmLmsPfpld

— Wright-Way Rescue (@Wright-Way Rescue)1534541461.0
@WrightWayRescue Cats with "thumbs" are the absolute best! I'd adopt Bruno but I already have 4. They are runners!

— Music14 (@Music14)1534568324.0
Bruno is also very specific about drinking his water.
He drinks a lot and prefers to keep hydrated by lapping up water from bowls placed in various parts of the house. Put not from a bowl right next to his food.

"I only drink the water that was put in a completely different room. If you have a larger house, perhaps put multiple bowls of water around for me and be sure to give me fresh water at least once day?"
"Yes, I know I am EXTRA."
@WrightWayRescue Love it! Whoever wrote that description--great job!

— Hera S. (@Hera S.)1534477128.0
The shelter's post received over 22 thousand likes and is currently reviewing many applications.
According to ABC 7, applications came in from as far as Australia, Wales and Canada.

Fame has gone to his head. Our thicc boi Bruno is now reviewing applications for the *PERFECT* home. https://t.co/NmVjAufJcw

— Wright-Way Rescue (@Wright-Way Rescue)1534539258.0
Dear @WrightWayRescue, Please pick @FutureSchlock to be Bruno's forever home. https://t.co/QowWcWdft8 Love, Litera… https://t.co/IJLweLwzNE

— Laura M. Browning (@Laura M. Browning)1534536796.0
@WrightWayRescue He sounds so much like my cat except for the standing and 25lbs. Whomever adopts him will have an amazing little friend.

— Liv (@Liv)1534497052.0
May Bruno find a happy forever home.
Watch a video of Bruno performing his signature trick below. It looks like someone is getting hungry!