The tables have turned on internet troll king Ryan Reynolds when he got a taste of his own medicine being punk'd by buddies Hugh Jackman and Jake Gyllenhaal.
They got him real good by inviting him to an ugly Christmas sweater party that was not an ugly Christmas sweater party.
---
The 42-year-old Deadpool star posted a picture of himself in a rarely-seen state of defeat.
Flanked by the cheerful faces of Jackman, 50, and Gyllenhaal, 38, Reynolds is looking doleful in a tacky red and green Christmas sweater. But this isn't just any tacky sweater.
A three-dimensional gold ribbon is the icing on the cake on the clueless participant of a non-existent theme.
And the winners are Jackman and Gyllenhaal.
Reynolds wrote on Instagram:
"These f-----g assholes said it was a sweater party."
It was refreshing to see Reynolds—who is usually the mischievous one ribbing his comrades on social media—being duped in such an epic way. There is no release date set for the confirmed Deadpool 3 film, but the first two installments are now out in a double feature Blu-ray and 4K version available here.
Fans laughed along with the successful prank in which Reynolds was the unexpected patsy.

@VancityReynolds @AlanGEskew @RealHughJackman https://t.co/4TYt4bAZSt

— Cheryl Lorraine (@Cheryl Lorraine)1545418874.0
ryan reynolds is me in any social setting https://t.co/RrDPYgKGBD

— megan • PINNED (@megan • PINNED)1545371000.0
Jackman and Gyllenhaal are giving high-fives for pulling off the gag.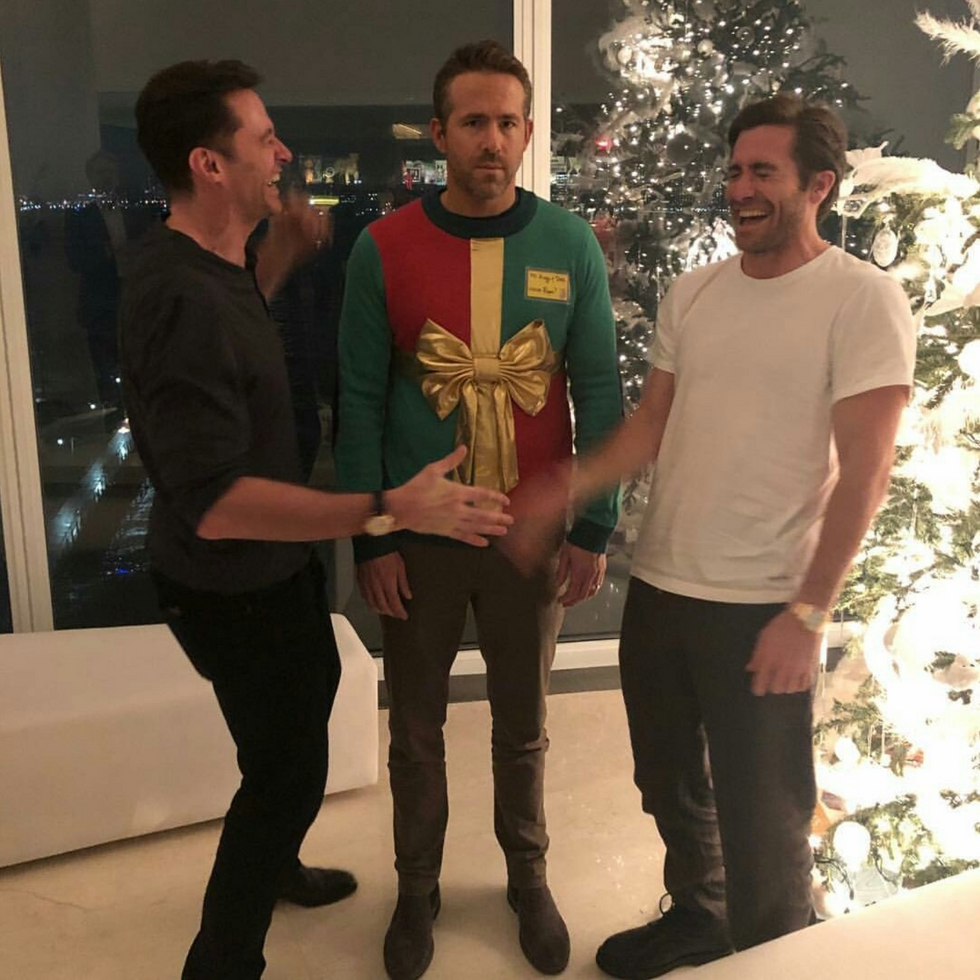 @marvelsziams/Twitter
Womp, womp.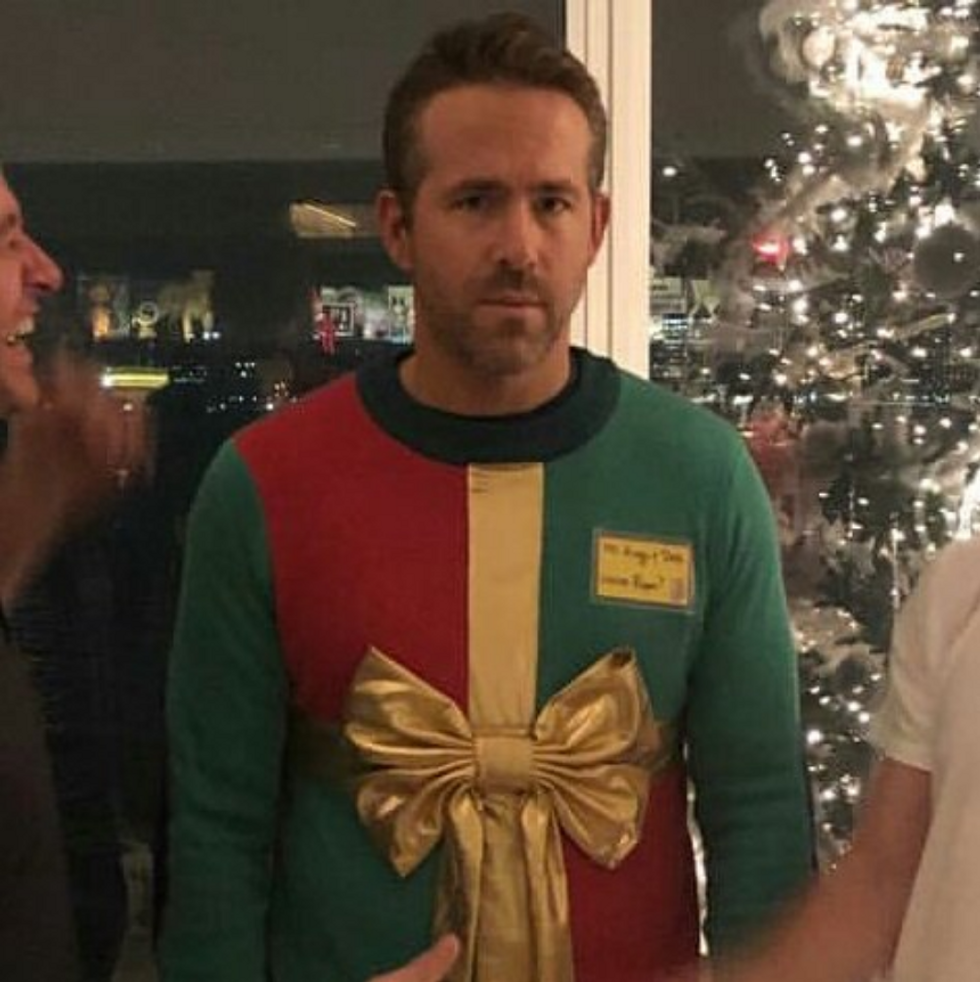 @marvelziams/Twitter
Let the memes begin!

Online photo artist Avengergram even created a rendition of the trio with their Marvel action figure alter-egos.
"These assholes said it was a sweater party." Saw @VancityReynolds awesome photo on IG and couldn't resist.… https://t.co/ykRodRF33C

— Avengergram (@Avengergram)1545383313.0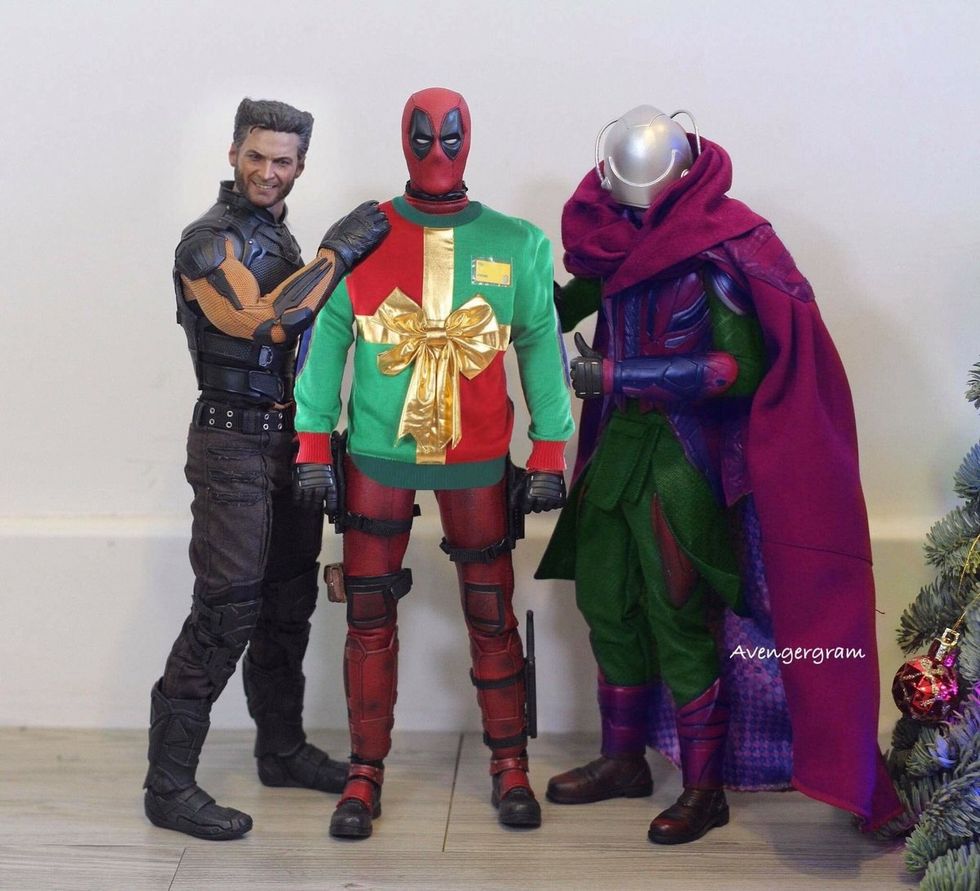 Photo artist Avengergram's tribute to the trioAvengergram
Gyllenhaal is slated to join Jackman and Reynolds in the Marvel comics family when he takes on the role of Marvel's Mysterio.
@VancityReynolds @RealHughJackman https://t.co/J4TSyyXeCV

— Justin Harmon (@Justin Harmon)1545412381.0
@VancityReynolds @RealHughJackman When McDonalds says the ice cream machine is down... https://t.co/1pNwidOt3x

— Zach McCracken (@Zach McCracken)1545405538.0
@VancityReynolds @RealHughJackman Wolverine 4 https://t.co/IqTkLlJKT8

— MemesLandia (@MemesLandia)1545414974.0
Riffing off of Deadpool's contentious relationship with Wolverine from the Marvel comics, Reynolds routinely trolls Jackman on social media.
Jackman's character Logan referenced the Merc with a Mouth in two of his standalone films since the pair appeared in 2009's X-Men Origins: Wolverine together. That 2009 film—now available here as a Blu-ray double feature with the second Wolverine film—marked the first time Reynold's played the character Deadpool.
But Jackman made nice on one occasion for Reynolds's birthday.
Because I'm told that I AM THE NICEST GUY and you're NOT. @VancityReynolds ... I will let you hug me. Just this onc… https://t.co/gr7k7mEQ43

— Hugh Jackman (@Hugh Jackman)1540296430.0
Reynolds quickly fired back, "This man is a monster. He's not even from Australia. He's from Milwaukee," referencing Wolverine's shirtless doppleganger—the famed "Milverine."
This man is a monster. He's not even from Australia. He's from Milwaukee. https://t.co/CxHceP4d9L

— Ryan Reynolds (@Ryan Reynolds)1540331596.0
Reynolds even extends his trolling to wife and Gossip Girl actress, Blake Lively.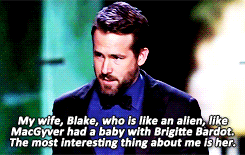 GIPHY
Now with Jake Gyllenhaal getting in with the holiday high-jinks, something tells me the brohaha is just getting started.
Get ready folks, because 2019 could start off with a bang.

@VancityReynolds @RealHughJackman I loved it❤❤❤❤❤ https://t.co/gveJ4gXeyZ

— Andrea B Ferreira (@Andrea B Ferreira)1545418266.0