Diane Tirado taught her eighth students at West Gate K-8 School that when it comes to life, there are no easy passes.
When she applied that tenet towards grading, however, Tirado was fired. She believes she was let go for ignoring the school's "no zeros" grading policy.

---
Within the first few weeks of teaching at her new job in Port St. Lucie, Florida, Tirado assigned the students an "explorer notebook project."
After some of her pupils missed the two-week deadline to hand in the assignment, she consulted with the school's administrators about the grading policy and was told the lowest grade she can give was 50 percent.
Tirado, however, stayed true to her convictions and refused to give half marks for the students who didn't turn in the assignment.
"A grade in Ms. Tirado's class is earned," she declared.
On September 14, Tirado was terminated from the school and was given no explanation since she was technically under a probationary period.

On her last day at the school, Tirado wrote a final message to her students on the white board and posted a picture of it to her Facebook page.
It read:

"Bye, kids. Mrs. Tirado loves you and wishes you the best in life!"
"I have been fired for refusing to give you a 50% for not handing anything in."
Tirado told WPTV News that "we have a nation of kids that are expecting to get paid and live their life just for showing up and it's not real."
Her post of the final message to her students has now been shared over 2,200 times.
According to the NY Post, the spokesperson for the school denied the "no zeros" policy, saying that "some classroom teachers and school faculties" have decided that a range of 50 to 59 grading points constitutes a failing grade.

The spokesperson also said:

"There is no district or individual school policy prohibiting teachers from recording a grade of zero for work not turned in. The district's uniform grading system utilizes letter grades A-F, numerical grades 100 to zero and grade point averages from four to zero."

However, the West Gate student and parent handbook clearly states in all caps: "NO ZEROS – LOWEST POSSIBLE GRADE IS 50%," based on the news outlet's reporter holding up a cropped image of the policy on her smartphone.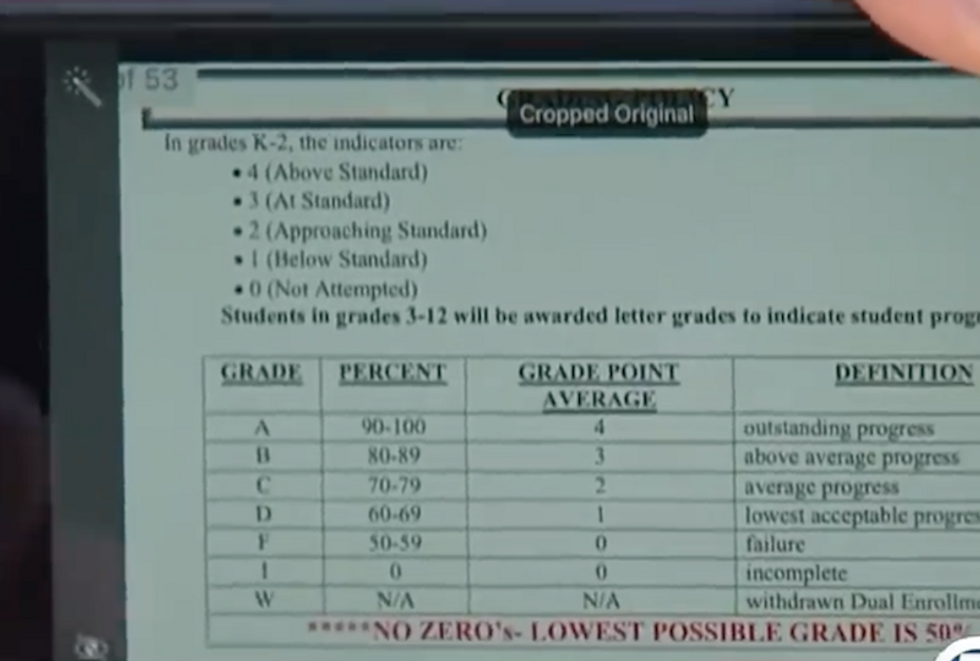 (WPTV news/YouTube)
Another teacher came forward with a similar experience.
People couldn't believe how the school coddles their students.
Tirado is hoping her speaking out against West Gate's grading scale will motivate policy change.