A body-shaming troll recently proved he's no match for Busy Philipps. The actress's response to a rude comment showed that if people are going chastise her on social media, it would behoove them to use proper grammar.
On Tuesday, the Dawson's Creek alum posted a picture of her post-workout body on Instagram, and fans left encouraging comments.
It didn't take long, however, for someone to post a nasty comment about her body. Philipps wasn't going to stand for it.
---
Philipps shared a selfie of her standing on a trampoline and wrote, "Today is #TheAwesomeChallenge and my workout every morning makes me feel awesome(even on the days when I'd rather stay in bed, like today)."
Philipps wasn't fishing for compliments, but neither she nor her followers expected someone to body-shame her.
The remark was a low blow, considering the fact that the point of her post was to promote a back-to-school clothing donation charity through the use of the hashtag #TheAwesomeChallenge.

So mean.(screencapture from BoredPanda)
The outspoken actress pounced.

First, she educated the troll on proper grammar.
"I feel like a man of your age should know the difference between YOUR and YOU'RE."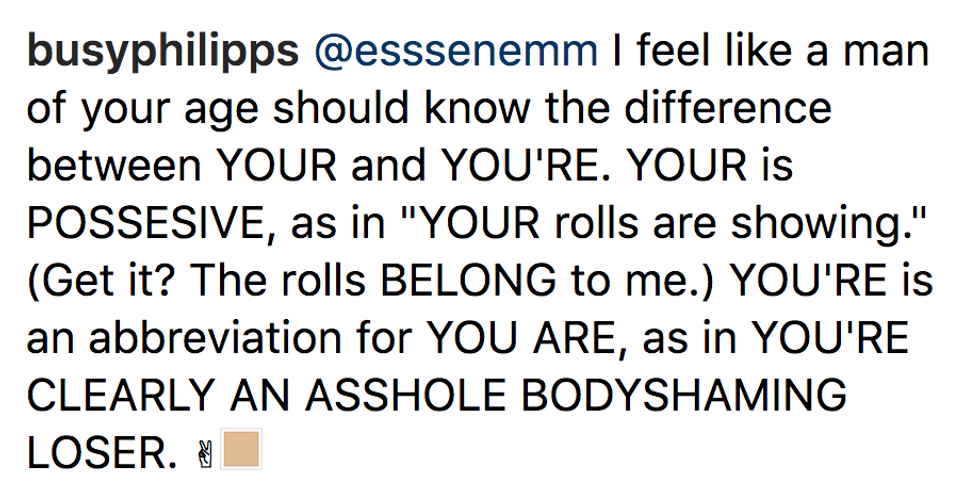 (@busyphilipps/Instagram)
Fans praised the grammar and fitness queen.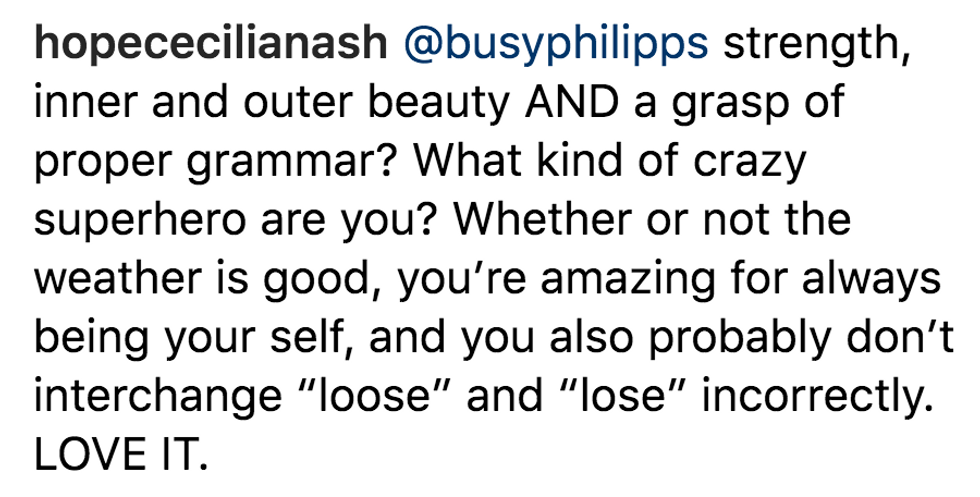 Followers also praised Philipps' appearance in the photo.



Some suggested she block @esssenemm because of his strong creep vibe and tendency to stalk and shame other female celebrities.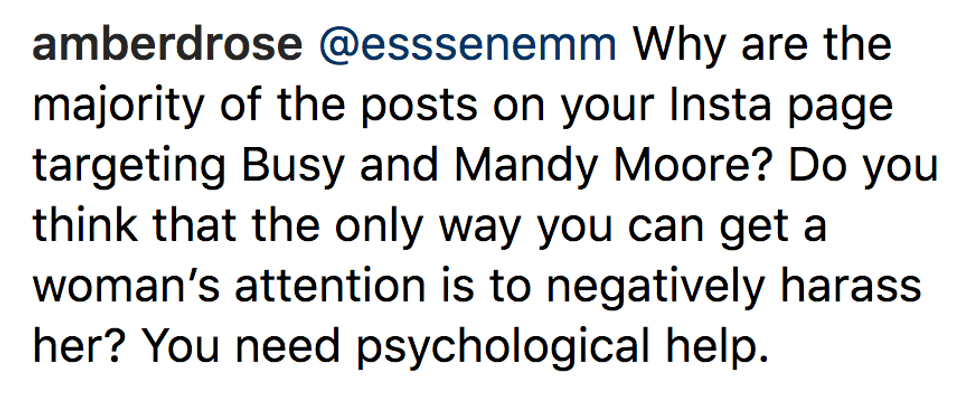 When it comes to body image, Philipps will always advocate for positivity and remain an encouraging presence on social media.
Last fall, she vented about a frustrating interaction with a well-meaning fan who spotted her at a Rite Aid after a SoulCycle class. The fan approached her and told Philipps that she lost her "plumpness."
According to Refinery 29, she wrote on her Instagram story:

You know how when you're a woman, sometimes people feel like they should be able to comment about your body all the time or make laws about your body?
Well when you're an actress, or any female in the public eye, everyone feels that they can comment on your body all the fucking time. Always.
She offered advice on proper etiquette when striking up a conversation.

The amount of people in my long 20-year career in this industry who've come up to me in grocery stores and Bed Bath and Beyonds to talk with people about my weight.
I think it's a good thing to err on the side of 'Let's not talk to people about their bodies unless they bring it up first and they want to talk about their bodies.'
H/T - Refinery29, Instagram, BoredPanda, ScaryMommy