Arya Stark is the inspo behind a new dance challenge, and this is exactly the kind of fan behavior we need.
---
Be aware that possible spoilers lie ahead.
In Game of Thrones' most recent episode "The Long Night", there was no doubt that Arya Stark reigned supreme.
Fans watched Sunday night as the younger of the Stark daughters miraculously conquered the Night King during the Battle of Winterfell.
The battle was truly epic, and Arya's battle moves have garnered her acclaim everywhere.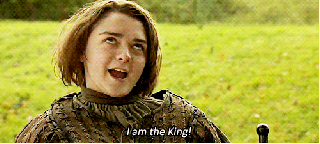 media2.giphy.com
Perhaps the best illustration of how the internet now stan's Arya is a new dance move.
Yep, there is now an unofficial Game of Thrones dance challenge circulating the internet, and it is aptly named #TheArya.
Some people also call it #NotToday.
The move was created by Twitter user @Chuckisdope and is now being adopted by GoT fans everywhere.
Some people are attempting to slip the move into their every day lives.

Others are eager to hop on the bandwagon to stan their girl.
Time to hit the club!