Congratulations are in order for Andy Cohen. On Thursday's episode of Bravo's Watch What Happens Live he announced that he would soon be a father. The host is expecting his first child via a surrogate and says he could not be happier. Excitingly, his new little bundle of baby-joy is due in about six weeks!
---
The episode was his last for 2018 and Cohen took the opportunity to close things out with a moment to reflect, giving an emotional monologue during which he said:
"I am full of so much gratitude. Tonight I want to share a little personal news of my own. To the viewers at home, I call you my friends at home because we are friends. You have supported me through almost 10 years of life… This has been an incredible joyous journey with you all. I am grateful to be able to live my dream every day and grateful to you for coming along for the ride. And throughout it, I've always tried to be as transparent as possible about my life — I overshare and expect everyone to do the same. Tonight, I want you to be the first to know that after many years of careful deliberation, a fair amount of prayers and the benefit of science — if all goes according to plan in about six weeks time I'm going to become a father."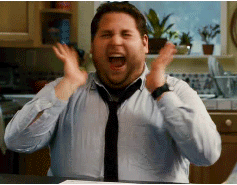 media0.giphy.com
Cohen then went on to thank his surrogate and touched on how meaningful this all is for him:
"Thanks to a wonderful surrogate who is carrying my future. Family means everything to me and having one of my own is something that I have wanted in my heart for my entire life. Though it's taken me longer than most to get there, I cannot wait for what I envision will be the most rewarding chapter yet."
Fans poured onto social media to congratulate him:
Gracious as always, Andy thanked people for the love and support with a tweet... where he was met with another wave of love and support! (Shout out to Andy's parents, who are the real winners here.)
So congrats to Andy, of course - but also thank you. Your announcement and your fans loving reactions mean the world got a reminder that it's not all doom and gloom. Sometimes, Twitter is just the kind of screen-hug we all need.