Paramount Studios teased audiences with a first glimpse of Kingsman actor Taron Egerton portraying music legend Elton John in the upcoming theatrical biopic.
And boy, is the actor nailing it!
---
The 28-year-old Egerton will be starring in Rocketman, which will chronicle Elton John's early life and career. The photo's unrecognizable actor knows what it means to be fabulous.
He has made a complete transformation and is showing off his legs for days.
In the photo, the Welsh actor and singer is wearing a gold lamé jacket with shortie-shorts. The glittery pair of large sunglasses compliment the outlandish look that so captivated concert-goers a few decades ago.
And those winged boots are making people positively giddy.

People couldn't get enough of the brilliant photo.
According to Entertainment Weekly, the film is being touted as an "'uncensored' examination of John's life," and will take audiences on a musical journey through the use of many of Elton's classic hits.

This isn't the first time the two worlds collided.

Elton John starred with Egerton in Kingsman: The Golden Circle (2017) by playing himself.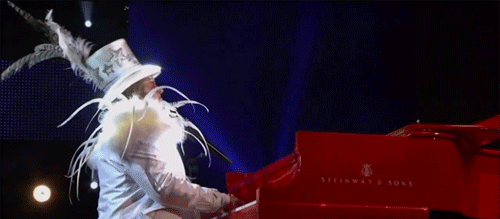 media1.giphy.com
The young actor also demonstrated his vocal prowess by singing one of Elton's signature songs – "I'm Still Standing," in the 2016 animated movie, Sing.
Other photos from Rocketman appeared online.
The ones below are from an on-set location in London with co-star Jamie Bell, who plays Sir Elton's friend and longtime collaborator, Bernie Taupin.
Before taking flight on his next ambitious venture, Egerton teased fans with a tweet revealing only a shadow of himself outlined by a silhouette of wings.
On June 20th, he tweeted:
"Here we go."

Fans are already anticipating an impressive performance from Egerton.
In addition to Bell, Egerton will be joined by co-stars Richard Madden, Gemma Jones and Bryce Dallas Howard.
Rocketman is scheduled for a May 31, 2019, launch date.