Paramount Studios teased audiences with a first glimpse of Kingsman actor Taron Egerton portraying music legend Elton John in the upcoming theatrical biopic.
And boy, is the actor nailing it!
---
The 28-year-old Egerton will be starring in Rocketman, which will chronicle Elton John's early life and career. The photo's unrecognizable actor knows what it means to be fabulous.
He has made a complete transformation and is showing off his legs for days.
An epic musical fantasy. An uncensored human story. Take a first look at @TaronEgerton as Sir @eltonofficial in… https://t.co/cahZlIE4uv

— Paramount Pictures (@Paramount Pictures)1538133109.0
In the photo, the Welsh actor and singer is wearing a gold lamé jacket with shortie-shorts. The glittery pair of large sunglasses compliment the outlandish look that so captivated concert-goers a few decades ago.
And those winged boots are making people positively giddy.

@ParamountUK @TaronEgerton @eltonofficial Those boots are EVERYTHING!

— Bradlah (@Bradlah)1538139384.0
People couldn't get enough of the brilliant photo.
@ParamountUK @TaronEgerton @eltonofficial F'ing fantastic!

— Mark Staples (@Mark Staples)1538152789.0
@ParamountUK @TaronEgerton @eltonofficial WHAT THE HEEELL HAHAHAHAHAHA LOVE THIS🤣🤣

— Arëdhêl Tinúviel (@Arëdhêl Tinúviel)1538243646.0
@ParamountUK @TaronEgerton @eltonofficial You're amazing ; I mean the clothes, the haircut and the shoes !!

— Sand (@Sand)1538215943.0
@ParamountUK @TaronEgerton @eltonofficial Holy crap you look so like EJ 🙊

— Dream2018 (@Dream2018)1538148848.0
@ParamountUK @TaronEgerton @eltonofficial No waaaaaaaay!! I had no clue they were even doing this, you will be amaz… https://t.co/2pf8agspIU

— pamela newman (@pamela newman)1538135130.0
According to Entertainment Weekly, the film is being touted as an "'uncensored' examination of John's life," and will take audiences on a musical journey through the use of many of Elton's classic hits.

This isn't the first time the two worlds collided.

Elton John starred with Egerton in Kingsman: The Golden Circle (2017) by playing himself.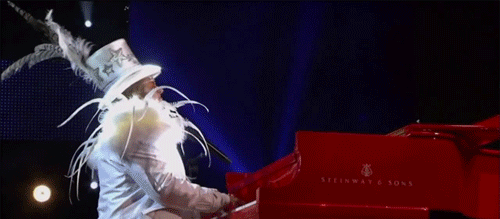 media1.giphy.com
The young actor also demonstrated his vocal prowess by singing one of Elton's signature songs – "I'm Still Standing," in the 2016 animated movie, Sing.
@JessLj1 @ParamountUK @eltonofficial @TaronEgerton As well as singing one of his songs in Sing. Just say that 5 times fast.

— Nekrobomb Jones (@Nekrobomb Jones)1538152548.0
Other photos from Rocketman appeared online.
The ones below are from an on-set location in London with co-star Jamie Bell, who plays Sir Elton's friend and longtime collaborator, Bernie Taupin.
good morning to these new pics of taron egerton and jamie bell during 'rocketman' filming https://t.co/utJ4gdldSB

— emeal™ (@emeal™)1536681088.0
Before taking flight on his next ambitious venture, Egerton teased fans with a tweet revealing only a shadow of himself outlined by a silhouette of wings.
On June 20th, he tweeted:
"Here we go."

Here we go. #Rocketman @eltonofficial @ParamountPics https://t.co/7Klq49UqdK

— Taron Egerton (@Taron Egerton)1529508385.0
Fans are already anticipating an impressive performance from Egerton.
@TaronEgerton @eltonofficial @ParamountPics AND THE OSCAR GOES TO ... TARON EGERTON 💚😍 #Rocketman https://t.co/kQJsKkLpQp

— Marina Giselle 💚💛💜 (@Marina Giselle 💚💛💜)1529513630.0
In addition to Bell, Egerton will be joined by co-stars Richard Madden, Gemma Jones and Bryce Dallas Howard.
Rocketman is scheduled for a May 31, 2019, launch date.