Gillian Brockell, who works as a video editor for The Washington Post, was pregnant for 32 weeks before the unborn child unfortunately passed away in utero, causing her to have a stillbirth.
---
According to Brockell, the pain of her traumatic experience was only made worse by targeted advertisements on social media. The ad marketing algorithms all believed she was pregnant and constantly reminded her of what she'd been through by trying to sell her products for her deceased child.
Brockell commented to BuzzFeed News:
"The most painful thing is losing my child. But going back to social media is very painful because of the advertising."
She tried to "teach" the computer that she was no longer pregnant by selecting that the ads were "not relevant" whenever the option was presented.
Unfortunately, her computer drew the wrong conclusion.

"I was trying to teach it that I wasn't pregnant anymore, but it seemed what it learned was that I had delivered."
Instead of going away, as she'd hoped, the incessant ads simply became targeted towards new mothers instead of expectant ones.
The final straw was when Brockell received an email from credit-monitoring company Experian "inviting [her] to finish registering [her] child for lifetime credit tracking," (which she hadn't ever started).

"I could not believe I was getting spam emails to track my dead child's credit."
Brockell penned an open letter to the tech companies that targeted her online asking how they were able to tell she was pregnant, but unable to figure out that it had ended in grief.
The full text can be seen here.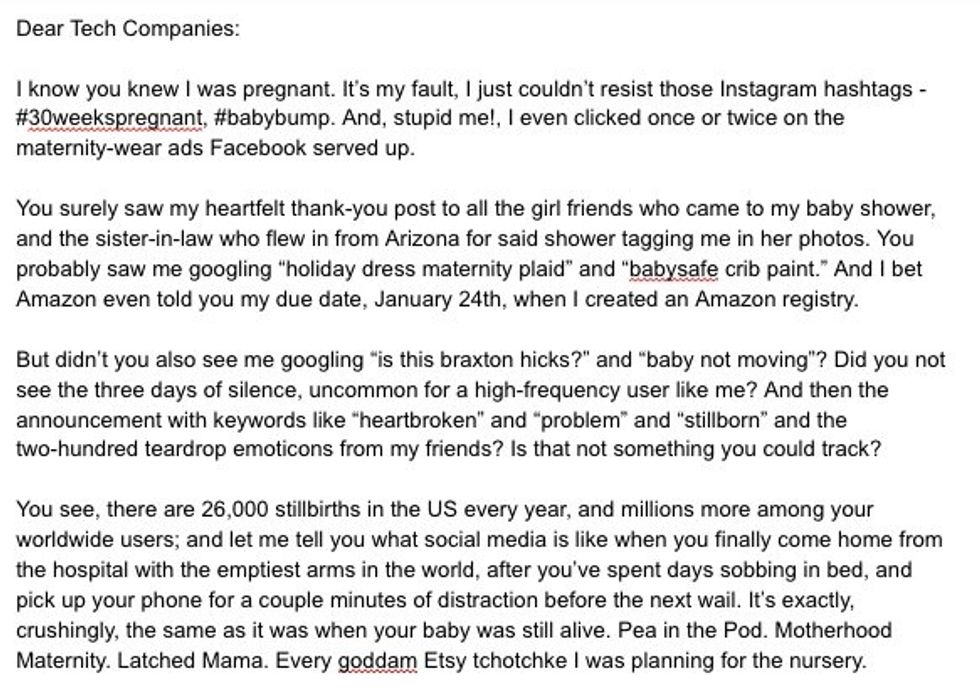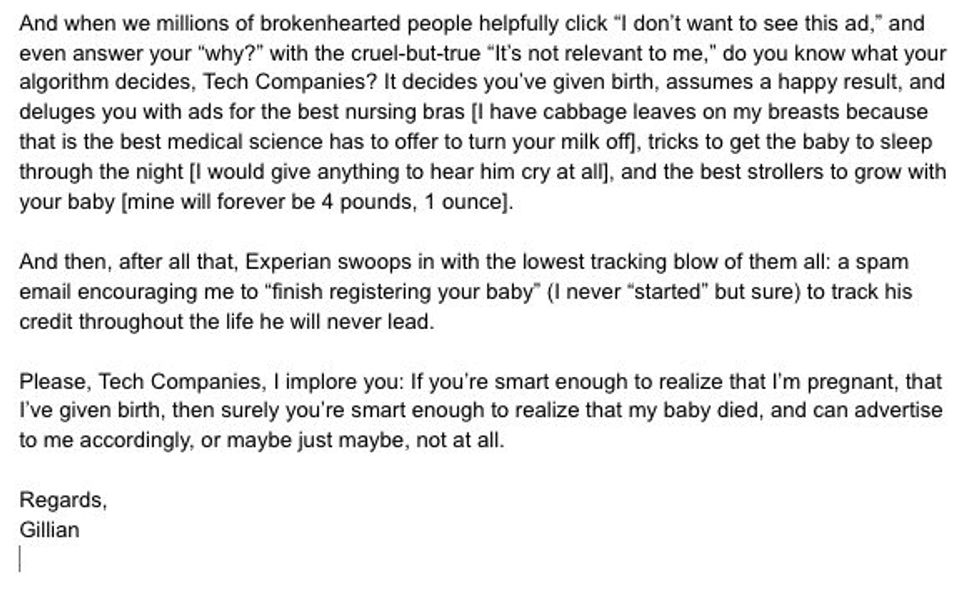 Twitter: @gbrockell
Part of her letter reads:
"You see, there are 24,000 stillbirths in the United States every year, and millions more among your worldwide users."
"And let me tell you what social media is like when you finally come home from the hospital with the emptiest arms in the world, after you and your husband have spent days sobbing in bed, and you pick up your phone for a few minutes of distraction before the next wail."
"It's exactly, crushingly, the same as it was when your baby was still alive. A Pea in the Pod. Motherhood Maternity. Latched Mama. Every damn Etsy tchotchke I was considering for the nursery."
She continued:

"And when we millions of brokenhearted people helpfully click 'I don't want to see this ad,' and even answer your 'Why?' with the cruel-but-true 'It's not relevant to me,' do you know what your algorithm decides, Tech Companies?"
"It decides you've given birth, assumes a happy result, and deluges you with ads for the best nursing bras (I have cabbage leaves on my breasts because that is the best medical science has to offer to turn your milk off), DVDs about getting your baby to sleep through the night (I would give anything to have heard him cry at all), and the best strollers to grow with your baby (mine will forever be four pounds, one ounce)."
Brockell's letter resonated with many, causing it to go viral and for many readers to reach out to her on social media with support. Of the responses, Brockell said:
"It's just people saying that happened to me too, and I'm sorry."
When approached for comment by Buzzfeed News, Facebook directed readers to a tweet in response to Brockell made by their head of ads, Rob Goldman.
Though Gillian would eventually learn how to disable the posts, she also thought the process was unnecessarily complicated considering companies were able to automatically turn them on, but then unable to realize they had become irrelevant.
To turn off the painful ads, Brockell went into Facebook Settings > Ad Preferences > Hide ad topics > Parenting.

But even after changing her settings, ad companies still found a way around Brockell's preferences.
Twitter also responded to Brockell's targeted ads. In their official statement, they said:
"We cannot imagine the pain of those who have experienced this type of loss. We are continuously working on improving our advertising products to ensure they serve appropriate content to the people who use our services."
Around 24,000 parents experience a third-trimester stillbirth in the U.S. annually and Brockell says the most important thing you can do if you know someone who's gone through that experience is to simply let them know they're in your thoughts.

"It can be a lonely feeling."