In preparation for her debut as a guest judge for the eleventh season of RuPaul's Drag Race, Miley Cyrus pulled a gender switcheroo and went undercover as a production crew member from a company called World of Wonder.
Going icognito under the alias, "Barry 'B.J.' Johnson," her mission was to catch some queens by surprise.
So she donned a black t-shirt, some faux facial hair and adopted a worthy enough gait on her way to meet some drag queens.
"I love me some f—ing beautiful women!" exclaimed the former Hannah Montana star.

Operation: gonna-make-some-queens-scream was well underway and Miley's preparation was captured in this clip posted on Instagram.

Fans loved it:

@mileycyrus/Instagram

@mileycyrus/Instagram

@mileycyrus/Instagram
There were no cutting corners here. It was a close shave all the way.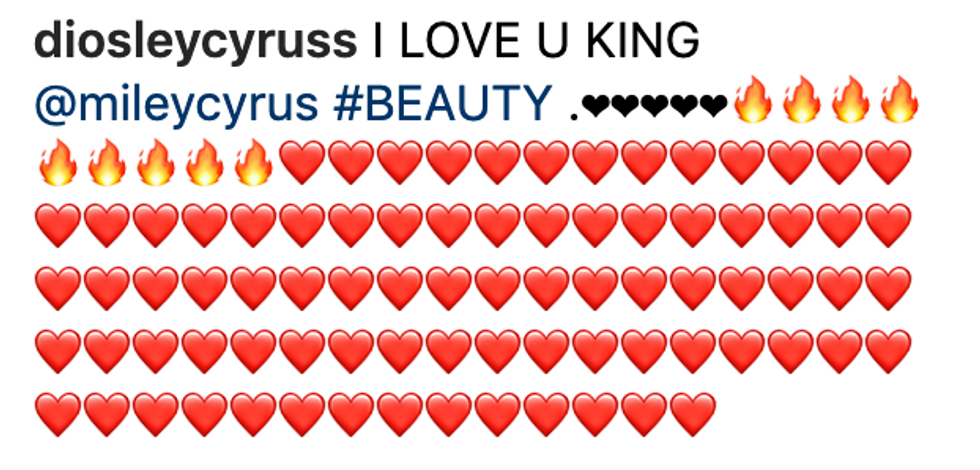 @mileycyrus/Instagram
Final touches.

@mileycyrus/Instagram

@mileycyrus/Instagram

@mileycyrus/Instagram
This didn't mark her first appearance ever on Drag Race, although this was her debut on the panel as a judge. She was spotted watching the season 7 finale in 2015.

So how did she do? The tables have turned and the queens judged her judging duties.
Silky Nutmeg Ganache, one of the new contestants this season gained newfound respect for the "Party in the U.S.A." pop singer. She told EW:

"You know what, it's so different to see her as a guest judge."
"Because, you know, as people it's only human to have your own reservations or outlooks of people…"
"I found a new love for her because you have to realize people are human and now that I'm in the media world, I understand things a little bit more."
Ariel Versace sang her praises for the 26-year-old.
"You know, Miley is a crazy girl. She's going to be so much fun to watch. She always has such high energy. And we're able to feed off of her energy."
"She gave really good feedback to us. She gave us a pep talk, made us feel really comfortable about the first episode. We're like, 'Oh my god, we're here. It's insanity.' But she kinda was just like, 'Keep breathing, keep it moving.' It was really cool."
Did she fool anyone? We'll have to tune in and find out.

Rev your engines everyone! The new season of RuPaul's Drag Race begins February 28 9 p.m. ET on VH1.