Two actors who've put their stamp on the pop-cultural landscape of the '90s are roasting each other hard in the current era of social media trolling.
Macaulay Culkin––forever linked to his earlier work as a child actor in the Home Alone films––and Devon Sawa, a Canadian actor known for his work as a teenager on films like Idle Hands, Final Destination and Slackers, are going at it on Twitter, and we're loving it.
---
Hello Giggles believes the friendly feud started when Culkin – who is a podcast co-host on his parody website BunnyEars.com, wore a t-shirt with the words "Devon Sawa" with an arrow pointing upwards to his face.

Sawa, 40, responded with a graphic tee of his own, getting back at the 39-year-old Culkin.

Despite the image being cropped in the photo, the letters spelling "Macaulay" are evident.
Culkin was quick to lend his foe a helping hand by setting up a GoFundMe page in the event Sawa should suffer consequences for the bank heist.
Us Weekly believes the spat dates back a few months. On July 12, 2018, Sawa made a jab at Culkin for his iconic portrayal as the bratty Kevin McCallister from Home Alone.
"Back in the late 80s I got a call from a young @IncredibleCulk. He was frantic. Stuck. In a dark place, creatively," wrote Sawa.
"I said 'Mac chill,' I was 12. Told him 'pretend you're shaving, put some aftershave in your hands, slap it on your face & scream..It'll be gold.' You're welcome."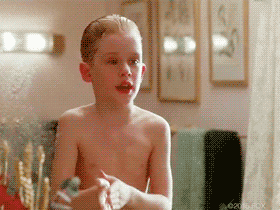 media2.giphy.com
Culkin responded immediately, tweeting, "Dude, that story couldn't be true. I didn't know you in the 80's. Neither did anyone else."
Ouch.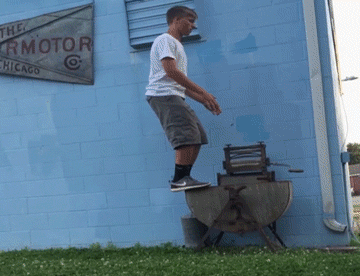 media2.giphy.com
Sawa returned the favor by telling Twitter that the Richie Rich actor has a Tinder profile.

But Culkin showed Sawa who's boss by creating an actual dating profile for him on FarmersOnly.com, which brings "salt of the earth" types together.
In another epic move from Sawa, he mentioned Culkin's on-screen mother from Home Alone, Catherine O'Hara, in this July 13, 2018 tweet.

How long these two will continue sparring is anybody's guess, but both Culkin and Sawa show no signs of defeat. That's great for the rest of us on Twitter.
May the pair never call a truce.

H/T - USweekly, Hellogigglrs, Twitter