When it comes to the art of conversation, this toddler is a natural.
The internet gods bestowed to us a gift in the form of a video in which a father carries on a legit discourse with his infant son while watching TV.
---
It may sound like baby babble but as far as the dad is concerned, his inquisitive son is commenting on what unexpected turns the season finale of their mystery show might take.
People swooned over father and son reviewing their entertainment program from the couch.

The adorable exchange might have incited a baby boom.
@_11Remember_ Ohhhh my overies 😭😭😭... yes I'm a guy, but that's besides the point... Oohhhhh my overies 😭😭😭

— LSJ (@LSJ)1559744649.0
@MarileKleinhans @Victorthemodel @_11Remember_ I just wanna make a baby... don't you?

— LSJ (@LSJ)1559758935.0
The star of the show is baby Kingston of Clarksville, TN, whose parents are Deztin and Shanieke Pryor.

Shanieke originally posted the clip to her Facebook page where it racked up around 46 million views. Even a ripped version on Twitter posted by Devin Johnson received over three million likes.

At one point, baby Kingston really gets into the program and starts pointing at the screen.

"That's what I was wondering! I don't know what they're gonna do next season," exclaimed daddy Deztin.
The son nods in agreement to acknowledge they're both on the same page.

Then, a perplexed Kingston raises his arms in defeat, and dad responds:
"Right, that's why I'm saying! Don't bring that in, you know what I'm saying? Go somewhere else with that."
This is a full blown convo between passionate dudes.

Another user humorously drew a comparison to chatty significant others:

@_11Remember_ @okAbbyyyy When you watchin a movie for the 1st time n yo girl keep asking questions https://t.co/Lk6P6HroUR

— Infamous J (@Infamous J)1559706755.0
Just because baby talk sounds like gibberish doesn't mean they don't have anything to say.
@MelaninMotiv8er They got something to say,you just the only one willing to listen🤣😂🤣😭😭 https://t.co/qDHUmAEkpY

— Awkward in the body (@Awkward in the body)1559743048.0
@Shes_deathProof @MelaninMotiv8er When I was a foster care case worker, I always had conversations with my kids no… https://t.co/gPC5KsBZuV

— Megan Jetter (@Megan Jetter)1559745083.0
@Shes_deathProof @MelaninMotiv8er @sonshine1411 As a new dad myself at first I didn't understand her but after a ye… https://t.co/6qOm18imwc

— ⚔️ Poke-maniac Steve🛡️ (@⚔️ Poke-maniac Steve🛡️)1559759740.0
Props were given to the willing participant for being a great parent.
@_11Remember_ The dad, #DeztinPryor, needs to get credit for keeping the conversation going by responding with perf… https://t.co/RiWDpqOSs1

— CdnCrone 🐔🍷 (@CdnCrone 🐔🍷)1559753014.0
@Stvnnesss @Shes_deathProof @sonshine1411 I Try to tell my coworkers the more u talk to them the more they will sta… https://t.co/PfMncQFe26

— Nanasia (@Nanasia)1559760801.0
People can't get enough of the adorable video that warrants repeated viewings.

@_11Remember_ Literally my face while scrolling Twitter and finding this gem https://t.co/Y983mYJQQ5

— Ida Skibenes ❄️ (@Ida Skibenes ❄️)1559757253.0
@ida_skibenes @_11Remember_ I've watched this 6 times and my eyes are crying I'm smiling so hard

— meowzers (@meowzers)1559760374.0
@_11Remember_ OMG! This is adorable and just made me tear up! HAPPY EARLY FATHER'S DAY! AMAZING! 🧡🧡🧡

— Sunflower Soul (@Sunflower Soul)1559747779.0
Towards the end of the video, Deztin agrees with his son's blabbering thoughts on the program's conclusion.

"Really? I thought the same thing. We think a lot alike, huh?"
Just another day at home with the Pryor's. And we're loving it!

Father's Day is just around the corner, but it's not too late to get the perfect shirt...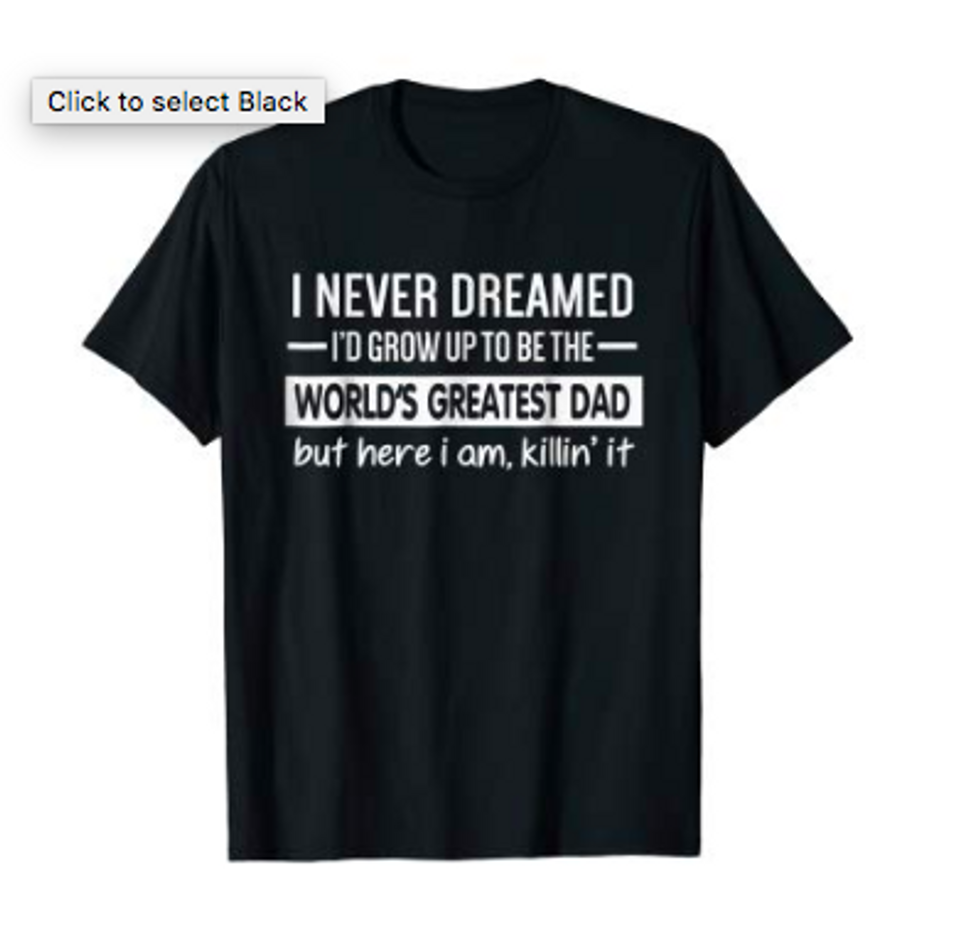 Amazon.com
...for your perfect dad, available here.