Former Religious People Reveal The Breaking Point From Their Faith
Faith is an important part of life. Faith in oneself, in people and in God gives you hope that we're not all alone and that we're more capable than we initially give ourselves credit for. For many people the main source of faith is housed in the church.
And for some faith has been hijacked by predators and those who only know how to espouse judgement. This has led to a lot of issues with communities and their connections to religion.
Redditor u/everyone-hates-me wanted the freed to open up and discuss, asking... Formerly religious people, what was your breaking point?
---
A Redditor asked: 'What's the most hurtful thing someone has ever said to you?'
Physical wounds heal but it's certain things people say with the intention of hurting your feelings that cut so deep.
Whether it's an insult or an unforgivable slur hurled by someone who can either be an acquaintance or a stranger, denigrating comments can have longlasting effects.
Even a family member or a significant other who knows you deeply can exploit your vulnerabilities or insecurities in the heat of the moment.

Strangers opened up about the words that scarred them for life when an anonymous Redditor asked:

"What's the most hurtful thing someone has ever said to you?"
Insulting Mom Fighting Cancer

"When I was younger, my mom was diagnosed with breast cancer. My siblings and I shaved our heads to support her. This kid told me that 'he hopes my mom dies' and that I looked like I was in the holocaust. She has been cancer free for 13 years, but f'k that kid."
– oprah-simpfrey

But adults, especially a parent, who should know better can be worse.
Ungrateful Mother
"When I was young, my mom said holidays are better without me."
– somewhereoutthere217
"When I was young my mom saying she had to love me but she didn't like me."
"It was her careful specificity, and I'm adopted."
"F***ed me up for life."
– Wecanbuildittogether
Rude Introduction
"Yep. My biological mother introduced me to one of her coworkers as someone who 'didn't like her daughter, either.' I mean, I knew it. But saying it in front of other people at her job? Damn."
– RustySilver42

Unfit Father
"My friend i grew up with, his family ended up close with mine, testified in court that my dad never loved me ever and it was made apparent to everyone around. His parents, and a few other parents, testified to all the sh*t talk he put out to everyone when I wasn't close enough to hear it. It was testified by several that my dad blamed me for my mom's death and despised my existence. My mom died from breast cancer. His mom made sure to take a second before she died to make sure I was told I was a waste of air on this earth. I was informed while I was carrying her coffin. She also blamed me for her husband's death. He also died of cancer. I was 6 for both deaths (mom and grandfather)."
"Parents are horrible."
"I'm only slightly damaged by these people /s…."
"I'm pretty sure I'm the worst human ever to other people and it's damaged me so hard I always feel like a liar and like I'm playing victim but it's just all stuck so I just kinda suck lol"
– destitutehopium

Admitting Infidelity
" I cheated on you, and the only reason I'm telling you is because I'm pregnant. "
– StegoExo
Not every childhood memory is a good one.
Worst Teacher Ever
"Took my math book up to the teachers desk with a question. I wasn't grasping it. He slams my book on his desk and asked me if I was stupid or what."
"Small town school about 30 years ago. If I ever run into that pr*ck I have a few things to show and tell him."
– WiscoDJ920

Projection Much?
"You'll never be loved or cherished because you look like me. You will never belong anywhere, no one cares about you enough to actually be there for you. You will be a burden to everyone else."
"- From Dad to 11 year old me after we argued about how he missed my birthday(again)"
"But looking back, I laugh because.... it seemed like he was projecting his own insecurities onto me. Lol😂"
– Ok-Philosopher5166

Worst Summer Camp Memory Ever
"You are nice but damn, I have rarely seen someone as ugly as you".
"For context, teenagers summer camp, I was 17. This guy was supposed to be someone I was getting along with quite well (the whole group but we were a few being always together)."
"I was seated chatting with the whole groupe and he came to say that randomly."
"I wasn't even interacting with him. Like, he said my name so he could have my attention."
"Its like he NEEDED to say it in front of everyone and he didn't feel like he was saying something wrong."
"What was weird is that, he wasn't even laughing. Its not like someone or some people were trying to make fun of me."
"It was so harsh that people were speechless. No one laughed. At all. I think they were as much confused as I was."
"I appreciate no one jumped on that after those 'wtf' 20 seconds, they all went like nothing happened."
"I am 35 and still remember this. Knowing how teenagers can be cruel, I hate this had a huge impact on me but I remember people really tried to not make it a big deal. The group didn't fall into that sh*t and they were between 15-17 years old."
"I think someone even said to the guy 'are you being serious right now??.'"
"But I am not sure. I was really trying to swallow the humiliation."
"Edit : I posted yesterday my night here just because I felt like to and was not waiting for any answers at all. I woke up and saw your comments and was again confused why so many people gave attention to my post."
"Thanks for your support. I feel fine today and I know I am cute and most of all nice, funny, loyal and people want to be around me."
"But your biggest weakness being exposed in front of a group when you are a 17 I think is something you never forget."
– kha-ci
People can be so mean.
But the most troubling thing is the lack of humanity displayed on the internet–where anonymous individuals can freely attack others they don't even know for conflicting ideas or for no reason other than to take pleasure in belittling others.
Is being kind to others really that hard?

As Jane Austen so famously taught us in her immortal classic Pride and Prejudice, first impressions can be deceiving.
For while the dashing Fitzwilliam Darcy first appeared arrogant, rude, and snobbish to Elizabeth Bennett, she would soon learn that he was, in fact, the true love of her life.
However, even if we shouldn't jump to conclusions based solely on a first impression, that doesn't mean we shouldn't be cautious about certain things we notice.
A "red flag," as it were.
There are many people who deeply regret entering into what proved to be an ill-advised romantic relationship, or hiring an employee who proved anything but up to the task, feeling that they missed the obvious sign back when they first met them that this was an association bound to end in disaster.
Redditor opticfawn was curious to hear the biggest red flags people wish they hadn't ignored, leading them to ask:
"What's the biggest red flag you ignored?"
Bad Luck, Or Bad Habits?

"She had astronomically bad luck."
"She had been falsely accused of plagiarism and kicked out of college."
"She had a DUI on her record even though she wasn't that drunk but the breathalyzer was miscalibrated and they mixed up her blood sample with a different DUI arrest."
"She got fired from her job for stealing when she didn't actually steal but got set up."
"Everything just went wrong for her."
"Or maybe, just maybe, she was a huge a**hole who couldn't own up to her own sh*t."- AmatuerCultist
Dubious Track Record

'She told me every guy she dated broke up with her."
"I eventually found out why."- draiman
Can't They Weren't Honest
"'I'm not in a good place to be in a relationship'."
"Yeah, I probably should have listened to that one."- spockgiirl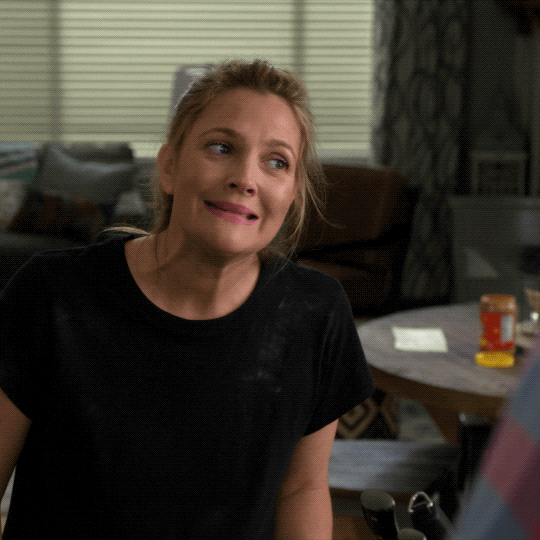 Drew Barrymore Oops GIF by NETFLIX
Giphy
Them Against The World
"Everything was always someone else's fault."
"All of his ex's were crazy/wrong."
"His family was problematic."
"Everybody was against him."
"Egad, did I find out about him the hard way."- ricwash
"She rage-quit every relationship she had ever had."
"I was her last friend, so I thought she would hang on to me."
"Nope."- Logical-Pop-458
The Words "I'm Sorry" Can Go A Long Way...
"He never apologized for anything."
"Even stuff that was 100% his fault."
"But my dumba** would have to apologize for everything, even stuff out of my control."- imlovegina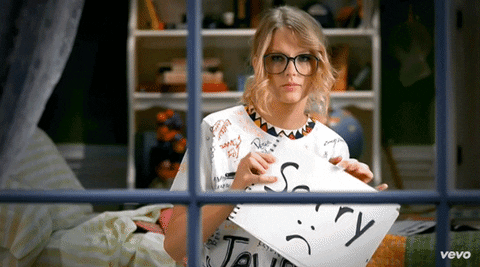 Sorry Taylor Swift GIF
Giphy
Before, After, Or During One Wonders...

"He got arrested on our first date."- Sapphyrre
What Were They Trying To Hide?...
"When the person I was seeing would never introduce me to their friends or family."- graces-taylor12
Never Trust A Manipulator
"My gf at the time used the words, while talking about manipulating someone, 'I just always know what to say to make someone feel how I want…' hesitates then looks over to me and says '…but I don't do that to you because…I care about you too much…'"
"This was pretty late in the relationship's life, so I think she just barely cared to hide it anymore."
"I was heavily mentally checked out, and accepted this excuse without a second word."
"I did 100% notice it deep inside myself, and I still remember the pang of self hatred."- Terapyn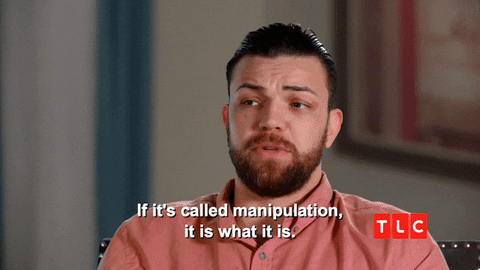 Manipulate 90 Day Fiance GIF by TLC
Giphy
Winning Isn't Everything... Or Is It?
"She was such a sore loser."
"Like toss the cards if she was losing at cards or smash and smear all the letters around if she was losing at Scrabble."
"It escalated from there as she would literally corner me in a room and tear into me for something I said."
"I left once as she went to the bathroom, mid-tirade."
"In her pajamas and slippers, she ran down two floors of her apartment's parking garage to stop me."
"Oh, and neither of her own kids would talk to her."
"Her parents and sister didn't speak with her, either."
"But they got the religion and she didn't."
"I just thought I could make it work, everyone has sore points and triggers."
"But I was so relieved when she left."- milescowperthwaite
Read The Room!

"My ex-boyfriend used to tell me how much he wanted to f*ck other people (my sister, my friends, his friends, etc) while we were being intimate."- lightasapetal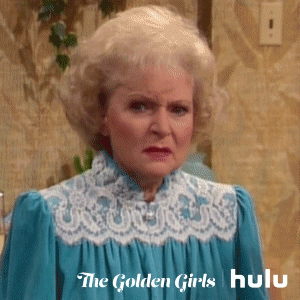 Over It Rose GIF by HULU
Giphy
"Do You Like Scary Movies?"
"First date she told me her favorite movie ever was 'The Exorcist'."
"Whatever, I love scary movies."
"Soon after, we actually watched a scary movie, she came back from the bathroom wearing a scream mask and holding a kitchen knife because she thought it was funny.'
'I did not, but I was just like ok she's 'quirky'."- genekreamer
Patterns...
"The ex-wife had left her two previous partners for someone she had an affair with."
"I didn't think it would happen to me."
"It took 10 years, but it did."- MartyFreeze
"She cheated with me before she broke up with her ex and we got together."
"Imagine my surprised Pikachu face when she was f*cking a bunch of guys behind my back."- Greylings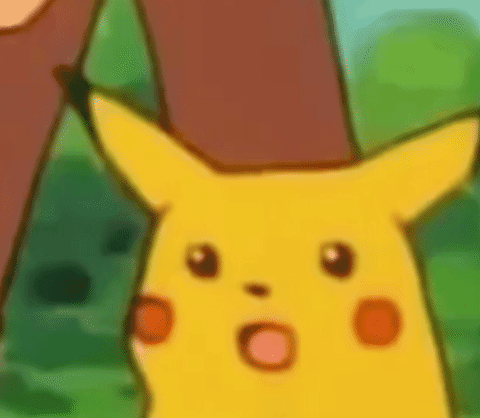 Surprised Meme GIF
Giphy
The Age Old Blame Game...
"Blaming me for things that I had no effect on."
"She got a bad grade on a quiz because I helped her study."
"Blamed me for her dropping her laptop because I was in another room doing my own thing and couldn't hear what she was saying so she had to get up off the couch which led to the dropping of the laptop."
"Blamed me for her not being prepared for a presentation at work because I had a work event instead of 'being there for her' which always meant just sitting there on the couch next to her while she put it together."
"Blamed me for her backing into a pole in a parking lot because I didn't pick her up from work, but I decided we'd meet at a restaurant."
"So many more, nothing was ever her fault."- turkeysandwich1982
It's never wise or fair to prejudge someone.
But if anything about someone causes suspicion, there's absolutely nothing wrong in doing a little investigating.
Possibly saving you a bucket load of trouble down the road.
Tsar Nicholas II makes most terrible rulers look like saints in comparison. From the moment he was crowned Tsar, his reign was an utter catastrophe. So who was the man who ended the 300-year rule of the House of Romanov? Was he really as bad as they say? Dive into this chilling figure's dark history, and you'll agree—he was even worse.
Funerals are extremely sad occasions. There are no two ways about it.
Nothing anyone says can really make you feel better during a funeral, especially if it's for someone you're really close to.
However, certain things people say can make you feel worse.
Redditors know there are some inappropriate or insensitive things people can say during a funeral, and they are ready to share what those things are.
It all started when Redditor Comfortableguy12 asked:
"Whats the worst thing you can say to someone at a funeral?"
Parentless
"My grandmother died in 1978. At my grandfather's funeral in 2012, someone leaned into my dad and whispered "you're an orphan now""
– seanofkelley
"My 60 year old mom said "I just realized I'm an orphan now" while sitting in the airport flying home from her mom's funeral"
– greenleafbrownbark
Still There
"after i left my moms grave this year after placing flowers for mothers day i texted my friend. "good news. my moms right where we left her""
"that is the morbid sense of humor that i have. my family has a similar sense of humor."
– NerJaro
"We went to a family member's graveside services. I said to my brother "I think Dad is buried over there" - pointing to the right. My brother said "No, I think he's over there" - pointing to the left. Our uncle (dad's brother) came up between us and said "well I don't think he moved!""
– RockabillyBlues1
Yikes!
""Just say sorry for your loss then move on.""
""I'm sorry for your loss, move on.""
– Choice-Bus-1177
Too Soon?
"Not the funeral, but during the planning of my dads. He wasnt a church goer but would attend family functions and find a way to slip out during services. When we were discussing his church service, I said for it not to be too long else he'll be getting out the coffin and waiting outside till it was over. Definitely too soon for that comment."
– emmadilemma71
"He'd have thought it was funny."
– adamkissing
Jaw Dropping
"So, now that you are single..."
– SomeJadedGuy
"Oh no"
– mvs2417
Worst Advice Given Twice
"I'm sorry for your loss. Move on."
– wine_n_cats
"I'm sorry for your loss. Move on."
– TheShlepper
No Chill
"Story is that at the funeral of my great grandfather on my mom's side (who was by all accounts just a super mean hateful man), the preacher said something along the lines of "Let's get this over with quickly just in case Satan wants to personally come get his #1 guy""
– tubahero3469
My Money!
"Well, now I'm never get that $20 back."
– UsedToHaveThisName
"This is actually funny."
"I knew a girl who had an extremely dark sense of humour. She was usually in rough times and I'd lend her money. I hadn't seen her for about 3-4 months as she was a regular customer at my work. One day someone came in and asked if we knew her, told us she died in her apartment months before and they just found her. I was like, "damn some people will do anything not to pay someone back." Something she would have laughed at."
"RIP though. She was great."
– sweetcreamclot
"My dad did this to one of his close friends wife. He approached her and was like, "Hey... So this might not be the best time, but Tony owed me twenty bucks..." And she laughed so hard that it lightened the mood for a little bit"
– neverforglet
"That's a risky joke. Obviously he knew it wouldn't fall flat. Good for him."
– PitBullFan
"Everyone cracks up laughing. Then the guy says, "Hehe… no, but seriously, I really could use that 20 bucks…""
– Metals4J
Completely Insensitive
"When my 3 month old son died of SIDS; a lady came up to me and said "At least you are young enough to have other children.""
– grandmaWI
"I don't understand how people can think that human children are interchangeable. I'm so sorry."
– imabaaaaaadguy
And Again
"I was struggling with infertility for years. When my dad died my stepsister said "I bet you feel so bad that you never gave him any grandkids." I will remember that for as long as I live. I've never felt worse or lower in my life."
– MistressAlabaster
Guest At Your Own Funeral
""Even with all of her health issues, I glad Grandma was able to come today.""
– Spirited_Outside1583
"I did text my sister in law to remind her not to be late to her own funeral. It was a joke we'd always had, and I promised to do it for her when we knew she was dying. Cried my eyes out sending that message, but also would have absolutely shat myself inside out if there had been a reply."
– MadWifeUK
Definitely Not Okay
"This post reminds me of what someone said when my grandfather passed away. He had really bad Alzheimers and it was so painful for my mother to watch her father essentially degrade over time. We were at his funeral when someone said to my mother "Who cares? He was pretty much already dead.""
"Because of the disease, and I was literally going to kill this motherf**ker for saying that to my grieving mother at her own father's funeral. Luckily my brother is much more level-headed than me and told me to just walk away and focus on making sure my mother is okay rather than focusing on murdering the dipsh*t who said that. I do not think I have ever been more mad than I was in that moment in my entire life. Not even close.""
– SweeetBunnn
Very Unhelpful
""God has a plan" No, the plan was for my dad to see my little brother grow up to be a man. I don't hate religion, and don't sh*t on peoples beliefs, but I hate when people said that sh*t"
– Tight_Ad3092
"It's very short sighted"
"I'm sure it gives them solace. But unless they know you feel the same it's a useless saying altogether. Even if the person believes in god's plan.mentioning it may not help them in that moment."
– deterministic_lynx
Horrible...But Hilarious
"All the old people poking me at weddings saying you're next … I've started doing the same to them at funerals"– hquer
"You are the worst, (writes down idea)"– Fastincrib
I might steal that too...