One thing which has drawn people to live in the United States is the freedom to practice any religion you wish.
While sadly, this hasn't prevented acts of bigotry or violence against certain religions, it has spared people being forced to practice a certain religion, even if they disagree with its values or practices.
One's relationship with religion is very personal, as it only has value if it finds them and gives them the strength and comfort it is intended to.
This rarely happens when it is forced upon others, which often leads to people searching for another religion, or abandoning the practice of religion altogether.
Largely owing to the fact that they found no comfort or solace in it.
Redditor openbookpower_1 was curious to hear the many reasons people found themselves turning their backs on religion, leading them to ask:
"What made you turn your back on religion?"
Logic Over Faith
"What they taught didn't make any sense."- stupidfock
"The ridiculous concept."
"I didn't turn my back."
"I just never bought into it."
"There is no part of the concept of creation that doesn't seem preposterous to me."- pay-this-fool
Learning It Was A Possibility
"I went to a church of England school, which involves singing hymns, prayers etc."
"Pretty standard for primary school age kids."
"I was talking to another girl about religion and she said 'I'm an atheist'."
"I asked her what it was and she explained that she didn't believe in God."
"I was mind blown, I didn't even know that was an option, but it immediately made sense to me in a way Christianity never did."
"My parents never spoke about religion much or went to church, but I went home to tell them my new discovery and they both just laughed and admitted they don't believe in God either."
"I have a few atheist family members too, I learnt my grandmother, now 93, doesn't believe in God, and my Grandad on the other side who passed a few years ago."- CherylTuntIRL
When People Didn't Practice What They Preached...
"People put religion first over being a good human being."- wootmon12
"The hypocritical behavior of deeply religious people."- Taskerst
Ironic?

"Critical thinking."- Apoplexi1
Needed More Concrete Proof
"Lack of evidence supporting the existence of God."- glisteningdinkus
Preaching To Wallets Over Souls...
"The principal topic from the pulpit each week was money."
"Parishioners were relentlessly hounded to increase their pledges."
"On top of that, the church went on a major 'Capital Funds Drive' to redecorate and refurbish the buildings (even though there were many millions in the endowment fund)."
"Somehow, matters of faith were eclipsed by 'The Almighty Dollar'."- Back2Bach
"When my religion had 120 billion dollars in a slush fund, owned 2% of the land in the United States, and made no effort to help the world with those funds."- exmo_fo_sho
"When MFers got ten grand for a robe and a gold ring and a gold cup but gives out soup and bread like they doin a grand thing."
"Churches should be charged 75% taxes."- Outnabout3535325
Too Many Innocent People Punished
"A very religious friend once told me 'It's a shame you don't believe in god, you're a nice person and don't deserve to burn for eternity'."
"I was like...if that actually happens, your God is an a**hole and I wouldn't worship them even if it was proven without a doubt that that god existed."
"I'm open to the idea of a higher power."
"I don't think it's impossible that life was seeded on Earth by higher beings."
"But I'd want to see the evidence before I believed it and I certainly don't think that millionaires who demand money from the poor are the people spreading the word of any kind of savior."- Raephstel
"I grew up as a Christian and even spent a little time working in ministry."
"For years there were some nagging things that just didn't add up for me."
"I worked for Child Protection Services for years and decided any God that has the power to prevent heinous abuse against his supposed innocent, but doesn't, is either a sadist I don't want to worship, or simply non existent."
"If this all started between God and Satan they can leave me the f*ck out of it."
"It's the bullsh*t manufactured responses from Christians that were the nail on the coffin."- __KWM__
Seeing What Their Future Could Be

"I come from a fairly religious family (some are very, others, not so much, some not at all)."
"I became an atheist at the age of six."
"Why?"
"Simply put, I could see, even then, how badly religion is use to manipulate, control, bully, intimidate, and attack people."
"And I wanted NO part of that."- Dippycat149
"I'm autistic."
"So when I asked a clarifying question ( as I am want to do) at age 6 in Sunday school i was told."
"'Don't ask questions'."
"And that was the end of that."- brumbles2814
No one should be persecuted or belittled for their religion.
Nor should anyone be for their lack thereof.
Do you have any experiences to share? Let us know in the comments below.
When it comes to romantic relationships, especially when marriage is talked about, it's good for the two people in the relationship to share similar values, principles, and beliefs.
Maybe you discuss whether or not you want children, and if so, when. Maybe you'll talk about how to split household duties or whether or not to combine finances. And of course, you'll talk about religion.
Religion can play a large role in life for people of faith. The rules or recommendations of their faith help them to decide what's right and wrong, what to do in any given situation, and maybe even how to raise kids.
However, if one partner is religious and the other is atheist, it can be difficult to find a middle ground. It's not impossible, but it may not always be easy.
Atheists on Reddit know this first hand, and have shared what their relationship is like with a person of faith.
The stories were as diverse as religion itself.
It all starte when Redditor Actual_Sprinkles1287 asked:
"Atheists who married a person of faith, how is that going?"
Some people found it didn't matter, and their relationship was successful.
Good With Them, Bad With The In Laws
"With her? Great, it never really comes up, she does her thing (She's Christian), we agreed the kids get to make their own choices, and that we can both explain our faith, or lack thereof, when appropriate."
"Her parents, on the other hand... Just glad they live on the other side of the country. Was worse before we got married"
– Constantyne13
"Got an identical situation here but her parents are ten minutes down the road. I used to be a Christian. They don't know I'm not, so that reduces friction."
– 7Welds
Sunday Morning
"Had our 25th wedding anniversary last year."
"She's a member of a very liberal (even for Canada) congregation and I share most of their beliefs about things like how to treat other people, just not the supernatural stuff. She does her thing, I get to sleep in on Sunday mornings."
– YVRJon
"Last sentence is relationship goals."
– phalangepatella
Heritage Over Religion
"Well, I am the non-atheist in the relationship, but it doesn't come up at all."
"I don't believe in an interventionist deity, so there really isn't a reason to discuss it."
"Since we are Jewish, my husband is fine with the kids going to Hebrew school because he wants them to know about our history, language, and traditions. That's why I want them to go as well."

"Mainstream Judaism is not very deity-focused and Hebrew schools mainly teach language, history, and about rituals and their meaning. Faith doesn't really come up, and everyone having their own way of doing things and believing is an integral part of Judaism. So, I am not worried about them becoming indoctrinated in that way."
"We both think that it's up to the kids to make their own decisions about theism and religion, and we should give them the materials to make an informed decision."
– zazzlekdazzle
Believe
"Great! Sometimes I go to church with her, I like the content (be a good person, live simply, etc.) She believes all the science, she just also believes in some other stuff."
"My opinion is this: as a human you're going to have questions about life, the universe, and anything else. If a belief system answers those questions for you, great."
– SpaceOttersea
Perfect As You Are
"When we first met, I saw she was a "problem solver" by nature. She's religious, I'm not. I asked her early if she saw me as a problem in need of a solution. When she said, "no," I decided I'd keep seeing her."

"She still holds her beliefs, though perhaps not as strongly as before we met. We each know where the other stands, and we're both respectful of the other's views. She doesn't try to "convert me" and I don't try to change her mind."
"We're 13 years in, and doing just fine, I think."
– akluor
Others found it impossible to remain married because of religious differences.
Keeping It A Secret
"My ex husband never acted religious. Not necessarily atheist, but didn't go to church, and never prayed that I was aware of."
"We hit a really rough patch and I wanted a divorce. I found a notebook (I wasn't snooping, I was cleaning and it was in a stack of random papers and whatnot) where he'd made some list of demands to save our marriage (laughable since I was the one who wanted out due to how he was treating me). I started to read it and one said "accept Jesus into her heart." I rolled my eyes just as he walked into the living room and freaked out that I had it and yanked it out of my hand. We never talked about it amd we did eventually divorce."

– stealth_mode_76
"Hmm. It seems like for him to not have expressed religious beliefs or convictions but desires for you to "accept Jesus into your heart"—according to this list of his—seems to suggest that there were some things about him that he kept secret from you throughout your marriage. Your hands are wiped clean of him now though!"
– VibrantVirgo96
Bad Idea
"Divorced. Don't know what I was thinking."
– Misanthropic-bug
Big White Lie
"Divorced for that reason"
– CommunityGlittering2
"If you don't mind me asking, why did it only become an issue after marriage?"
– Forever-Alone-1
"Because she lied about be religious, before marriage she said she was only acting to please her mom because she lived at home. And we would bring up any children without religion and they could chose when they were older. She lied."
– CommunityGlittering2
​Some people found that their partner's faith changed, or they even switched around who was a person of faith and who wasn't.
Hard To Keep The Faith
"She's not Christian anymore. I never belittled or attacked her faith throughout the years. Between cancer taking her sister and simply aging, her belief slowly eroded away."
– heH0rnyRobot
"This. I prayed for a few years for my husband to come to faith. After crippling mental health issues and having special needs kid, Now he believes in a god and I lost every ounce of faith I had."
– Interesting-6743
Some people are still together but still find religion a topic of contention.
Trying
"Not swimmingly well. But we're hangin' in there."
– owdoidothiz
Exhaustion Comes With The Topic
"I'm a person of faith who married an " I dnt believe in God but I believe in something"
"We love eachother but when this topic comes up it's so f*ckin draining"
– ShruteFarms4L
"do you mind sharing why it's draining?"
– lunafxckery
"...well we talk a lot, as you can imagine that means the Convo often drifts to God. When we talk about God usually we end up also bring up past traumas and we both have a lot. I believe God gave me the strength to get through it, she believes she was abandoned."
"She also brings history into it too (where was he during slavery, holocaust)."
"and we never ever come to a conclusion we just move on lol start watching a movie or playing with the kids, maybe drinking and whatever comes with that."
"But sometimes the covos last a little longer than usual, we have never argued about this tho, but somestimes the convos can drain me mentally."
"Short version: it's like two walls talking when God is the subject."
– ShruteFarms4L
A Bit Of A Strain
"This will probably get buried but anyway."
"My wife is Christian, Anglican in Church of England. They're fairly liberal in their views and acceptance of what people believe, even within the church. So she doesn't mind that I don't believe in a single God, and the church isn't as 'firm' in the UK as it seems to be in the US. So I'm not ridiculed or seen as a bad person by her or the church for my lack of faith."
"She studied to become a priest over the past few years and was ordained. I told her I would support her studying but I didn't want to discuss God or religion with her in the way she debates with some of her other religious friends. I largely struggle with the idea that she believes something that is at odds with so much of what we know about the universe. The further down the religious path she goes, the more bitter I've become towards 'religion'. (I can only see religions and The Church as a business these days, especially knowing the processes she went through to become a minister.) The values of the Anglican church are mostly good, but you can live that way without god in your life. I don't see why religion needs to play a part of being a good person."
"In terms of how it's been for our marriage, it hasn't really been a factor for most of 25 years together. It's frustrating that she usually wants to go to church on Sundays, which leaves me to do everything else that falls on Sunday morning (notably kids' sports commitments). I'd also certainly say we have far less in common and have less to talk about these days than we used to. She bends every possibly interesting conversation back to religion or God, and I just want to enjoy chatting without it becoming a debate. But that's the main topic of conversation she knows and pretty much all she reads. She reads a lot about religion and theology and 'church' has become such a huge part of her personality, and her biggest 'hobby' that she is much less interesting and has fewer passions or interests in life that she can share. It doesn't leave much for us to discuss when I have no interest in religion and have become so bitter towards it."

"So no discussion of separation or divorce - we're not miserable - but religion has more recently played a massive part in us having far less in common."
– Arrow_King
But ultimately, it seems people can make it work.
Love And Honor
"I'm still married after 30 years. She has her religious beliefs, and I support her as best I can. She doesn't push anything on me. When she wants to do her thing, I give her space. If I have to be involved, I just stay quiet and be respectful. It's not that hard to do. No need to hate someone because of differing beliefs."
– Live_Ice8502
What a great attitude to have!
Why do people leave the Church?
So many reasons.
It's an important question the Church should look into further.
Attendance has been steadily declining for decades.
Society has evolved on so many issues and behaviors that the Church just seems to stay stagnant.
People aren't going to stay where they don't feel welcome.
Redditor UK_Jay wanted to hear from everybody who left the church in the rearview, so they asked:
"Ex-Christians, what made you leave church?"

I don't mind the Church, but once I was done with Catholic school, it was see ya. Bye.
Truth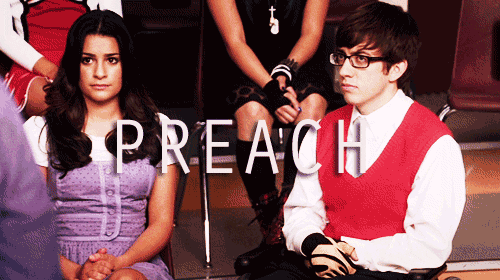 truth preach GIF
Giphy
"The fact that everyone wants to be a disciple of Jesus but don't do what Jesus told his disciple to do."
"Luke 6:46 'Why do you call me, 'Lord, Lord,' and do not do what I say?'"
wasd876
Pivotal Moments
"My high school religion teacher encouraged us to question our own faith. He told us that it was okay if we wound up walking away from our faith. But if we continued to believe despite his class, our faith would be that much stronger."
"One of the questions was, 'Do you believe because you actually believe, or is it because you were told to by your parents?' I finally decided that I was only Christian because of what my mom told me growing up."
"I wish every single Christian could have that religion teacher for a semester. That single semester was pivotal in my spiritual development."
kana503
I Quit
"Had many friends and acquaintances that worked for the church and quit. Found out their reasons for quitting. The higher up staff did and forced my friends to do a bunch of corrupt crap. And if they didn't, they 'Weren't committed to the church enough, didn't love God enough, weren't willing to make sacrifices, will never make it in ministry.'"
"It broke my heart. I thought this was a place of love, and people who preached love. Haven't trusted religion since. This church is a mega church in my area and keeps popping up more locations all over town. Makes me sick to my stomach every time I drive by."
aquarinmarin
Out of Focus
"The total hypocrisy of those I grew up around. Claim to be about love, spend most of their time hating people not like them. Claim to be about evangelism, literally only hang out with and talk to each other."
"Claim to be about giving, spend all of their energy focused on making more money for themselves."
"Not to mention they have conditioned themselves to avoid critical thinking at all costs. Must accept blind 'truths' at face value, OR ELSE."
devilish-nerdclap
For my sister...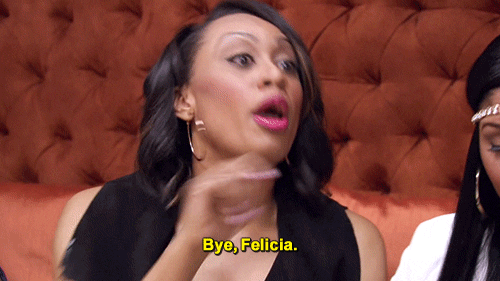 Phaedra Parks Bye Felicia GIF
Giphy
"When my younger sister with Down's syndrome was told she wasn't eligible for communion despite taking all of the classes because she 'didn't understand.'"
TheLastSpiceGirl
Family first. Help someone understand.
Damage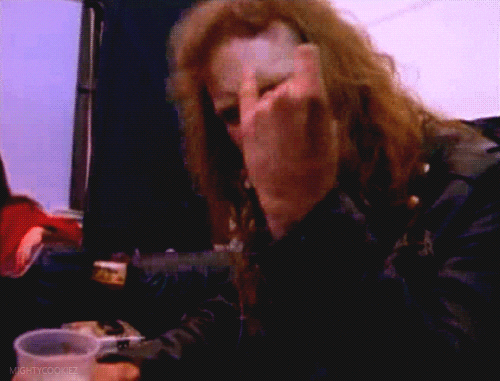 heavy metal 90s GIF
Giphy
"They damaged my mind. I always thought I would go to hell for things I like such as horror films, heavy metal and tabletop RPGs."
EuroCultAV
"the Lord spoke to me"
"Lack of answers, judgement, and hypocrisy mostly. I also read the Bible over and over and I just wasn't getting what other people were apparently getting out of it. Also everytime I prayed, nothing happened. Every now and then someone would be like 'the Lord spoke to me.' I always waited for something like that. It just never did."
"That lack of answers thing really bugged me the most though. I really wanted what I read in the Bible to be true but I just couldn't find anything to support most of it's claims. I was really sad for awhile. And scared that the devil tricked me. After awhile tho, I didn't believe in him either."
SpiritedDistance6242
Left Behind
"They left me. My first partner and I grew up in the church together. We were seen as the golden couple in our youth group. Good, proper Christian couple. Said our prayers, worked with the less fortunate, youth work, worship, I even led sermons. Eventually we moved away to start a new life together. We then broke up. I then find that I'm being kicked out of groups on WhatsApp and Facebook, people are unfriending me on social media, all from the church."
"I found out she'd gone home first and started talking to people. I don't know what she told them, but none of the people I saw as my second family, this fellowship I'd felt so welcome in even came to me to talk. I was left alone. I reached out to multiple people to say I needed prayer because I was struggling. I got nothing. I felt abandoned by God and abandoned by his people. So I walked away from that life."
c0_sm0
Disbelief
"I was a preteen locking myself in a dark closet because that's where I felt the closest to God - in the darkness. Like he was something that couldn't be seen - only felt. And I looked up into the nothingness of my closet ceiling after the millionth episode of physical and emotional abuse from my dad."
"I asked him to save me. God, not my dad. I was crying, screaming. Please. Please save me. I was just a kid. Surely I didn't deserve this. No one answered. And it occurred to me that anyone who could stop this and wouldn't, couldn't exist. So I stopped believing."
elaerna
Thieves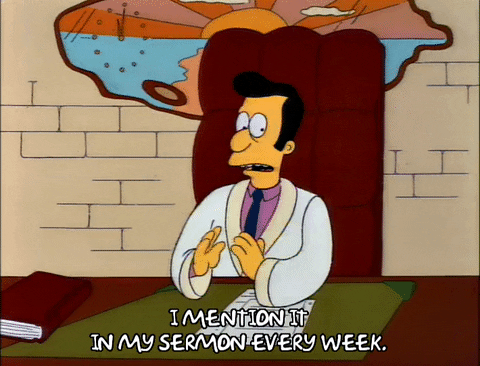 Explaining Season 3 GIF by The Simpsons
Giphy
"Preachers having massive homes while the people that go to the church struggle. It's hypocrisy from the top down."
prussianflyingcircus
Peace Out
"I gave it up for Lent and never went back."
ScaricoOleoso
"I did the same thing with New Year's resolutions. As far as I know, I'm the only one who has ever kept a New Year's resolution."
MaxCWebster
These certainly were some interesting stories where people encountered a crisis of faith.
Do you have any similar stories? Let us know in the comments below.
The trend of calling anything misunderstood "Satanic" definitely isn't a new one, and the list of supposedly devilish things is quite extensive.
One Redditor asked:
"Whats the dumbest thing you have seen a religious person call 'Satanic'?"
Don't Filter Your Blood
"​A dialysis machine, lady didn't want her mom hooked up to a dialysis machine because it looked "evil" and "from satan". We informed her if her mom wasn't on dialysis she would die, she was convinced prayer would be enough, 2 days later her moms heart stopped and she died. Her daughter lied and tried to say we didn't inform her of the risks, but thanks to multiple people writing that this was her wishes."
- Noimnotonacid
​Not Depressed, Posessed!
​"Depression and anxiety. My dad told me that it was demons possessing me."
"He wasn't very happy when I decided to major in psychology."
- Consistent_Bee_2327
​The Internet Is For ... Satan
"In '96 or so, in an AOL chat room, a woman told me she didn't believe in science, and that anyone who claimed to be a scientist was just a manifestation of the devil's plan to trick people away from the glory of God."
"On AOL.... on the internet... This statement has followed me over the decades haunting my memory because I cannot honestly fathom, no matter how hard I try, what sort of mental paradigm this person had to exist in to actually believe that science was the work of Satan, while simultaneously using AOL chat rooms daily (I had talked to this woman frequently.), and not realizing the hypocrisy of such a statement."
"I dunno where you are, lady, but just know you've impacted my life in some small measure with this single statement. I hope you're in a better headspace, now."
- Egotism
"Using AOL chatrooms daily IN THE 90s when internet communication was still a super niche thing only done by the very young or the very nerdy."
- CyptidProductions
"She likely just had no idea what science actually is. Lot of people in the world seem to think it's basically a different kind of religion with a specific set of beliefs instead of what it actually is: A methodology to gather and analyze information."
- NotTheGreatPumpkin
Pocket Monsters​
​"When my parents spent 5 years giving me pokemon cards for good grades because I loved collecting/playing, then they got a chain email about demons in the cards and made me burn them. I had to pour gas on them and burn them. I was 9."
"Edit: This is way more widespread than I would have ever thought. We are kin. Yes my parents are nuts, my kids don't see them, and I love treating my 6yo to a pack whenever we need a pick-me-up. Much love."
- avengecolonehughes
"I knew this one would be here, because my mother made us do the same. I still remember my brother crying his eyes out as he threw Eevee into the fire."
- pantherpants0
Eat My Demonic Shorts
"​When I was young I was told by my grandmother that The Simpsons was demonic because it taught children to disrespect their parents. So I never got to watch The Simpsons but still learned to disrespect my parents anyway."
- Jfitz432
​Not WASP? Must Be Satanic
​"A wood carving of a salmon."
"I think it was more 'this is isn't a part of my culture, therefore satanic.'"
For context, they were a tourist and the offending wooden fish in question was carved and painted in a west coast indigenous art style."
- Paneechio
"Ah yes, the classic using religious excuses to be racist bigots. I'm originally from southern MO, that kind of stuff was all over. If it wasn't white/conservative/Christian it was evil."
- Regular_Sample_5197
Hair Of The Devil
​"My hairstyle because it slightly covered one of my eyes... and apparently having especially droopy hair that day made me a satanist"
- No-Ad2323
"My hair stands on end and my mom was told by a very helpful neighbor that my hair was suspicious. Of course, my neighbor herself, wasn't suspicious - no no - just wanted to make sure my mom was aware my hair could be suspicious."
"My mom asked 'of what?' and our neighbor changed the topic."
"Yeah, we had one of THOSE neighbors."
- Ganglebot
​Bird Code
​"well, my ex friend's mom said my bird's leg band was a satanic code and a government tracker. it's not. it's for Identifying lost/stolen birds."
- Ether_The_Wolf
No Tasty Eggs For Them
​"Deviled Eggs… cause it had the word devil in it. 🤦🏻‍♂️"
- beasty_bear
The Devil's Music
"My grandmother says rock music is based on "'agan African rhythms'. She's had this opinion since the 60's."
- FrickGoogle
"Someone: I wish people would acknowledge the African/Afro-American origins of rock instead of thinking its a white man's genre."
"Monkeys paw: * curls *"
- TheFailMoreMan
Some of these are laughable... and those poor kids and their pocket monsters.
Do you have anything to add to the list? Let us know in the comments below.
We as humans seem to worship at the altars of many.
Religion is religion.
There is a history and a purpose behind it.
Have we gotten out of hand with treating other aspects of life in a Godlike manner?
It's all too serious sometimes.
Redditor KayoshiStoryteller wanted to discuss the things people worship on another level.
So they asked:
"What is not a religion, but people treat it with the same attention?"
​The Beyhive. They can be a bit much. But I also see Beyoncé as a religion.
Brands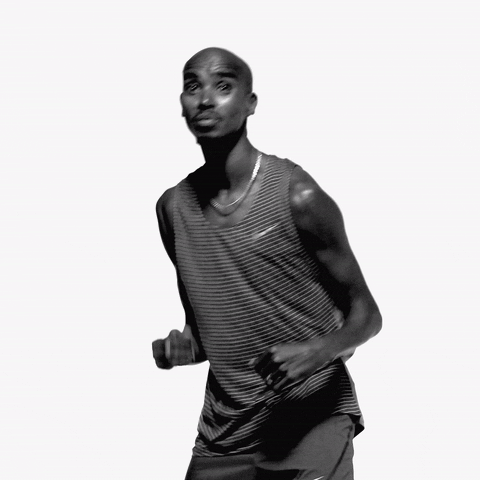 Just Do It Sport GIF by Nike
Giphy
"Brands in general. People praising Adidas, Apple, Hugo Boss, etc."
Spaceman_Beard
How DARE YOU!!
"Mommy groups. Started getting completely out of hand when my kids were teenagers. I'm a crunchy mom, I'm this kind of mom, or that kind of mom. Those people get rabid. How DARE YOU listen to advice given to you from a doctor about your individual child, MY group thinks 'THIS.' Heresy! Blasphemy! We will CRUCIFY you!"
"They used to helpful, now they are f**king cults."
SubstantialPressure3
Serious Ball
"In India, cricket."
Hyperion_23
"God. The Indian team does idk what, next day everybody in my class (including the f**king teacher) is trashing the team they once cherished."
Super382946
"And Pakistan, my cousins wife threw her phone and nearly smashed it today in the Sri Lanka Vs Pakistan match when a Pakistani guy didn't catch the ball."
Emeralddx
The Fame
"When the English band Take-that split up, the Samaritans help line had such an influx from beyond broken-hearted teenage girls that they required new personnel for how overwhelmed they became. These girls genuinely lived vicariously through, and lived for these celebrities and little else."

Guava_

Oh Mickey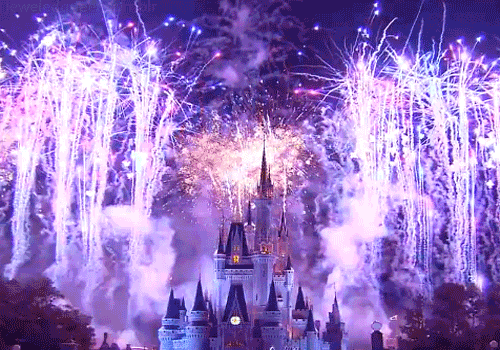 Disney Fireworks GIF
Giphy
"Disney. Especially when you go down to Florida."
Alpha_Solid
The Disney cult. It's real.
Fans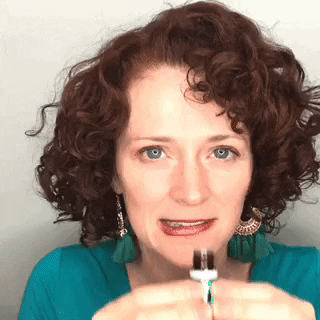 Giphy
"Homoeopathy."
dangerus_dave
"Essential oils too… the young living fans vs the doTerra fans is crazy!!!"
Deadicatedinpa
"My belief in homeopathy is extremely strong because I dilute it to one part in a million."
CHSummers
Convince Me
"Some MLM schemes."
battlelevel
"When I was a cable installer. MLM people were my worst fear way more than religious people. One lady spent the entire 4 hours at her house trying to convince me. After 4 hours I still was not entirely convinced I understood what they sold. I am pretty sure they sold self help books. But the self help books were made solely to help you sell more of the self help books to sell more self help books."
ggoug
What??
"Kpop."
MixWeekly2771
"I had an acquaintance who was hyped for a Kpop concert, totally normal right? But no, she was going off about how this is the perfect outfit to get this guy to fall for her and they'll have a spring wedding unless he prefers autumn in which case she would totally compromise. What??"
"She was 19, doesn't speak any Korean, and doesn't want to live in Korea. She's still young enough for people to find it silly and endearing, somehow. When I was in school, if someone was still going nuts for Beiber(?) or whatever past 16, they def got bullied."
s0ycatpuccino
The Culture
"420 culture (I say this as someone who smokes weed)."
eternalrefuge86
"I own a dispensary, a grow, and a processing lab so cannabis is essentially my life, and even I don't take it as seriously as some people. Some people are waaaay to into the culture like to a weirdly fake point where their whole personality is just I smoke weed look at me."
Cheap_Whereas_4803
"I can't stand people who treat smoking weed as their sole personality trait."
fxckfxckgames
Touchdown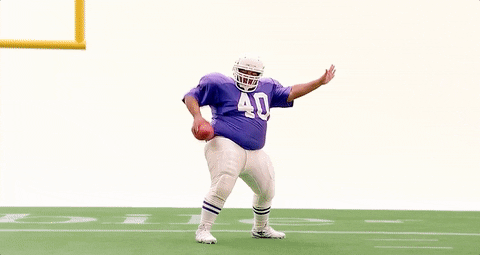 Super Bowl Football GIF by Unlimited Moves
Giphy
"College football."
ham_wallet998
"Most religions preach some sort of hope. College football rarely gives me any of that."
HooliganBeav
Oh the things we worship.