Forest Rangers Reveal The Creepiest Experiences They've Had On The Job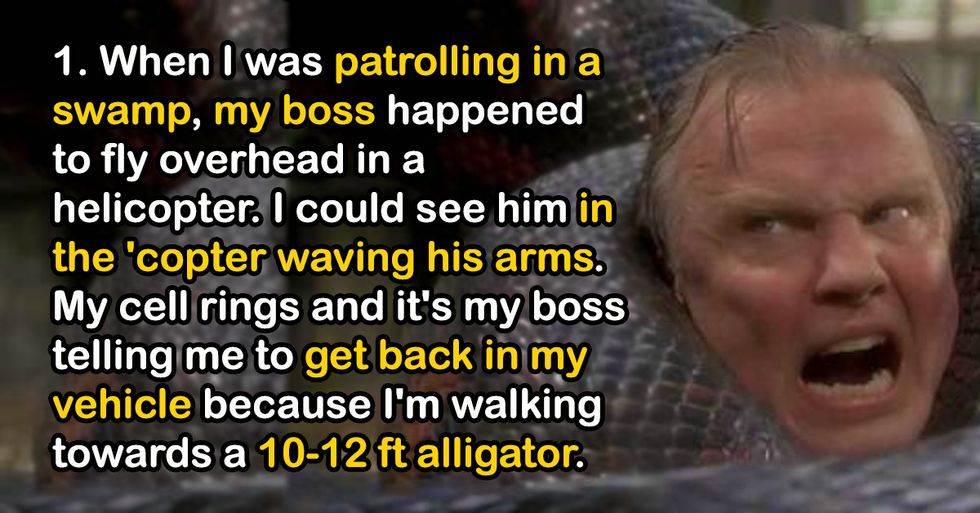 Forest Rangers Reveal The Creepiest Experiences They've Had On The Job
[rebelmouse-image 18349544 is_animated_gif=
dam=1 expand=1]

Being a Forest Ranger is a job so many of us no NOTHING about. Apparently though we've been missing out. It's a job full of adventure.. maybe too much adventure. It seems it can be a job riddled with danger. Bears are EVERYWHERE people!

Redditor UpbeatAvocado wondered aloud... Forest rangers of Reddit, what is the creepiest/strangest experience you've had while on the job? Lord these people are NOT paid enough. If we all want to go enjoy a natural park or forest, we have to hep these people.

SWIPE RIGHT MOOSE!

Had campers who honked at a moose. The moose took this as a mating call and proceeded to mate with their car.
THIS ISN'T FOR GEICO...
[rebelmouse-image 18349545 is_animated_gif=
dam=1 expand=1]

Dude. Tourists do amazingly dumb things. I live in Australia and a few years ago I visited a local national park that had a waterfall. On the way back from a swim I heard people laughing and saw a group of backpackers all huddled around a rather large iguana (large monitor lizard, smaller than a Komodo dragon but mean looking). They were trying to get a selfie with it. They must have seen the look of horror on my face because one of them asked "Can...can we pet it?" and I was like "sure" because you can physically pat one. They are real but there isn't a bone in my body that would want to pat a lizard the size of a medium-sized dog that's all jacked on discarded junk food and used condoms. Anyway, they touched it and it went a bit silly but no one was hurt (badly).
CALIFORNIA HERE WE COME!
[rebelmouse-image 18349546 is_animated_gif=
dam=1 expand=1]

I'm a forester for the US Forest Service in northern California.

I've never had anything like supernatural type creepy happen to me. But it always creeps me out a little bit when I come across a kill site from a Mountain Lion. When you're by yourself in the woods you're just another link in the food chain but you don't really think about it until you come across a 1/2 eaten deer and realize a huge cat killed this thing with its face.

As for the strangest thing, that would be the time I thought I was about to see a plane crash. As usual I was working alone on a remote hillside and I saw a plane, like a full size commercial plane flying below the ridgeline between mountains. I thought it was going to crash for sure. But it didn't. It just weaved through and kept going. I thought it was weird it didn't have any logos or writing on it. Come to find out we were close to an Air Force base and they were training pilots for Afghanistan and this was not a totally uncommon thing to see in the area.
THAT IS CYOTE UGLY...
[rebelmouse-image 18349547 is_animated_gif=
dam=1 expand=1]

I live out in the country and frequently hike trails on an 100+ acre property. I come across a lot of coyote kill sites, it doesn't really bother me any more... It's a part of nature and all that.

But I've never thought of it how you described it and now I'm terrified.
IT'S JUST WATER..
[rebelmouse-image 18349548 is_animated_gif=
dam=1 expand=1]

i spent a few weeks on a long camping trip in a national forest near a navy site for bombing practice.

the shock waves from the water bombs hitting would shake the tents. it was pretty cool.
JUST RUN!!
[rebelmouse-image 18978032 is_animated_gif=
dam=1 expand=1]

My friend and I were going through a more secluded part of the woods off of the trail. We planned to head back soon since the sun was setting and shadows were getting longer - I know it doesn't sound like much, but understand that everything gets creepier when you're surrounded by miles of forest.

Then, we noticed it: in the distance was a small wooded platform, a bit rundown. It looked like a man-made structure, completely out of place, and I'd never seen anything like it. I remember we approached with caution and even radioed it in; apparently, nobody had ever seen it before or knew what we were talking about. We didn't have to get very close- the smell hit both of us like a freight train, I felt like I was going to puke. There are no words to sufficiently describe how foul it was. It was the scent of rotten flesh and death but millions of times worse. At that point, we were both seriously spooked and decided to leave since it was getting late, plus we'd already reported it anyway.

Found out that when rangers checked, they discovered a couple things. First, the scent was actually caused by severely mutilated small animal corpses, ravaged and left to rot around the mysterious platform. Next, they collected several bear set traps surrounding it, even though there are no bears here. They uprooted the platform and found the entire thing was a trap, basically because the boards were weak and a deep pit had been dug underneath it with metal shards waiting at the bottom.
JUST GO ALONG WITH IT...
[rebelmouse-image 18978033 is_animated_gif=
dam=1 expand=1]

Prior Marine, we were doing amphibious landings and set up to rack out on the beach. I woke up and walked over the sand dune to take a pee in the middle of the night when I saw a squad of recon guys geared up with night vision goggles maybe ten feet away from me. I said what the hell pretty loudly and none of them said anything. I walked up to one guy and had to physically touch him before he said they were practicing on us. I told my platoon commander about it and the next day he told me they failed because I noticed them. Startled the s*** out of me though, I was halfway through my piss before my eyes adjusted enough to notice 10 or so guys just watching it go down. Would have died for sure.
CAN YOU HEAR US?
[rebelmouse-image 18978034 is_animated_gif=
dam=1 expand=1]

When I was working for a federal government land management agency in Montana a few years back, something really creepy came over the repeater network. While we were working in a canyon that had very poor radio reception, we heard a very long, creepy, and drawn out moan come over the air. This was followed by a very weak (in both reception and tone) "...help...me..." in a women's voice. All of us freaked out. These weak cries for help kept repeating low guttural "...help me..."on until dispatch finally stepped in a said "This is a federal emergency network. Unless you have an emergency, get off this channel." This was followed by another plea for help, then a gun shot and screaming. Turns out 2 local crazies were out four wheeling, going straight up steep embankments, when the ATV flipped backwards, pinning the man under the ATV. Both of them being high on some substance, they started freaking out. The man, being perfectly fine, except for being pinned by the leg and high, started to hallucinate that he was bleeding out, pulled out his handgun and shot himself to make it quicker. Because they were four wheeling so far back in the sticks, a helicopter was needed to retrieve the body.
BLAME CANADA!
[rebelmouse-image 18357827 is_animated_gif=
dam=1 expand=1]

I work as a forester in northern Alberta (Canada). One of the weirder things I've found was an old rusted toboggan in an area of forest that had recently been harvested. It had obviously been there before the forest was cut, because it had about 3 inches of soil on top of most of it with plants growing out of it. This was also 15-20 kilometres off the highway, and not near any well used trails or roads.
W. T. F?!
[rebelmouse-image 18348500 is_animated_gif=
dam=1 expand=1]

Forester here; running into fresh mountain lion and bear scat and tracks is always creepy, but I'm most afraid of other people. I started carrying a gun (which is against my companies policy) after one particularly unsettling run in. I normally work alone but on this day I had a coworker with me, I stepped out of his sight for a bathroom break. We were way off the grid, thought we were the only people for miles. All of the sudden I see a man standing motionless about 20-30 feet from me- I scream in obvious terror. He doesn't say a word, and I'll never be able to accurately describe the look on his face. It was pure evil, I could feel his intent. He takes a step TOWARDS me at which point my coworker yells "Are you ok?," the guy then just turns around and walks away, disappearing back into the woods. I'm a woman btw, and I know for a fact if I had been alone that day he would have attacked me.

Another creepy one was when I was patrolling in a swamp in SC and my boss just happened to fly overhead in a helicopter while conducting an aerial patrol, I could see him in the 'copter waving his arms, I'm waving back smiling like _"hey buddy! I see you!" _My cell rings and it's my boss telling me to get back in my vehicle (amphibious Argo) because I'm walking towards a 10-12 ft alligator. Super creepy because god knows how many I'd been close to in the past, not a normal day to have a helicopter scouting for me.

Strangest thing I've come across was a huge pile of dental molds (like the kind orthodontists make) in the middle of no where. About 3 ft high, thousands of messed up grills. I love weird, random s*** so it made my day. I took like 30 of them and would randomly leave them around town with stupid quotes written on the bottom, kept them stored in the driver side door so people would be like"WTF" when they noticed lol. My friend that happened to be a dental assistant saw them one day and explained that they are expensive to dispose of? So a shady dentist just dumped 'em.

Another time I had just stepped out of the woods when a fish dropped from the sky and landed right in front of me... I was super confused until I saw the hawk that was carrying it fly away.
DEEP BREATHS AND KEEP MOVING...
[rebelmouse-image 18346830 is_animated_gif=
dam=1 expand=1]

I do a lot of of solo hiking and I've seen some weird s***. I actually had a what the hell moment this weekend..

Decided to wake up super early and hike into this a great little fishing spot in Uwharrie national forest. Now I am probably a good 8-10 miles from anything or person. As I come over this hill I see a hoodie hanging up about 25 ft in a tree and an axe head at the base of the tree. The hoodie was on a branch that is couldn't of been thrown or even placed up there if someone climbed.. the limb would of snapped. I just took the safety of my pistol and kept walking. Nothing you can really do that far out..
NOT SAFE PEOPLE!
[rebelmouse-image 18348506 is_animated_gif=
dam=1 expand=1]

Not me, but my ex works in the National Parks. Trees with low limbs, waist high, cut off about a foot away from the trunk.....with used condoms rolled on the ends.
THAT'S NOT SMOKEY!!
[rebelmouse-image 18978035 is_animated_gif=
dam=1 expand=1]

I used to be a ranger for a cave park. One morning, I walked up to our caves to unlock them as a lot of our caves are gated to protect them from vandalism. As I'm walking up, I feel just...weird. I go unlock the cave and as I head back down I realized that the metal boardwalk under my feet feels and sounds different. I walked up and down it a few times trying to figure out exactly what was different but no luck. I decide to head back down to our visitor center and ask the first tour of the day to check on it and see if they notice anything. As I'm heading down the stairs I glanced back up at the cave, and the great big bloody bear that had been snoozing under the boardwalk sticks his head out.
OLD TALES.. DON'T ASK..
[rebelmouse-image 18344995 is_animated_gif=
dam=1 expand=1]

I was in the Black Hills of South Dakota in 2015 with some friends. We came into a clearing about 12 miles into a very remote part of the BH. There was a noose hanging in a tree. The rope was old and mossed over. No other evidence of humans around. Just plain creepy.
LEAVE IT IN THE GREENERY....
[rebelmouse-image 18346863 is_animated_gif=
dam=1 expand=1]

I worked as a botanist for the park service- as a scientist you still wear the uniform. My field partner and I were surveying some plants- and a super old dude walks up - we chat a bit and he tells us he's in his 80s and been hiking there forever. He seems pretty tough and with it from the conversation.

Cut to an hour or two later - he's on his way back - but his pants have disappeared and he's just wearing a (thankfully) long tank top - no pants or underwear. He waves and keeps going. Since you can only be cited for being naked in parks if someone complains- we wave and continued surveying plants. Never really figured out what happened- maybe an restroom emergency or he just wanted to feel the breeze.
IM NOT THOR! YOUR'E ON YOUR OWN!
[rebelmouse-image 18978036 is_animated_gif=
dam=1 expand=1]

Worst story for me was when three bears entered our campsite at like 2:00 in the morning when we were sleeping in a tiny little tent. Pitch black outside, but we were high up the mountain, so when laying in the tent, you could see the moon light filtering through the thin plastic of the tent and the silhouettes of the trees and stuff.

So my friend and I were in one tent and the guys were in another tent a few feet away from us. We are awoken to banging sounds in the campsite, about 3 or 4 feet from where we are laying. We both looked at each other and held hands because it was LOUD. I was terrified to move because the sleeping bags would make that rustling sound if we moved. I swear to god, the bears were FASCINATED with our tent. Now, we did go through all the hassle of setting up a bear proof camp, even washing the sun screen off of us, putting food and self care items and chap sticks and stuff in the food canister and such. We did everything we knew to do so that we did not smell good to bears, but I think just camping that far up gets their attention, period. These things literally were making grunting noises, throwing items around the camp, and rubbing themselves along the side of our tent. Like I could hear the sound of their bristled fur rubbing against the side of our tent over and over and over. I will NEVER forget that sound. When I would open my eyes and look up, you could see their HUGE grunting silhouette rubbing against the side of the tent. It was like the scariest 30 minutes of my entire life. Three GIGANTIC bears were a mere inch away from me and the only thing that separated us was the thin plastic of the tent that they could shred in in half a second.

After what seemed like an eternity, they wandered away, and the guys came flying into our tent carrying the gun. We huddled there, all four of us like terrified school girls, until the sun came up. When we took a look at the camp, everything that had been sitting out (mostly bags and clothes and non-food item stuff) was destroyed and scattered. I never went camping again after that experience. It terrified me. Before that, I never really thought what was out there. Now I know!!
KEEP A TRUE NORTH...
[rebelmouse-image 18346862 is_animated_gif=
dam=1 expand=1]

Every summer I work on a national park just to get a little extra cash for college.

So last year I decided to say okay and solo a 7ish mile hike up the mountain to get back to my dorm. This is after having a few days off, and instead of being late the next day waiting for a ride I decided I was gamed enough to venture the forest at night

So here I am alone crossing makeshift bridges, and going along a makeshift trail in the middle of an pitch black evergreen forest.

Along the way I come to a small rocky River bank, I look up and see a blood moon looming over head. For some reason I felt a wave of anxiety wash over me like I just f***ED up big time.

Hours pass, in turn with me getting lost and my flashlight dying. I kept seeing a shadowy figure in my peripheral, pointing to something. Wasn't a good time, as I was already on the look out for bears and mountain lions, plus being exhausted.
YOGI? IS THAT YOU?
[rebelmouse-image 18978037 is_animated_gif=
dam=1 expand=1]

I've been working at this park for a few years, and I've been having issues. It's this bear, and he isn't like any other bears. HE STEALS PIC-A-NICK BASKETS FROM THE CAMPERS!
In almost every interaction with a Karen, there will come a point where she (or he) will ask to speak to the manager. They seem to think that if they over others and just act a fool, they can get what they want—but the following managers REFUSED to let these Karens get away with their inconsiderate antics.
In the United States, it's no secret that sex education for minors is inconsistent at best.
But some people learned very unexpected stories about how babies were made, and those stories had a way of making a lasting impression.
Curious about other's stories, Redditor ILoveYourCat asked:
"How did you think babies were made when you were little?"
One Time's the Charm
​"I knew babies came from sex as a fairly young child. My parents never sugar-coated that. But for some reason, as a kid, I thought you only had to have sex once to have multiple pregnancies. I seriously didn't fix that misunderstanding until early middle school."
- Crazey1988
"At some point, when I finally accepted that you had to have sex to have a baby, I thought the only time people have sex was to make a baby, and it only took one time to get the job done."
"Then when I figured out teenagers were having sex, I thought you had to be married and have sex to make a baby, but then when my unmarried cousin got pregnant, I was just confused."
"But I was sure my parents only had sex four times, and then when my mom got pregnant with number five, I thought, 'Wow, they did it again.'"
- Raw_Combination_438
Stealing Storks
"A stork delivered them, of course. What the f**k, lol (laughing out loud)."
- Dells51
"Storks... I thought people trained them to steal babies from a factory and you would leave special treats on your doorstep as payment and encouragement for the stork to steal one for you."
"I was scared to death of birds for the longest time and would have a tantrum at the zoo when I saw a flamingo."
- No_Finish_3144
Young Conspiracy Theorist
"The government. I used to think that we lived in a totalitarian society and that the government was in complete control of everything."
- bebotak**t
"I thought the President sent people their babies when asked by mail."
- GustavoAlex7789
Scheduled Baby Delivery
"The women in my family explained to me at the age of six that a doctor calls you sometime after reaching adulthood at the age of 18 to schedule a baby delivery date."
"The husband either pays to schedule the appointment or the government does after verifying that you have been married and financially stable for quite some time."
- Lokikat00
Marital Kissing
"When two people kissed."
- Short-Reality7353
"I thought the same thing, but I understood that when my mom gave me a kiss, there was no risk. Being someone raised in a very Christian background, I assumed that when you got married, God made kissing a reproductive act."
"Since I made this assumption, I remember questioning why teenage pregnancy could possibly be an issue."
- meuserj
The Ultimate Christmas Gift
​"I thought Santa was bringing them."
- NorskoTheScorpion
"He was. I mean, Christmas comes but once a year..."
- Nouveauuuu
"I MAY NEVER ENJOY CHRISTMAS AGAIN."
- NorskoTheScorpion
A New Meaning to 'Forest Friends'
"When I used to ask my dad where I came from, he'd say he found me under a rock in the forest. Of course, I would go look for babies under rocks, too, but all I ever saw was dirt and those rolly-polly pill bug thingies."
"It was so gross thinking babies were just found THERE that I was actually relieved to find out how they were actually made!"
- melodie-artist
Pregnant By Proximity
"I thought women got pregnant by just being around a man, and I was always confused about what would happen if a woman still lived with her parents or dad after she's an adult."
- ILoveYourCat
Coming of Age Story
"I thought it was a 'just happens once you reach a certain age' sorta thing. As a woman, I was terrified because pregnancy sounds like the most awful thing, lol (laughing out loud)."
"(I know the end result is worth it but even as a 31-year-old, I'm like, nope.)"
- BansheeShriek
Sounds Plant-Based
"I thought they grew like a seed inside the mother's belly."
- maclaglen
"Technically, that's true."
- ManagementFresh4960
"Watermelon seeds."
- bravovice
"Well, not like that."
- ManagementFresh4960
The Power of Marriage
"My mum told me you couldn't have a baby if you weren't married. Note that she said 'couldn't', not 'shouldn't'."
"When my unmarried cousin was sleeping a lot my mum told my aunt 'she's having a baby'. I thought 'she can't be having a baby, she isn't married.'"
"A couple of weeks later she had an engagement party, quickly followed by a registry office wedding. She had a baby a few months later."
- MolassesInevitable53
Baby Trees
"I thought they grew on trees. True story."
- 8inchsalvatorre
"Baby trees, lol (laughing out loud)."
- ILoveYourCat
"I was surprised when I learned how it really happened, lol. I was like, 'You mean there are no trees?' And Mom just shook her head."
- 8inchsalvatorre
They Were Just There
"I don't recall a time where I gave the matter any thought without knowing the reality of it."
"Like, literally, until the day I was first introduced to the concept of birth, I don't think I cared where babies came from."
- N_Who
"Right, the little guys just EXISTED."
- Mizar97
Educated Is Best
"I asked my mom and she told me the truth."
"Educate your kids, folks. They can handle it."
- Bite_Me_23
Spontaneous Babies
"I didn't... They just showed up, honestly."
- badguywindow
"That's what I thought. I was terrified as a little kid that I'd wind up being a teenage mother because I thought it just happened spontaneously."
- dinosore
"Exactly what I thought would happen. Like one day you were just, boom, six months pregnant."
- badguywindow
While these responses might be funny, it's an important reminder of an area in the educational system that's often lacking.
But in the meantime, while the system's curriculum is getting sorted out, at least we can take comfort in the fact that we weren't alone in believing these tall tales.
What is it that makes people confess their deepest, darkest sins to millions of strangers on Reddit? While we may not know the answer, we do know that the following confessions run the gamut from funny to salacious to nasty nightmare fuel. In fact, you might want an Ouija board to send some of these skeletons back to the closets from whence they came.
One of life's many challenges to being successful and happy is to work hard and stay focused on our respective goals.
There are many obstacles that can discourage us, but persistence and a drive to overcome can be rewarding.
Unfortunately, there are some things that are simply beyond our control, and it has nothing to do with fate.
It's the qualities we're either born with or without that can impede us or prevent us from ever achieving what can only be seen as a pipe dream.
Curious to hear examples of one of life's cruelties, Redditor G00dR1ddance asked:

"How did your genetics f'k you over?"
These Redditors were unhappy with appearances.
Uncooperative Vision
"Lazy eye, and a total lack of depth perception."
– Crow_of_Judgem3nt
"Same. Do you struggle with driving? I just moved to a big city and I can't drive here bc navigating all the traffic is too hard with no depth perception. It's so scary!"
– Subnautica24

The Worst Parts
"Moms Family: Perfect teeth, male baldness. Dad's family: Terrible teeth, perfect hairline."
"Me: Sh**ty teeth, bald before 25. My 2 brothers: Perfect Teeth, Perfect Hairline."
"Feels FN bad."
– Yogannath
"They should all chip in for a trip for you to Turkey for a cheap hair transplant and dental work."
– turboprop123

Made For Farming
"All 4 grandparents were farmers. I look like I was bred to farm and f**k to make more little farm workers. Broad shoulders, big boobs, no waist, no @ss worth mentioning, and thick legs. I just look like I was bred to work forever until I die. 120 years ago."
– bwvdub

Stop With The Flattery
"I too am sturdily built. I am not tall but I am muscular and broad with the big boobs and the broad hips and sturdy legs. I could carry very heavy sacks of feed from when I was very small. My family nickname was 'the forklift truck', so that's.. nice."
– LibraryOfFoxes
Room For More

"My mother's OB said she had a pelvis 'you could drive a bus through'. I was a natural breach birth and share those genetics. You could host the last supper on my a** and have room for plus ones."
– Elephant_axis

These Redditors are living on borrowed time.
Cardiovascular Health
"Bad heart. I'm the first male in at least 4 generations to make it to 40. And that's only because I was finally properly diagnosed and treated. I wouldn't have made it to 35 if I didn't find the right cardiologist."
– socteachpugdad
"Bum ticker - dad's aorta exploded when I was 11 and my brother died from the second heart at 41. Just hoping to see my 60s."
– poontong

Being Kept At Bay
"I have a blood condition where I retain iron. It's slowly killing me. Destroyed my liver, pancreas, and led to a massive heart attack."
​"Fortunately, I live in the 21st century where modern medicine can keep me going with...bleeding."​
– Objective_Stick8335
"Sad Aspect" Of A Family
"Huntington's disease"

– alc1864

"My oldest uncle married a woman who had Huntington's, but they were very young and she wasn't symptomatic yet. In the 70s so no genetic testing or much public awareness. They had 5 daughters. My aunt and their eldest have long since passed away, and the remaining 4 are in various stages of the disease. It's always been a sad aspect of our family. A truly cruel disease."
– Wasyloosker12

BRCA Genes
"I'm BRCA2 positive, giving me roughly 74% chances of developing an incurable genetic breast cancer in my life. It also gives me about 22% of having an ovarian cancer."
"On the other side, double mastectomy lowers my chances to about 3%, but it should ideally be done before I reach 30. I will also need a hysterectomy in my 40s."
"I had 50/50 chance of getting the BRCA2 gene mutation so well, genetics did f'k me over!"
– PoutineMaker
Redditors share more of their crosses to bear in life after being blessed with these traits.
"I'm more attractive to mosquitoes than most people. If I'm out when mosquitoes are around, I end up covered in bites (which I'm also allergic to, so I end up with quarter sized welts that itch for daaaays after the fact)."
– p1013

It's sobering to realize the ailments your parents struggled with are starting to become our own to bear. ​
High blood pressure, arthritis, and predisposition to atherosclerosis are some of the undesirable parts of my family's genetic makeup that I never really thought about until I noticed how fatigued and in pain I've become with age.
Although I have so much gratitude for surviving every year I get to celebrate my birthday, getting old still sucks.