Whose Line Is It Anyway? improv actor Colin Mochrie is the kind of parent who would go to the ends of the earth to fight for his trans daughter, including taking on the trolls who direspected her on social media.
The haters would soon discover their pathetic remarks were no match for the blow delivered by the comedic actor.
---
When Kinley Mochrie came out to her parents in April 2016, she didn't doubt for a second they would be nothing but loving and supportive.
In January 2017, as all of Mochrie's followers on Facebook and family knew of his daughter's transition, the Canadian actor decided to share a message on Twitter about acceptance.
He posted:
My 90-yr-old mother-in-law and 87-yr-old mother love and acceptance of our trans daughter warms me. Wonder why some who are younger can't.

— Colin Mochrie (@Colin Mochrie)1484501203.0
The tweet got more likes and comments than the actor expected. Since then, Mochrie openly shared news of his family to a much broader audience.
I got a career from a show that exploited my one skill. I found a partner that makes every day in my life better an… https://t.co/Ye1LdkZtZe

— Colin Mochrie (@Colin Mochrie)1511151263.0
On Monday, September 3, in a Facebook post accompanied by a beautiful family portrait, the proud father wrote:
"Happy birthday to my lovely daughter!"
"28 years old and everything we've ever hoped for in a child."
While the post got plenty of love, the trolls were not kind and posted judgemental comments blasting Kinley on her birthday.

Like Facebook user Jack Orchard...

(Screenshot from Boredpanda)
...or LoriAnn Stewart.

(Screenshot from Boredpanda)
But Colin Mochrie had the perfect response to the rude comments on his celebratory Facebook post.
The actor took to both Facebook and Twitter and posted:
"Thanks to the fans of this page for being supportive and human."
"To the trolls, my thoughts and prayers to your body for losing it's mind and soul so tragically."
Thanks to the fans of this page for being supportive and human. To the trolls, my thoughts and prayers to your bod… https://t.co/7UaggLXyl9

— Colin Mochrie (@Colin Mochrie)1536065624.0
As far as fans are concerned, this dad is winning.
@colinmochrie I am appalled that your daughter was treated this way. Please let her know that people who spew hate… https://t.co/tYug4rGent

— Penelope June (@Penelope June)1536378408.0
@colinmochrie I'm sorry you've been subject to trolling. It's not fair and you don't deserve it. You're awesome and… https://t.co/9B0YVm1g4k

— Elizabeth O'Mahoney (@Elizabeth O'Mahoney)1536066003.0
@colinmochrie Dearest Colin, you are loved and lovable. So is your family. Thanks for being kind; a class act.

— Chris Greenwood (@Chris Greenwood)1536067490.0
@colinmochrie Already thought you were on of the funniest humans on earth now I believe you are one of best humans… https://t.co/g8nlU6jWGx

— jane rutledge (@jane rutledge)1536322878.0
@colinmochrie You're using your powers for good. That's what I call a superhero.

— 🇨🇦 Rob Davis (@🇨🇦 Rob Davis)1536068330.0
@colinmochrie Said like a pro, 1000 points to you! All the love in the world to you, your wife and your daughter. S… https://t.co/qpnTyjPKcY

— daniella minniti (@daniella minniti)1536069388.0
@colinmochrie All aboard!!!! Attention transphobics, this troll train is departing for Ignorant City. Please mind t… https://t.co/53DMCzRcga

— AModernBluestocking (@AModernBluestocking)1536360676.0
Colin's love for his daughter inspired others to come forward with their own stories of struggle and acceptance.


@colinmochrie I have a trans daughter too and I'm so proud to be her mum. I wish everyone could show love and support to our amazing kiddos

— Lady (@Lady)1536328844.0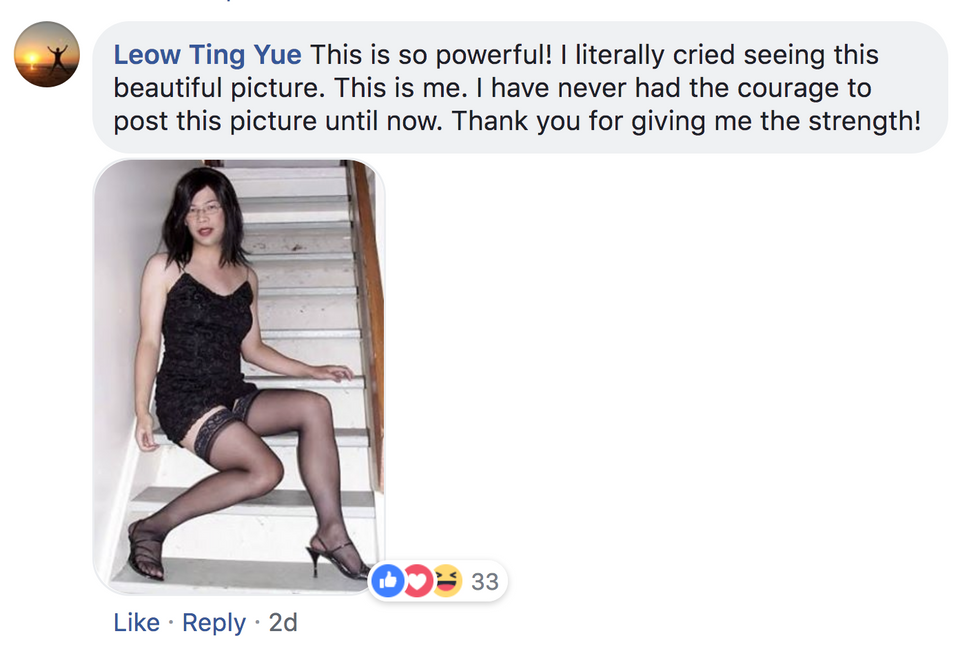 @colinmochrie Dear Mr. Mochrie, I followed you bc I saw an article on your support of your daughter. I truly hope s… https://t.co/p5uCTJoMCE

— Kelli Wood (@Kelli Wood)1536359017.0

@colinmochrie As a fellow parent to a trans child, I applaud and deeply respect your capacity to truly love uncondi… https://t.co/6dsngSGtdd

— Jess (@Jess)1536270757.0

@colinmochrie Acceptance and unconditional love are the tenets of parenthood. You have shown an amazing amount of b… https://t.co/LKt77enjgz

— Lori Dorn (@Lori Dorn)1536353082.0

@colinmochrie Well done Sir! As a mother to a trans child it is wonderful to see the love and support for your chi… https://t.co/QDPpK2XgUG

— Dawn Marie (@Dawn Marie)1536348147.0
Colin told CBC's Wendy Mesley that he consulted with Kinley before making that first Twitter post back in January 2017.
"I think we were both idiotic in a way."
"I didn't really think of the full ramifications. I just thought 'I'm just putting this positive thing out there.'"
And while the comedian was fully supportive of his daughter's gender transition, he couldn't help but be concerned about her safety when statistics show violence against transgender people, especially women, is so prevalent.
Mochrie said his first thought for his daughter was:
"God, let her be safe."
Mochrie was away from home when Kinley came out to her mother. The actor said he wondered:

"You go through this thing, 'Oh, well now my child has changed genders, does that mean that previous child is now gone'?''
"But then, once Kinley came through the door, I went 'Oh yeah, its my kid', its the exact same kid, but as I say 'with a different coat on'."
Watch the video interview of father and daughter from CBC: The National, below.
H/T - YouTube, Facebook, Twitter, CBC, Boredpanda