Atheists Share What Made Them Originally Question Their Beliefs
Atheists Share What Made Them Originally Question Their Beliefs
[rebelmouse-image 18346127 is_animated_gif=
dam=1 expand=1]

Religion, faith... God. There are so many things to discuss after after expressing those ideas. Wars have been fought.... are STILL being fought over religious faith. Many people are steadfast in the belief that God is among us and will save us; that keeps believers in comfort on the daily. But there are many who challenge the thought that a higher power exists. And some at one point were very involved in their faith of God, but, things change.

Redditor _Johnytheanarchist asked the atheists of Reddit to share... What's something that's made you question your belief? _There is always a turning point when you ask yourself... is this me?

HUSH UP AND BE QUEIT!

My church telling me not to question my belief or their teachings.

Redditor _extrohex responded in solidarity. _

I'm a Muslim and I can totally agree with you that people should be able to question their religious scholars about the religion they are in. Even in Islam many 'scholars' tells you not to question anything and just believe. There is a story in our Holy Book Qur'an where even the Prophet (I don't remember which one, Abraham or Moses) asks Allah (Allah literally means The God and not muslim God) to show him how you give life and death. Allah asked him that does he not believe? He said I do believe but to be stronger in faith. Now this is huge. However these 'scholars' tells you to not even question simple things and even some elders in the family. Hence people just move away from their religion.

Majority of the scholars in Islam encourages questioning but only few says that just believe and don't ask.
CHAIN, CHAIN, CHAIN.... CHAIN OF FOOLS...
[rebelmouse-image 18346128 is_animated_gif=
dam=1 expand=1]

My parents are Christian. What made me really question it all was the concept of "prayer chains." _What a prayer chain is basically whenever something bad happens to someone (they get hurt, they get sick, lose a job etc.), a person will pray for them and then call the next person on the prayer chain, who then prays for them and calls the next person. The idea is roughly _"the more people praying to god asking for help for the person the better."This is a noble idea, if you don't think too hard about it. But, if you are like me and think about stuff harder than the average Christian; what this basically means is _"God will help people more if more people care about them."_ So, if you are dying in a ditch and no one knows your name, god doesn't care about you.
I THOUGHT GOD EMBRACED EVERYBODY?!
[rebelmouse-image 18346129 is_animated_gif=
dam=1 expand=1]

When I was a teenager my parents got divorced and the church we were members of told both my parents they weren't really welcome to be involved anymore. It seemed totally counter to the stuff they were teaching us, and was definitely the moment where i first thought, "wait, what? what the hell is this place?"
DON'T LOOK THEM IN THE EYES... KEEP RUNNING!!
[rebelmouse-image 18346132 is_animated_gif=
dam=1 expand=1]

I used to be a member of Campus Crusade for Christ (sometimes called Cru or CCC) It's a Christian men's organization popular on many college campuses, and it's basically a cult.

I went to a Methodist school and it wasn't super christian or anything, an ordinary college really. But Cru was something different, it had a lot of respect among campus management because local pastors it was Christian, but a bad reputation among students who weren't into that stuff.

I still remember it vividly - Freshman year, first week of college, going to the organization fair because I was excited to join some kind of club or something. I guess I looked lost or alone, and someone who wasn't with any of the regular clubs approached me and started talking about this men's club, being that I was a practicing Catholic at the time I decided to try it out. First meeting they talked about nothing other than masturbation and how evil it was. After several meetings, I'll admit they had me feeling really bad about myself, convinced I was just an awful and depraved person.

They wanted to control every aspect of my life - only associate with other members of Cru, always let Cru know where you're going and who you're with, you had to show your laptop's browser history (and it had better not be cleared), at each meeting, and definitely no association with women for any reason. And for a while, I actually did all this. Well eventually I snapped out of it, realized I was being manipulated and brainwashed, stopped going to their meetings.

I didn't start calling myself an atheist until many years later, but in hindsight my experience with Cru was the first time I saw religion as being harmful.

And in later years I realized, that's how they prey on naive and impressionable kids, they get em in before they've had a chance to make other friends. I was exactly the gullible fool they were scouting for. The president of the club was only a student by technicality, he never graduated and just takes the minimum number of classes to be considered a student. He just stays in college to run that club, and was in his 30s. I don't know if he was being paid to do this, or was a creep, or just completely brainwashed.

In my later years of college, many of us experienced cases of losing friends to Cru. Once they joined that, you wouldn't hear from them again unless they left the club. From what I hear, it also runs into money after a while, like a lot of money, and it works kind of like a pyramid scheme.
SOUNDS MORE LIKE VOODOO!
[rebelmouse-image 18346133 is_animated_gif=
dam=1 expand=1]

Walking on water, miracle cures, burning women at the stake for being progressive (witches), the world is 5000 years old, my aunt was not allowed to take communion due to her divorce. Basically the constant one sided BS. I'm sure these stories worked to control the population like a government, back when they didn't have the answers. I'm sure Jesus was a good guy, but he didn't sacrifice himself for me, he was killed.
CHEAPER THAN THERAPY...
[rebelmouse-image 18346827 is_animated_gif=
dam=1 expand=1]

I was always an atheist, but I went through a rough patch after college and I started going to a nearby church with a friend of mine. I never did buy into all of it, but I did start to see the draw of the community aspect of it. To me, it was like a good group therapy session, where you thought about your life and your choices a lot in the context of other anecdotal stories that just happened to be from the bible.

In the end, I stopped going and never really found religious views in it. However, I can definitely see why people love the community aspect of belonging to a church and getting to know people at your church. They become a little family to you. That part was very appealing. Made me think twice about questioning why people go to church and why people are so drawn to religion because I can see why they were drawn to that part of it very clearly.
NONE OF THIS MAKES SENSE...
[rebelmouse-image 18977472 is_animated_gif=
dam=1 expand=1]

From Christian to Atheist:

When I realized that I could come up with better, more moral and loving solutions than the all knowing God of the universe. For instance, when the Israelites were told to kill all the men, women, and children of an enemy nation, I couldn't help but think about the "radical love" (that was the title of a book I read once about how the love of Jesus should really change our life... like selling your possessions to give to the poor kind of change) that Jesus displays and see the disconnect between saving people at all costs and killing them (and punishing the Israelites who failed to kill all the people). Why couldn't the Israelites adopt the children? Or find a non-violent solution altogether? God can't do that?

From Atheist to "doubting."

What causes me to doubt my atheism is the idea that God isn't who he is portrayed as in the Bible. Maybe God never commanded those horrible things but the people who wrote about him did? Of course at that point, I'm basically creating God myself, picking and choosing the aspects that I think make up a God that I don't see much evidence for in the first place. That's when I realized that I really just wanted a sense of community, over-arching purpose, and spiritual connection to people. I was drawn to Catholicism through its rich and long history (I never had that as an evangelical!), it's connection to the saints, it's connection to people around the world, and it's connection to people who have died. I would be lying if I said I wasn't still drawn to that idea of connection.

But then I remember the ridiculousrules, the idea that the all powerful God of the universe can't heal an amputee but will punish me for masturbating, and I remember that I can't fall in line again. At least not easily or happily.
THAT SEEMS SEVERE!
[rebelmouse-image 18977392 is_animated_gif=
dam=1 expand=1]

"Believe in me or burn and be punished for all eternity." Doesn't sound like a very loving father
SHOW ME THE RECEIPTS!!
[rebelmouse-image 18977473 is_animated_gif=
dam=1 expand=1]

There is no belief. It's a lack of belief. And there has never been a single piece of evidence that any of it is real. Watching people constantly thank some invisible man for helping them in their daily lives while children die of cancer is ridiculous, and keeps it all in perspective.
THE QUESTIONS NEVER END!
[rebelmouse-image 18353034 is_animated_gif=
dam=1 expand=1]

Even from a young age, I never understood why people believe in God. I would ask questions, but never got any answers. After a while, I came to understand that there were no answers.
"Reddit user sasukelikescarrots asked: 'what do you think are some overrated places to have sex?'"
Certain locations really damper on a good time.

For instance, it's not fun to do it in cramped spaces.
Looking at you, airplane bathrooms and backseat of cars.
Many cannot be bothered to maneuver in some odd location.
Beds. Beds are sexy.
Always were, always will be.
Redditor sasukelikescarrots wanted to hear about the places we should all avoid when getting it on, so they asked:
"What do you think are some overrated places to have sex?"
Elevators.
One... I'm claustrophobic.
Two... there is not enough time.
Fatal Attraction lied to us y'all.
The Worst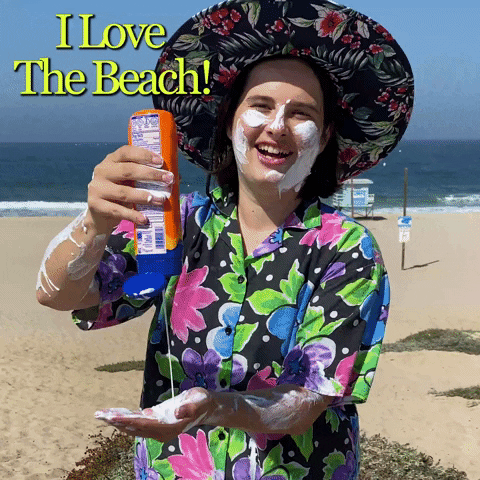 The Beach Summer GIF by Kel Cripe
Giphy
"The beach is the worst."
thotsnprayers68
"I hate sand so much so I agree with you."
Millionsmoney
Let Alone Two
"Airplane bathroom. Too cramped, and smells gross. Keep your Mile High Club pendant."
REUBG58
"I was thinking this too. I am also willing to bet that 99% of people who claim to be in the Mile High Club are lying through their teeth. Seriously, there's barely any space in those lavatories for one person, let alone two, and it's a little hard to get aroused when you're worrying about turbulence and people waiting to use the toilet knocking on the door."
Fresh-Hedgehog1895
Just Why?
"Public toilets... Why would you even..."
Reznik81
"The only reason I can think of is being a kid of an overprotective parent in high school and you want to desperately get it on with your boyfriend. Public restrooms are the only option sometimes. (Experience)."
I-couldbeadog
Too Wet
"The pool and the shower."
GrilledStuffedDragon
"I hate the shower. I think it was a comedian who said, 'I've never been having sex and thought you know what would make this better… If one of us was freezing.'"
REDDIT
"I personally like the shower cause my partner likes to be in the water and I like being cold so it works out cause sex gets me pretty warm anywho."
BOOboUraisin23
"The shower is for foreplay, not sex. Pretty much every time we shower together it's a given that it will lead to sexy time, whether we were planning on it or not/in the mood or not…. intimacy and touching, etc.,?…. we just B-line for the bedroom. But sex IN the shower?… no."
Jibber_Fight
And a Happy Meal?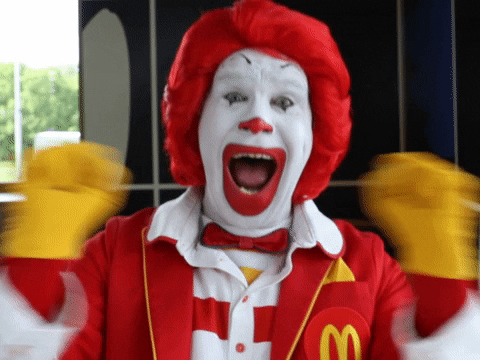 happy ronald mcdonald GIF by McDonald's CZ/SK
Giphy
"McDonalds ball pit…"
ami2weird4u
"They have a cleaning machine that can clean all the balls and it's all sanitary. I think that could be a really good time"
copper_basket
Have some decorum people.
I'd go to Burger King.
Check Please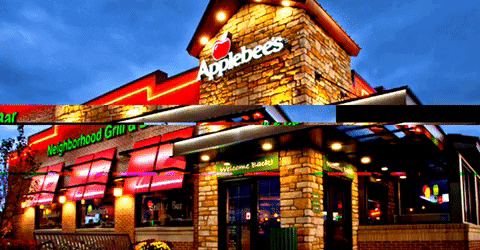 Applebees GIF
Giphy
"The men's room at Applebee's during Happy Hour on a Tuesday."
Thiccaca
"Oddly specific."
some1sbuddy
Bad Idea
"Car sex."
Shrikeangel
"I spent my teens and early 20s having sex in cars. About a year ago (I'm almost 40) the wife and I are out and in the mood so let's have sex in the car like we used to. Bad idea, how the f**k did we used to have sex all the time back there, now it's uncomfortable and I got a cramp in my leg."
Psyco_diver
"Yes. The handful of times I've tried this, it's always been so cramped and you need to keep repositioning or someone bumps their head. I guess it could be fine if you had one of those huge American tanks, but cars here in Australia never have that much room inside."
StellarSandDweller
Oh Lord
"Churches and graveyards. I've done it in both, and it's not really that great."
filly_fanatic
"Never in my life have I thought either of those locations sounded like a fun place to have sex. I guess if you have a kink for getting caught then it's as good as any because there's this perception of it being sacrosanct, but it just seems at best uncomfortable and at worst going to get me on a registry somewhere.
"hopeishigh
The Waves
"Waterbeds. One of my GF's had one, and I *hated* it. It's impossible to get traction or the proper angle."
disturbednadir
"Good call. There's nothing to push off of. Nowhere to plant knees either. A true s**t show."
SocialMediaSoooToxic
"I knew there was a reason why I forgot about my waterbed! Thanks for reminding me about that abomination!"
TinyCamp7743
Wow. I mean. Y'all have really gone out and experimented fully.
Congrats.
Sometimes real-life experiences can be just as bone-chilling and inexplicable as a horror movie. From creepy run-ins with strangers to ghost-like haunting encounters in the middle of the night, these Redditors share their terrifying ordeals of wanting to run for their lives. Whatever their story, it's something they'll never forget.
In August of 1982, author Stephen King's publisher—my fellow Maineiac—released his book Different Seasons. It was a collection of four novellas set mostly outside the horror genre King had become famous for.
The four novellas—subtitled to reflect the four seasons—were:

Rita Hayworth and Shawshank Redemption: Hope Springs Eternal
Apt Pupil: Summer of Corruption
The Body: Fall from Innocence
The Breathing Method: A Winter's Tale
The first three became the major Hollywood films The Shawshank Redemption, Apt Pupil and Stand By Me respectively. 1986's Stand By Me helped launch or solidify the careers of Wil Wheaton, Jerry O'Connell, Corey Feldman, Kiefer Sutherland and the late River Phoenix in the critically acclaimed coming of age film directed by Rob Reiner.
I read the book when it was published then saw the film four years later. Both are superbly done and I immediately think of them every time the experience of finding a dead body is discussed.
That is the central plot point of the story—four boys on the cusp of adolescence take a pilgrimage to see a dead body discovered in the woods by the train tracks. The journey is life-changing for the fictional characters.
But what is it like in real life?
Reddit user JohnnyNuclear asked:
"Anyone ever find a dead body unintentionally? What's the story?"
The Scene of the Accident
"I was at a family reunion forever ago. On my 13th birthday Papaw and I wake up early to go fishing on the big lake right next to the campsite."
"We get in my uncle's bass boat and start making our way out to find a spot. We eventually come across a jet ski, with the front end and handle bars all messed up, floating amongst some rocks."
"I will never forget it."
"We both immediately looked at each other and we knew what we were going to find."
"We didn't say a word, just took the boat over to the rocks and sure enough, there's a guy face down in the water in the rocks, obviously dead."
"We called the cops and waited so they could find him easier. They showed up maybe 20 minutes later and pulled him out..."
"Apparently he was drunk and riding his jet ski fast as Hell the night before and smashed into the rocks head on. Poor dude, think he was in his 40's if I remember right."
"We fished all morning and didn't say a thing. Didn't catch anything either."
~ ItsNotAToomah69
"Had a paper route when l was a kid. Part of my route was delivering to a retirement block."
"On this day l stepped out of the lift and as l approached the door to the corridor l saw a trail of blood running underneath it. As l opened the door an old lady was laid head first on the floor with blood pouring from her head, her front door open."
"Tried to help her but she was clearly gone. I chucked the paper over her body and into her flat and ran down to the warden's flat."
"40+ years later, remember it as clear as day. Got offered counselling and a trip to McDonald's from the police."
~ Thick_Letterhead_742
"I did search and rescue for a long time."
"I left because I was tired of the lack of rescues and mostly finding or recovering bodies."
"It was pretty draining."
~ Konstant_kurage
Or Maybe the Scene of the Crime
"A buddy of mine skipped school one day to go fishing."
"He thought his fishing line was caught on debris, but as he reeled in a human hand surfaced."
"He called the cops and they yelled at him for skipping school."
"Well, the hand was connected to a whole body."
"My friend just freaked out when the hand emerged."
~ Jolly_Street
"My youngest sister would babysit for the woman at the end of our block. She was a divorced woman with 2 kids."
"The ex-husband hadn't heard from her for a few days and came by her house to no answer. Came to my house to see if maybe the kids were there with my sister and if she had an answer why he hadn't heard from his ex-wife."
"Sister wasn't home but he and I went to the house. Knocked a few times, and then he just went to open the front door. It was unlocked."
"Her body was in the living room. She was murdered and her children were gone (turned out kidnapped by her then boyfriend)."
"The ex-husband was rightfully shocked and terrified, immediately called the police and reported as much info as he knew. My little sister had to answer some questions about the boyfriend, help give a description vehicle type. Just basic stuff."
"The kids were found unharmed at the boyfriend's mother's house if I remember correctly. I know for sure that they were OK and their dad was able to get them safely."
"I think the boyfriend was caught because of his mom. She called the cops once she saw the story on the news."
~ skeedlz
"Playing hide and seek in the woods . I was running after my cousin and tripped and ate dirt over what I thought was a rock."
"Turned over to get my shoe unstuck and saw it was something white and I pulled my shoe out. I got up and saw it was actually a pelvis (I didn't know what the bone was named at the time but I knew what a bone was)."
"I screamed and my older cousins came running out from their spots to see me crying and trying to get away from the skeleton sitting in the dirt."
"We went and told my parents. We were pretty deep in the woods so one of us stayed near by it and another one of us waited about 50 feet away but to where we could still see each other."
"We basically made a trail of human bread crumbs to make sure we got back to the body to show the cops."
"I honestly can't remember why it was there but I know it was only like a year old and partially buried."
~ Space_Junkie02
Sometimes It's Just Natural Causes
"Leaving my house for quick errand briefly noticed an elderly lady parked on side of the road."
"When I returned, her car was still in same location and as I looked closer she appeared unconscious so I stopped but her doors were locked so dialed 911."
"It was determined she had passed away."
~ GaGirl2021
"Had a guy collapse dead of a heart attack in my store."
"He put his full coffee cup down first."
~ Bokuden101
"My friend Vinnywent to a new worksite. The supervisor brought doughnuts and coffee and was introducing everyone to everyone."
"He said this is Joey, Vinny, Jeff, Chad, Morris and then just fell over dead."
"He didn't even finish introducing everyone."
~ Omegaprimus
"Worked at a movie theatre. It was a weekday morning, so usually pretty slow for us."
"Went in to clean a showing of The Hateful 8, there were only two people in the theatre. One in the very back, and one towards the front."
"Walk in to clean the theatre, see the guy up front. Figure he was sleeping, happens sometimes. Say a couple things to see if he'll wake up. He does not."
"Get spooked and call my manager. Manager shook him a couple of times, realized something was wrong, called the police."
"Dude was dead."
~ chernygal
Over 53% of Deaths Occur at Home
"When I was 11 I woke up and was looking for my mom. Couldn't find her anywhere. Walked to her side of the bed and she was dead on the floor."
"That was in 92. She was 27. I'm 43 now."
"My hardest birthday was 28. I felt so young still and my life was just picking up, but I just imagined all the stuff she missed."
~ EndoHaze559
"I had a friend who called me around midnight when I was 15. I had a very lax childhood so both me and my mom were awake, but she wasn't exactly happy about my friends calling late at night."
"She chewed me out before I picked up the phone, so I picked up the phone and yelled at him because obviously I was upset that I had just been yelled at."
"He had just found his mom dead. She died of natural causes. She had been sick for a while, I don't recall what exactly was wrong with her."
"He called me after 911 because he didn't know who else to talk to or how to process the situation and the first thing I say is 'why the hell are you calling me this late?!'."
"I will never not feel like the biggest pile of human garbage for that."
~ Tw*t_Pocket
"I woke up around 2 in the morning to get a glass of water. I walked past my fiance, who I thought fell asleep on the couch playing his video game."
"Went to touch him to tell him to come to bed.. well, he was cold to the touch and wasn't breathing.. worst day of my life."
"We had celebrated our 10 year anniversary just the night this all happened. He had a heart attack in his sleep."
~ alienscrub
Regardless of Circumstances, It Makes a Lasting Impression
"In 2017 I used to work as a photographer for one of the biggest shoe stores in Gdansk, Poland. Like one of those with limited, mostly overpriced rare kicks mixed with normal New Balances and Nikes."
"I was responsible for doing packshots (pictures of the product on white background you see on every website) and more lifestyle type of content for social media. The latter was really fun, because I got to take 5 or 6 pairs and go somewhere to shoot with my friend, who would just put them on for pictures."
"Guy was very athletic so if I envisioned him standing on his hands, jumping very high or running super fast for photos, there was no problem with any of that."
"The golden rule was that location had to match the shoe in some way. For example soccer cleats somewhere on the field, basketball shoes on court, running shoes on track etc...."
"It was my role to get creative with it."
"One day I had to do a pair of Timberlands, some Puma running shoes and Vans' in collaboration with Nintendo."
"I was really looking forward to those Vans because I managed to book a local arcade spot before it opened, so creatively it was dope."
"We shot quick pictures of running shoes on a local track and decided to take Timbs to a nearby forest where we knew there were some old, post-war bunkers."
"It was winter, so grey concrete, some snow and trees seemed like a perfect spot for mustard-colored shoes to pop up."
"And it was in theme since in Poland 6 inch Timbs are more of a winter shoe than work boots."
"So my friend put the shoes on, went to a spot near the entrance to the bunker where I told him to stand and froze..."
"He turned around and said 'Come here and tell me that I'm not seeing what I'm seeing'."
"So there I went thinking he found some money or a phone or something. Nope, there was a body like 2-3 steps inside the entrance. Completely covered with some rugs and cardboard except the creepiest, now engraved in my memory paper white face, with open eyes and open mouth 'looking' right at us."
"He was lying on his side and his head was turned up towards us, which made it even creepier."
"We just stood there for like 20 seconds not moving, not breathing in complete silence. Like we were waiting for him to say something or I don't know, stand up."
"It was clear the guy was dead but we yelled 'hey' a few times because we couldn't believe what was happening."
"The fact that this guy was near the entrace and there was this whole, huge, dark hallway with bunker behind it started to create weird scenarios in our heads straight from zombie/Friday the 13th movies."
"We went back to the car and called the police. Patrol car came in like 2 minutes. We told the two cops where to go since we really didn't want to go there again."
"Turned out it was a homeless guy who got very drunk and went to sleep right after downing a whole bottle of vodka. Froze to death."
"Cops said they knew him, he was about 60, in and out of jail. It took them like 2 hours to take our statements."
"I remember one of them not believing that taking pictures of shoes can actually be a profession so I had to show him the pictures we'd taken already that day."
"We didn't go to the arcade to take those Vans pictures. We went to a bar instead."
~ michal502
Luckily most of us will probably never have the experience of stumbling across a dead body.
But death is an integral part of life.
Whether we witness it first hand or not, it's something we all need to be prepared to face.
Is it just us, or does it seem like as the internet continues to grow, so do the solutions and "hacks" that turn out to be total snake oil?
And we don't mean "snake oil" like oil that comes... from a snake. Because that sounds painful.
Rather, we mean "snake oil" like deceptive marketing, scams, and fraudulent medical claims, like cure-alls and overnight dramatic weight loss options.
But every once in a while, there's a solution offered that sounds too good to be true, but it turns out to be totally legit.
Curious what surprisingly good hacks others had come across, Redditor ThePonyboyCurtis asked:
"What seems like snake oil but is actually 100% legit?"
The Powers of WD40
"WD40 cleans candle wax off your living room carpet. If ever in doubt, consult an old housewife."
- Eastern_Chemist3726
"There is a guy on Snapchat that I follow and I can't think of his screen name right now, but he legit uses WD40 on just about everything. It's crazy some of the sh*t he does with it."
- FreewayWarrior
"That's because it's a solvent. It's not a grease meant to loosen up tight screws, it's a solvent that breaks down the crap making your screws stuck."
- Carmelpi
Everyone Likes the Smell of Cedar
"I had a weird-smelling basement. Someone said to get aromatic cedar blocks, sand them down, and leave them there. I thought there was no way this could work. But it did. The smell is totally eliminated."
"12 blocks. Each two by two by two inches. Just top layer sand down, half a millimeter maybe. I left them next to a pipe that I believe is the culprit. The basement is like 900 square feet."
- thetorontotickler
"An offering to the stink gods."
- likediscolem
"Ah, inches, millimeters, AND square feet. You like to confuse both sides of the ocean, nice."
- mikehit
Don't DTR with Your Hiccups Just Yet
"The whole 'hold your breath to get rid of hiccups' trick."
"The thing is, most people just don't know the proper way to do it or why it works."
"It's got nothing to do with simply holding your breath. It's got to do with using your lungs to hold down the diaphragm and stop it from spasming."
"You breathe in until you cannot fit literally anything else into your lungs. When your chest is as full as humanly possible then you hold it and within about 15 seconds the hiccups are gone."
- shlam16
"So THAT's why it works sometimes and not others."
- tomtomclubthumb
"I've never had success until I held it until my lungs burnt. That 'oh my god, we're suffocating' feeling is a legit life hack for making your body stop acting stupid."
"It also works for stuffy noses. If you exhale all your breath, then nod your head repeatedly until your lungs burn, and then breathe back in normally, your nose will magically unclog."
"If you have really bad congestion because of allergies or a head cold you sometimes have to do this several more times (the most I've had to do is five times)."
- b0w3n
Impossibly Clean Windows
"Vinegar and newspaper to clean windows."
"I thought the ink would come off and make an even bigger mess."
"Almost turns the window invisible."
- ShadowWolfKane
Magical Mystical Magnesium
"Taking magnesium. It really can cure some joint, nerve, muscle, heart, and breathing problems."
"Of course, the only ones it can cure are ones that are caused by a magnesium deficiency which a surprising number of people have."
"Some life events that can rapidly use up magnesium in the body are pregnancy, surgery, viral illness, and major periods of stress."
- Easy_Independent_313
Not Just for Painting Toinails
"I was suffering with plantar fasciitis for over six months. I tried new shoes, new insoles, pills, and physical therapy, but none of those things fixed it."
"A friend kept suggesting I try these gel toe separator things like they wear when painting toenails. I thought it was silly, but they were only $10 on Amazon, so what did I have to lose?"
"I wore the neon blue gel thing at night feeling very silly. After the first night, my foot hurt like h**l, but after the second, it felt a whole lot better. I wore it for two weeks straight and plantar fasciitis was gone. Those things were like magic."
- J-Frog3
"The toe spacers are stretching out your tendons in the feet, therefore reducing the tightness that causes plantar fasciitis! Another thing that should help is putting something like a tennis ball underneath your foot and rolling it around."
- SPOOKSVILLE
"Sitting on your deck in summer or are you having a nice picnic when suddenly you're being accosted by the h**lspawn known as wasps? Get rid of them with this one easy solution: burn some coffee!"
"'Burn coffee?' I hear you say incredulously. Yes, burn coffee! Take a little saucer, pour a little pyramid of ground coffee on in, and use a lighter to light the top."
"It will smolder slowly and give off a smoke that smells, well, like burnt coffee. It will also instantly get rid of any wasps that are bothering you. No idea why, they absolutely hate the smell."
"Some people also dislike the smell of the burning coffee, I understand this. But ask yourself this important question while the smell is annoying you: what do you dislike more; wasps or the smell of burning coffee? I know what I would pick."
- ilikedmatrixiv
"I keep coffee grounds in a short jar on the deck for burning and put the lid on when we are going inside. It keeps the wasps away, and also, it repels mosquitoes."
- AuntieLaLa420
The Indoor Sunrise
"Daylight lamps."
"Someone mentioned melatonin, so it reminded me of the opposite. I bought a daylight lamp last winter because I get depressed when it's dark outside for long periods of time."
"I got one off Amazon for 40 euros, and now I can't live without it in the winter."
"I thought it was a sham initially, but the light basically imitates the wavelengths of light emitted by the sun (bar the UVs) and inhibits the production of melatonin. Not only that, but it also boosts my mood and morale. You just have to be careful because it's difficult to fall asleep for a couple of hours after using it."
- Outside-Ad5864
"There's a subset of these types of lights that also work like alarm clocks. Wakeup Lights."
"The slightly more expensive ones even fake a sunrise for you. It actually slowly increases in brightness from a dull red, all the way to that bright white/yellow, and THEN starts making noises."
"I used to be such a heavy sleeper before I got mine, and now I can pretty easily get up even at 4:00 or 5:00 in the morning even in the dead of winter. I could not imagine living without one going forward, HUGE quality of life improvement for myself."
"And I have not managed for a single family member to try it, not even outright borrowing mine for a week or two. Because they think it sounds dumb and pointless."
- LordOfDorkness42
Pain-Free Posture
"Good posture."
"I had chronic back pain for years. Then, just a few years ago I slept on my neck wrong and had neck pain that wouldn't resolve."
"I saw a physical therapist and the first thing she did was look at how I sat and how I stood and walked. She told me nicely but essentially that my posture was horrible, affected by years of slumping in my seat and also being told continually by my mom to 'suck in that tummy!' when I stood or walked, which led to me thinking a pelvic tilt was necessary for good posture."
"The therapist showed me how to sit and stand with a straight back, my chest up and forward, and my back keeping a healthy lumbar curvature."
"Let me tell you, it was HARD. My shoulder/back muscles were not used to it and I had to train them like any muscle is trained, with a posture bra and also using a long sheet tied like a strap around my neck, arms, and waist. It also felt so unnatural at first to be sticking my chest and butt out, like I was looking for attention, which is part of the reason people have such terrible posture; we feel that's 'immodest.'"
"No lie, three weeks later, all my back pain symptoms were gone and haven't returned. I can do some slumping when I sit with no great penalty now, but when I walk, or when have to stand for a duration, or sit on something backless, I use my good posture and I am pain-free."
"I'm trying to spread the word on this makes me feel like a 1950s health movie ('Posture Pals!') but it's so effective, I can't stop sharing. Years of chronic back pain completely eliminated by just a few weeks of good posture training."
- amantiana
The Power of Meditation
"Meditation. When I was an alcoholic and drug abuser, my friend used to tell me about meditation to help with anxiety and stress."
"I thought, 'B***h, we use Xanax around here, no one's got time to meditate.'"
"We no longer use Xanax and have the time to meditate."
- ManyAd9810
Water in the Ear
"Hopping on the opposite leg when you have water in your ear after swimming. It works every d**n time."
- rutharr1
"I need to try this. BRB (Be Right Back), gonna get water stuck in my ear..."
- pabloesceebruhhh
Magic Mouthwash
"Saltwater swish and gargle for toothache and sore throat (as long as it's not something like strep). Source: currently have strep and ain't nothing working."
"Otherwise, even the dentist tells me to salt water swish if I get tooth pain or something stuck. Total relief."
- allflourr
"I'm a once-a-year strep throat sufferer. For a severe sore throat, my doctor told me to mix a one-half cup Mylanta (kept in the fridge) with a tablespoon of Benadryl. Gargle every few hours. The cold Mylanta cools and soothes and the Benadryl reduces inflammation."
"She said saltwater only dries the throat out more and creates more pain. It works wonderfully."
- RealityIntruder
"A few jobs ago, I worked as a pharmacy tech. There was a doctor out there who would call in 'Magic Mouthwash,' a one-to-one-to-one ratio mixture of Mylanta, Benadryl, and Lidocaine."
"It's great for strep, as well as mouth sores often caused by radiation and chemotherapy. Sounds like you got the over-the-counter recipe."
- hunnythebadger
The Importance of Vitamin D
"Vitamin D supplements. it's much more important than any of us realized."
- pinkwardremoval
"I started doing this a few years ago and it's not straight-up noticeable right away but hot d**n, even a couple months into that first winter, I was like, 'Huh, I don't have that soul-crushing gloom like I usually do this time of year.'"
- High_Speed_Id**t
The Truth About Yoga
​"Yoga. I have severe upper back pain and went through months of physical therapy. I couldn't keep up with the millions of appointments and started doing yoga as a way to stretch my upper back instead. I was doing it for 30 minutes each day and forgot that I had pain."
"It's so annoying that it does what people say it does because this whole time, I thought they were just being annoying but they're one hundred percent right."
"There's an app I like that's called 'Down Dog Yoga.' It's a blue dog as the logo, that's the app I really enjoy! You can customize the time and focus area so you can fit things in when you have time."
- Initial_Savings8733
Something For Our Four-Legged Friends
"Does a dog thundershirt count?"
"I had an anxious dog with storms and loud noises, so I got him one, and while not perfect, he did seem to calm down with it on more often than not!"
- tenacious-g
Whether it's mocking back-and-forth conversations in the comments section on social media about, 'But have you tried yoga?!' or laughing at an informercial about Dog Thunder Shirts or Wakeup Lights from the comfort of our couches, we've surely all questioned at least one of the items or hacks on this list.
But it's humbling to know that every once in a while, the thing that seems too good to be true... will actually deliver on its promises.
Fortunately, for most of these hacks, trying them for a week or two wouldn't be a serious feat, and who knows, maybe they would work for us, too!