Adam Levine and Behati Prinsloo are easily one of the most beautiful and adored couples in the world right now. It's seriously almost unfair how gorgeous these two are, they totally won the genetic lottery - but that's not the main reason people adore them. What we really love is the way they seem to be really, really, into one another. They showed it yet again at the Victoria's Secret fashion show.
This year's show was already going to be a big deal since it was VS legend Adriana Lima's last walk, but it was also Behati's big return to the runway. She hasn't walked in a Victoria's Secret fashion show since 2015. She's been a bit busy having two babies. Adam has always been really excited for her on the runway - him cheering for her has become almost a part of the show. So we're not exactly surprised that nobody celebrated Behati's return harder than Adam did - and yes it was as cute as you think it was. She walked the runway in two different looks and Adam made sure she knew her biggest fan was in the audience.
You want a cheering section, Behati - you GOT a cheering section. She noticed (because it's really hard NOT to notice a clapping, cheering, standing Adam Levine) and gave him a little point from the runway. Cameras captured her reaction - and it made for a great picture.
Behati is out here making finger guns look hot...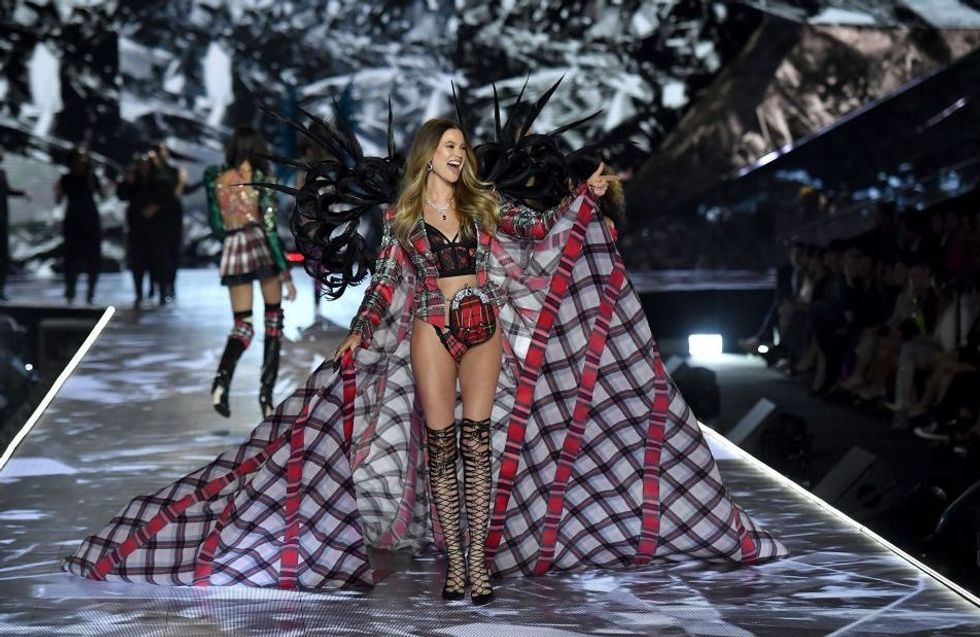 Marie Claire
Those same cameras caught Adam acting a fool for his wife - and Twitter can't get enough of it.
adam levine's reaction when he saw his wife behati prinsloo walking the runway at this year's victoria's secret fas… https://t.co/l8NbQzXpG3

— o elefante perdido da cersei (@o elefante perdido da cersei)1541768588.0
The corniest yet most heartwarming part of the evening was Adam Levine and what I'm assuming was the rest of Maroon… https://t.co/iGD8jaA7hY

— Alyssa Vingan Klein (@Alyssa Vingan Klein)1541731134.0
@kitkenz Oh and Adam's reaction to Behati walking for the first time in almost 3 years

— cait ☼ (@cait ☼)1541820309.0
I just want someone to look at me the way Adam looks at Behati https://t.co/MkiyTzpqHb

— 𝒊𝒔𝒊 (@𝒊𝒔𝒊)1541619907.0
is adam at vsfs? i need pics of him cheering for behati 😩

— 𝓽𝓻𝓼 (@𝓽𝓻𝓼)1541740519.0
adam levine STAYS hyping up behati during the vs shows and it is the best thing in the whole world

— 𝔪𝔞𝔡𝔦𝔢 (@𝔪𝔞𝔡𝔦𝔢)1541784574.0
and there goes adam cheering behati for her vs comeback walk UWUUUU REAL FEELS!

— ara•eleos (@ara•eleos)1541812019.0
i want a man to look at me the way adam levine looks at behati when she walks down the VS runway

— Sydney Box (@Sydney Box)1541795827.0
adam levine cheering up when behati prinsloo came in into the runway... nothing but respect for MY relationship goa… https://t.co/G7hZhjd8GU

— o elefante perdido da cersei (@o elefante perdido da cersei)1541793819.0
that compilation of adam cheering up to behati over the years it's just the cutest thing ever! that's what everyone… https://t.co/ROeJMw2dbV

— 𝒈𝒊𝒏𝒏𝒊 (@𝒈𝒊𝒏𝒏𝒊)1541729961.0
Long story short:
H/T: Twitter, Marie Claire