Ten-year-old Evan B. from Bronx, New York is teaching us a thing or two about being kind and making an immense difference.
Though only ten, Evan is already actively involved in fundraising, community service, and has big plans for his future.
---
Prior to August, Evan's mom discovered a dog tied to a fence and quickly rescued him and took him to Animal Care Centers (ACC) in the hopes that he would find a home.
Evan's mom checked in with the ACC and discovered not only had the dog successfully been adopted into a loving home, but the Center also had volunteer opportunities her son could be involved in.
One of the programs was Books for Boroughbreds, in which children and teens could sit with the Center's shelter dogs and read to them. This has been proven to help soothe and calm stressed dogs, and even help socialize them for the more important visits made by potential families.
Evan shared:
"I always wanted to work with dogs and I was excited when she told me that I could read to them!"
While talking about his experiences, Evan said:

"The most rewarding experience is when I try to specifically help an at-risk dog and I can almost immediately see the impact and how they react to me reading to them. They start to get calm and quiet and some even fall asleep."
"They will be at the front of the kennel and end up curled up on their beds snoring. That makes me happy because I can tell they are scared and stressed."
"I sometimes bring toys for the dogs I read to as a reward for being listeners, but I end up giving toys to almost all of them!"
Evan's mom started an Instagram page for Evan's adventures at the Animal Care Centers, which can be found at "eb_and_the_pets." On the page, they've shared videos of Evan reading to the dogs, and their calming demeanor as he reads to them, as well as pictures of individual dogs he has met and fundraising items.
Evan shared that he loves doing volunteer work and reading to the dogs and plans to do it long-term. He hopes to be able to interact with dogs more directly in the future and even walk them.
He also has even bigger plans when he's older.
Evan said:
"I want my own rescue one day and hopefully by then New York will be a no-kill state."
Even though he is only ten-years-old, Evan also shared his thoughts on the stigma surrounding shelter dogs that have a prior history, and why everyone should consider saving one of these lives.
Evan explained:
"I think most people think that shelter dogs are not 'good' because they went through things and had bad things happen in their past. They are ALL good."
"All dogs are good — they're just scared and they need love and they just need to know someone is on their side. I am happy to be their friend and I can tell it means a lot to them just by the way they react to me."
"All of the dogs are good they just need love and to be trained."
People were really impressed with Evan's work at the Center and have enjoyed following his adventures on Instagram.

@eb_and_the_pets / Instagram

@eb_and_the_pets / Instagram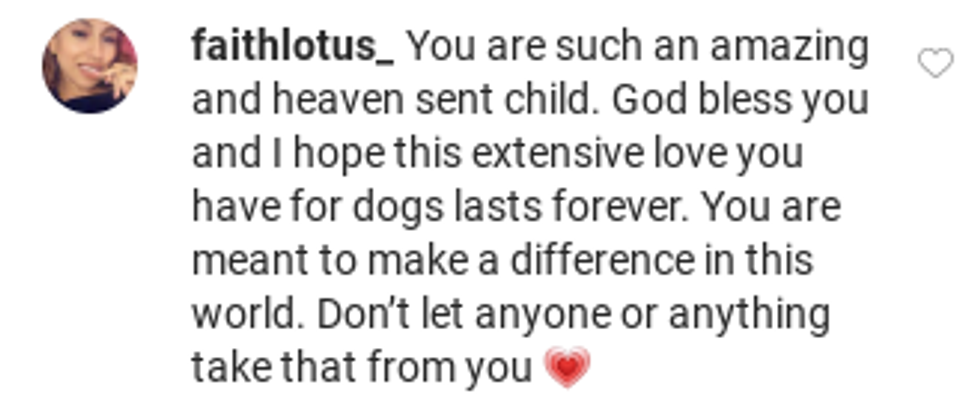 @eb_and_the_pets / Instagram

@eb_and_the_pets / Instagram

@eb_and_the_pets / Instagram

@eb_and_the_pets / Instagram
Evan's mom did a truly wonderful thing when she rescued the dog who was tied to the fence, because he ended up finding a loving home.

But in the process of helping one animal, she was able to help so many more, after she discovered the volunteer program that would change her son's life, and his future.