"Reddit user rayray1010 asked: 'What single plot decision ruined a good television series?'"
Who doesn't love a great television show?
Truly great storytelling has come from that little home entertainment box.
But there is something to be said about staying too long at the party.
Too many fabulous shows have had their legacies tainted by not bowing out sooner.
Staying on the air too long tends to lead to ludicrous plots that ruin everything.
And so many shows have tanked by ludicrous plot twists that just ruin everything.
Maddie and David shagging on 'Moonlighting.'
Bobby Ewing's death a dream on 'Dallas.'
All of 'ER' after Clooney's departure.
The list of grievances is endless.
Redditor rayray1010 wanted to hear about the ways TV has been destroyed, so they asked:
"What single plot decision ruined a good television series?"
Break Out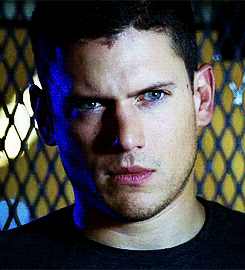 prison break GIF
Giphy
"Prison Break was a great concept for a show. But then once they broke out of prison they kept making the show."
Se7enLC
"Fox doesn't know when to cancel a show. They either go for a season or two too long or they get canceled too early."
bangbangracer
Too Weird
"Deb being in love with Dexter. I don't know what they were thinking."
wilmontcm
"It was kind of pointless. If they brought it up in the first place, they should've run with it. Then, on their wedding day, Debra finds Dexter's slides."
"I can hear her now 'I was getting ready to marry my brother, but now I find out he's a f**king serial killer!!'"
GrandUnhappy9211
"Came looking for this. Weirdest plot choice ever."
RateNXS
Grievances
"We could fill this entire comment section with GoT grievances :/ "
DIWhy-not
"Season eight singlehandedly took one of, if not the most talked about shows at the time and made collapse into pop culture oblivion! Not a single person I knew or interacted with wasn't watching 'Game of Thrones,' I swear every other conversation looped back to that show eventually, but after S8 no one gave a sh*t about it."
Enganeer09
"There were so many, and this is so unpopular opinion, but Dany and Jon falling in love was just boring. I hope GRRM avoids it but I guess the chance for that is low. I mean, the chance he ever finishes another book for the series is low."
sharksarenotreal
Over It
"The Blacklist writers almost cruelly withholding answers from the audience year after year after year."
zsal830
"I gave up when Liz died and Dembe became an FBI agent, and the show was already dying before that for me. I loved watching James Spader's acting, but it got to the point that even that wasn't enough to keep me involved. I've heard it's in the final season now, so once it's over I'll just Google the ending and that's good enough for me."
Bobisburnsred
Bad Changes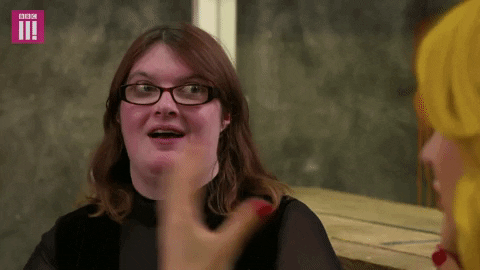 Episode 3 GIF by BBC Three
Giphy
"Misfits when they started getting rid of the main characters from season 1."
discostud1515
"The second the group changed the show lost what made it great."
legend_forge
That show was delightfully strange and certainly fit its title.
Cast shake-ups can really zap a show of its magic... especially when the show itself is about super powers.
Oh Luke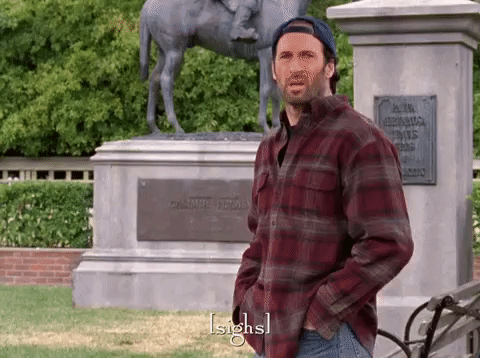 season 4 netflix GIF by Gilmore Girls
Giphy
"When they revealed Luke had a child he didn't know about in Gilmore Girls."
writtenrain
"Like I feel bad because she's a kid, but I hate April. Such a terrible plot device. There was plenty going on without her coming into the picture."
helloitstessa
Stop at the beginning
"When they left the park in Westworld."
Indian_Bob
"Unfortunately the writers were very keen to write a commentary on AI in society, and thus drove it in a direction, which as a show in itself is interesting, but went a lot further than the source material in this regard. There were two shows there and neither was done justice."
IHaveHivesWithBees
"I think Season 1 is one of the best shows ever made. It has everything: characters, story ark, riddle, and its closure and very good (just a bit open) ending. Other seasons are just an attempt of producers to milk the story and Id rather pretend they don't exist."
techlogger
Too Soon
"Sherlock f**ked up by killing Moriarty too early."
"Andrew Scott's performance was so great that they then had to keep trying to shoehorn the already dead Moriarty into later plots or end up with the travesty that was the last series with Sherlock's even smarter sister, who secretly cooked up everything with Mortiarty, just so they could have more Moriarty scenes."
"The whole show went from top-class Peak TV to absolute dogs**t in a slow decline that started with the poor Doylist decision to kill Jimbo."
Histary_Studentary
A Re-Work
"The overall seventh season of Once Upon a Time. It should have been reworked in its entirety."
StillAnIntrovert
"I agree with that. Another bad point was when they made Emma the Dark One when they literally just introduced Lilly, who had the saviors' darkest potential."
"That could have been an epic villain as 'The Dark Savior.'" Also, them constantly having Rumple and Belle get back together. He was power-driven and would always put her second. I loved it in season 4 when she finally realized that and banished him from Storybrooke."
Electrowhatt19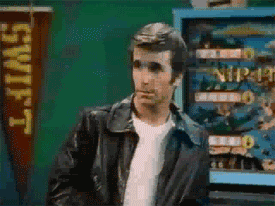 sexy happy days GIF
Giphy
Many of these franchises jumped the shark, as they say.
Do you have anything to add? Let us know in the comments
We all have our favorite movie stars, whose presence alone is what leads us to see certain films.
However, even the greatest actors aren't immune to delivering some sub-par performances.
Particularly, when they found themselves in roles for which they were less than ideally suited.
Indeed, Kevin Coster is anything but authentically English in Robin Hood: Prince Of Thieves, nor do Leonardo DiCaprio or Cameron Diaz sound convincingly Irish in Gangs of New York.
Mickey Rooney playing a Japanese man in full yellow-face, hitting every racist stereotype possible in Breakfast at Tiffany's being among the most infamous examples of miscasting.
Redditor Upstairs-Paper-2079 was eager to hear cases of actors finding themself in a role for which they were not at all suited, leading them to ask:
"Which actor was truly miscast in a particular role?"
Who Says Wizards Can't Be From New York?
"Ray Liotta in the 'Dungeon Siege' movie."
"He plays an evil wizard and he literally just looks like he walked off the set of a gangster movie like 'Goodfellas'."
"It's pretty hilarious."- nvaughan81
Yellow Face Is Never OK...

"John Wayne as Genghis Khan."- Spodson
"Mickey Rooney as Yunioshi in 'Breakfast at Tiffany's'."- nobodysbestfriendd
Sadly Not At All The Worst Thing About This Movie...

"Gary Oldman as a dwarf in 'Tiptoes', also starring Peter Dinklage."- B0BA_F33TT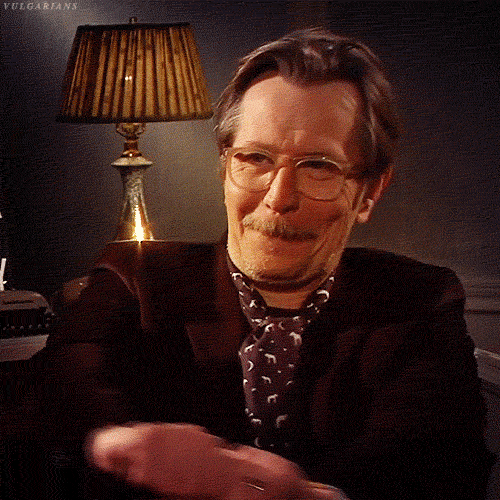 Giphy
Even Fictional Actors Can Be Miscast...
"Vincent Chase [from Entourage] as 'Pablo Escobar'."- snailwitch11
"Tugg Speedman [from Tropic Thunder] as Simple Jack."- Anal_Punisher69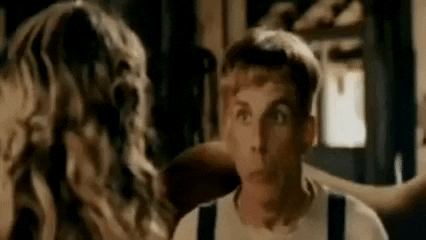 Animated GIF
Giphy
Someone Needs To Choose Their Roles More Carefully
"Mark Wahlberg as Sully in the 'Uncharted' movie."- solarShep
"Mark Wahlberg in 'Transformers'."
"The buff guy from Mass is an inventor in Texas?"- DrugsRBadMan
Making The Villain As Good Or Better Looking Than The Hero Is A Choice...


"I think of Marwan Kenzari as Jafar in the new 'Aladdin'."
"Jafar was a creepy, old man and they cast a handsome younger man."
"He was not at all intimidating, I don't feel they gave him very good lines."
"Someone early on had made a joke that the poster for the movie looked like a porn parody and I couldn't get that out of my head whenever I saw Jafar."- jorbal4256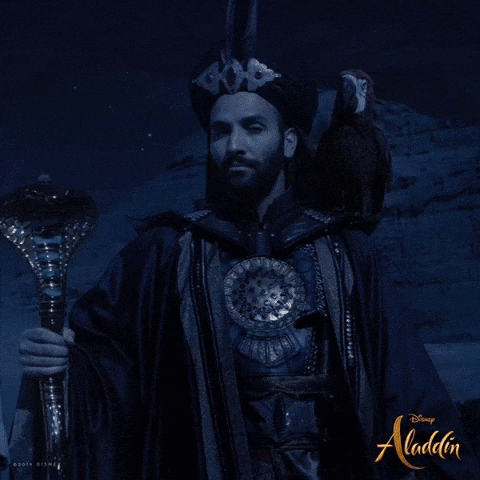 Giphy
But How Do You Really Feel?
"Steven Seagal as an action star."- sealox
Didn't Have Much More Luck As Batman...
"Ben Affleck as 'Daredevil'."
"The script was bad and that can take a lot of the blame."
"However Affleck still moves around like his spine is fused, while trying to portray one of the more nimble characters in marvel."- apandarelic
Best Left Forgotten
"Almost the entire cast of the 'The Last Airbender' movie."
"I agree that it could've made a decent movie if it wasn't for M.N.Shyamalan as director, but Idk."
"I found the whole bending and the effects were actually not bad (except fire bending that looked awful to me) and I also liked the soundtrack."
"But compared to the nickelodeon show it's..well..can't be compared."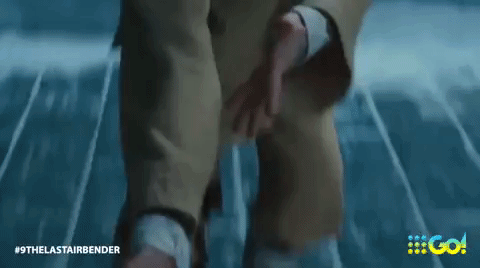 Giphy
The World Was Definitely Not Enough To Justify This Casting...
"Denise Richards, the nuclear scientist in that James Bond movie."- jomarthecat
"Paul Rudd as the a**hole husband in Night at The Museum."
"If you watch that movie while imagining that Ben Stiller and Paul Rudd's roles were reversed, it would be so much better."
"'Night at The Museum' is secretly a Paul Rudd movie."- rh3toricalanswer
Impossible Shoes To Fill... But Someone Could Have Filled Them Better...

"Vince Vaughn as Norman Bates."
"But only a complete nutter would remake Psycho in the first place."- TaxApprehensive3051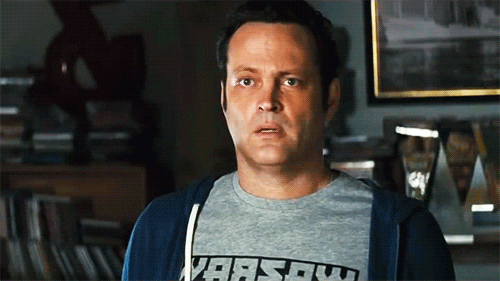 Giphy
Sometimes, a script is just so good, that an actor simply isn't able to say no.
Despite knowing how wrong they are for the role.
But it's a sign of integrity when any actor knows their limitations, or what's right, and passes on a role knowing there must be someone better suited for the part.
...Seriously though, were there really NO English actors available to play Robin Hood?....
TV enthusiasts could argue that shows on television are a more compelling and superior form for media entertainment.
A story arc can be played out to its fullest potential without shortchanging the audience with a two-and-a-half hour duration of a film.
While movies are in their own category, TV shows–including short miniseries–can engage an audience over a span of seasons as long as there is more stories to tell.
Some TV shows break away from the formula and can feature anthology–or standalone–episodes that are impressive in their own right.

Whether it's a featured independent storyline or a memorable moment within a show's season, Redditor stevenpost asked:

"What's the greatest episode of a tv show ever made?"
These comedic shows offered up plenty of memorable laughs.
From "The Simpsons"
"Marge v. the Monorail"
– bloom_picayune

That Dark Mockumentary
"What we do in the shadows - 'On the Run' (the Jackie Daytona episode)"
– Bakedalaska1
Such A Snakehole
"The snake juice episode of Parks and Rec."
– GuinessForDinner

Touching Cameo
"The scrubs episode with Brendan Frasier. I didn't know a 22 min show could make me cry."
– metarinka
This classic TV show still resonates with newer viewers.

It's Hard To Choose
"The twilight zone episode monsters are due on maple street"
"The tools of conquest do not necessarily come with bombs and explosions and fallout. There are weapons that are simply thoughts, attitudes, prejudices... to be found only in the minds of men. For the record, prejudices can kill... and suspicion can destroy... and a thoughtless, frightened search for a scapegoat has a fallout all of its own—for the children and the children yet unborn. And the pity of it is that these things cannot be confined to the Twilight Zone."
"Will the real Martian please stand up is also a classic"
"Incident on a small island, to be believed or disbelieved. However, if a sour-faced dandy named Ross or a big, good-natured counterman who handles a spatula as if he'd been born with one in his mouth, – if either of these two entities walk onto your premises, you'd better hold their hands – all three of them – or check the color of their eyes – all three of them. The gentlemen in question might try to pull you in – to The Twilight Zone."
– theMothman1966
Here are some hauntingly compelling examples.
Based On The Tragic Event
"Chernobyl- Vichnaya Pamyat"
– hambone10
'... they mistakenly sent the one good man. For God's sakes Boris, you were the one who mattered the most.'
"Not the best line of that episode, but definitely in the top."
Shoutout To Firefighters
"It's difficult for me to pick a 'best episode' from Chernobyl because in my mind it's possibly the best television ever made from start to finish. Pacing is fast and there's literally not a wasted shot in the entire series."
"Open Wide, O Earth is my honorable mention episode just for the inclusion of the firefighters. Full-blown body horror that hits even harder because it's based on stuff that actually happened. The show has lots of excellent horror sequences but the firefighters arc definitely stands out as the most memorable to me."
– Hefty_Tendy

Picard's Wakeup Call
"The Inner Light - Star Trek TNG"
– Doit2it42

The Gripping Tracking Shot
"'Who goes there' of True Detective is a serious adrenaline ride. Great episode from a fantastic show."
– Smoque_
The Face Off
"Better Call Saul - Chicanery."
– earhere

One of the best episodes I've seen recently was from the penultimate episode of This Is Us.
After taking a break from watching the show after being overwhelmed with being behind, I was encouraged to keep watching it. I'm glad I did.
Not only did this particular episode profoundly give the beautiful show a worthy send-off, but it also helped me process a lot of emotions as I continue to struggle to deal with a family member living with a cruel mental illness.

If one were to really think about it, the villains might be the true hero of any story.
Of course, their actions remain indefensible and their behavior appalling, nor should we ever be rooting for them to succeed.
However, without the villains, where would any story go?
It's the villains who create conflict in our favorite books, films, and television series, and ultimately draw us into the story and keep our attention.
Even if we don't find ourselves sympathizing with villains portrayed by certain actors, it's hard not to find ourselves fascinated by them!
Sometimes, it's hard to even take our eyes off them.
Redditor doktaAce was curious to hear everyone's favorite villains from film and television, leading them to ask:
What Keeps Everyone "Watch"ing...
"'You don't think I'd explain my plan if there was the slightest chance you could stop me do you? I did it 35 minutes ago'."

"Purely based on that, Ozymandias from Watchmen."- Reddit
What keeps everyone going down the "Portal"...
"GLADOS" .
"'We both said a lot of things you're going to regret'."- nitol91509
Beware the "Chicken Man"

"Gus Fring."- ulyssesss91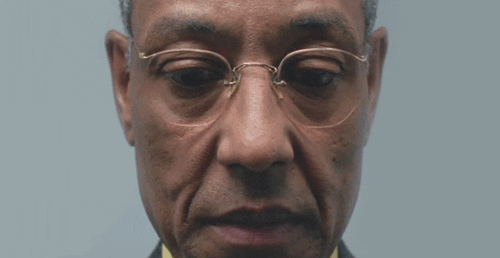 Breaking Bad GIF by Maudit
Giphy
The Nurse No One Wants On Call...

"Nurse Ratched, just because of how implicitly she tortured the inmates."- soladi6766
You Never Know What You'll Get From Him...
"Gul dukat."
"He goes from evil Hitler type to loving father on the run from his government to crazy possessed madman in a single series."- soladi6766
His Smile Makes You Quake In Your Boots
"Christoph Waltz in 'Inglorious Bastards' is the first that came to mind."- jwps28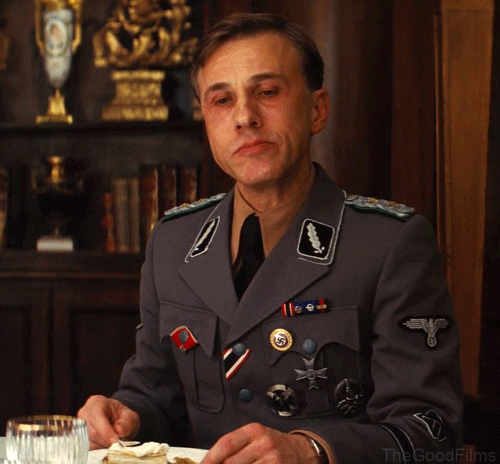 inglourious basterds eating GIF by The Good Films
Giphy
Definitely Not One Of The Boys
"Homelander is definitely one of them."- PrettyMuchDeceased
Perhaps The Greatest Of All

"Hans Gruber."
"Alan Rickman portrays him so well."- rirop27057
Even If His Behavior Is Anything But Justified

"Boyd Crowder (played by Walton Goggins) in 'Justified'."
"He's not particularly strong in season 1, but by season 2, you just want him to keep getting away to have more."
"The fact that he's Raylan's frenemy, and not just a generic evil guy was such a nice touch."- dvoecks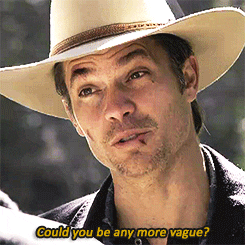 Timothy Olyphant GIF
Giphy
FOUR!
"Shooter McGavin."
"Do I need to even describe why?"- xacayeg163
Effortlessly Creepy
"V.M. Varga in Fargo Season 3."
"I think he gets forgotten a bit because most thought the third season as a whole was a step down from the first and second seasons (and everybody loves Billy Bob in Season 1), but every time Varga was on screen was incredible."
"The teeth, the bizarre yet intimidating manner of speaking, the general weirdness and obscurity of who exactly he is and his background was so well done."
"Thewlis is amazing."- TJTrapJesus
Tragic And Horrifying

"Magneto."
"There are times when you are able to sympathize with him and his actions almost seem justified."
"Most likable villain in my opinion."- rirop27057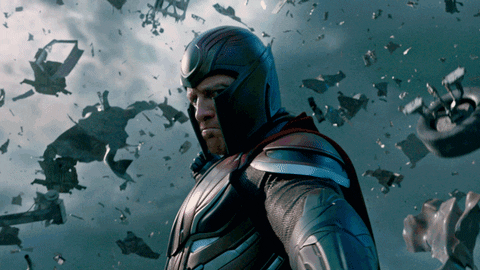 x-men apocalypse GIF by 20th Century Fox
Giphy
"Wrong LEVAAAAAAAAAAAAAAAAAAAAAAH!"
"Yzma from 'The Emperor's New Groove'."- phantom_avenger
That Quill Though!
"Dolores Umbridge."- soladi6766
In His Defense, He Was Defending His Home...
'Al Swearengen from 'Deadwood' played by Ian McShane."
'It's the story of a villain defending his village."- fallonyourswordkaren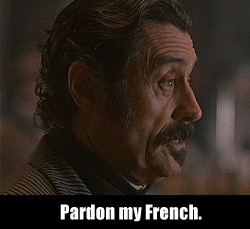 ian mcshane deadwood GIF
Giphy
Sometimes a smile can be even more terrifying than a scream or a yell.
Honestly, who's been able to get any sleep after seeing Pennywise smile through the sewer?
On the third episode of the fifth season of the classic sitcom Happy Days, Arthur "Fonzie" Fonzerelli memorably jumped over a shark while water skiing, still wearing his iconic leather jacket over his swimming trunks.
While the episode in question, "Hollywood: Part 3", is not considered one of the series' best, it was nonetheless a defining moment in the history of television.
As it inadvertently coined the phrase "jumping the shark", signifying when a once beloved television series has seen a serious decline in quality.
More often than not, most shows find themselves suffering this fate, namely when they've run out of ideas and should have gotten out while the getting was good.
Did anyone think the final season of Once Upon A Time made any sense?
However, thanks to intrepid writers and dedicated actors, certain shows manage to avoid shark-infested waters, and remain flawless, at least in the eyes of some fans, from beginning to end.
Redditor Calm-Hovercraft9858 was curious to hear which shows people thought were every bit as good when they finished as they were when they started, leading them to
ask
:
"What TV show never had a decline in quality?"
So Many Possibilities...
"No one's going to mention 'How It's Made?'"- ScumbagLady
Good Luck Explaining "The Germans" Episode Today Though...

"Fawlty Towers."
If Anything, It Only Got Better!
"Blackadder."- HunterRoze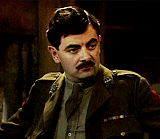 rowan atkinson GIF
Giphy
The Only Renovation People Want To Keep Going...
"This Old House."- ripper4444
Some Would Call It Hypnotic...
"Everybody Loves Hypnotoad."- BuccellatiExplainsIt
Groundbreaking

"'Twilight Zone' the original Black and White."- sonoma95436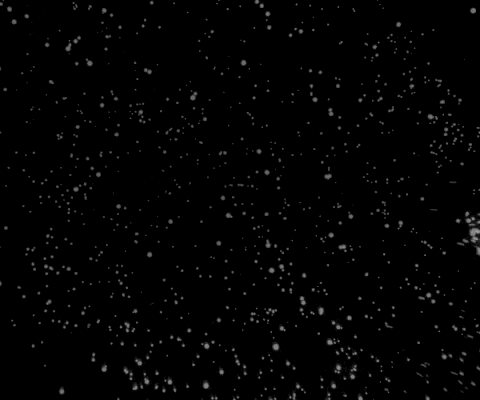 Season 5 Episode 3 GIF by Paramount+
Giphy
Pure Joy From Start To Finish
"The Joy of Painting."
"RIP Bob Ross."- DuckFlat
Dont' Touch That Dial!

"On this Thanksgiving weekend, let us remember how WKRP in Cincinnati maintained excellence through all four seasons."
"Turkeys Away!"- ccguy
Things didn't get "Bad" till after the show was over...At Least for Bryan Cranston
"'Malcolm in the Middle' stayed pretty tried and true."- Letter10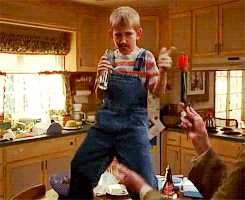 malcolm in the middle fangirl challenge GIF
Giphy
Thank You For Being A Friend
"The Golden Girls."- hi2squeak
B's Seem To Be Lucky...

"Band of Brothers."
"Breaking Bad."- 420DepravedDude
If It Ain't Broke, Don't Fix It...

"Stargate SG-1."
"It was a show that knew what it was."- Leeboman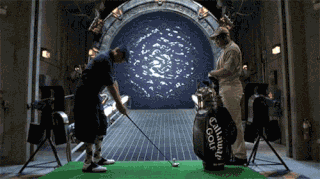 stargate atlantis television GIF
Giphy
Parents Like It Every Bit As Much...

"Bluey."- maebridge
Some People Make The Biggest Impact By Doing Very Little...

"Mr. Rogers Neighborhood."
"Fight me."- honest_true_man
No One Would Dare Challenge This
"Deadwood."- Economy_Stomach6773

television here's to you GIF
Giphy
Be it the ingenuity of the writers, the appeal of the cast, or just a genuinely great idea, some shows simply never lose their freshness.
Or are simply wise enough to know when to end, rather than try to freshen themselves up desperately.
Nope, I still haven't forgiven you Once Upon A Time...