So much time, effort, and energy goes into creating a television show, either for broadcast networks or streaming services, that you can't imagine any show is trying to be bad on purpose. It just means not every episode will be a slam dunk, "best episode ever," and that's fine. You can't be perfect all the time, right?

Then shows like these come along. Shows that, for a variety of reasons, were able to hit that, "Every episode is an amazing episode," threshold, and might be worth your time checking out.

Reddit user, philo_fellow, wanted to know what TV show has a pristine record when they asked:
"Which TV show has never had a bad episode?"
Just because a show is animated doesn't diminish its quality. Some people get it in their minds that cartoons are "lesser" entertainment, when really just as much care and passion to a story goes into developing an animated show as a live-action one. Look to these for proper examples to check out.

Grappling Hook!
"Gravity Falls. I love to show people the first episode and then, after they tell me they enjoyed it, say 'good, because that's by far the worst episode of the show.'"
Notmiefault
"I love it when writers know their story, tell it in an enjoyable way, and go out on a high note."
Byizo
We Are But Wayward Leaves
"Over the Garden Wall"
shart_of_the_ocean
"Rewatch it every year in October. It is just so damn perfect. The aesthetic of every episode, some being more cozy, others closer to horror and some just surreal, the way the story unfolds and the questions it leaves. That single frame you get of the Beast right at the end being just long enough to enhance both the horror and the mystery, I love that show."
Isaac_Chade
A Show That Blew The Internet Away
"Arcane. Every episode has been the bomb. Hope they do the same in season 2."
"Edit. Since people were asking if you need to have [League of Legends] knowledge to enjoy it... I say it's better if you are clueless about LoL. Players that know the lore are basically spoiled by what they know."
lastroids
"Zero interest in LoL, but this show came out of nowhere for me and I f-cking love it!"
HuskyLuke
Baby, You Can Chive My Car...Burger
"Bob's Burgers."
"I finally got into it early in the year. Yes, I know I'm late to the party. I've been through all the episodes about 10 times now and I'm still catching stuff I missed. It's got a great cast of characters and the personalities are amazing."
artie_pdx
"I love Bob's Burgers. It has a human touch that most other comedies just don't. The way the characters interact just feel more human than most comedies, especially animated."
"I'll concede it isn't necessarily the strongest laugh-out-loud comedy out there, but it has a charm to it that very few other shows could ever replicate."
thomthehipposlayer
It helps when there's no script, when it's authentic, real, captivating people just being themselves, showing you the wonders of the world or how maybe every mistake we make is just a happy accident.
Watch In HD If You Can
"Planet Earth"
ABN171214
"And Blue Planet. Inspired me to become a Marine Biologist"
PurpleSilkstorm
When You Have To Stick Around To See How It Works
"How it's Made"
porta-potty-bus
"Lol. Watching this on day time tv while sick from school or in hospital."
WorldlyAssumption260
"Watching it in waiting rooms was always tough. You get called in when they are like halfway through something and you're just like "'ell, I guess I will never know how they finish making watch bands now.'"
Tharkun
It's The Hair, Right? Or The Voice?
"The Joy of Painting (which I knew as the Bob Ross Show)"
WildTransportation25
"One of my favorite moments of the internet was when someone did a Twitch stream of nothing but back to back Joy of Painting episodes. The chat was all roleplaying like it was live."
"Bob would put a black blob in the middle of the painting. "Oh my god, he ruined it!"
"Then he'd take his knife with some white, and poof, a mountain would appear. "SAVED!"
Darsint
Whatever the reason, the show just works. The casting, the writing, the directing, the premise of the show itself, and that leads to marvelous entertainment like these ones.
Helps To Be Short
"Chernobyl - but it's only like 5 episodes in total so yeah..."
kirkhammett420
"It was going to be six episodes. That was the original deal. The writer, Craig Maizin, decided to combine two episodes to better serve the story/pace (I forget his exact reason). He talked about it in an episode of Scriptnotes and joked about how HBO was like, uhh yeah sure you know we pay you per episode? Hehe. Obviously everyone involved won, not least of all the audience."
Rizo1981
Spielberg Loves His WWII Stories

"Band of brothers"
WolfableGuy789
"Without a doubt, one of my favorite series of all time. Acting is great, storytelling is superb. Man, I'm gonna have to rewatch this now"
Nasorean

"Dude I remember thinking it was such a wild thing for a show to be like a movie, but take place over multiple episodes. Now it's the norm to have a show like that. Band of Brothers was the first one I ever heard about like that when I was in middle school."
nastyn8k
Bat!
"[What We Do in the Shadows.]"
"Every episode had me laughing."
august_skies
"Jackie Daytona a normal human bartender!"
hamperson
Everything is Fine
"I feel like this could be controversial or nobody will care, but The Good Place. One of the best casts, best writing, and a really interesting premise. Forever my favourite show."
wreckedangl
"It's amazing. I especially love what they did at the end of the series. They manage to balance comedy with existential questions in an interesting and beautiful way. I want to watch it again."
greenwitchery
There's lots of good TV out there. Find something you like and stick to it. You might be surprised where the show's creators are trying to take you.
Want to "know" more?
Sign up for the Knowable newsletter here.
Never miss another big, odd, funny, or heartbreaking moment again.
Keep reading...
Show less
Hint: It's not Friends.
It's just not. Stop telling people anything about Friends was revolutionary. The shows creators admitted that it was literally a stolen and white-washed Living Single - a show which, incidentally, had a slammin' theme song.
Reddit user RasheenHyuga asked:

"What tv show has the best theme song of all time?"
Obviously the comments were full of people passionately defending their choices for the best theme.
My initial response was the theme from Steven Universe, particularly the way that it evolved over the seasons to reflect the evolution of the storyline.
The simple little love song reflects something altogether massive by the time it's done; just like a simple cartoon about a little boy who thinks ice cream makes him magic evolves into a story about war, colonization, identity, family dynamics, transitions, what it means to be human and the value of forgiveness - AND boundaries.
Also, guitar solos and fry bits.
Having said aaaaaall of that - Reddit had some incredible answers, too.
Resist Rapping, If You Can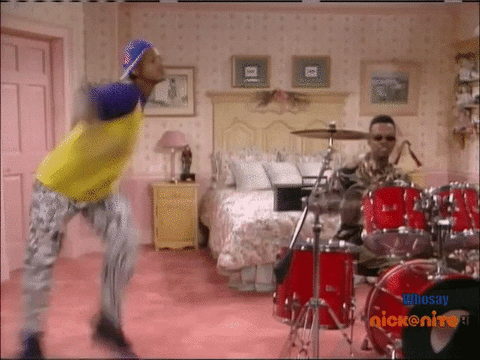 Will Smith Happy Dance GIF by WHOSAY
Giphy
"The Fresh Prince."
- sherlockhound5
"You just mention the show at all and people start rapping the theme song at you 9 times out of 10."
"It's quite cool how many people know the theme song, even if they've never watched the show or were born after it was finished. You know it's good when that happens!"
- thegurrkha
"I've probably only seen less than a full season and just had it on for background noise and I can still recite the opening rap!"
- Which_Minute_9671
"I've never watched the show but I'm still yet all the time singing the song in my head."
- NarutoPretzelx2
Woo-Hoo!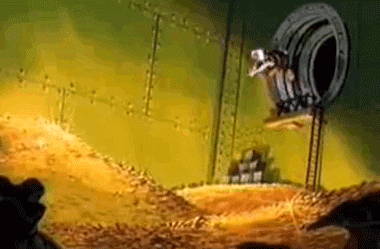 duck tales television GIF
Giphy
"DuckTales..woo hoo"
- TomatilloLopsided895
"I downloaded the song 'for my kid' and the amount of times I yell the lyrics out to the song without him near me is embarrassing."
- dachshundaholic
"The rhythm and beat of the DuckTales intro alone gets me hype. As a 36 year old."
- ayojimoh
"Any time any two syllable phrase is spoken in my house, either me or my husband always does the 'woo hoo.' It is compulsive."
" 'Babe what do you want for breakfast?' "
" 'Fried eggs.' "
" 'Woo hoo!' "
" 'I don't see it, is it on the left or right?' "
" 'Right side.' "
" 'Woo hoo!' "
"You get the point."
- dryerfresh
SnapSnap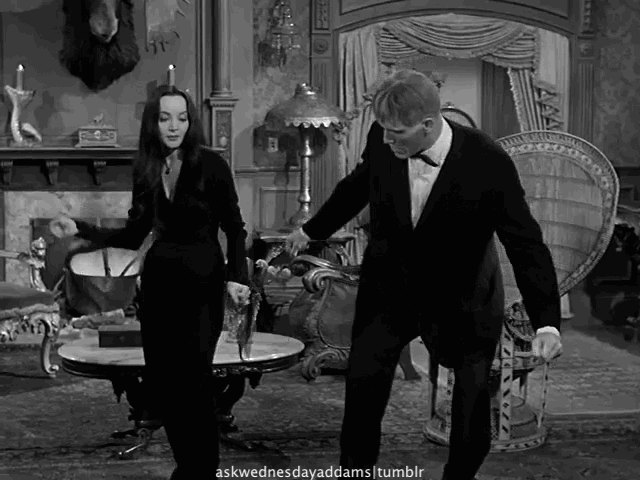 the addams family dancing GIF
Giphy
"The Addams Family with Lurch at the harpsichord and the cast snapping their fingers in time to the music and memorable lyrics."
- Back2Bach
"I came here to say this!"
"EVERYONE knows this song even if they have never seen the original show! It's an iconic tune which can be recognized within a few notes and has been unofficially turned into other songs such as The Days of the Week, for young kids to learn the days of the week and their order!!!"
- princess_cupcake72
"It's the snap snap."
- Kuro_08
Gold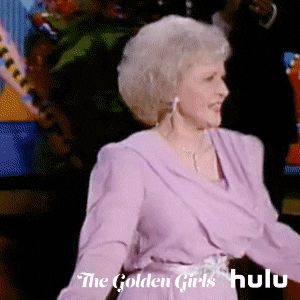 Golden Girls Flirting GIF by HULU
Giphy
"The Golden Girls, thank you very much."
- MrTeeWrecks
"AND IF YOU THREW A PARTY!!!"
- PutItOnMyTombstone
"I bloody love the Golden Girls!"
"This song was on Heart 70s (which is ace) the other day and I had a good sing around my kitchen."
- Sad_Review8093
"That was a song by a guy named Andrew Gold in the 70s and it was a pretty big hit back then."
- horkus1
Not Made For The Show, But Made For The Show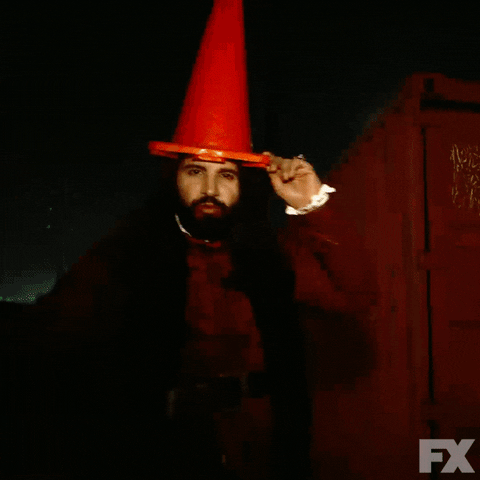 Fucked Up Lol GIF by What We Do in the Shadows
Giphy
"What We Do In the Shadows"
- Professional-Tax-936
"You're Dead by Norma Tanega!"
- SakuOtaku
"In terms of matching the show I don't think anything could be more perfect."
- CamelSpotting
"As soon as I read the title of this post I heard the WWDITS theme song in my head."
- coconutlemongrass
"Happy I didn't have to scroll far to find this one. I always assumed it was written for the show as it fits so perfectly, until two seasons in I Shazammed it out of curiosity and woah, mind blown."
- jasmminne
"A perfect song for the show! I never skip past it because it just sets the ideal mood for the show."
- gpgarrett
"In our house we just call the show 'you're dead, you're dead' because of the theme."
- Vance_Hammersly
Well-Chosen Adjectives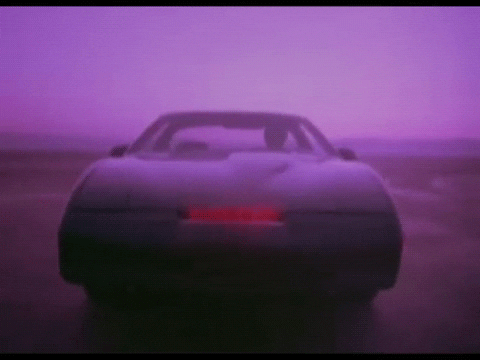 Knight Rider Nbc GIF
Giphy
"Knight Rider (1982)"
"Slick, funky, dark, bit of new wave synth. So good."
- spesimen
"Agreed. I think it is a perfect theme tune."
"And I would add 'original' to your well-chosen adjectives. I haven't heard anything else like it."
- OminOus_PancakeS
"Not just the theme music but that kickass opening monologue that tells you everything you need to know."
" 'Knight Rider... A shadowy flight into the dangerous world of a man who does not exist. Michael Knight: a young loner on a crusade to champion the cause of the innocent, the helpless, the powerless, in a world of criminals who operate above the law.' "
- groolthedemon
"Epic. I used to have this as my ringtone (when those were still things)."
- jamikins23
The Bands Best Work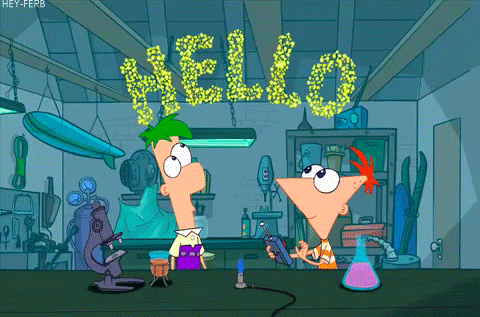 disney channel hello GIF
Giphy
"Phineas and Ferb"
- 69for_president
"This!"
"It's fast paced and yet almost everyone I know remembers the words if they ever watched it."
- TopNotchGamerr
"Some of Bowling For Soup's best work."
"The hilarious part is that the chorus didn't even make it into the intro!"
"The song is called 'Today is gonna be a great day' and I thought the chorus 'This could possibly be the best day ever, today is gonna be a great day' was going to be the catchy bit that they'd include."
- Mysticpoisen
"Dude Bowling For Soup is pretty responsible for the whole Phineas and Ferb vibe. The lead singer is also the lead singer for Love Händel!"
- [Reddit]
"Retrowave"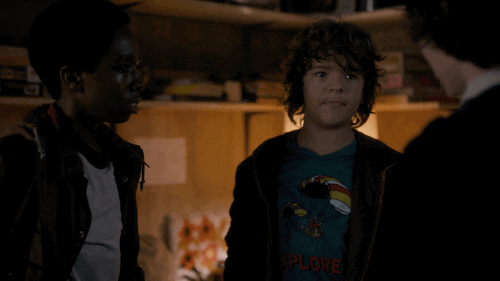 Season 1 Netflix GIF by Stranger Things
Giphy
"Stranger Things. It's just so sexy."
- AttractiveHammer
"It didn't start my love of the retrowave music genre by itself, but it was one of the first dozen retrowave tracks I heard."
"Then followed all the other wave rabbit holes. Love that sh*t!"
"The Stranger Things theme is still one of the best pop culture references for when someone asks what music I'm into."
- Zeibyasis
"That opening was such a nostalgia slap when I first saw it. So very 80s."
- manyconclusion
Nothing And Everything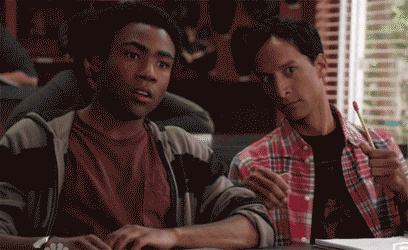 Donald Glover Community GIF
Giphy
"Community."
"Such a perfect sitcom intro - insanely catchy, doesn't explicitly say anything about the show, but somehow encapsulates the entire thing, and is short and sweet and always makes you wish it was longer."
-Hagbard_Shaftoe
"Agreed."
"I swear, though, it sounds like the lyrics are slightly different every once in a while and it would make me feel like a lunatic if my wife didn't also notice it."
- PretendThisIsMyName
Bone Chilling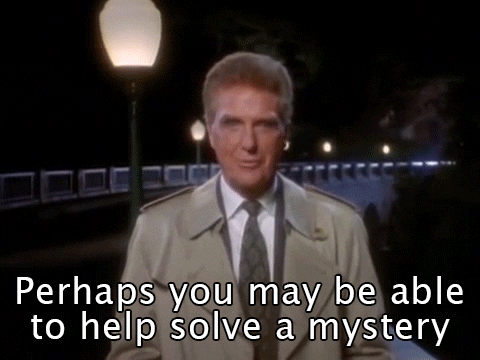 Unsolved Mysteries GIF by FILMRISE
Giphy
"Most bone chilling? Old school episodes of Unsolved Mysteries."
"That show absolutely terrified me as a child. And yet I was allowed to watch it when I was like four haha."
"There was something about that theme that somehow made it like 200% scarier than any other show or movie."
- magical_bunny
"That theme song made me lunge for the remote to change the channel. That show was 5spooky4me."
- HicJacetMelilla
"My mom would put me to bed just in time for her to watch Unsolved Mysteries."
"I had to fall asleep with Robert Stack talking about serial killers that could be anywhere & that music playing. That f*cking music."
- ozzmodan
Yeah, that Unsolved Mysteries answer gave me flashbacks to my childhood and the feeling of fear in my throat as soon as the dododododododoot dododododoDOODOOT got started.
There was something about the pitch of the sound that always made me imagine the notes were stabbing me.
... ... ... I was a weird kid, but if you're a music-head I guarantee you knew exactly what I was talking about right there.
Don't judge me.
Want to "know" more?
Sign up for the Knowable newsletter here.

Never miss another big, odd, funny or heartbreaking moment again.
Keep reading...
Show less
Not everyone has to watch what you want to watch.
It does feel odd when you dislike something that everyone seems to love, though, doesn't it? Think of the hottest series trending online right now. Maybe it's a show, or a new movie, and everyone is just over the moon excited about the latest installment or the revelations the film will finally offer about the world at large.
And you think, "Meh."
This is not as uncommon as you might think.

Reddit user, theycallmemomo, wanted to know what other people might not agree with when they asked:
"What's your controversial tv show/movie opinion?"
Maybe your opinion isn't controversial in its content, rather in the thing you're arguing against. You couldn't possibly hate this beloved cult classic that's become an internationally smash hit, right?
Very Minor Changes Throughout

"Breaking Bad was god awful (and yes I gave it a chance, went all the way to season 3). There was no character development, Walt was awful before the show started and he continues to be awful. The only interesting part was how Walt ruined everything he touched, but even that got tedious after a while."
Jil_Mil21
Kevin!

"Forget die hard , home alone is not an Xmas movie. Whilst taking place at Xmas the plot has very little to do with Xmas. This is a movie for any time of the year. An Xmas movie needs to have Xmas central to the plot such as elf, miracle on 34th street , jingle all the way , a Christmas carol etc"
avfc19842020
She Doesn't Even Go...Aw, Forget It
"Mean girls is boring at best and cringey at worst. Quoting it in everyday conversation doesn't make you clever or funny, it just means you're hung up on a mediocre highschool movie from 20 years ago."
mutantandproud95
Multiple awards from recognized institutions can't be wrong, can they?
Unless they are and these films are over-hyped nonsense. ​
You Either Get Busy Living, Or Get Busy Offering Unwarranted Film Critiques

"Shawshank isn't a good movie"
jeffers2286
"It's alright, but I don't understand why people think it's the absolute best movie ever. There's nothing particular about it. The acting is good, but nothing you wouldn't expect from the actors. The script is also good, but I didn't really get invested in any of the characters."
fradrig
A Lot Of Walking For Little Payoff
"Lord of the Rings sucks and so does The Hobbit. Books and movies."
lukas_the
"Wow, I legit thought I was alone in thinking this.I just don't get them. I mean, visually stunning, ground breaking cgi cinematography etc. But I'm just not into the story"
Randyfox86
Look What They Did To My Boy...
"The Godfather and The Godfather II are both below average movies with no real value beyond a cinematic imitation of Rembrandt's style and a first-to-market novelty."
CrushHazard
"Same, I recently rewatched it with my friends, remembering it being awesome. I found it such a snoozefest and was just waiting for it to be over."
PrincDios
And then there's these, opinions so far out of left field they weren't even in the park. Granted, everyone's opinion on something as trivial as film and television is valid, and not everyone thinks the same way, but, wow.
Some of these...
A Little More Time On Dany's Completely Warranted Freakout
"The Game of Thrones ending was great. Just a little rushed is all"
traveltoaster
"I 100% agree. If they had given them 2 more seasons and the budget to do it right, it would have been great. Instead they said, hey fit 2 wars and resolve the rest of the plot in, oh idk, 2/3 of a season."
"It would have ended the same. That was how it had to end. It's GoT, it can't have a "happy ending".
Psychadous
The Avatars Will Be Fighting Until The End Of Time On This One
"Avatar (the show not the movie) isn't as good as reddit makes it. It is ok but not That good. Oh and Korra > Aang"
lukunku
"Sorry but korra > Aang is just an incorrect opinion except if you're a 12yo girl"
lilmheo
Somehow Palpatine Has Returned?
"Rise of Skywalker was the best of the Star Wars sequel trilogy. Yes it was batsh-t nonsense, but more than the other two it came across feeling like it understood it was batsh-t nonsense and just f-cking ran with it. The other two have this weird teacher's pet quality, looking for approval and validation, trying to be 'correct' but ultimately coming up short and largely failing to have their own identity or purpose. Skywalker just kicks over the desk and runs out of the room screaming and that was frankly a lot more fun."
iuytrefdgh436yujhe2
They Call Him Baba Yaga

"John Wick is boring as f-ck."
"Edit: Because people have asked - I love mindless action, I love a well choreographed fight scene, but I need more plot than 'guy kills everyone standing between him and killing the guy who killed his dog.' I have the same problem with zombie movies and yes, I know how pretentious it sounds."
Yanigan
So long as you can back up your claim with evidence, everyone can think what they want to think about film and TV. That's the joy of watching fiction in this form, the discussion aspect of it. Everyone can see the same thing and think something totally different, even if it's not the accepted norm.
But "Mean Girls" is a classic and we will not be taking any further questions at this time.

Want to "know" more?
Sign up for the Knowable newsletter here.
Never miss another big, odd, funny, or heartbreaking moment again.
Keep reading...
Show less
It's a great day when you see an actor in a role that seems as if it was tailor-made for them.
While the Disney film 101 Dalmatians is an animated classic at this point, there is no doubt that the decision to cast Glenn Close in the live-action remake was the right one. She embodies every inch of that character. Even if you don't like Disney flicks, there's no doubt that the film is a showcase for her stunning acting.
Speaking of Glenn Close... we might want to just run down the list of her most acclaimed roles, because she was pretty much perfectly cast in all of them. Looking at you, Fatal Attraction and Dangerous Liaisons.
People shared their thoughts with us after Redditor tms88 asked the online community:
"Which movie/series character is perfectly cast?"
"So much so..."
"Dolores Umbridge. Imelda Staunton did such an incredible job at being an unlikeable monster. So much so that a lot of Harry Potter fans hate her more than Voldemort."
VolantisMoon
Perhaps the one character from the series that inspires the most hate – and in the best way.
"She played that character's..."
"Melora Hardin as Jan Levinson in The Office. She played that character's downward spiral perfectly."
JWREES
She did indeed. Excellent acting in a series that included plenty of it.
"The head of Disney..."
"Johnny Depp in Pirates of the Carribean."
"The head of Disney at the time hated what Depp was doing while they were filming the first Pirates movie. Apparently there was a call where he was heard screaming at the director that he's ruining everything and he did all he could to basically sabotage the movie."
"He quickly changed his tune after Depps performance was a huge hit after release."
Mcchristopherr
And Johnny Depp's been laughing all the way to the bank since. He even got an Oscar nomination for it!
"He was so convincing..."
"Jack Gleeson as Joffrey Baratheon."
"He was so convincing that it ruined his career. Can't get much more perfect than that. Sad that people are idiots but it was incredible casting."
Cw2e
I'd say he decided to go back to school and do theater more than "ruined his life" but he could probably pick up another role tomorrow if he wanted to.
"Really a stunning performance..."
"Heath Ledger as the Joker in The Dark Knight. Really a stunning performance, and a heartbreaking loss."
whoamuleoh
I don't even care for The Dark Knight that much and there's no denying that Heath Ledger is all kinds of brilliant in it.
"That was acting?"
"J. K. Simmons as J. Jonah Jameson in Sam Raimi's Spider-Man (2002-2007). That was acting? I thought they summoned the character straight from the comic books."
1CENinja
I was rewatching Spider-Man 2 recently and have to agree: Stunning casting. So good, in fact, that they used Simmons again other films!
"He is wonderfully cast..."
"Tom Hiddleston as Loki. He is wonderfully cast and such an amazing and deep character. Hiddleston portrays such emotion so subtly or so violently and it's beautiful."
Noodles4Cats
If it wasn't for his Loki performance, Hiddleston wouldn't have been able to turn in great work in other stuff, too. The Night Manager is a miniseries that works precisely because of this same charm.
"I've hated him for years..."
"Joaquin Phoenix as Commodus in Gladiator. I've hated him for years because of that character, and I mean that as a compliment on his acting skills."
josdin00
A character audiences love to hate. He did a good job being utterly dispicable in that role.
"Everyone has played..."
"Walter White, Saul Goodman, Gustavo Fring, Jesse Pinkman, Mike.. basically the whole crew of Breaking Bad. Everyone has played all phases of their characters as if it's all the happenings of their own lives."
BadBeast11
The entire cast of Breaking Bad was firing on all cylinders from day one – and somehow just got better and better with each subsequent season.
"They absolutely nailed those characters."
"The four Golden Girls were perfect - Rue McClanahan as Blanche Devereaux, Betty White as Rose Nylund, Bea Arthur as Dorothy Zbornak, and Estelle Getty as Sophia Petrillo. They absolutely nailed those characters."
hawknip
This show is a classic for a reason. Who could imagine anyone else in these roles? Sacrilige!
There's no doubt about it – there's something magical about seeing great actors work their magic on screen. If they happen to align with the role perfectly, that's a bonus.
Have some suggestions of your own? Feel free to tell us more in the comments below!
Want to "know" more?

Sign up for the Knowable newsletter here.
Never miss another big, odd, funny, or heartbreaking moment again.
Keep reading...
Show less
If you missed it, fan-favorite Starz comedy "Party Down" was recently announced as having a new season in development.
A cult comedy classic, the show became a victim of its stars own success as many of the actors on the show moved on to other bigger projects (GLEE, Parks & Recreation, Silicon Valley, etc.) While many fans feel it was cancelled too soon, seeing it come back gives hope to a lot of people.
We all have that one show we wish got the "one more season" treatment, and if you ask us, we'll tell you what and why.

Reddit user, superkevinguru, wanted to know what show was cut off too soon when they asked:
"What is a TV show that was canceled way too soon?"
We like to laugh, so its always a bummer when our favorite comedy goes off the air. It means we have one less thing to make us giggle and brighten our day than we did before.
"Ants. No, ghosts. No, I don't know."
"Better Off Ted" ~ marS311
"such a good show. 100% truth" ~ AnrianDayin
"We want to weaponize a pumpkin." ~ marS311
A Victim Of Real World Circumstances
"Pushing Daisies" ~ pocashauntas
"Stupid writers strike—— I really loved the premise, the cast, and the way the stories were told." ~ JoeMomma1975
Drew Barrymore Eating People. How Can You Lose?
"Santa Clarita Diet! Such a bummer that was cancelled, so funny!" ~ flunkhaus
"This. Man I wanted more of it. :(" ~ AustinJG
"How are there not more comments on this"
"SANTA CLARITA DIET DESERVED BETTER" ~ tofumeatballcannon
Spreading All The Good
"What the hell happened after the cliffhanger in My Name is Earl?" ~ i_simp_4_tedcruz
"Man. We need a final season. I don't care if we find a way to bs the plot so that Earl is still in the middle of that story years later." ~ sketchysketchist
"I remember reading an interview were the creator had intended for earl to never finish his list, that he would come across another person working on their list, and he would see all the good he had spread." ~ Fastman903
There's a lot that goes into cancelling a show. Perhaps the network is moving in a different direction or maybe the show isn't bringing in the ratings they hoped for.
Whatever the reason, it will never satisfy hardcore fans.
Got To Get Ahead Of Crazy
"Mindhunter." ~ theRealAriel666
"Not officially canceled"
"(Holding out hope)" ~ Secondhand_Merkin
"Dude I swear. I have so many questions. The adopted kids character arc was really getting interesting, I really wanna know what happens." ~ theRealAriel666
We Don't Have Enough Comic Book Adaptations
"Daredevil" ~ Thekenobiawakens
"Especially with Bullseye still lurking" ~ Distinct-Seat5853
"For me it's Punisher" ~ Antisteffystah
"Why did I have to scroll so far down for this?" ~ POKing99
People Explain Activities They've Added To Their Post-Pandemic Bucket List | George Takei's Oh Myyy
While we've all been cooped up for the better part of two years, many of us have been dreaming up exciting plans for the future. Maybe it's finally time to s...
"...Oh Yeah, And Dragons."
"Rome, it was Game Of Thrones 10 years before GOT was even an idea and pretty historically accurate for its scale." ~ Ironically__Swiss
"I'm imagining a pitch meeting for Game of Thrones with HBO execs:"
"OK. Remember Rome? Imagine all the sex and sword fighting from Rome, but turn the backstabbing and political intrigue up to 11. Oh yeah, and dragons." ~ Graybeard
This Show Sounds Nuts
"For those that remember it, Terra Nova. It got cancelled by FOX after only one season and was later bought by Netflix, giving hope the show's fans that it would find its footing elsewhere, but Netflix never did anything w/ it. It had some great acting and a compelling plot." ~ Elegant-Narwhal-506
"HOW WAS THERE A 14TH CENTURY SHIP THERE! I NEED TO TO KNOW!" ~ johnotopia
"Yeah that show was great. Left off on a pretty exciting premise too. So sad it never went anywhere, I'd love to see where the writers wanted to take it!" ~ GumberculesLuvThtGuy
Usually, when this topic of discussion happens online, there's two shows that are almost always brought up as being victims of the cancellation button long before their time...
No Power In The 'Verse Can Stop Me
"Firefly" ~ f-ckpepsi2
"Admittedly while I love the show, I think that the reason for it being so fondly remembered is that it was short and sweet. It didn't go long enough to drag out into mediocrity." ~ NinjaBreadManOO
"the correct answer will always be firefly" ~ AnrianDayin
Go Back And Watch And See How Many Big Names Were On Here
"Freaks and geeks, I would have liked to have seen atleast another season." ~ seank8686
"The ending clearly sets up for another season but executives just didnt get it. Unfortunate." ~ BBQRibs_FriedChicken
"I came here to say this. They kept on getting the worst time slots, such a perfect show" ~ beffiny
Watch what you love. Tell people about it, spread the love, and make sure you support it in whatever way you can. That's the only way you can ensure something stays on for as long as possible.
Want to "know" more?
Sign up for the Knowable newsletter here.
Never miss another big, odd, funny, or heartbreaking moment again.

Keep reading...
Show less