Sending kids off to college is an emotional rite of passage. Many parents find it difficult to process the fact that their sons and daughters have grown into adults, and sending them off into the real world is too much to bear.
Instead of being overcome with despair, Vicky Piper and her husband Jeff, from Ohio, embraced having the house to themselves and officially being empty nesters.

---
To commemorate their new phase in life, the Pipers updated their status in a Facebook post. In the accompanying photos, the parents hold a chalkboard sign indicating they have become empty nesters.

Vicky wrote:
20 years ago we didn't have gender reveal parties, portraits in beautiful fields with baby shoes to announce a pregnancy. Nor did we have baby photos on a blanket with a circle around a number showing how old they were. We drove our babies to sears or Olan Mills to get their photo!!!
Last year their eldest daughter, Caitlyn, left to study abroad in Sydney, Australia.
But last week, the proud parents launched their son Cameron from the nest by dropping him off at Saginaw Valley State University.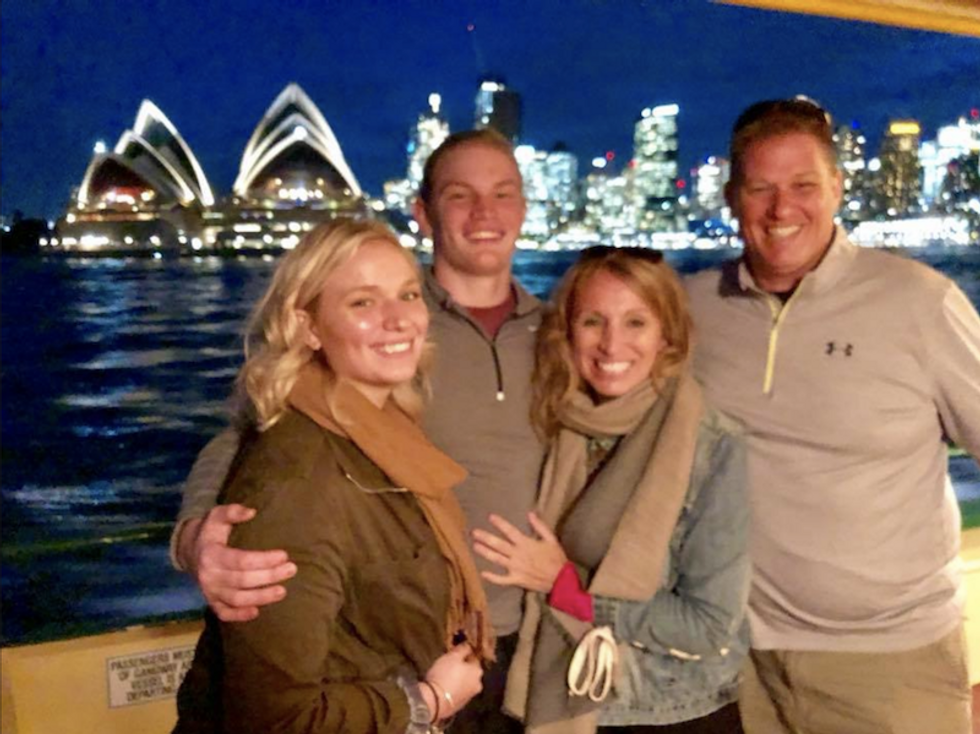 Caitlyn at left with her brother, Cameron. Proud parents, Vicky and Jeff, are to their right.
(Vicky Piper/
Facebook
)
It was time to par-tay.
@ABC This is great!!! Wish I'd thought of it!!

— Nancy Morin (@Nancy Morin)1534274112.0
Concerned friends checked in on the parents' status to see how they were holding up after Cameron left for college.
Vicky told BuzzFeed News she and Jeff couldn't be happier:

We're really, really good. Yes, we are sad to see him go, but we had a confidence he will do well, and it's our turn now.
We've always loved each other so much that we have been looking forward to this.
@GMA "He keeps saying how he wants to date me all over again." Literally goals 😍

— Alexis Jeanne (@Alexis Jeanne)1534292065.0
Vicky credits the photo shoot to Jeff, who found an empty bird's nest to incorporate into the shot. She told
Today
, "If you're in your 40s or 50s, when you had your kids, you missed all these beautiful photo opportunities kids do now."
So there was definitely an element of 'Let's join those whippersnappers!'
For the last twenty years, we've been focused on the kids and trying to take care of ourselves too. And now we can focus on us.
@GMA I was always happy to becoming a happy nester back in 2006!!!! Still close to my kiddo's but happy that they… https://t.co/IJderAstMy

— Alice Jones (@Alice Jones)1534287174.0
Every parent responds differently to their newfound status as empty nesters.
@GMA I am having a hard time with 2 of my 3 that left. I couldn't picture myself taking a picture like this. To eac… https://t.co/NPTeGJSdPa

— Tammie Nestor (@Tammie Nestor)1534365604.0
@GMA my parents would have be living with them til i died if they had it their way 😂😂

— Alan C (@Alan C)1534433222.0
But many others were on the same page.

@klgandhoda Whoohooo!..we too became empty nesters, back in 92..taught them well and they spread their wings and ne… https://t.co/NFp1C3wBy0

— Sally Breault (@Sally Breault)1534207382.0
@GMA Yep, I can relate. 😂🤣 https://t.co/YjkBDwLB9h

— R Renee Wensel (@R Renee Wensel)1534369834.0
Vicky added that parents go through changes with their children as they celebrate the number of early milestones, like graduations. She said that parents often forget "to celebrate things later on."

Let's capture the moment not just for the kid that's leaving the home, but for Mom and Dad too.


It's going to be all about silver when Vicky and Jeff celebrate their 25th wedding anniversary in September.