When Joe proposed to Nikki back in 2016, he knew he was obligated to a package deal.
Nikki's German Shepherd mix named Buddy was to become a part of their lives, for better or for worse.
---
So to commemorate their engagement, the couple from Merrimack, New Hampshire, incorporated Buddy into their Spring photo shoot.
Joe shared one particularly memorable photo of Nikki with her best friend, reminding him of who would always be his future wife's first love.
On a Reddit post, Joe wrote:
"A little reminder of the pecking order during our engagement photo shoot."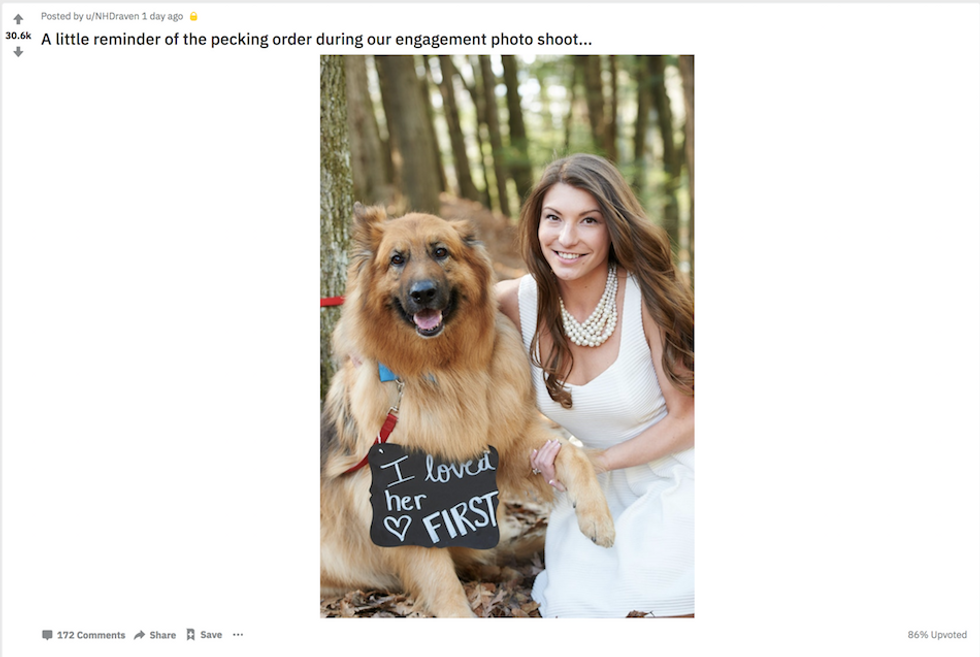 Nikki with Buddy.(u/NHDraven - Reddit)
People on Reddit loved the photo and sang their praises for the couple.
Comments were left like:
"What a beautiful Pic. You are going to live happily ever after. All of you."
"This is too cute!"

"The look of concern and seriousness in his eyes/eye brows haha! What a cutie. Congrats on the engagement also."
Redditors shared their own personal experiences in competing for affection.


Some shared the (not so) hard choices they made.

Or the choice their dog made.


And some folks got advice on what to do when they choose to keep both their pet and their human companion.


Man reveals 'pecking order' during dog engagement photo shoot https://t.co/kQbqb77r5J #SmartNews

— Dan Castro (@Dan Castro)1534557127.0
Nikki, 31, was finishing up with her masters to become a physician assistant when she first crossed paths with Buddy.
She adopted the then one-year-old and the two had been besties ever since.
Buddy's devotion to Nikki is evident in the engagement photo, but the irresistible portrait is heightened further with the sign around his neck that reads:
"I loved her FIRST."
"My wife had Buddy for five years before we met," Joe, 33, told TODAY.
"They were inseparable, and they both were kind enough to adopt me into their pack."
Joe and Nikki were married in November 2016 and Buddy was prominently featured in the couples' wedding photos too.
He was clearly a member of the family.
Sadly, Buddy suffered a stroke while undergoing surgery and passed away on the morning of August 15, 2018.
"You loved her first. When I started to fall for her, I had to ask your permission to be around her," Joe wrote, paying tribute to the family dog.
"Much to our anguish, you passed on suddenly yesterday. You had been so weak that morning we had already called the vet to get you seen but you had other plans."
"I remember a moment when I was sitting on the floor, and Nikki was sitting on the couch behind you. You managed with your last bit of strength to sit up and look back at her with those beautiful brown eyes full of love."
"I will do my best to live up to the high standard of unconditional love and admiration that you set. I hope you rest easier knowing she will never be alone my friend."

Rest in peace, Buddy. We will always remember you as Nikki's first love.