Cece is a 16-year-old transgender girl from Maple Grove, Minnesota.
She is a student at Osseo Senior High School and recently had a traumatic experience at school.
---
On Wednesday, Cece posted two videos, one of which is very disturbing, to her Facebook regarding an incident she experienced.
While Cece was using the bathroom at school, staff forced their way into the stall she was in.
Again, Cece is 16 years old.
Her post reads:

"SCHOOL OSSEO SEINOR HIGH 🚨
I Guess I Can't Use The Girls Bathroom Just Because I'm Transgender 😔 Share This & MAKE IT GO VIRAL ‼️ I Been Violating By Principal and Admin and Hallmonters
This Was Today 11/28/18 🕚 Ms Smith Had Nothing To Do With This"
One video showed all of the school officials she wanted to publicly name who participated in the incident.

The other showed the actual incident.
Cece's self-recorded video shows her sitting on the toilet with her pants down while a school official uses a makeshift device to reach over the stall to unlock the door.

A spokesperson for Osseo Schools stated:
"Social media posts are significantly misrepresenting the incident and that staff works very hard every day to help ensure an inclusive school where all students feel welcome, respected and safe."
They refused to comment further saying:
"We wish we could provide additional details about this incident but are committed to protecting the student's right to data privacy."
Some reports claim that Cece had previously been told not to use the women's restroom.
However, in 2017 the Minnesota Department of Education (MDOE) ruled in favor of students like Cece.
MDOE guidance states:
"Transgender and gender nonconforming students should be afforded the opportunity to use the restroom of their choice."
People also can not help but note the fact that at age 16, Cece is a minor.
Adults forcing themselves into her stall while she used the bathroom is even more appalling.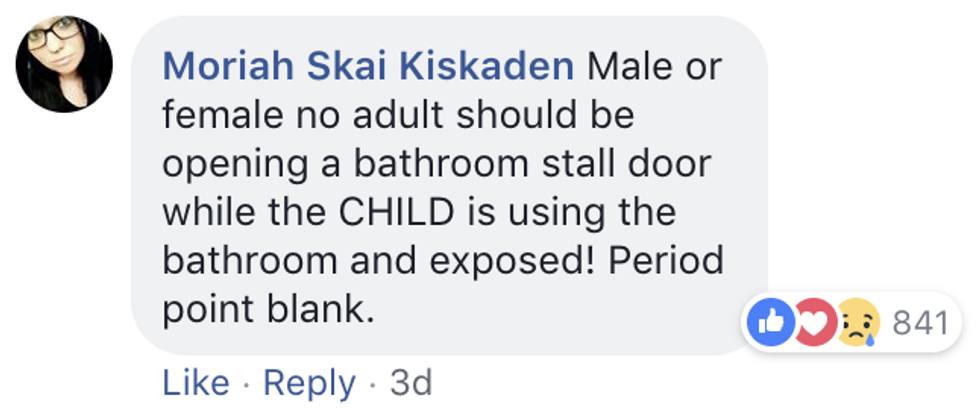 Moriah Skai Kiskaden (Facebook)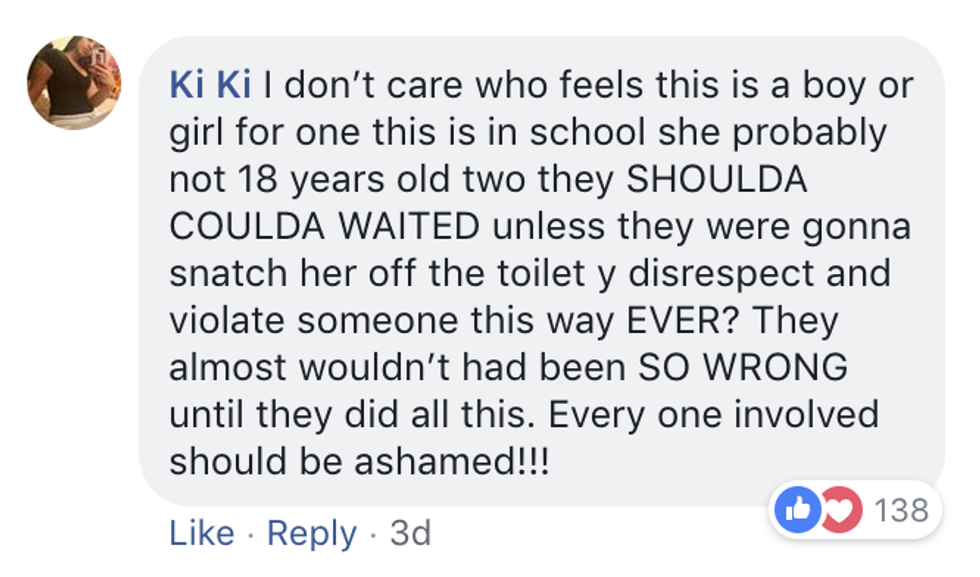 Ki Ki (Facebook)
Regardless of the unknown circumstances, the internet is outraged over the adult school staff's actions.

Cece's video and story has indeed gone viral. But what happens now remains to be seen.
H/T: Pink News, Facebook, Daily Dot, Bring Me The News