The Oscars were full of fun surprises this year, but surely among the favorites was the South Korean film, Parasite, winning Best Picture.
Add to this the child star's adorable reaction to the film winning, and it's sweet moment that's sure to be mentioned at future Oscars to come.
Ten-year-old Jung Hyeon-jun was the lead child start in the tragicomedy film, Parasite, that took South Korean cinema by storm earlier this year before taking American cinema by enthusiastic surprise.
Hyeon-jun made his debut on South Korean television programs such as "You Are Too Much," "Vagabond," and "Through the Waves." Parasite was his first casting in a feature film, and he's coming into success quickly because of it.
The film went on to be nominated at the Oscars for six different categories, and it managed to win four of them. The two favorite wins appeared to be Bong Joon Ho's win for Best Director, and of course the film making it to Best Picture.
Hyeon-jun unfortunately was too young to attend the Oscars in-person, but he was able to watch the ceremony on his television at home, where AP Entertainment appeared to film his reaction to the win that was coming.
When Parasite was announced as the winner for Best Picture, Hyeon-jun had the sweetest, most enthusiastic reaction from his couch. He was sitting at full attention, waiting to hear the news, and then like the ten-year-old he is, he collapsed into giggles, did a quick happy dance, and quickly collapsed back on the couch in pure joy.
You can watch his reaction here:
PARASITE PARTY: 10-year-old #Parasite #기생충 star Jung Hyeon-jun might have been too young to go to the #Oscars – but… https://t.co/o4knlBHnSD

— AP Entertainment (@AP Entertainment)1582056660.0
Hyeon-jun said of the win:

"I thought it would be awesome to get it, and we actually won the award!"
He also shared his dreams for future stardom and how they already seem to be coming true:
"I am wondering if I am in heaven. I think I was born to receive an Oscar."
Fans were taken by Hyeon-jun's adorable reaction to his film's win and took a moment to celebrate the raw jubilation kids are the best at showing.
@APEntertainment @h_nevels he's so cute!!

— Victoria Perry (@Victoria Perry)1582199633.0
@victoria_perry1 @APEntertainment Sooo cute! And quite the artist 😆

— Hannah Reisher (@Hannah Reisher)1582210409.0
@APEntertainment Perfect !!!!

— Lee Hirsch (@Lee Hirsch)1582141023.0
Parasite winning Best Picture is a major development for the Oscars, and certainly sets expectations high for future award seasons.

We'll be curious to see which movie wins next year, and even more curious to see if Hyeon-jun is involved in any of the big winners next year.

Keep reading...
Show less
Bong Joon-Ho made history this weekend with his film Parasite, the first foreign-language film to take home an Oscar for Best Picture at the Academy Awards.
Parasite also won in the Best Foreign Language Film and Best Original Screenplay categories, and Bong received the award for Best Director.
Not everyone was happy about the South Korean director giving the majority of his acceptance speech in his native language, however.
Right-wing pundit Jon Miller decided to chime in with his two cents on Twitter. He was evidently quite unhappy with Bong's choice to speak his own language and a Korean film winning Oscars .
Miller—who works for Fox News reject Glenn Beck's The Blaze—posted:
"A man named Bong Joon Ho wins #Oscar for best original screenplay over Once Upon a Time in Hollywood and 1917."
"Acceptance speech was: 'GREAT HONOR. THANK YOU.'"



"Then he proceeds to give the rest of his speech in Korean."



"These people are the destruction of America."
A man named Bong Joon Ho wins #Oscar for best original screenplay over Once Upon a Time in Hollywood and 1917. Ac… https://t.co/x3oJ5hENgQ

— Jon Miller (@Jon Miller)1581299047.0
Singer-songwriter John Legend wasn't having any of it, though.

Legend responded:
"Do they pay you for these dumb takes or is this something you do for fun"
@MillerStream Do they pay you for these dumb takes or is this something you do for fun

— John Legend (@John Legend)1581301978.0
Legend wasn't the only one to take umbrage at Miller's casual xenophobia, though.
Celebrities and everyday people alike joined in dunking on Miller.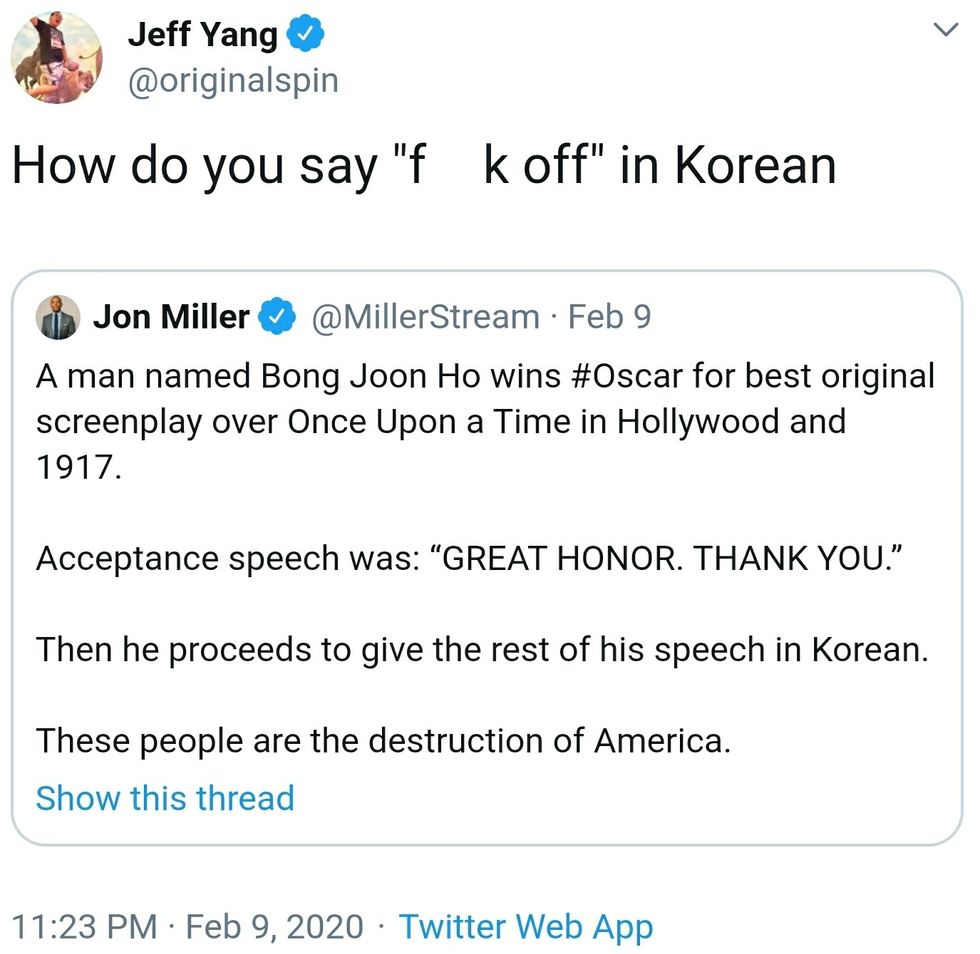 @MillerStream Imagine living such a charmed life that your biggest fear is Korean screenwriters speaking their nati… https://t.co/QcFV5lzHw5

— Andrew Solender (@Andrew Solender)1581300348.0
@realJacobAirey @MillerStream It's not an overreaction - overreactions are when you're right but you've over done y… https://t.co/cBHODyUTuy

— Tom Brennan Blue Checkmark (@Tom Brennan Blue Checkmark)1581299613.0
@MillerStream Xenophobia is a hell of a drug.

— Sleeping Giants (@Sleeping Giants)1581299817.0
@MillerStream god if you're this scared about ONE Korea, I have bad news for you

— Sam Sykes (@Sam Sykes)1581303548.0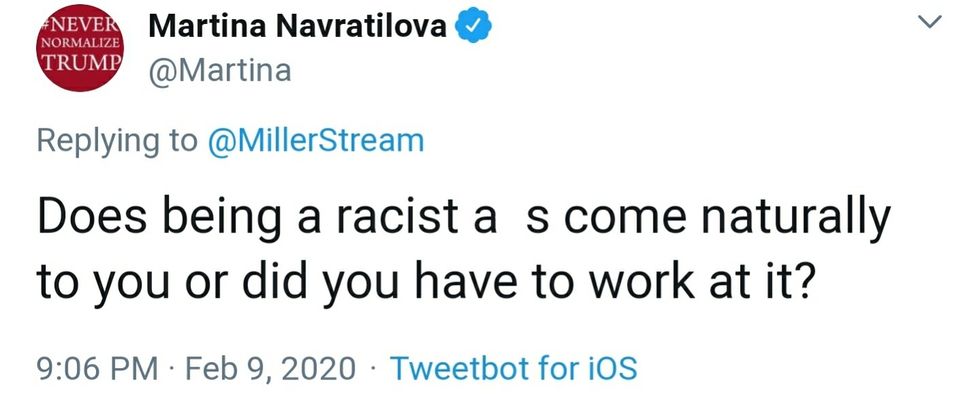 Miller quickly tried to backpedal and claim people were misinterpreting his tweet.
But his revised interpretation isn't really any better. Complaining because a Korean film and filmmaker won the awards is just as problematic when numerous British films have won with no such complaints.
1917—one of the films Miller claimed should have won—is categorized as a British film.
"These people" are obviously not Koreans but those in Hollywood awarding a foreign film that stokes flames of class… https://t.co/rnMVN6dKrI

— Jon Miller (@Jon Miller)1581301683.0
Miller didn't clarify if it was the Whiteness of the cast or the language they and the filmmakers spoke which made 1917 acceptable and Parasite not.
Referencing another historic Oscar moment—Māori filmmaker Taika Waititi's Indigenous land acknowledgement during his acceptance speech—writer and former child star Mara Wilson made an important point about languages.
@MillerStream You're right, technically he should have said "thank you" in the Tongva language

— Mara "Get Rid of the Nazis" Wilson (@Mara "Get Rid of the Nazis" Wilson)1581301873.0
Xenophobia and racism really aren't a good look. And backpedaling instead of just apologizing definitely didn't win the support of any of Miller's detractors.
Parasite won 4 academy awards based on its own merits and Bong giving his acceptance speech—a very emotional thing to do—in the language he's most comfortable with just makes sense.
Keep reading...
Show less