Moviegoers who love horror films get their thrills from watching protagonists get hunted by immortal psychos, get tormented by evil spirits, or ravaged by blood-thirsty zombies.

Fans of the horror genre can take all the gory violence unfolding up on the screen because they know the perils depicted are far detached from reality.
However, these thrill-seekers may have another think coming, as there are real-life horrors in life that threaten their existence.
Curious to hear from vulnerable strangers online, Redditor Flimsy_Finger4291asked:

"What scientifically proven thing scares the living sh*t out of you?"
There are way too many infections or diseases that can be fatal, and therefore, more terrifying than axe-wielding psychos.
Near-Death Sentence
"Meningitis."
"It started as a light fever. I took a nap and woke up 3 days later in the hospital and had lost all function in my lower body. I was bedridden for 3 weeks, and spent longer in physical therapy. It was an absolute nightmare and I was VERY lucky I didn't die."
"My friend in high school contracted it too. He was a football player, healthy. He died two days later."
– Tathanor
It Started With A Headache
"I had it too. The headache was so bad, COVID had a similar feel to it. Had to say in bed for almost two weeks. My dad almost sent me to school but thankfully I pleaded with my parents and they took me to a hospital that diagnosed it and I was able to get the treatment."
– amnz19

"F" To The "C"
"Cancer. I've had 4 aunts, 2 uncles and both grandparents killed by cancer."
– Away-Philosopher5853

A Fighter
"That's my answer. I have metastatic breast cancer. Right now, it's stable, but I'm not tolerating one of my medications. So I'm in the middle of getting re-scanned and the oncologist is making a new plan for treatment."
– insertcaffeine

These threats are a reminder that we're really sitting ducks in life.
Beware The Bite
"Rabies. I know, I know, there's a vaccination for it if you get bitten, which I would get as soon as possible. But knowing that if you can't get the vaccination in time/didn't know you were bitten, then you go insane with a disease with no cure terrifies me."
– IsaacTower

The Little Ones Are Worse
"Scarrier, if you get bitten by a small bat which have the rabies virus when you are in deep sleep, you don't feel anything except itchy at that bitten place. 99% you will die because you don't know you are inffected and when the symptom appear, it is too late for you."
"I scared of that as a child because in our small garden at that time had a lot of bat, they ate fruits and sometimes flied into our house. We had to chased them out before sleep."
– SrImmanoob

Food For Thought
"brain-eating amoeba in waters is pretty up there on the wtf list."
– dionthorn

When you really stop and think about these concepts in life, they truly are frightening.
Vastness Of Space

"That most of the universe is unreachable to us."
– liarandathief
Deathly Detritus
"Or how about if our satellites keep breaking into smaller pieces we'll eventually be stuck on earth in a deadly atmosphere of microscopic metal pieces flying around the planet like bullets?"
"That's always a fun one!"
– Chiggadup

When The Body Fails
"Powerlessness in the face of health. I'm not scared of death or mortality, but my body is falling apart."
"I've had back surgery, knee surgery, a hip replacement, I've got a trapped nerve in my chest cavity, in constant pain and have to sit back and watch as my pain levels increase and my health slips into further into damaging my quality of life. I'm only in my early 30's and have a hard time being as functional as the average 50 year old. I eat carefully and look after myself, but there is nothing I can do to arrest the wear and tear my body is accumulating over time. Tis no fun."
– Sudden-Sand-Storm

Watery Depths
"The Abyssal zone and Hadal Zone of the Ocean. Nothing should go that deep, nothing should be alive at such depths and, water is terrifying."
– Watermelonwater17

Underwater Dump Site
"Trash has been discovered at the bottom of the Mariana Trench. It isn't a surprise, but it's incredibly frightening. Like…how much more trash will there be in 50 years?"
– Silent_and_Smelly

I'm not afraid of death, per se, as our inevitable demise is unavoidable.
What terrifies me is that any one of us can literally drop dead from something so sneaky and iniquitous as a brain aneurysm.
There's no warning. We could all have one and survive without it ever rupturing, or we could have one just waiting to pop.
Carpe diem folks. Live without regret, dance like no one's watching, gather ye rosebuds while ye may, all that stuff.
Because the truth is, we're not given an expiration date. And what a waste of our lives if all we've ever done with them is binge-watch Netflix all day or let our jobs define us.

Keep reading...
Show less
Evil walks among us.
That is a difficult fact of life.
Not everybody is a good person.
I'm trying to not be one of those people on the news who "never would've thought!"
But now and again, we're gonna end up surprised and sad.
So let's discuss the people who shooketh us.
Redditor rentinghappiness wanted to know about times we've all faced down darkness. They asked:
"Who is the most evil person you've ever met?"
I have met too many evil people in my days.
See! ALWAYS BRUSH!!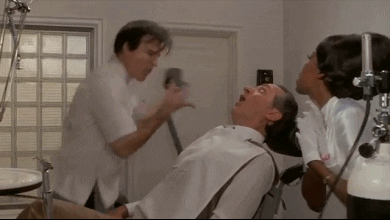 steve martin laughing GIF
Giphy
"My 3 cousins went to a dentist that they found really unsettling but couldn't pinpoint why."
"Fast forward a while, my older cousin of the three was working as an ER receptionist a few years back when a patient was rushed in very close to death after a dental appointment. My cousin found out quickly he'd come in from their old dentist for a standard tooth removal, i think 2 teeth, that should've taken 30 mins."
"He was in the back for TWO HOURS with his wife constantly checking in before she demanded to go back and found the dentist had completely snapped and removed ALL OF HIS TEETH and he was very near death after being under way longer than he should have. Still scares me to this day."
velvetsatan
Daddy Issues
"Not sure about the most but my father is definitely up there spent my childhood with me my mother and older brother being beaten. Then when my brother got older and he was too big for my father to hit he started putting my brother down making him feel worthless which led to him leaving at age sixteen."
"Then my mother and I started getting the brunt of his moods and there was nothing I could do about it because he was bigger than me. But then one day when I was seventeen I realised that I was now bigger than him. I didn't hit him but being able to finally shove him away from my mother made me feel like a horrible darkness had subsided."
John_Volker88
Good for You
"My mum had an awful ex boyfriend after she divorced my dad. He used to hit her and once he came round our house where we (me and my four brothers and sisters - all very little at the time) lived and threw a brick through our window. After she left him, he used to stare out the window at me when I walked to school and shout really gross things at me."
"I'd never done anything to this man ever. One time I was in town after school with my friends, and he saw me and shouted 'sl*t' at me. I flipped him the finger and walked off. He called my school and told them I'd given him the finger whilst I was in my uniform. I got called into the heads office the next day."
"She was known to be very strict and formidable and really scary. I told her what happened and how he was constantly harassing me and this stern, super posh old lady said 'good for you, If he comes near you again let me know and we'll call the police together'. I was stunned because I was terrified of her."
Embarrassed_Put_7892
Leave me Alone...
"My sister's recent ex-boyfriend is a huge narcissist and after stabbing himself in the leg as a manipulation tactic, my sister left him and filed a restraining order. Somehow he managed to steal ALL of my sisters stuff including our deceased Grandpa's sweatshirt that got given to my sister and took her dogs ashes as well. He managed to do all this avoiding even going to her house because he paid somebody else to (showed up on the ring camera)."
"He did this to avoid any evidence. He keeps texting and calling my sister in hopes to have her talk to him which would then void the restraining order. He got in with somebody at her work and had him tell her that 'He's closer than you think.' All of this has made my sister genuinely fear for her life so she moved back in with our parents."
sk8t-4-life22
Die Slowly
"My ex-step father. Put my family through hell. Abusive in every manner. A total piece of sh*t. He managed to flee the country before he was arrested. To this day he is the only person I've ever met where I truly hope he dies a slow agonizing painful death. And that's all I'm going to say about it."
Xyrus2000
We are truly living amongst demons. Good Lord.
The Leader
"One of our regular customers at the grocery store where I used to work. Really cold guy. Never smiled. You'd try to engage in small talk with him at the checkout and you'd get nothing back. It turned out later he'd turned his family into a kind of cult."
"He had multiple kids with his own daughters and nieces. When the cops came to his house to take his kids away from him, he barricaded himself inside and killed nine of his kids. Just an absolutely evil man."
JuzoItami
Finally he left...
"I spent a long time working with young offenders, I've also spent 4 years working in a children's home. All in I think I've worked with about 10 children who went on to commit murder. Only 2 would I say were truly evil. One lad I worked with in a children's home took a real disliking to me. Was always making threats to kill me. Not that unusual in this line of work and something I would normally shrug off."
"But this lad I believed he meant it. Thankfully he was moved on quite quickly. A few years later this teenage girl went missing, turns out she was his girlfriend at the time. As soon as I heard this I knew he had killed her. Turns out he did some pretty horrific stuff to her before murdering her. I won't go in to detail."
Is_there
Speak Up
"A woman I used to know was complaining that when she went to a child's funeral the mother was crying too much and too loudly and it was 'embarrassing.' Said the mother didn't deserve to cry because she (only loosely connected to the family) was not scheduled to give a speech during the funeral."
georgiebb
The Bill Collector
"Was a bill collector for a department store. Called on an overdue account, well-dressed guy and lovely lady came and paid cash. A few days later I saw his photo in the newspaper. He killed his wife and kids by burning down the house. Woman who came in with to pay the debt was not his wife. Later found out he was a serial killer but was amazed at how cool and attractive he was. Why he paid that bill was a mystery."
QuackedUp99
He was super brutal...
"An old friend of mine got into drug dealing as a teen and steadily grew in power into adulthood. I had heard he was behind some deaths and beatings, at times personally doing it and other times ordering it. Dude could turn from cool to enraged in an instant, and he never regretted anything he did. He was super brutal."
"Around me he would essentially revert to himself when we were best friends from the ages of 9 to 11. I remember once I ran into him at a local bar/restaurant and he lit up, asked me to go to the arcade nearby to play games on him, so I obliged. I'll never forget a couple of his goons joining us just standing around as we played games, and one of them came over with some news and my old friend turned red and shouted 'I don't care, handle it, I am playing f**king games!!'"
"Dude could turn a whole room cold and make everyone stop laughing with a glare, was spooky, especially having known him before he became that person. He was shot to death with an uzi by a guy on a motorcycle passing by at a local bar, they never found the shooter and it was a suspected professional hit."
Vegeton
Sorry Mom
"Harold Shipman was my mother's family doctor for a while. I met him once when he made a house visit to check on her after a minor operation. He was very friendly and polite but I still wonder to this day what would have happened if I hadn't been there. Luckily my mother moved to another area shortly afterwards."
BoiledFroglet
BALLIHURTON
"I worked for a guy that worked as a subcontractor for a company that rhymed with Ballihurton. We rented land from a 90 year old farmer that still raised bulls to sell. We'd dump oilfield waste on that property and ended up noticing the cows getting sick and dying. Was more expensive to properly dispose of it. They'd step over a dollar to save a dime."
"The business was a shell of a shell company, if anything happened "OH NOT BALLIHURTON, HOW DARE YOU X EXCAVATION SERVICES" Nah we cleaned up oilfield waste and disposed it in the absolute cheapest way possible. My boss was the most ruthless person I'd ever met willing to do literally anything to make/save a single dollar."
Naborsx21
She's Gone
"My old boss. She came into our store and bullied three people out of their jobs (including me) so she could hire her friends. It was maybe 5 years ago and I still think of it sometimes and get angry, because you really can't do anything, or at least I couldn't. She got a promotion afterwards and runs the flagship in LA + the Hawaii branch. Sad to see so many people lost their jobs because she doesn't care about how her actions affect other people."
genghis-san
Stay in Prison
"My daughter's ex-boyfriend that tried killing her when their baby (who was in the room) was 6 weeks old. He strangled her and the ER said she was second away from dying. He's currently serving his 3rd prison sentence for domestic violence. He hurts another women every time he gets out of prison."
kre8ive1
Back Off
"Drew Peterson. Yes, the serial killer. I was waiting for a friend of my parent's and the sleezeball wouldn't quit hitting on me. He quit when my parent's friend (a fellow cop) walked in and we had dinner."
schroedingersnewcat
"drop off"
"I used to know a pimp who bragged to me about beating two murder charges, offered me money for my girlfriend, and explained how he would 'drop off' his girls in the woods when they didn't want to work anymore. It was heavily implied that they were no longer alive when he dropped them off. He later went on to kill his cousin, one of my best friends, in the exact same way he had committed the first two murders."
"Currently he's in county jail, but not for any murder charges. Worst part is I don't think he's the most evil person I've been around, he was just the most open about it. He was cold as hell and charismatic as f**k. Almost a perfect psychopath if he hadn't been such a severe addict."
jskinbake
Trickster
"Used to work for a chained grocery store on the East Coast. The stores would always ask for donations to some cancer charity. The donation money never went to the charity and ended up going to one of the executives to buy himself a new swimming pool at his mansion. Nothing was ever done about it and the guy ended up passing away from some rare disease - amyloidosis. Seems rather evil to trick people like that."
expensivemustard
Well that is all disturbing. Evil never dies.
Keep reading...
Show less
Moviegoers are passionate about the genres they seek in theaters. One genre many people tend to avoid is the horror genre.

Zombies, blood-suckers, knife-wielding maniacs, anyone? That's a hard "nope" from many audiences who prefer laughing at Will Ferrell movies or shedding a tear from triumphant classics like Rudy rather than shrinking in their seats and bracing themselves for the next jump-scare.
But sometimes, movies that aren't marketed as horror films should really get a re-evaluation because there are moments in the film that may unintentionally creep the bejesus out of certain audiences.

Curious to hear examples of these, Redditor bellathehellgirl asked:

"What movie scares the hell outta you that isn't a horror movie at all?"
These Redditors were not prepared for what was in store for them.
It Starts Off As Fun & Games
"Jumanji. As a kid I used to have nightmares about those monkeys chasing me."
– 4thDimensionFletcher

Creepy Muppets
"The Dark Crystal"
"WHAT THE F'K IS THAT THING"
– Poorly-Drawn-Beagle

Not The Oz We Remember
"Return to Oz. Saw it when I was 5. Had nightmares about the wheelers for years."
– WestCoastWaster

Everyone loves a Disney classic.
However, these Redditors found certain parts of the films every kid grew up loving to be absolutely terrifying.
The Wooden Boy's Trauma
"Ever watched Pinocchio as an adult?"
"That is effed up."
"The scene with the boy turning into a donkey and losing his s*t over it is downright traumatic and not the kind of body horror one expects from a kids film!"
– maxcraigwell

The Lost Girl
"The original Alice in wonderland. It terrified me as a kid that she couldn't find her way home, nobody was really helping her, she was just stuck."
– kclark2293

Everyone's Mad
"Definitely this. Not only that she's lost but that she's in a world so alien yet familiar. The kind of place where if you were stuck there your whole life you might go mad if you manage to acclimate at all. Lost forever in an alternate world with inhabitants that are so outlandish you can't tell if there really is some structure to what they do and how they think or if they really are all just mad in the head."
– maico3010

Well, It Is A Roald Dahl Book
"James and the Giant Peach. F'k that whole movie."
– mcc22920

Even dramatic films involve conflicts that may be too intense for some viewers.

Too Much Stinging
"My Girl when Macaulay Culkin gets stung to death by bees. Childhood me was scared of bees for quite a while."
– [deleted]

Blurring The Lines Of Reality
"There's a movie I remember seeing with Britney Murphy where she dropped off her husband for a medical procedure and came back to pick him up only to find out he never existed or something and was made to believe she was hallucinating the entire relationship etc.."
"The thought of learning that anything in my life is a hallucination, is terrifying to me."
"Another one I can remember was Premonition with Sandra bullock. The movie itself wasn't the greatest, but the plotline is terrifying."
– travelingpug

These were marketed as comedy. Yet, who was laughing the entire time?
Who You Gonna Call?
"I was very young when I first saw the original Ghostbusters."
"I was NOT expecting the library ghost to do that!!!"
– axeman020

Scary Satire
"I know it was meant to be a comedy and all, but Mars Attacks. Call it deep-seated child trauma from seeing it when I was too young. Watching people get disintegrated into piles of bones gave me nightmares for weeks."
– xSapphirya

I remember seeing David Lynch's Elephant Man as a kid and being traumatized after seeing the disfigured face of John Merrick.
It's supposed to be a drama that should elicit sympathy and compassion after seeing the main character being exploited and paraded around by a Victorian freak show.
But for this young viewer, the critically-acclaimed film was nothing but a traumatic moviegoing event.
What movie forever unintentionally traumatized you?

Keep reading...
Show less
Many of us sometimes fantasize about what we would do to our worst enemies, especially in the moments when they're actively making our lives worse.
While most of us would never actually do any of the things that we contemplate instead of screaming at that super annoying person at the office, we do get pretty creative with the ideas.
Redditor take_me_there_ asked:

"What WOULD you wish on your worst enemy?"
This One Would Hurt
"A conscience. Let her realize the horrific things she's done."
- Jenny010137
"Seriously. Introspection, self awareness, and empathy are traits that would improve a lot of sh*tty people."
- el_muerte17
"Oh I wish I had thought of this one. If my enemy had a conscience, wow life would be much different."
- Shelbysouth43
No Pearly Whites For You
"I'd like all their teeth to turn really yellow and stay yellow no matter what they do."

- toothfixingfiend
"What did I ever do to you?"
- Spideredd
"I don't even know you! Give me back my enamel!"
- AngryMustache9
Everything You Own Is Orange Now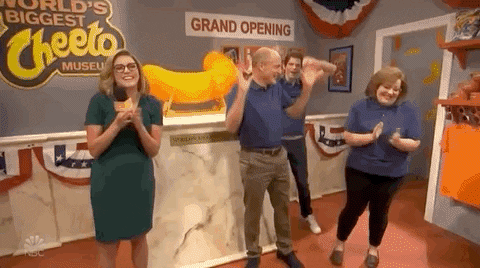 Snl Cheetos GIF by Saturday Night Live
Giphy
"Permanent Cheeto fingers. Just orange cheese dust getting on everything."
- cocoapuff1721
"This has to be one of the most evil things I ever heard, yet absolutely hilarious."
-Merk0411
"The Midas Touch: Snack Edition"
- MaryVenetia
Ouch, But Forever
"Stubbing and breaking their toe and right as it's about to be done healing it happens again over and over for the rest of their pitiful time on this hell we call earth."
- No-Bee-2971
"Sisyphoot"
- Alpha_6
"More of a Toemetheus imo"
- PykeTheDrowned
Self Reflection
"For them to realize how big of an a-hole they are."
- mayhemanaged
"Same for me. The trouble is mine probably knows what a tremendous a-hole he is, and just doesn't care (it's what defines him, is his outlook more than likely), so, give mine a conscience as well, he undeniably lacks one."
- RhoadsOfRock
"a crushing moment of self realization is something that can destroy you mentally. I wish that on them."
- chancetodream
Bury Them Under A Mountain Of Minor Inconveniences
"Always being hungry two hours after eating no matter how large the meal. Slow internet. Traffic jams no matter the location. Self doubt. Allergies. Favorite shows spoiled."
"Nothing major enough to be life altering but constant, low grade inconveniences that wear on your soul every day."
- I_Love_Small_Br**sts
"Every bite of food they eat/drink they drink being slightly the wrong temperature."
"Coffee? Warm but not hot. Cola? Cool, but not cold. Muffin? Ever so slightly frozen."
"Not enough to ruin their life, but just enough to not quite have full enjoyment of anything.."
- HappiHappiHappi
They'll Never Be Able To Use Their Computer Again
"Quick scan with McAfee on their computer."
- halflife_3
"You f**king monster."
- Orion_2kTC
"The constant pop-ups from McAfee is too far."
- _Land_Rover_Series_3
That's A New Level Of Evil
"Bed bugs."
- thrawn1825
"Currently dealing with bed bugs, and I can absolutely confirm this is the kind of thing I would wish upon my worst enemy. It is miserable and painful, and I've tried everything to get rid of them at this point."
"I would easily wish this upon my worst enemy, x10."
- ArbitrarilyStagnant
"Oh hell no, you went there... Hopefully they aren't living in an apartment complex or you've cursed everyone in the building."
- expect_less
Well of course I know him. He's me.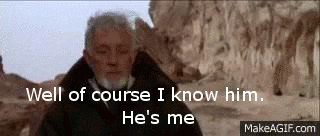 Animated GIF
Giphy
"$100,000. I sure could use it."
- Sparklesperson
"'It's no surprise to me I am my own worst enemy'"
- FishyVonFishenHymer
"Lol I thought this was that deep sh*t like 'pray for those you resent to have all the things you want in life….' Then I realized."
- No-Chipmunk9527
Forever Constipated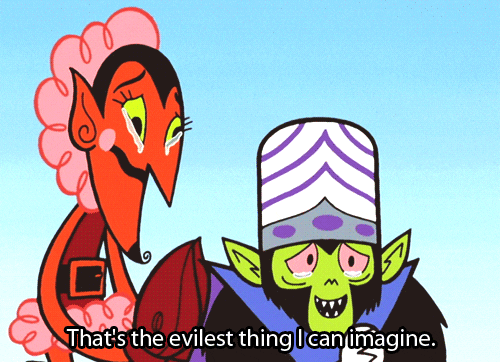 the powerpuff girls bubbles GIF
Giphy
"That they can never have a satisfying poop. They always feel like they have to go to the bathroom and when they do nothing comes."
- [User Deleted]
"Wow. That's evil. Always feeling the need to pee would be good (as in horrific) too."
- ipakookapi
We definitely don't recommend implementing any of these plans (not that most would actually be possible), but here's some new ideas for the next time you're stuck in a meeting with your most annoying coworker and need a little fantastical escape.
Want to "know" more?

Sign up for the Knowable newsletter here.
Never miss another big, odd, funny or heartbreaking moment again.
Keep reading...
Show less
Life can change in an instant.
It can always change for the better.
Just ask any lottery winner.
Sadly, life can also take a turn for the worst and leave people shattered beyond repair.
Watching someone's life fall apart in a short amount of time is difficult.
You have to wonder if there really is such a thing as karma, bad luck, or Voodoo.
Redditor OkImagination5852 wanted to hear about the times we've been witness to personal disaster. They asked:
"People who witness a person's life crumble in a single day, what happened?"
I have lived through a lot of bad days. But thankfully they've been one disaster at a time days. So I guess I'm lucky.
Horror
"A friend of a friend had his entire family killed overnight. He was from my college and was home visiting his family. His parents, siblings, and extended family were all there together. One night, while they were all asleep, his father got up, took out a gun, and went on a shooting spree. He then killed himself."
"Everyone except this guy died on the spot. When my friend visited him at the hospital, the guy was still in shock. He had no idea why his father did that. This was more than a decade ago, and I have no idea how he's doing now."
DeadOnDeparture98
The IRS Called
"Knew a guy who had a nice house, wife, 3 kids. Machine shop in his garage, Snap On tool truck, sign out front, great mechanic. Never incorporated, didn't pay taxes on his business, cash only. Took nice vacations, bought a boat, then a camper. Five years later, the IRS came. I don't know what they estimated he owed but they seized everything. He lives alone in a trailer now."
Nobody_Wins_13
2 at Once
"My mom's dad and dad's mom both died on the same day. Completely unrelated. We were pretty messed up for awhile. It was 2010. Mom's dad had emphysema (lifetime smoker) and was pretty sick for a few weeks. I was in college at the time and came home to be with him, because we knew he was about to pass. Dad's mom was in the nursing home, as she had had a stroke and also had dementia (she often thought I was my dad, she thought we were in the 70s, etc.)."
"She took a turn for the worst, and so my dad left the hospice my grandpa was at and went to be with her. The towns they were in were about an hour apart, so I stayed behind with my mom to comfort her when her dad passed. A few hours go by, and he passes peacefully (huge thanks to the hospice workers for their respect and grace during this time)."
"Within an hour or so of his passing, we get a call from my dad saying that his mother had passed as well. It was a terribly dark day in our family, and the next couple years for me in college were pretty much a blur. Thankfully, things got better in time and we are all doing well now."
REDDIT
She lost everything...
"Her husband left her after previously persuading her to remortgage their house to save his business and he's already made her take multiple credit cards out in her name. She lost everything. He did it the week after their youngest turned 18 so he wouldn't have to pay child support. He'd obviously been planning for years."
Ieatclowns
a black sheep...
"My cousin was in a motorcycle accident with her boyfriend. Her boyfriend died. She broke her back. When she was in the hospital she learned she was pregnant. It's been 16 years and we're still trying our best, she took an all too familiar path of drugs, burning bridges and more pregnancies."
"At this point she's fairly stable and clean as far as I know but a bit of a black sheep. Her mother has custody of all one of her kids. She has her youngest and seems to be doing good by her, but who knows. It's been hard on everyone, especially her mother and her brother."
Paradigm6790
Well this is the stuff of nightmares. I'm grateful for every moment I have alive.
Several lawsuits are filed...
"Here is multiple lives ruined in an instant. A friend was over at some other people house, drugs were involved. They had been playing with a gun. My friend points the gun at a girl, pulls the trigger and shoots her in the head. Girl dies, friend gets locked up until he turns 18. Parents at the house get arrested because they knew what the kids were doing. Friends mom goes into a depression and ends up getting evicted from her house. Several lawsuits are filed."
sentondan
Gone Forever
"It was me... got in a car accident and suffered a traumatic spinal and brain injury that I had no chance of surviving... a 7 vertebrae spinal fusion, yrs of physical and mental therapy... 18 yrs later and the pieces, though many forever gone, are finally coming back together."
2boneskuLL
A Bad Night
"He trashed his fathers vacation house with an axe before setting it on fire, stabbed the neighbor nearly to death, stole their car and then crashed it into a cop car so bad the cops were injured. He also got his girl pregnant, so once he is out of prison they're gonna start a family."
Dumbing_It_Down
"dangerous"
"Pregnant friend found out husband (43) was having an affair with young woman (19) who was a volunteer at their ecolodge. Friend had 'dangerous' pregnancy and had to spend a lot of time in bed. This betrayal destroyed their marriage, split the little town where they lived and caused two employees to quit because witnessing the affair going on was just too painful."
"She had a beautiful baby girl (to go with her other two girls, lol) and after the breakup was clinically depressed. Worked hard and got a divorce (she had a great lawyer); got the business back on track; beat her depression and now is planning a great vacation trip with her girls."
"Meantime, Dad has generous visitation but just 'hasn't gotten around to' buying a car seat so he can pick up the baby and for a long time asked my friend, 'Can you drop the girls off at my Mom's?'"
NoBSforGma
Lost it All...
"Recently, I know of a guy that had borrowed all his family's life savings for the most part to participate in the whole game stop stock thing happening… he lost every penny of his money (credit card advances), and his parents retirement, and every other dime he could get… it makes me sick to even think of it."
Bangbangsmashsmash
Hey Mr. DJ
"Knew a kid that was making music and had a fairly big following since he was popular. Then a local radio DJ posted screenshots of this kid demanding that they play his music on their station. The DJ was cordial but had to let the kid down, and he started trash talking the DJ, saying he was the next big thing and more famous than anyone that worked at the station. He fell off the face of the earth after that one. Wouldn't be surprised if he moved out of state."
Primitive_Teabagger
The Blow Up
"He was already on meth so that's a bad start but then when he couldn't afford any decided to make his own following a pretty sketchy recipe he found online. His makeshift meth lab blew up and he lost both eyes and half his face as well as a whole arm, chemical burns, and permanent lung damage from inhaling the fumes because he wasn't wearing a gas mask."'
-AntiVegan-
The Lady
"I saw an old lady get hit by a car in a hit and run. I had gone up to check up on her and I phoned the police. When I saw her, she opened her eyes like something out of a horror movie jump scare. The other witnesses and I gave whatever statements we could and left. A week later I had moved to a new town, I get a call from a police officer. Turns out the lady had died."
-HimuraKenshin
"down in the trenches"
"Guy in my squadron in the USAF (80's), trust fund kid, don't know why he didn't go to college and become an officer instead of being 'down in the trenches' with us grunts, or even in the military in the first place. Had a huge allowance from daddy, drove an expensive sports car, all the usual stuff. Had the attitude to go with it, too."
"He decided the very-expensive-per-minute secured phone line was a great way to get around long distance charges to chat with his girlfriend in France every night. Months later, when the base investigated why the 'only for official use in the event of WW3' phone line suddenly received a bill, and a huge one at that, he was toast."
"After his court martial, he was presented with the bill, dishonorabl discharged, and barely escaped a term in Leavenworth. His family disowned him and cut him completely from the money. He lost everything from asset forfeiture for the bill, and was tossed off the base with nothing but the shirt on his back."
"Last I heard of him from someone who had a mutual friend back in NYC, he was a ticket booth guy at a porno theater, no one would hire him as a convicted felon with a DD."
Faelwolf
Call Dad
"My neighbor lost his job. When he was trying to get a new job, his wife left him and his sons got arrested for attempt for murder. one of his sons killed himself in jail. if you looked into his face, you can see the immense devastation. i call him over nearly everyday. i got him a job in my office and now he turning for the better."
Tharion_Auger
Hometown Couple
"There is a homeless couple in my town. They were both addicted to heroin. She got pregnant and they had a baby boy. The father of the kid stoped doing drugs and really got his shit together. It was awesome seeing the kid and him around. Kind of inspirational really. The mother of the kid was still doing drugs and stuff."
"One day grandpa and grandma took the kid on a vacation with them. They had a car accident and the kid died. I have never seen a more broken man in my life. He got back to doing drugs and I'm not sure if he is still alive or not. I haven't seen him in years. Sad stuff."
UrsusBruskin
Eviil
"My own. when I was 13. The day my parents told me they were divorcing. Turns out my mom cheated on my dad with a coworker, and within a year of that conversation, her and the guy were engaged. I basically went into a 15 year depression because my mom is a horrible, horrible narcissistic sociopath that spent 5 years fighting my dad in court over quite literally everything."
"She mentally abused my sister and I, and I had multiple therapists testify in court on my behalf. Thankfully, the court revoked all custody rights from her, but I've never been the same."
Killarogue
50
"My friend who was about to turn 50 a few days after and has been dealing with metastatic breast cancer came home to find her son dead in his bedroom of a self inflicted gunshot wound to the head. He killed himself with her own gun. I'm not sure how she's gonna get through this and she's become numb when she was cheery and joking all the time. He was her will to live. Good thoughts, vibes, prayers etc. are appreciated for her."
acurah56oh
without oxygen...
"I know someone who was recently enjoying a meal at a restaurant. She choked on a piece of her food. It was was stuck in her throat and they battled to get it out. By the time they managed to get it it out she had been without oxygen for too long. She is currently in a coma with extensive brain damage and she is not expected to pull through."
inferentialStats
Well those are A LOT of bad days. Good luck to all of you.
If you or someone you know is struggling, you can contact the National Suicide Prevention Lifeline at 1-800-273-TALK (8255).
To find help outside the United States, the International Association for Suicide Prevention has resources available at https://www.iasp.info/resources/Crisis_Centres/
Want to "know" more?
Sign up for the Knowable newsletter here.
Never miss another big, odd, funny or heartbreaking moment again.
Keep reading...
Show less