Often, thoughts of life sailing large ships across the high seas feel like distant fantasies.
We encounter those scenes in novels, high budget films, old myths, and video games.
But we cannot forget that there are so many people across the world that earn their living working as a crew member on a large ship that crosses vast distances of open water.
The consumer products we buy and the food we eat is so often only at our door thanks to the hard work of freighters around the world.
And, as one recent Reddit thread illustrated, each of those ships has a crew full of people with stories to tell.
The unique conditions of exhausting, difficult life far from land can't help but make for some very eerie occurrences, whether they be real or imagined.

HijoDelSombreron asked, "Sailors, seamen and overall people who spend a vast amount of time in the ocean. Have you ever witnessed something you would catalog as supernatural or unusual? What was it like?"
Some people discussed the times they truly felt that they'd come into contact with a haunted, supernatural being. There simply was no other way to explain a horrifying feeling they got out of nowhere.
Saving Spirit
"Sailed on tallships for a good while, among other things."
"Saw some green flashes, a moon bow, lots of phosphorescence, big whales, st elmo's fire on our mast (steel ship this time)."
"But the only creepy story was at port. The only person who had ever died on the ship was over a hundred years ago, and he fell from the rigging. Went splat. One of the crew was up furling sails, and was about to step out onto the foot rope that runs along the yard. He said he got an overwhelming urge to not step on it, and felt a tug on his harness keeping him from stepping out."
"He was so freaked out he kept the other two guys behind him from getting on the line as well. The other guys started getting a really bad feeling too, and they decided to check out the footrope. It had been really degrading on the inside, even through the outside looked mostly fine."
"The line probably would have snapped as they climbed out there, and they would have fallen, as you are pretty much free climbing until you get to a stopping point."
A Heaviness
"When I was roving patrol on a submarine I always thought I saw someone walking parallel to me down missile compartment upper level. If I was on the port side then I saw them on the starboard side and vice-versa. I always chalked it up to pipes and valves creating weird shadows. Additionally, it felt 'heavy' on that level like there was some sort of presence - the feeling you get when someone's watching you."
"I never told anyone, then one day a few weeks into patrol, one of the other rovers asked me if it felt 'weird' up there. He specifically said that he saw someone up there too just like I had. We shared stories and then talked to the third rover and he said 'I only go up there to do my rounds every hour then get the fu** out of that haunted level.' "
-- praxis4
Other people shared similar experiences, but often chalked it all up to the work of their own brains. Life on the open ocean is apparently very conducive to hallucinating.
Who's Out There
"In the Gulf of Aden having been at sea for a while and with absolutely blistering heat, I heard my nickname called 3 times. Clearly and loudly. It was my first time with this particular crew and none of them knew my nickname."
"My best guess is dehydration and stress but I'll never forget it."
Was Someone Left?
"Distress flares in the middle of the Indian Ocean sailing Nigeria-Japan at night when I was a Third Mate. Looked less than 4 miles away. Altered course to it, called the Old Man. Found nothing and no one over the course of two hours. I was the only one to see it, and I know what I saw. (My watchman was down closing cabin shades.)"
"I understand why we had to move on. Keeps me up some nights though. Did we come so close to saving someone's life, and just leave them there? Alone in the ocean. No food or water. Did someone think they were rescued but we ended up too far from them? Should we have waited until daytime? Did I just hallucinate?"
-- RoCNOD
Group Hallucination
"On my first deployment to south east Asia I was flying over the Sea of Japan and saw a large pulsing aura of red light far enough below the surface I could not make out a source. We were 30ish miles from shore and had not been briefed on any assets in the area that might make something like that make sense. No erroneous indications on instruments or radio chatter."
"Just slow steady pulsing red light. We saw it, circled it a few times, made a note of the time and location we encountered it and my crew chief asked if I wouldn't mind getting the hell out of there. So we finished our transit and I made a note of everything in my debrief. I passed it up the chain of command but they basically wrote it off as some sort of visual phenomenon we had from a long day of flying in dry suits. It's always been hard to imagine our entire crew hallucinating the same thing."
Night Duty
"I was a sailor in the navy. While I was on lookout duty on the bridge at night, a dude walked and stood beside me, breathing hard. I was looking out at sea and I was blocking the stairs going down, so I turned around to whisper 'sorry,' and what do you know, there's no one. I was tired so I chalked this up to hallucination, but it felt real."
-- wolf-bot
Others discussed experiences driven by the very real, believable aspects of the ocean's whims and all the air does out there.
Sometimes, the natural world can terrify us--while it calms us too.
Sudden Stop
"The closest to supernatural or at least something I can't explain, happened half way between Cornwall and the Scillies. We were sailing in a fresh breeze, 5-6 ft. swells maybe. That's perfectly fine sailing weather but the boat will rock and there will be quite a bit of noise from the wind, the sails and waves."
"So we sail happy along when suddenly the sea is perfectly flat and every thing is quiet, like somebody turned the sound off. I look around and the water is pitch dark. It only lasted for a minute and then everything was back to normal but I got a really eerie feeling."
Interrupted Glass
"The ocean water was so still, it appeared that we were sailing on glass; not one ripple. I have never seen this again." -- TheLatty
"Experienced the same while traversing Makassar strait going to Surabaya, Indonesia."
"It was like sailing through a lake and the only ripple you can see was from the wake of the ship. Wished all the of the seas were the same haha." -- Gunner000
Pin Drop Tension
"Spent a lot of time sailing commercially in the Irish Sea, on night watch you are always acutely aware of everything around you due to the silence and darkness. Some of the sounds you hear are deeply unsettling."
"I remember on a perfectly still night just hearing a gentle knocking noise coming from what seemed like the outside of the hull at the waterline. No idea what it was but it freaked me out all shift."
-- Brockers55
Blurring Horizon
"I was standing in the hangar bay waiting for morning muster at dawn somewhere in the middle of nowhere. Looking out at the ocean, I was intrigued by how smooth as glass the water was reflecting the clouds in the sky. Then the most beautiful, confusing, mesmerizing, and terrifying thing I ever saw happened. The water, for a moment, was so smooth that the horizon disappeared from view."
"The water was so smooth and reflective that it was impossible to tell where the water ended and the sky began. I honestly got dizzy knowing I was in the middle of the ocean floating on water, but my eyes were trying to convince me the ship was floating on nothing. Then the water started slightly rippling and the horizon was visible again. Every morning at sea after that I looked at the horizon hoping it would happen again, but it never did. I've never found out what caused this scientifically. The closest thing I could ever find was it was some sort of variant of the fata morgana mirage."
"I don't think I will ever see anything as beautiful in my life ever again. Words fall extremely short at describing the feeling in that moment."
-- rosso222
So if you were ever thinking about signing up for an extended period of time sailing on the open water, make sure you're prepared to encounter some or all of these bizarre events.
You never know what might happen when you're out there.
Want to "know" more? Never miss another big, odd, funny, or heartbreaking moment again. Sign up for the Knowable newsletter here.
Keep reading...
Show less
Oftentimes I like to do my best Ghostface impression and aggressively ask people what their favorite scary movies are. Because I personally have a lot! At the same time, I'm also terrified that at any point, I could end up getting my head punched off by Jason Vorhees (Part 8 of the series--best one IMO).
Real life contains the scariest horrors you could ask for. So aren't we all living in a horror movie, in a way? At least, these people sure freakin' were.
MisterSnowman69 asked: What was a moment in your life that felt like a horror movie scene?

In the words of the legendary Mary Vivian Pierce in the film Pink Flamingos, "Murder merely relieves tension". I'm sure the following Redditors felt differently.
​Nothing scarier than the woods at night.
Went into a real deep woods hike for only the second time in my life.
My gps broke and had to rely on my compass. Got turned around a few times because I couldn't remember the direction I came from, and it was getting dark. Lost the trail way.
But the woods are weirdly silent in the dark and alone.
It was around 2am by the time I found the trailhead.
Darn foxes.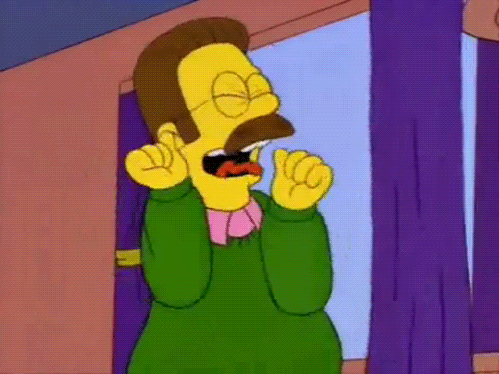 the simpsons react GIF
Giphy
My friend and I got lost late on one foggy night in the Italian countryside. There were rats all over and every once in a while we heard someone scream.
I've never been more sure I was about to get murdered than I was that night.
It was probably a red fox that was screaming.

Could've also been a lynx, but they are much rarer in Italy.
At least she wasn't speaking in tongues.​
My mom is quite the sleep talker, but it's usually pretty short and incoherent when it happens. One night as a teenager, I woke up to her scream-yelling the Hail Mary prayer (my bedroom was across the house and upstairs).
Difficult to get back to sleep after that one.
​Sometimes scary sh*t ends up just being funny coincidences. Super funny. Right?
Don't give them any ideas.
I was exploring an abandoned mental asylum and then got the scare of my life when a scary looking person inside one of the rooms was just staring at me without moving. Turns out some joker had left a cardboard cutout there.
And now I have plans this weekend... Just need to find a couple of cardboard cutouts and to break into the local abandoned asylum.

Don't you hate when that happens?​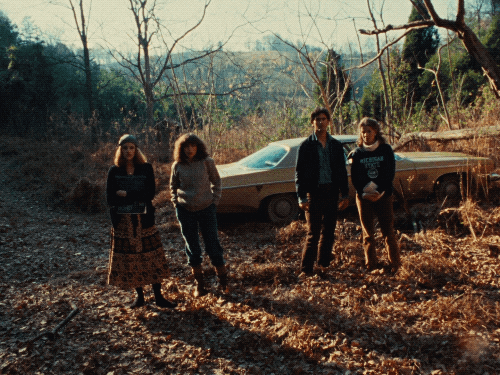 Evil Dead Horror GIF by Coolidge Corner Theatre
Giphy
I was driving home on backcountry roads at midnight in heavy fog. Like can't see 10 feet in front of you thick. Suddenly I see an all-white silhouette running in front of the car. Every hair on my body stood up. I immediately think "oh god, oh f*ck, it's a f*cking woman in white, I'm gonna f*cking die"
Nope just a drunk who dove into the ditch.
Gotta love paranoia.
When I was about 12, my parents went out for dinner leaving me home alone. We lived out in the country, on a private road with only three other houses, surrounded by cow fields and wooded areas.
I went into the the kitchen and glanced out the window towards the trees and there in the fading light I could see a person walking slowly through the woods. They were wearing all black, moving slowly and appeared to pause behind trees. My heart started pounding so hard in my ears I couldn't hear anything else and I was weak and shaky from fear. I froze and just watched them. Would they come to the house? Where were they going?
This was before cell phones but I suddenly remembered my mom had left the number of the restaurant by the living room phone. Slowly, I made my way towards the living room, trying to watch this stranger in the woods.
Just as I entered the living room, all the lights in the entire house went out. By this time it was nearly dark outside. I started openly sobbing and in the dark I heard a weird boom like noise. That was it, I ran to my parents room, hid under their bed and sobbed. That's where my mom found me hours later (it felt like).
Well, turns out the stranger in the woods was a stupid cow that had busted through a fence, the lights going out was from an accident a few miles away (hit the power line) and the boom was the pilot light in the gas stove. Man, I have never been that scared in my life though!
​I have a lot of questions.
A naked man who was covered in blood chased me across a park at 2 in the morning. I was totally alone. He just wanted money for a bus (????) and luckily nothing bad happened but I thought I was going to die.
But of course, the genuine horrors do exist. And they aren't scary in a fun horror movie way, they're actually terrifying because they can happen to anyone.
A scary few seconds.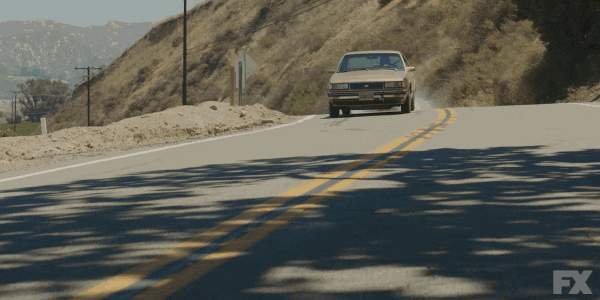 car chase GIF by Mayans M.C.
Giphy
I am a "baby" in a car seat in between cousins in backseat. Dad is driving. This is in the 80s and it is my aunt's insistence that I am in this seat even though I am like 5.
A sleeping semi driver is coming over into our lane and there is a cliff on other side. Basically my dad did some amazing driving but semi blew us up. I am uninjured sitting in the seat swinging my legs while everyone is unconscious. They all wake groaning. Dad doesnt wake up.
Long story short just minor scrapes and dad has broken leg. But the crunch of metal and those few seconds/minute of being the only "alive" person was quite fear inducing.
Glad they're all ok now.
Two days after my now boyfriend told me he liked me he fell from a zip line and broke his back. Almost died. 6 months later he got into a car wreck from a drunk driver - almost died. 6 months after that, he passed out and had to have emergency brain surgery, again, almost died. I now have severe anxiety/separation anxiety/and ptsd. That whole year was a f*cking nightmare
Edit: we're both okay now, the brain injury was almost a year ago. But TBIs take a while to heal so he still has side effects. Thankfully our relationship is still strong; he's physically getting better and I'm healing emotionally too. Lucky for him, the trauma of the injuries has caused him to forget the majority of the pain and memories of those incidents.
​ALWAYS wear a helmet.
Driving home from work at 23, listening to my favorite song.
I pull up to a red light, and see this guy on a motorcycle coming up next to me in the other lane. I rolled down my window to compliment his bike when he stops. He doesn't, and runs the red light. He hits a car going at least 55mph. His motorcycle shatters apart, he goes flying, hits the hood of another car, and lands on the ground and rolls into the curb (no helmet). The car he hit with his motorcycle was totaled. I had to step over his body to talk to the police. He was still alive when they got there. I regret not holding his hand. It was just a normal day, and all of a sudden it felt like the rug was pulled from out beneath me. He was only 18.
Edit: The song was Sunny by Boney M., for those curious
What did we learn today, kids? Foxes scream like humans, shadowy figures are usually cows or drunken rednecks, and once again, PLEASE WEAR A HELMET WHEN YOU RIDE ANY KIND OF BIKE.
Scary sh*t surrounds us. But where there is horror, there are heroes. So next time you think you see a scary figure in the woods, know that Bruce Campbell is probably right around the corner
Keep reading...
Show less
Local urban legends stem from a variety of sources.
Many are tales devised by parents to prevent children from going out at night, doing bothersome things, or engaging in risky behaviors.
Some are the product of too many conversations, for too long, surrounding the death of a local figure. And others come from very ancient rituals and traditions that have guided people in that area for generations.
But although the causes may be different, the outcome is the same: a horrifying promise that most don't want to believe, but aren't very interested in exploring far enough to find out for sure.
Lucky for us, some Redditors gathered to share the horrifying stories from their own towns. And we get to enjoy them from the safety of our own computer.
ChrissiTea asked, "What are the creepiest urban legends from your area?"
Of course, creepy kids came up quite a lot. The death of such a young person with so much potential causes people to believe that they still have more to do--even if it is from outside of the flesh.
A Janitorial Secret 
"We have a chair that's been untouched since the 1960s in our schools boiler room. The janitor swears that a boy got locked down there by these other kids the day before summer break and died from the heat."
"He claims that the chair moves and that the door handle moves like he's still there trying to get out."
How the Legends Form 
"There's one that I'm actually connected to."
"There was this friend I had in third grade, he was cool and we had a lot of the same interests, he always sat with me at lunch and played with me during recess."
"One day he was acting weird, he said that there were 'Bugs in his brain' I asked him if he was okay but he never responded; I didn't see him at lunch or recess either. He didn't come to school for 3 days, so I asked the teacher what happened to him, and she just said 'It's not your business.'"

"I never saw him again."
"Afterwards, other kids in my class started making up bullsh** stories about how he ran into the woods and drowned in the lake, or got kidnapped by an escaped convict, and as his friend I was obviously very offended by these kids making horror stories out of this guy I really cared about."
"Now 10 years later, the kids in my town are still perpetuating these myths, I just think it's crazy that this generation of kids who were literally infants when this happened are still talking about it like it's an urban myth, none of them know the true story, and neither do I, but they sure as hell don't know that I knew this kid who they believe these legends about."
Proof, or Coincidence?
"There's an enormous wooden railroad trestle not too far from me (tracks are still in use) and the legend goes that one day in the 1940s when the area was super rural, a teenage boy decided to kill himself."
"As the road passing under the trestle was the only way to access the houses beyond it at that time, he elected to hang himself from the beam directly above the road so his parents would be forced to see him when they returned home."
"I normally don't believe in this sort of thing, but if you look closely you can still see marks in the timber above the road that looks suspicious like a rope rubbed against it."
"Draw your own conclusions...."
-- 97PG8NS
Other legends seemed to involve the road. And it's not a huge surprise.
With so many chaotic, tragic events occurring behind the wheel, there's no shortage of ghost stories kicking around out there too.
Good Ghosts
"We have 3 mysterious men in a car called The Gaurdians (yes that's what we call them) along Montana highway 464."
"People have told experiences where they have car trouble and three men in a car drive up and help them out. Other people talk about headlights that disappear in places where they shouldn't disappear."
"We also have a Native American in a jean jacket and jeans who materializes in front of cars before they can swerve out of the way. When the driver checks for a victim, no body is found."
-- ninjasoul534
The Opposite of an Ambulance 
"I live in Romania and as a kid the most common legend was the 'black ambulance' that would steal kids and harvest their organs and that kids' bodies were to be found a few days later abandoned on a field with some money for the funeral."
"Also, in my town, our parents would never let us go to the cinema because there was this legend about a man who wound put AIDS-infected needles on the seats."
-- mikeynbn
Road Bear Dogs 
"Black Shucks; big, black, ghostly/demonic dogs with glowing red eyes that are supposed to be omens of death. They generally appear on roads at night. There's apparently a few around town and some drag chains too."
"Also one is actually a bear, but I have no idea why we have a ghostly demonic bear because we don't even have normal bears in this country."
Finally, there are other legends that involve the bizarre behaviors of creatures, real and imagined.
Even a 25-foot Sturgeon is Scary 
"Flathead Lake Monster"
"The Flathead Lake in western Montana is the largest body of fresh water this side of the Great Lakes. 18 miles wide, 26 miles long, 400+ feet deep. People have seen the FLM breach the surface looking like the back of a serpent type creature. My theory is there are some monstrous 25 foot long sturgeons hiding out down there, but who knows......"
Looming Chants  
"The Huaka'ipo, also known as the Night Marchers, are the spirits of ancient Hawaiian warriors who have been cursed to march the islands for eternity. The night marchers are said to march in a single line, often carrying torches and weapons while chanting and playing drums."
"To protect yourself, you must lie on the ground face down in respect. Otherwise, the Night Marchers will kill you. Or so they say..."
-- lixtrado
Porous Humans 
"I'll have to roughly translate it from Arabic so bear with me."
"We call it 'the caller.' It is told that in the middle of the night it calls your name and forces you to follow its voice, until you reach a body of water, it then pulls you under forcing water into every single hole in your body no matter how small and of course then drowning you."
"I think this was made up so kids do go on a swim at night."
"( If anyone is interested its originally an Egyptian urban legend. Here's the Arabic name 'النداهه')"
Haunted Horses 
"Not my current area, but one of the primary schools I went to had a few trees in the back corner of the field with a mountain of dirt. There were rumours that it was haunted with horses (of all things lol) there was one black horse that was evil. And if you sat under the trees and closed your eyes, you could hear the horses."
"It wasn't until I was older that I found out the school was built on an old racing ground and it closed down after one of the jockeys poisoned a competitors black horse."
The scary thing about it all? There are countless more stories just like these, hailing from countless towns across the world.
Want to "know" more? Never miss another big, odd, funny, or heartbreaking moment again. Sign up for the Knowable newsletter here.
Keep reading...
Show less
We live every second of everyday on borrowed time. What they say is true, we start dying the second we're born. And we avoid crisis and death more times than we realize. One of the main causes of death that is always lurking near is evil. Fact. People are crazy and there are way too many people willing to exterminate the life of another. How many of us have tales of escaping death at the hands of another? Far more people than we'd like to believe.
Redditor
u/Robz05
was hoping people would be willing to share some stories of hope and survival by asking...
Have someone you know ever tried to kill you? And why?
Want to "know" more? Never miss another big, odd, funny, or heartbreaking moment again. Sign up for the Knowable newsletter here.

Keep reading...
Show less
Decades of Hollywood horror films have managed to influence how we interpret the bizarre statements of children.
Kids are bizarre, they leap to weird conclusions or miss key details entirely. And when they vocalize those conclusions--often with alarming conviction--the sentence uttered is, at the very least, puzzling.
But sometimes another tone cuts through: straight eeriness.
Whether it's the content of what a kid says or simply the way they say it, the macabre is never that far off whenever a child discusses some inexplicable situation.
Recently, Redditors recalled the creepiest kid moments of their lives.
TheArgonianKing asked, "What's the creepiest thing you've ever heard any child say?"
Hopefully, there is a perfectly reasonable explanation behind all these anecdotes. After all, we only get to read a secondhand account taken from memory.
But there's no doubt about the spookiness of these recollections.
Want to "know" more? Never miss another big, odd, funny, or heartbreaking moment again. Sign up for the Knowable newsletter here.