Why is Hollywood doing so many remakes and reboots?
There are so many stories to tell and produce.
History is at our fingertips.
Wars, death, great love, betrayal, science...

I would see all of that.
Redditor lowtack wanted to know what parts of the past need to be captured in cinematic glory. They asked:
What historical event has not, but should be, made into a movie?"
I don't know much about history. So teach me...
Capsules
"The Goianas incident, dad stole a radiotherapy capsule from an abandoned hospital, didn't know what it was and opened it."
Shep9882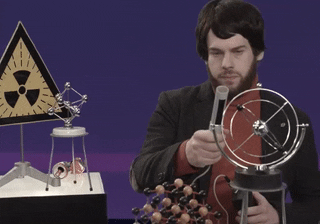 chemistry atom GIF by funk
Giphy
Apollo 8
"Apollo 8. Basically the mission was originally only supposed to be a test of the lunar module in earth orbit, but rumours were circulating that the Soviet Union were going to attempt to send a man into lunar orbit (spoiler: this was not happening). As a result Apollo 8 was switched to being the first mission to the moon, not to land but to orbit."
"And this decision was made only 6 months before the scheduled launch date, so it was a race to get everything ready before the flight. It's a historic mission that is almost never talked about, compared with Apollo 11 which is much more well known."
Therailfan
"The Long Way Home"
"The story of the Pan Am flight that got caught in New Zealand at the start of WWII and couldn't fly back home by going east because it was too dangerous. So instead they took their flying boat and flew west on routes they had to figure out from maps pulled from borrowed encyclopedias, dodging the Japanese, and trying to find enough fuel to keep the plane going."
"The whole thing took months culminating in taking off from a river in the Congo and having to skim along through a canyon to build up speed since they were too heavy in order to even have a chance of crossing the Atlantic. The whole thing is tailor made for TV or a Film. There's a fantastic book written about the whole story called 'The Long Way Home' and was written with the Captain of the flight."
bigred49342
Enemy Within...
"The Niihau Incident. During the attack on Pearl Harbor, a Japanese Zero was damaged by anti-aircraft fire and crash landed on the remote Hawaiian island of Niihau. The Hawaiians, initially unaware of the attack on Pearl Harbor, treated the pilot with generosity and respect."
"After news of the attack came out, the pilot was placed under guard. With the help of some sympathetic locals, the pilot broke out and took two hostages: Ben Kanahele and his wife Ella. Later that night, Ben and Ella decided to fight their way out. Ben was shot three times, but still had enough strength to lift the pilot over his head and throw him into a brick wall."
"Ella, thinking her husband had been mortally wounded, killed the pilot by bashing his head in with a rock. Both Ben and Ella survived the incident and Ben was awarded two medals for his actions. Ella, who actually killed the enemy combatant, received no formal recognition. Oops: This was made into a movie: Enemy Within 2019."
DangleAteMyBaby
How have we never heard these stories?
Aloha
"It's been batted around a few times in Hollywood but the history of how the ancient Hawaiian Islands were united under one man to form the Hawaiian kingdom is epic."
shaka_sulu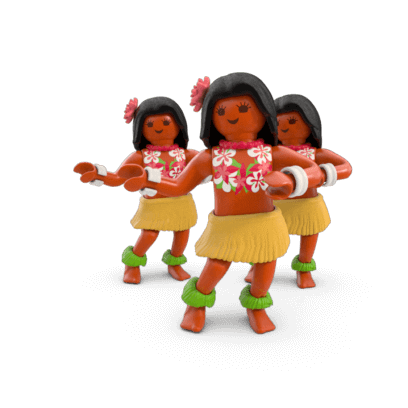 Happy Dance GIF by PLAYMOBIL
Giphy
1943
"Syndrome K. In 1943, a hospital in Rome located next to a Jewish ghetto, let Jews fleeing Nazi raids hide there. The professors in charge admitted Jews under the fake diagnosis of 'Syndrome K,' described as a highly contagious and dangerous disease. This successfully kept the Nazis out of the quarantine wards and the Jews safe for the duration of the war."
Grey_Gryphon
Invasion
"The Spanish Invasion of The Aztec Empire by Cortés. There are so many unbelievable events that led up to the fall of Tenonchtitlan and Monteczuma II reign."
neildegraciadyson
"A really good one is Hernán, it has a great production value and portrays it quite accurately from many perspectives, from the Spanish, Aztec, Malinche and from the Tlaxcaltec - I highly recommend it. https://m.imdb.com/title/tt9645942"
throwiesthro
Hey Girl
"Unless it's been done already, the life story of Ching Shih. She was a Chinese prostitute that was also deadliest pirate of all time. At the height of her power, she commanded over 800 large ships, 1000 smaller vessels, and over 70,000 pirate crew, comprised of both men and women."
randomguy987654321
"She was referenced in Pirates of the Caribbean: At Worlds End. She's in the cast list as Mistress Ching... it would be so cool to see this."
mistymountaintimes
shenanigans...
"The time John Adams and Benjamin Franklin were in France trying to gather support for the revolution and all the shenanigans they got up to."
marble8888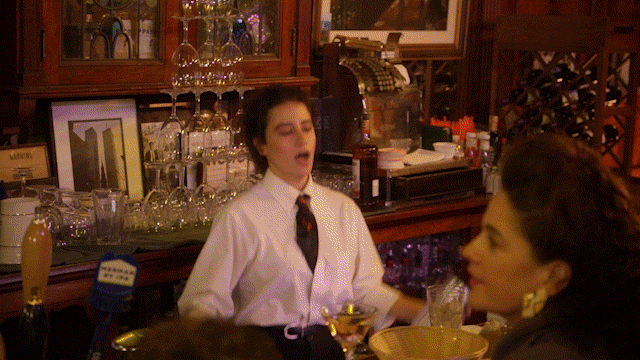 Season 5 Drinking GIF by Broad City
Giphy
Are you listening Hollywood? There is money here.
Keep reading...
Show less
I admit, and this might as well be heresy to lots of people, that I just don't like Willy Wonka and the Chocolate Factory.
Sorry, everyone.
I know ya'll love it, but there's very little about it that I feel accurately captures the feeling of magic and whimsy that I experienced while I read Road Dahl's stellar book.
Before you get on my case, I'll emphatically deny liking Tim Burton's Charlie and the Chocolate Factory... because it's also terrible.
You just can't please some people (namely me), right?
People shared their thoughts with us after Redditor Dame87 asked the online community,
"What is a film that gets a huge amount of praise but you think is awful?"
Paranormal Activity (2007)
"Paranormal Activity. I've seen scarier crap in a public toilet."
hushabyesecret
When it came out it was pretty freaky and I still wasn't in love with it. It's the definition of average.
The Notebook (2004)
"The Notebook. Both leads are so unlikeable and horrible to each other it's not even enjoyable in a 'so bad it's good' way."
"Especially when she actually breaks up with him, gets in a stable relationship with another guy who's not awful...and then ditches that guy to get back with the main love interest because respectful relationships are sooo boring, everyone real love requires being unable to be in the same room without coming to literal screaming matches."
dumbest-thotticus
Honestly, aside from some very good acting, the script of this film is pretty terrible.
But it's Nicholas Sparks, we're talking about.
The Blind Side (2009)
"The Blind Side. They turned an interesting real life story into Hollywood crap."
pamela9792
Even the film's subject dislikes it.
Sandra Bullock beating her competition for THAT? She was much better in Gravity.
Frozen (2013)
"Frozen. I hate it too much, but I can't help it. People kept saying how it was the best Disney movie ever and it wasn't even top ten."
MrWapuJapu
Disney really did this film a disservice by shoving it down everyone's throats for much of the last decade.
Les Miserables (2012)
"I know Les Misérables was super acclaimed and all that, but it was really nothing like the book. It made me sad."
jeff-the-nurse
It wasn't meant to be an adaptation of the book, it was meant to be an adaptation of the musical (which a lot of people don't like because it condenses many of the elements from the book).
That said, I can't stand this film either. It's horribly directed.
Crash (2004)
"Crash won Best Picture, Best Original Screenplay, and Best Film Editing awards. Received six Academy Award nominations. I thought it sucked."
[deleted]
You mean the film in which Sandra Bullock is cured of her racism after she falls down the stairs?
Grease (1978)
"Grease. I HATED it. I can appreciate the choreography, but the storyline is awful, cheesy (not to mention misogynistic, which at my first viewing I didn't know what that was). Couldn't stand Stockard Channing's character. Really bad acting too."
GuardMost8477
It's just a bit too hokey for my taste – it makes it difficult to enjoy.
I did see a stage production years ago that was a lot more fun.
Black Panther (2018)
"It has a nice looking setting, and it was good to see a movie featuring a majority black cast with a positive/comic book storyline rather than the stereotypical urban/hang setting. So to that end it read a good movie."
"At the same time, it was also just yet another unmemorable marvel movie - I know I have seen it, but I have no memory of what actually happened in it. Remove the political/seeing element of it and it gets completely lost in the crowd."
mrsyns
Considering that Marvel films do absolutely nothing for me, I was not surprised by Black Panther or the fact that it was more of the same.
Meet the Parents (2000)
"Meet the Parents. It's just two hours of being vicariously stressed out and embarrassed for Ben Stiller."
jaycuboss
Something tells me this movie likely has not aged well. It would not surprise me at all if this turned out to be the case.
Avatar (2009)
"Avatar. It's just Pocahontas in space, God dammit."
fretfulmushroom
I prefer Dances with Wolves in space myself.
I rewatched this earlier during lockdown and dropped my DVD off at a local community center afterward. And who the hell asked for three more sequels?
We all have our tastes, sorry to disappoint. Besides, we're certain that you have a film or two you dislike in your arsenal.
Have thoughts about other films that are not included here? Feel free to tell us more in the comments below!
Keep reading...
Show less
There are few feelings that fill me with more joy than the thrill of seeing a great movie. And let me tell you: When I find a great movie, I'm not afraid to revisit it time and again.
I recently rewatched Jurassic Park for the first time in years. How could I ever get bored of it? How could anyone? It's pretty much a perfect film. Those effects really haven't aged a day. Trust me, after really making the grave mistake of sitting through Jurassic World: Dominion, I was in dire need of something with considerably more substance. Jurassic Park is perfect.
People told us about some of their favorite films after Redditor HBomb101112 asked the online community,
"What film do you see as a cinematic masterpiece?"
The Thing (1982)
"John Carpenter's The Thing, a masterpiece of horror, suspense, and special effects that has yet to be beaten."
Daigey
The Thing is exceptional and likely the gold standard by which all subsequent horror remakes have been measured.
City of God (2002)
"When I saw City of God I thought it was a masterpiece. Haven't seen it in years, but that's how I remember it."
CreepyLaw5186
A chilling film. Almost everyone in it is an amateur actor and the work they do is so wonderful.
The Good, the Bad, and the Ugly (1968)
"The Good, the Bad, and the Ugly, for its cinematography, soundtrack and storyline."
Villa-restal
The score is a work of genius. Ennio Morricone was just sublime.
The Lord of the Rings trilogy (2001, 2002, 2003)
"The Lord of the Rings trilogy. All of them, just beautifully filmed, perfectly cast and expertly put together. I don't think we'll ever get something as good as that again."
KalitheDryad
Not one single role was miscast. It's impressive. They nailed like literally everything.
Jurassic Park (1993)
"Jurassic Park. The movie delivered well on its promise to show us dinosaurs."
SuvenPan
This is a movie that has aged like a fine wine and that looks so much better than any of the Jurassic World films that have been in cinemas these last few years.
No Country for Old Men (2007)
"No Country for Old Men."
"Cormac McCarthy is one of the greatest American authors of all time, and yet the Coen Brothers adaptation is better than the novel. And the coin flip scene at the gas station? Incredible."
[deleted]
This is truly a perfect film. I'd say the novel and the film adaptation are pretty much on par.
Children of Men (2006)
"Children of Men. Your heart nearly breaks for a future that doesn't even exist, except that you feel it possibly could exist."
daveescaped
I saw this again a few months back and it feels more relevant than ever, especially in the context of the climate crisis.
Whiplash (2014)
"Whiplash. J.K. Simmons as a sociopathic band conductor may be the most realistically harrowing villain I've ever seen."
marmaloser
And he won the Oscar for it! Clearly the Academy felt he was doing something right.
Crouching Tiger, Hidden Dragon (2000)
"Crouching Tiger, Hidden Dragon. Top 5 for me. Absolutely brilliant film. The scene in the bamboo trees was so beautiful."
thomriddle45
Along with being visually stunning, it's also one of the greatest film titles of all time.
The Grand Budapest Hotel (2014)
"In The Grand Budapest Hotel, it seems like Ralph Fiennes was made for a Wes Anderson movie."
highlander2189
He pretty much was — and can you believe he missed out on an Academy Award nomination for the role? What a sin!
There is no shortage of good movies out there, and some are even exceptional or great. In another 20 years we'll be able to see what movies that came in the last few years have stood the test of time.
Have some suggestions of your own? Feel free to tell us more in the comments below!
Keep reading...
Show less
Movies. Stories. Tears.
All three are a perfect fit.
Film and entertainment allow us freedom to feel everything.
As Nicole Kidman says in her infamous AMC commercial, "heartbreak feels good in a place like this."
Maybe that's why we're meant to watch in the dark.
Redditor rollneers02 wanted everyone to fess and chat about what works of cinema have left us in tears. They asked:
"What's a movie that's genuinely made you cry?"
I love to cry at movies. It makes me feel human.
Gone By...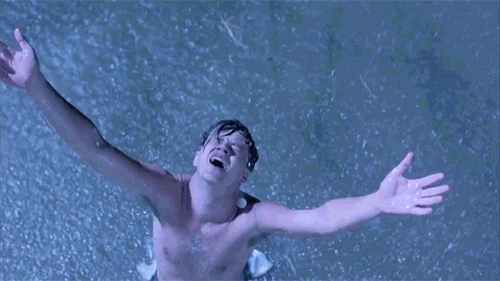 Happy Shawshank Redemption GIF
Giphy
"The scene in Shawshank Redemption where the elderly man laments how quickly time passed."
mojichana
Dear Dad
"Big Fish."
BelicianPixieFry
"This movie for me too, my dad is also a tall tale teller and he passed away last year. At his funeral all of his different friends showed and retold some of his crazy stories but just slightly different. Made me realize that some of his stories were true and I was living in a real life big fish movie."
Unable_Mountain_5524
Never Again
"Fox and the hound when the hound can't be the foxes friend anymore."
_manicpixie
"I can not watch that movie at ALL!!! Right after my mom died I went to her house. That movie was in the VCR. When I hit play the movie as at that song about letting go if you love something. I just LOST IT right there. To this day I will not watch that movie and prob never will."
tectuma
Oh the Tears...
"Bridge to Terabithia. The guilt of that kid for the rest of his life."
trieditdidntregretit
"First time I ever saw my Dad cry. He thought I'd be a great Father-Daughter movie night. I just rewatched it recently and it still makes me cry."
Professional_March54
"This book and Stand By Me both made a sizeable impression on me during my youth. I hope to share these experiences with children of my own one day."
Tough-Requirement736
The End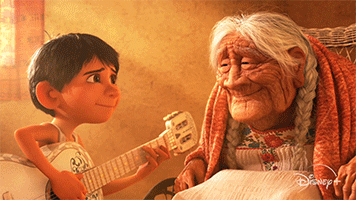 Disney Pixar GIF by Disney+
Giphy
"Coco, g*ddamn Coco. I was not expecting bawling my eyes out in the last 15 minutes."
SourFartsSniffer
I can't with some of these movies. My heart can't take it.
I Hate Bees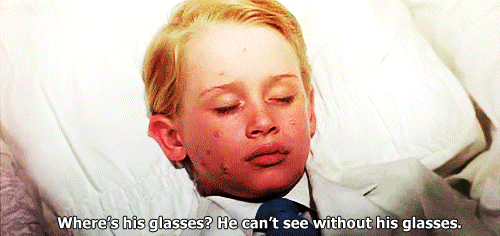 sad macaulay culkin GIF
Giphy
"My Girl."
slowgoing33
"'Where's his glasses? He can't see with his glasses! It's not fair he needs his glasses to see!!'"
Ricarfo-
Let's Play
"Field of Dreams, when he's playing catch with his dad. Also, the end of The Truman Show hit pretty hard."
YteKnight696
"I can't believe I had to scroll this far down to see this one. My dad died about 20 years ago, and I would give almost anything to have a catch with him again. When Ray says in that choked up voice 'hey dad, wanna have a catch?' I just lose it."
rockychunk
Every. Time.
"It's dumb, but the first movie I ever cried for was 'Click' with Adam Sandler. That scene where his father dies and he wasn't there because the use of autopilot, so decided to revisit the last time he had seen him. His dad tells him he loves him and the autopilot version of him doesn't give a crap, but the real him starts to cry and play the words 'I love you son'' on repeat. THIS. Has me every time."
Waytootired4this
Hey Boss
"The Green Mile."
CurlSagan
"I cried so hard watching that movie that I can't bring myself to rewatch it. Once was enough."
cmc
"Brilliant and awesome story that was understandable for a 7 year old me to start ugly sobbing for an hour in my aunt's house lol. I think it was the first time I encountered feelings against injustice and the staggering helplessness that you can't do anything to stop what's happening."
"God, it still feels like yesterday and I'm nearing 30. But the ice cream and toys I got was good too. My auntie had to bring me to the mall because I was inconsolable and continued crying on the way there. I only stopped when I had to pick an ice cream flavor lol."
Queen_Merneith
It's Ugly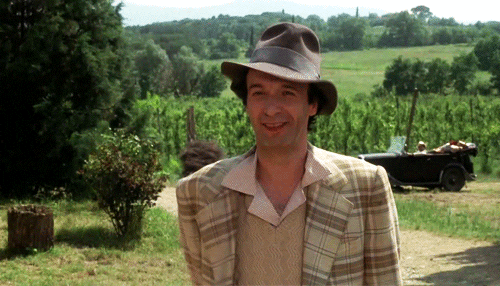 life is beautiful film GIF
Giphy
"Life Is Beautiful."
dashing-away
"Came here to say this title. I've seen it once, when I was in high school around the time it came out, and I still tear up thinking about certain scenes."
ErrantCrayon
Last Breaths
"Hachiko (old and modernised version). Both versions are just as sad. It's based on a true story. For those who don't know, it's about a bond of a dog and an owner. The owner walked to the train station to go to work and always brought his dog with him and the dog would always wait for him at the train station until the owner returned. The owner then died while at work and the dog continued to wait for him at the train station every single day for 9 years until his last breath."
I love movies. They make my tears feel free.
Keep reading...
Show less
One of my favorite horror films ever is Black Christmas (1974). It's the perfect slasher film. It's scary. It's uncompromising. It's sordid. It's eerie. It leaves you with a horrible feeling in the pit of your stomach. It features some great acting, too! There are some powerhouse talents in it, including Olivia Hussey, Keir Dullea, Margot Kidder, and Andrea Martin.
But did you know that the film has been remade? It's been remade twice, as a matter of fact. The first remake, which was released in 2006, was so ridiculous. Not even Martin, who showed up in a glorified cameo in the role of a sorority house mother, could save it.
It was remade again in 2019 — this one bore few similarities to the films that came before it. One wondered why this one even had the same name, but there you have it.
Suffice it to say that the original Black Christmas is untouchable. But it is not the only film out there that should never have been remade. Far from it.
People shared their thoughts with us after Redditor CrescendoX asked the online community,
"What movie is so perfect that if it would remade, it would be a crime against humanity?"
Misery (1990)
"Misery. I could totally see a remake of Misery that used the way social media creates parasocial relationships so prevalently."
DocBenzanone
But let's not. I mean, who could ever replace Kathy Bates? She won an Oscar for the role!
Who Framed Roger Rabbit (1988)
"Who Framed Roger Rabbit."
I've seen the animation they've done for some of these new "live action meets cartoons" things.. The work the art/animation team put into Who Framed Roger Rabbit is STILL to this day putting them to shame."
TONKHANAH
A good choice. It was a pretty groundbreaking film and it's still influencing filmmakers to this day. That cast!
Aliens (1986)
"It would be impossible to remake that perfect movie. The cast, story, and practical effects are wonderful. A remake would be full of CGI and a BS script."
[deleted]
Don't you dare suggest this! Don't you dare give those horrible Hollywood execs any ideas!
Spaceballs (1987)
"Spaceballs. I don't want any other version."
OllieAreOllio
But think about the merchandising!
Spaceballs 2: The Search for More Money
Jaws (1975)
"Jaws. I read somewhere that Spielberg won't let it be remade."
ferox965
If someone did someday remake it, I would highly suggest they remove a lot of the unnecessary subplots that are in the book!
Did we really need that affair?
The Silence of the Lambs (1991)
"The Silence of the Lambs. Remakes should only be attempted when you are sure that it can outclass the original but Silence of the Lambs cannot be outclassed."
[deleted]
Two Oscar-winning performances. It doesn't get any better than Anthony Hopkins and Jodie Foster. The film is a masterclass — the Criterion edition is especially beautiful.
Stand by Me (1986)
"Stand by Me. It would be an insult to River Phoenix and many others to remake that."
Gluonyourbosom
This film is so highly regarded that a remake just seems foolish. Why even bother attempting one? Go and read the novella instead.
Back to the Future (1985)
"Back to the Future. Please please please PLEASE don't ruin it with a remake."
Frodo_noooo
As long as Robert Zemeckis doesn't kick the bucket we're safe!
Uncle Buck (1989)
"Uncle Buck. Don't you dare touch it."
Wokonthewildside
Without John Candy that would be like trying to remake the ceiling of the Sistine Chapel in a Denny's with only ketchup and mustard. Just a tragic, ill-conceived imitation.
My Cousin Vinny (1992)
"My Cousin Vinny. Joe Pesci's performance is perfect."
[deleted]
Hey, don't forget Marisa Tomei! She stole the show. And she won an Oscar for the role!
The list of movies that should not be touched is endless and you no doubt have your opinions.
Which movies should be left the hell alone? Feel free to tell us more in the comments below!
Keep reading...
Show less