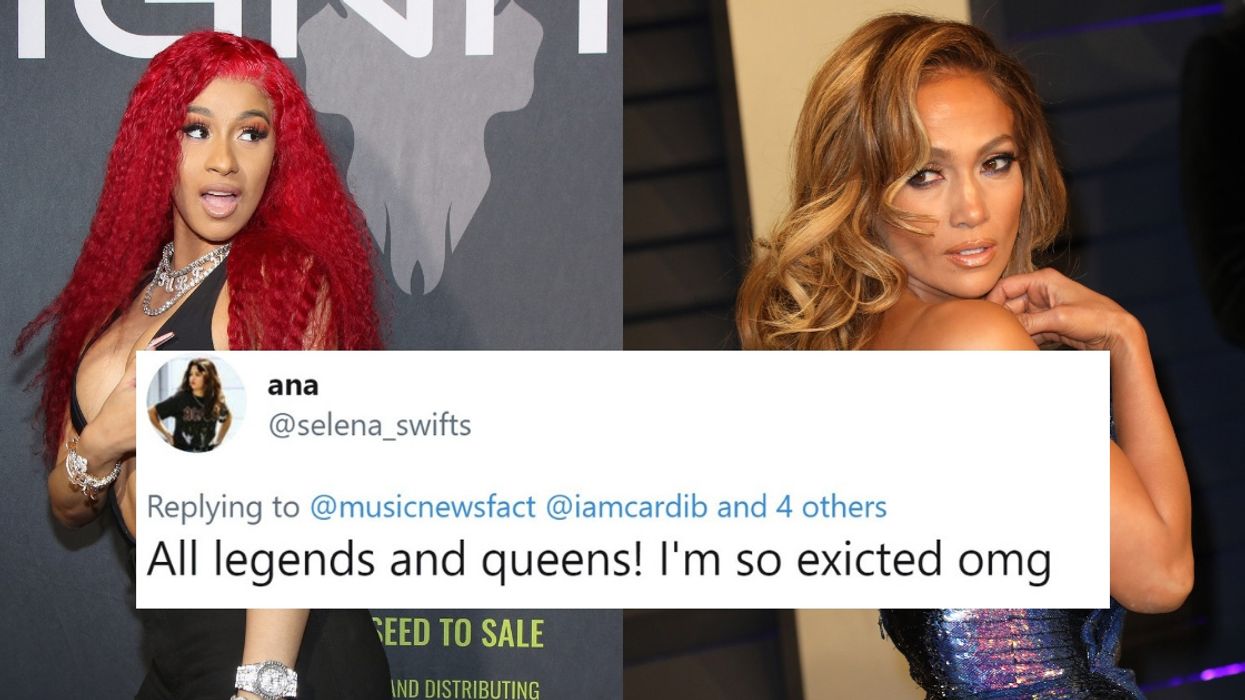 Randall Michelson/Getty Images for Ignite; Tony Barson/FilmMagic/Getty Images; @
selena_swifts
/Twitter
Cardi B is going to the movies!
Deadline has just reported that Cardi B is making her big screen debut along side Jennifer Lopez in a movie about strippers getting revenge on their Wall Street clients. The film is called Hustlers, and will be written and directed by Lorene Scafaria.
Cardi has previously worked with Lopez on the song Dinero, but this will be their first time in a movie together.
This is a pretty big step for the recent Grammy winner.
@Collider @HustlersMovie @iamcardib @lilireinhart @KekePalmer @ConstanceWu @JLo @LoreneScafaria Cardi you're gonna KILL IT SIS! ❤️

— Cardiana 🔥 (@Cardiana 🔥) 1553029335.0
@musicnewsfact @iamcardib @ConstanceWu @JLo @KekePalmer @HustlersMovie All legends and queens! I'm so exicted omg

— ana (@ana) 1553027589.0
@Collider @iamcardib @lilireinhart @KekePalmer @ConstanceWu @JLo @LoreneScafaria Love this cast

— Trash Panda 🗑🐼 (@Trash Panda 🗑🐼) 1553015852.0
@XXL 'Dat's dope. Keep winnin' queen.

— Talksho (@Talksho) 1553084351.0
The movie is about a group of former strippers during the aftermath of the 2008 financial crisis. The women are working together to scam their Wall Street clients out of money
Adam Fogelson, chairman of STXfilms which is producing the film, said,
"We could not have asked for a more exciting or talented lineup of performers to join our cast."


They will be joined by an all-star cast, including Constance Wu, Keke Palmer, Julia Stiles, and Lili Reinhart. More names are in talks for the film as well.
@musicnewsfact @iamcardib @ConstanceWu @JLo @KekePalmer @HustlersMovie Constance underrated

— 🅢🅔🅣🅗 (@🅢🅔🅣🅗) 1553041712.0
@PopCrave I'm so happy for Cardi, it's always good to see a women be a badass & turn the tables. I love me some Kek… https://t.co/CF18Fz4MLf

— Tay (@Tay) 1553122664.0
@shadowandact @iamcardib @JLo @ConstanceWu @KekePalmer @lilireinhart + you're doing phenomenal huntaaayyy!! https://t.co/0pfFnbcHGs

— levauni, (@levauni,) 1553027560.0
Cardi has a little history with acting. She starred in seasons 6 and 7 of Love and Hip Hop: New York. More recently she guest starred on an episodes of the BET drama, Being Mary Jane.
This movie will be the rapper's first film, and it feels poignant that she is playing a stripper. Cardi has made no secret of her previous profession, and would like to see it better respected.
In an interview with Cosmo last year she said,
"People ask, 'Why did you strip?' I don't really want to say, 'Oh, because I was in a relationship with a guy and I needed money to leave.
"People say, 'Why do you always got to say that you used to be a stripper? We get it.' Because y'all don't respect me because of it, and y'all going to respect these strippers from now on."
@PopCrave this is gonna be epic

— Pooja! (@Pooja!) 1553049159.0
@shadowandact @iamcardib @JLo @ConstanceWu @KekePalmer @lilireinhart I can't wait for this

— Tiffani (@Tiffani) 1553112868.0
Filming for the new movie is scheduled to begin at the end of the month in New York City. This movie about dynamic women scamming rich men out of money cannot come soon enough.
Keep reading...
Show less
Crazy Rich Asian star Constance Wu took our breaths away at the Oscars on Sunday in her yellow Versace tulle gown.
Not only did she entrance those in attendance at the Kodak Theater in Los Angeles in all her shimmering glory, but the gorgeous actress also made hearts flutter on social media.
But there is more to the color yellow. Many of the comments on Instagram saw a nod to Belle from Beauty & the Beast, but for Wu, the golden hue of her gown had more significance.
"Such an honor to present at the Oscars tonight in custom @versace and @swarovski," she wrote on Instagram, followed by a heart emoji.
And she went on to explain why she said "yes" to this dress:

"I chose this color because it made me happy and also was inspired by @jonmchu 's moving letter to @coldplay about our movie's closing song cover of "Yellow" in @crazyrichasians."
The accolades came pouring in.


@constancewu/Instagram

@constancewu/Instagram

@constancewu/Instagram
Wu mentioned that CRA director Jon M. Chu had been looking for the perfect song to close out his touching romantic comedy on a poignant tone and looked to Coldplay's catalogue of songs to hit the right emotional punch.

There was no other obvious choice than their hit single "Yellow" from their album Parachute. Chu reached out to the band to use the song despite Warner Bros. Studios cautioning against it.
Referring one's skin tone to the color yellow is a slur against Asians due to its differing hue from Caucasians. It is an unfair misconception that has long been seen as insensitive, but that is exactly the reason why Chu decided to use it.
"We're going to own that term," he told the Hollywood Reporter. "If we're going to be called yellow, we're going to make it beautiful."
Coldplay had misgivings about honoring Chu's request after having been criticized for misappropriating Asian culture with songs like 2012's "Princess of China" and 2016's "Hymn for the Weekend."
But Chu persisted since no other song resonated with the same impact as "Yellow" did for CRA's ending.
So he wrote to band members Chris Martin, Guy Berryman, Jonny Buckland, and Will Champion, and explained why he needed to use their song.
"[The word 'yellow'] has always had a negative connotation in my life ... until I heard your song."
"I remember seeing the music video in college for the first time on [MTV's] TRL."
"That one shot with the sun rising was breathtaking for both my filmmaker and music-loving side. It immediately became an anthem for me and my friends and gave us a new sense of pride we never felt before."
Coldplay granted Chu's request 24 hours after receiving his letter.

What seemed like a Hollywood risk—a full studio production featuring a westernized Asian cast not seen since 1993's Joy Luck Club over 25 years ago—became the surprise box office hit of 2018.
Wu is proud of her successes in addition to her role in ABC's sitcom Fresh Off the Boat, another show featuring an all-Asian cast since Margaret Cho's All-American Girl in 1994.
"We are not supporting roles," Wu told TIME magazine, referring to herself and director Chu. "We are stars on our own journeys."
Her fabulous yellow glow on the red carpet certainly underscored that metaphor.

Keep reading...
Show less