With so many scams and hoaxes on the rise, we have become wiser in identifying key factors that indicate a scam.
The pandemic has seen a rise in scam calls with fraudsters convincingly trying to make you transfer all your savings into another account before you lose all your hard-earned cash.
Some cons are downright threatening, with tricksters declaring you may go to jail if you don't make all your "late" payments towards a car you don't even own or have already paid off.

But now, many people can sniff a con from miles away.

Curious to hear from strangers online, Redditor Iapoties asked:
"What screams: 'This is a scam?'"
Do the following sound familiar?
Wrong Bank
"I had a bank text me on a local phone number that my bank card was going to expire. Not only was it a big red flag for me that it was a local number, but most of all that it was the wrong bank."
Cost Of A Job
"Any 'job offer' where they ask you to pay them for something."
"The worst is when it's a good offer, you take it, THEN they are like oh btw in 2 weeks you have a mandatory training that costs $500 we just garnish it from your first 4-5 checks so nbd."
'Accidental' Pay Check
"Someone 'accidentally' paying you too much by cheque, and asks you to pay them, or others, back in cash."
"you know that cheque is gonna bounce."
Looking For A Sugar Baby
"Hello baby. Am Williams Johnson. Am a widow looking for a sugar baby. You will get an allowance of $500 every week: message me on Snapchat or kik. Snapchat: WilliamsJohn Kik: CharlesSmith2"
Some fraudsters think they know you on a first-name basis. They're wrong.
Not Your 'Hun'
"'Hey hun!' from someone you haven't talked to since high school."
Last Name Basis
"I have a great screener for this: I go by my last name socially. So if some random from my past messages me on Facebook with a 'hey FirstName! How are you? Got some exciting stuff to tell you about!' - I know immediately its a trap."
It's a shot in the dark, but most times, a scammer's target is way off.
A Family Member In Trouble
"Someone calling saying your child or grandchild is in jail in another state. Bullsh*t."
– 629mrsn
Not A Car Owner
"Getting a call saying that a car under my name or that I own may have some problems *I don't have a car*"
Wrong Device
"Your Iphone has a virus, click here to fix"
"ANDROID."
Downloading Server Software
"Free_Minecraft_No_Virus2021.exe"
During my first winter in New York City years ago, I bumped into a man whose glasses fell on the snow. When he picked it up, it was severely cracked and the frame was dented.
It. Fell. On. Snow.
This swindler proceeded to berate me for my carelessness and said he would let it slide if I gave him $300. Of course I told him I didn't have that kind of cash on me, to which he responded with: "I'll go to the ATM with you."
I countered, "give me your name, address, and phone number, and I'll be sure to cut you a check for the glasses."
He huffed and puffed and turned his back on me in search of a more gullible victim.
I had yet to see a Broadway show since arriving from LA, but I sure got a heck of a performance that day.

Keep reading...
Show less
With lightning speed credit card processing and a never-ending stream of spam emails, the using the internet has become synonymous with scam-awareness.
And that's fair. There are so many people out there, all trying to swindle the most gullible among us out of their hard earned cash.
But our preoccupation with having our heads on swivels sometimes pushes us to shut our ears to genuinely worthy services. The trick is maintaining scrutiny without completely putting on the blinders.
That's easier said the done, so Redditor resilientiddle asked for some help:
"What do people think is a scam but they just don't understand?"
Many people described the brass tacks transactions and negotiations that tend to be lumped in with other, slimier financial maneuvers.
Just because it has to do with banks, fees, and payment, that doesn't mean it's not worth our time, money, and trust.
More Money is Still More Money
"We had a gal in the telco who was retiring under a surplus - meaning they would pay her so much for each year she worked, in addition to her pension. She turned the money down because she didn't want her taxes to be too high. I didn't know her and heard about it after she left."
"The Union guys tried to explain it but she just would not listen. I don't know if she thought it was a scam but she didn't trust the IRS."
-- ta0questi"
Declining pay rises because they think they'll pay more in tax and their take home will be less than before the pay rise."
Shutting Out a Major Convenience
"My dad and online banking. You can check your balance, make transfers and even set up standing orders. 'But my account will get hacked' is his response every single time."

Zooming Out
"The stock market. Lots of people over worry about the short term, withdraw once it dips and never put back in. Never realizing the magic is in the long term"
-- dajadf
In Their Defense, That Must Have Been Weird At First
"There was a time when my parents thought buying stuff online and paying with a credit card it's a scam, took me a while to convince them that if you know which sites are good to order from and which are bad, you can actually avoid scams."
Other people noted the things that do cost me money, but actually deliver on what they promise.
Stepping Stones
"Buying a beginning band instrument, then buying a step-up instrument within a couple of years" -- 75thTrombone
"Yes, yes yes."
"I think a beginner instrument is a good investment to see if the person sticks it out. But past that it's a complete waste of money. The difference in quality between a $100 guitar and a $600 guitar is night and day."
"When I started to get better at drumming as a kid, trying to explain to my parents why i needed the $200 splash cymbal instead of the $40 one was infuriating. I paid with my own money but they insisted it was a waste. I still have that $200 splash cymbal and it STILL sounds amazing. My cheaper cymbals literally exploded." -- Its-my-di**-in-a-box
They Did Fix the Thing
"The repair industry. I worked in home repair, small engine repair and computer repair shops years ago. A lot of people expected us to just fix things for free. Others would take it as an insult when we would quote prices or ask to be paid for a job."
"Send a bill and some people would ask why or what is this. Ask us why we were ripping them off even though the bill was itemized and the price was discussed before hand. It was a horrible industry to work in because of they way people are."
-- barvoues
Doesn't Come From Thin Air
"Some members of my family think internet providers are scammers because they pay for 400mbps download and think they will get 400mbps download on each device even if someone is watching Netflix or downloading at the same time on another computer."
-- themalaki
A Worthy Expense
"Therapy. People just can't fathom that just talking to someone who is not involved directly in your life can really help with processing and resolving a problem. You only get out of it what you put in."
Finally, a couple shared the things that we simply have to deal with to have some benefit in the long run. These expenses feel horrible in the moment, but they have the sad truth is they have their purpose.
Stay Fresh
"The air in bag of chips." -- gambit_
"It's actually nitrogen which is used to keep the oxygen out for an anaerobic (to deter bacteria) and non-oxidative (so chips won't get stale as fast) environment for the chips. I have heard they put less chips in the bags and less seasonings. I remember salt n vinegar Pringles in the 90s made me sweat now they don't do anything to me." -- IdiidDuItt
Just In Case
"Insurance. It's weird to pay for something that you hope not to use." -- Some-Basket-4299
"The sad thing is if you're unlucky a single time where you'd wish you had it can make up for a lifetime of paying in, so it's often better safe than sorry, at least with the most common ones." -- deviant324
So while this list by no means aims to get you trusting of all transactions and offers out there, hopefully it helps you stay open enough to take advantage of the legitimate ones.
Want to "know" more? Never miss another big, odd, funny, or heartbreaking moment again. Sign up for the Knowable newsletter here.
Keep reading...
Show less
Scams are abound on the internet.
But no matter how much we protect ourselves with two-step authentication and avoid opening malware-attached email from strangers, there is always a risk our private information might be vulnerable to being compromised.

But scams are also cloaked under the guise of what is perceived as normal, and it seems more Americans are being wise to the fact they have been duped for a long time.

Curious to hear about the sobering realizations of strangers, Redditor tycooperaow asked:

"What is clearly a scam but Americans have been conditioned to believe that it is 'normal'?"
Healthcare
"Politicians talk about the need for healthcare, but create legislation for healthcare insurance."
About Insurance
"I wouldn't mind health insurance so much if it actually functioned as insurance with fewer seemingly random underwriting stipulations that deny coverage."
"I pay into my car and rental insurance and have had little to no issue using their services when I need to."
"So why does health insurance constantly look for reasons to deny me service when I pay into it, and why do they have non-medical personnel deciding what is and isn't covered? Why is it my responsibility to argue with insurance about whether a prescription epipen or inhaler is 'medically necessary' after my doctor has prescribed it for its explicit intended purpose? Why is it that I can take an ambulance to the ER, be evaluated by medical doctors who then administer emergency care, and then have my claim denied by an administrative person at corporate HQ because they decided it wasn't an emergency and the hospital was out of network?"
The Middle Men
"Tax Filing."
"For the majority of wage earners, the IRS can easily determine how much you owe and tell you, or tell you what you're owed in a refund. It's simple."
"That they don't do so is only because tax preparation companies lobby lawmakers to keep the system as it is. Tax preparation companies only exist because they are legally allowed, middle men. They are slow, complicated, costly, and the opposite of free market efficiency."
Work Hours
"The idea that you need to work endless hours and never have time off."
"There are plenty of countries where people work reasonable hours, have five-week summer vacations and the economies don't fall apart."
"You are not lazy if you don't eat at your desk or while driving."
Considered Lazy
"Not only unsustainable, but almost unnatural if you look at most of human history. Usually humans only laboured as much as they needed to in order to put food on the table, and spent the rest of their time doing whatever (socialising, crafts, that sort of thing)."
"It's really only America's puritanical roots, combined with industrialist and capitalist propaganda, that's written that off as 'lazy.'"
Nuptials
"Wedding business. Everyone nowadays thinks their wedding has to be super grand and such. But paying +2500$ for a dress you can only wear once is super overrated in my opinion."
Girl's Best Friend
"Diamonds."
– adsvx215
"Diamonds have their uses in blades, industrial equipment. It's the prices of jewelry with diamonds that make my head spin while you can make perfect diamonds for cents per carat."
– sorean_4

Still Can't See The Logic
"Prescription eye glasses. They should be maybe $100 tops but we pay multiple times that for them."
Student Loans
"nobody is mentioning the push that 'college is for everyone! also you aren't able to default on your student loans so banks will give them to anyone. coincidentally, we started telling people that they should ALL go to college, no matter their situation, right after passing the bill that made student loans impossible to hide from.'"
– jude802

Better Than A Degree
"IT is an option. I managed to get a full scholarship in college, but really, the $600 I spent on a CCNA (I failed the first one) has been an enormously better investment than the time and effort I spent on my degree."
"And technology isn't going away any time soon."
About Buying Cars
"Car dealerships."
"They're literally just middle-man functions that do nothing more than raise the cost of the 'good' and produce taxation for the government on multiple levels of the transactions involved in purchasing a car through the third party."
Leave
Only getting 10 days worth of annual leave per year and then being encouraged not to use it
Pay me

"If you're not 15 minutes early, you're late." That adds up to 65 hours a year you should have paid me for. That is 8 full days of work.
Keep reading...
Show less
While there are plenty of scams out there that scream "SKETCHY" and drive most people away immediately, there are other shake-downs that operate pretty far below the radar.
In fact, these all-too-common ploys make one wonder exactly where the line between scam and rip off actually is.
They're not scams in the formal sense. Nothing illegal is happening and nobody ever lies per se. But all the while we're shelling out way more cash than we'd like for reasons we don't quite understand.
jungledolphiiin asked, "What's the biggest scam we all just accept?"
Want to "know" more? Never miss another big, odd, funny, or heartbreaking moment again. Sign up for the Knowable newsletter here.
Keep reading...
Show less
U.S. Army recruitment texts threatening civilians to enlist for "immediate departure to Iran" or face jail time is the latest scam alarming people in the Florida and New Jersey areas.
To be clear, Uncle Sam is not wanting anyone right now.

Buzzfeed News obtained screenshots of these fraudulent drafting notices indicating recipients were marked "as eligible and must come to the nearest branch...for immediate departure to Iran."

The U.S. Army warned people on Tuesday about the fraudulent draft notices after Army officials first heard from concerned parents and recruiters on Monday.
Below are the screenshots provided by the U.S. Army Recruiting Command.

The first text was received by people living in the Jacksonville, Florida, area.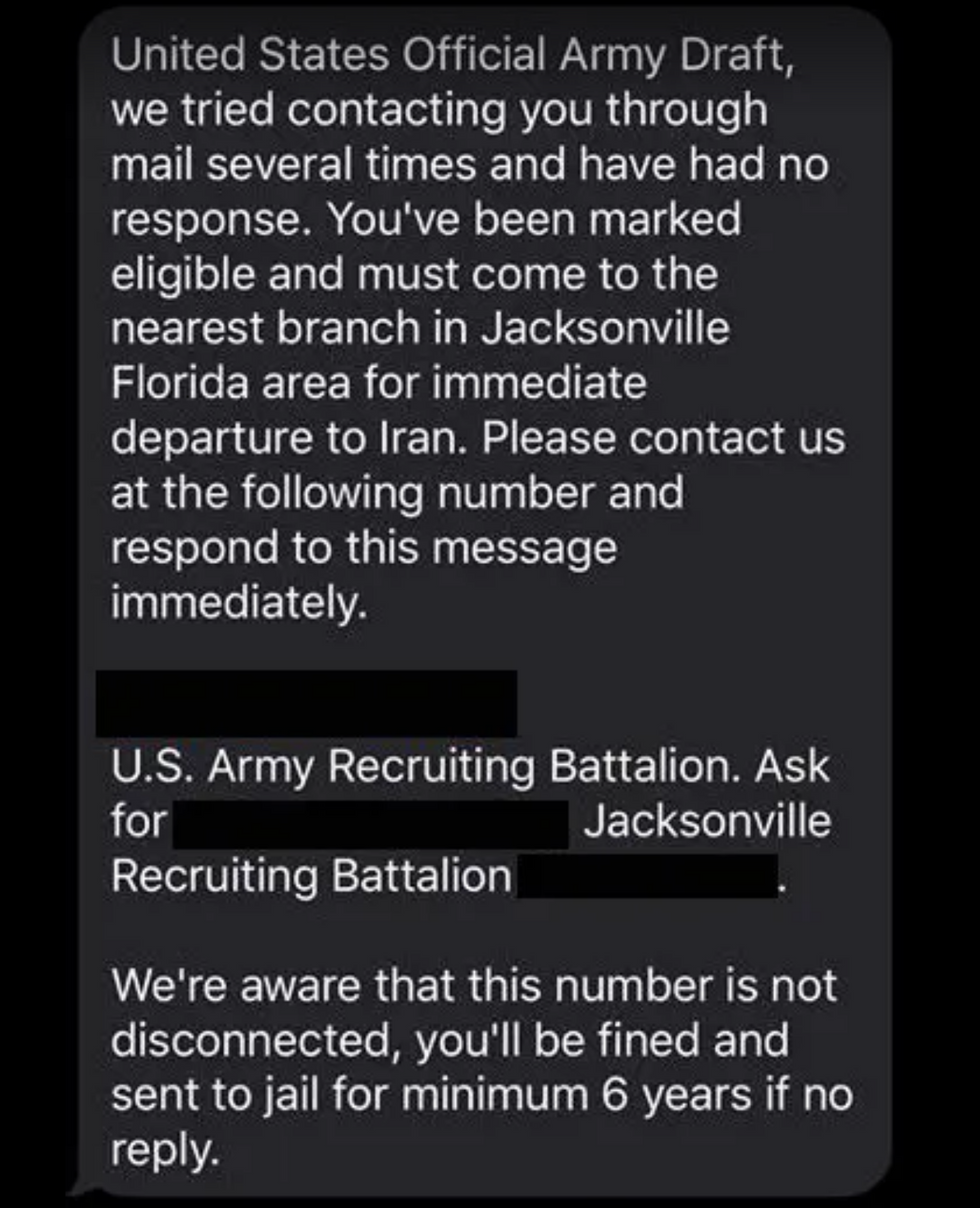 US Army Recruiting Command
The text reads:
"United States Official Army Draft, we tried contacting you through mail several times and have had no response."
"You've been marked eligible and must come to the nearest branch in Jacksonville Florida area for immediate departure to Iran."
"Please contact us at the following number and respond to this message immediately."
"...We're aware that this number is not disconnected, you'll be fined and sent to jail for minimum 6 years if no reply."
The second screenshot is a variation of the same notice but addressing residents living in New Jersey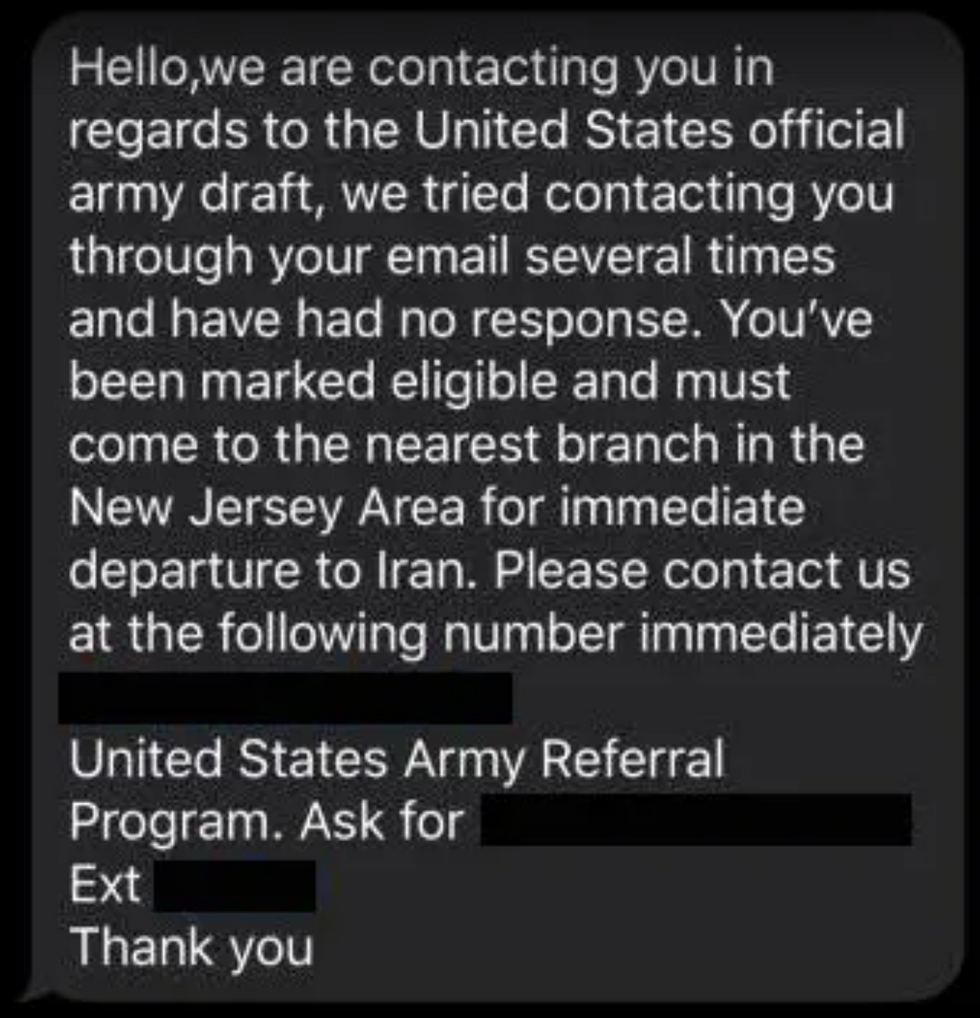 US Army Recruiting Command
"Hello, we are contracting you in regards to the United States Official army draft, we tried contacting you through your email several times and have had no response."
"You've been marked eligible and must come to the nearest branch in the New Jersey Area for immediate departure to Iran."
"Please contact us at the following number immediate."
US Army Recruiting Command (USARC) media relations chief Lisa Ferguson told Buzzfeed:
"We don't have any way of knowing if some areas are receiving more texts than others unless we were to query all 1,400 recruiting stations and more than 10,000 recruiters."
The USARC assured that the U.S. Army "is NOT contacting anyone regarding the draft."
Twitter had various reactions to the fake draft, including those who saw humor in gullible people.
According to these texts, training is the least of their concerns when the Army needs recruits sent to Iran NOW.

Others reminded the public that the Army does not reach out to you through a text.
The USARC website also clarified that the Selective Service System is the official U.S. government agency that manages registration and maintains records of people who are eligible for conscription.
Memes and jokes about people potentially getting drafted for World War III began circulating after General Qassem Soleimani was killed on January 3, 2020, in a targeted U.S. drone strike approved by U.S. President Donald Trump.
The USARC website states that the draft "has not been in effect since 1973," when it was used for the Vietnam War.

"The military has been an all-volunteer force since that time. Registering for the Selective Service does not enlist a person into the military."
The Selective Service tweeted that they are "conducting business as usual."
Those who are interested in volunteering to serve for the U.S. Army, however, can contact a local Army recruiting office.

Keep reading...
Show less