Romance novels, romantic films and TV shows, advertisements, and society at large has made the gift of flowers a symbol of love, condolences, well wishes, or congratulations.
The actual act of giving flowers goes back centuries to ancient Greece, China, Egypt, the Victorian Era, and has evolved even in the last 100 years. In 1917, advertisers made giving flowers to mothers and grandmothers on Mother's Day a staple of the holiday.
Different eras and cultures have changed the way we view the importance of flowers or even the meaning behind the type of flower we are gifting. It shifted to become a gendered gesture most prodominantly in the Victorian Era as a way to express specific feelings for a romantic partner because it wasn't acceptable to share emotions outwardly.
​For some reason, we still emphasize that gendered nature and restrict flower-giving to men and flower receiving to women. But what's wrong with a man getting flowers from a woman?
For some reason, we need to come up with an alternative gift for men so they don't feel emasculated (and that's on toxic masculinity). We wanted to find out what those gifts are.
So Redditor Charn22 asked:
"What is the male equivalent of buying a women flowers?"
Let's see what the men have to say.
Different kind of flower.
"I also enjoy flowers. My wife gets me the best Indica."
"Last Friday after a long day of work my girlfriend, who doesn't like weed, surprised me with a nice bag of Indica and told me to smoke for the weekend."
"I've been internally thinking about marriage a lot more this last week…"
"That's is what sealed the deal for our marriage!! She hunted down my favorite strain 100% pure DJ Short Blueberry…I looked for months found variations but never the original…made my year and was just a 'I love you gift,' no occasion; a keeper! 10 years and two kids later still in love!"
"That's love there."
- hassh
Don't buy anything at all.
"Thoughtful, romantic materialistic items are great, however I'd be more than satisfied with a hug and a kiss."
"Back rub. My wife actually enjoys rubbing my back. It's good to be me."
It's the little things.
"Some guys like gifts, some guys don't. I don't like gifts, but that's also because I've dated spoiled rich girls who expected them and that experience sort of ruined it for me. But there are other ways to show appreciation."
"My current girlfriend does this one thing that always makes me smile. I am a heavy sleeper and I have a hard time getting up early in the morning. She's a morning person so she's always up ahead of me so now she likes to get up while I'm still sleeping and makes coffee for me. She doesn't even drink coffee and at first didn't even know what proportions to use."
"It makes me smile every time because getting my morning coffee is the first thing I do every day. It's a small gesture but it's one I really appreciate because I always wake up very sleepy. She usually wakes me up getting back in bed and now that I know what she's doing, it gives me a great opportunity to show my appreciation in another way."
- vatoho
"You should, like, marry her and stuff."
- Xirokami
"I just about cried when my last GF first made me coffee in the morning... when no one's ever done that for you before it's a seriously big deal!"
- YouAreMT
"Nice to know some men appreciate it. My ex always took me doing stuff like that for granted. I even got up and did it DESPITE not being a morning person at all, but I was always a lighter sleeper so I was usually up first anyway."
Who doesn't love snacks?
"My late husband disliked going into stores, so I would often buy his favourite treats for him while shopping."
"Love me some snacks. Ice cream too. My son usually gets 'em all but sometimes the wife remembers mine and I'm stoked when she does."
"My ex loved 6 packs of beer and a foot long Bellacino's chicken grinder. I gave him that one year for Valentine's Day along with a VHS tape full of MMA fight matches to watch instead of going out to dinner. He almost cried. That was a good day."
Food is the way to a mans heart.
"'Honey, I was passing your favorite restaurant and I picked you up a cheeseburger and onion rings. I hope that's ok.' Yes, it's ok."
- mrmitchs
"My wife would have to call me to let me know she ran out of gas driving around trying to decide which place to stop at."
"I'd marry a woman who does that twice. hot diggity!"
Actually, maybe flowers aren't that bad of an idea.
"Buying a guy flowers."
"I would be very touched if a girl gave me flowers. I would never forget that."
"I love it when my fiancé buys me flowers. They look nice in the house, they smell nice, and it's a gift showing they care about me! There is literally no down side… unless it would completely shatter someone's fragile masculinity."
"My wife doesn't like getting cut flowers because she would prefer they didn't die for her "enjoyment." Potted flowers are okay."
"I don't dislike flowers, they are just invisible to me. If my wife puts a vase of flowers somewhere, I won't even notice until she points them out. Several times in the past, she has gone away for a week and come back and asked why I haven't thrown away the dead flowers. I never even noticed there were flowers there, let alone that they died, lol."
But it's not for everyone, just as not all women like flowers either.
"So I've seen men mention this a number of times on reddit. I therefore decided to get my partner some for his birthday (in addition to other things), and he was NOT impressed. It sucked."
- trilby2
"First time I ever bought flowers for a boyfriend he made it very awkward. 'Um, thanks? You don't buy men flowers.' Strict gender role adherence can really make a person miss out on small joys!"
- becklrn
"A direct equivalent would just be a nice plant. Personally I'm not very into flowers, they seem impractical because they wilt away after a few days. But a nice plant that can stick around for a while would be cool."
- collin-h
There are plenty of ways you can treat your partner and show your appreciation for them. What's important to remember that, regardless of gender, everyone is different.
We have to be specific and pay attention to our partners. Treating them like they deserve to be treated, with respect and adoration, is important and necessary to making them feel appreciated.
Want to "know" more? Never miss another big, odd, funny, or heartbreaking moment again. Sign up for the Knowable newsletter here.
Keep reading...
Show less
"Sisters are doing it for themselves." Y'all remember that song? One of the last century's best female empowerment anthems. How can you top Annie Lenox and Aretha? You can't, so you just bask in the glow. Sisters got it all under control.
But even though women are highly capable of anything, there are certain actions and everyday moments that just come a little easier. Sometimes women are just more in tune, or are built better for a certain situation. Let's discuss.
A Redditor who recently deleted their account left the interwebs with a question for the ladies, by asking:
What is easier to do if you're a woman?
I've always found women to be better actors right off the bat. I believe it's because women are less afraid to tap into emotion. And that can be because society said it was ok for them to do it from birth.
Hips Don't Lie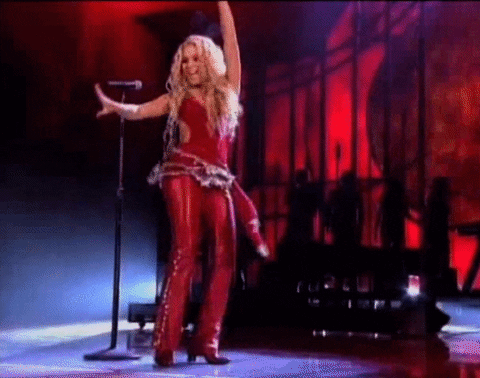 Shakira Hips GIF by Latin GRAMMYs
Giphy
"Carry anything on your hip."
"Anytime I carry something heavy and place it on my hip, it's like a part of my instinct awakens."
"I remember reading a while back that it is because girls have the equivalent of an extra week of development because they don't need to develop boy bits. I'm 25 week white/hispanic boy who survived the NICU in 1990. They were very very shocked."
- bros402
The Kids
"When I was babysitting once and me, the girl (7) and the boy (5) were playing in the street and a women came up and tried to take the kids away from me, asking all sorts of questions about who I was and if they were okay, she even asked if I was hurting them. She then tried to physically take them away from me. I imagine that wouldn't happen if there was a women looking after them."
Hold Me
"Physical contact? If I feel like it if I need a hug, I can just cuddle with my girlfriends. I don't think its' that easy for guys."
- LisslO_o
"Just specifically with girls though. I seem to make easier friends with guys and want to hug them but feel like it will get weird (as it has in the past). It makes me sad. Like, I love you, man and I want to hug you when I feel like it (not just when you're super sad and it's obviously a non-sexual hug)."
public cleaning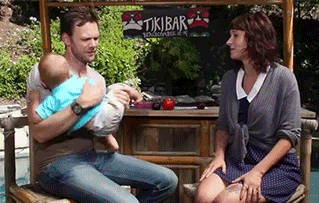 joel mchale baby GIF
Giphy
"Changing babies in public. Many men's rooms do not have baby changing stations."
- DJD119
I need better hips. And women can keep babies and all the mess that comes with them. Physical contact, why are men so adverse to it? So much therapy here to chat about.
No Questions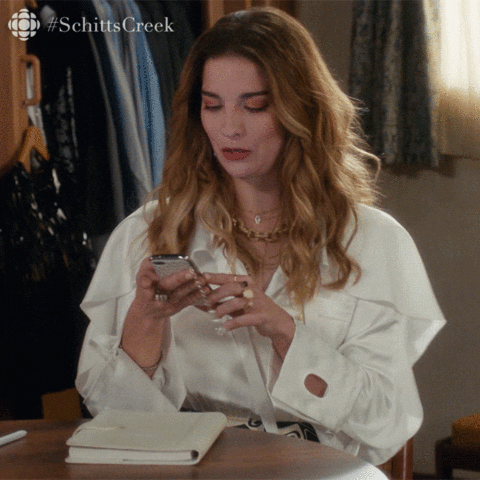 Helping Schitts Creek GIF by CBC
Giphy
"Help a child without suspicion or judgement."
- eliz1865
"Being around a child in general. I've been questioned when I was out with my son before."
In the Air
"Apparently women fighter pilots handle g-forces better than men, mainly due to being shorter and their heart not having to work so hard to pump blood to their brains (short men also handle g-forces easier for the same reason)."
"Yep. As a tall guy (6'4"), g forces mess with me big time. In fact, 2 weeks ago i passed out on an especially intense roller coaster. My wife, who was sitting next to me for the ride cackled with laughter when we saw the on ride picture and i was out like a light."
Will you tell her?"
"Compliment any complete stranger. As a dude, I have to very careful complimenting strangers. I will actually tell my wife, "check her hair out, it's super cool. Will you tell her?" And she will, and it made that stranger's day. Just wish I could do that more often without being seen as creepy. This especially applies to children. It's a big no-no for a 41 year old guy to compliment a child saying they look super pretty. Woman - no issue."
Sales...
"Since the majority of posts here are sexual, I'll bite: sales. Seriously females salespeople are on average much more successful than their male counterparts. In my industry (industrial sales), it's an open understanding that our typical sales contact (older middle-aged male) is much more interested in talking to females than males. Huge sales buff if you are young AND at least a little attractive."
"If you are a hard working, quick witted and social young female looking for a high paying job without education requirements, I would strongly encourage you to look into B2B sales. All of the technical knowledge you can learn on the job."
Man's Work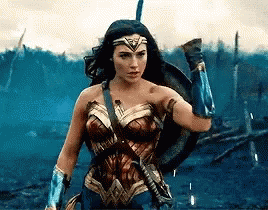 wonder woman GIF
Giphy
"Have someone help you with mechanical/electrical/car work. So many people believe men just know how to do that stuff and will look down on guys who don't. As a woman, people assume I don't know what I'm doing with that kind of stuff. Sexist, but helps me, I guess."
- kkohler2
The ladies got it going on. That's why I always think of my mom as a hero. There are just somethings men are never going to measure up to. That's ok, talent is meant to be dispersed.
Want to "know" more? Never miss another big, odd, funny, or heartbreaking moment again. Sign up for the Knowable newsletter here.

Keep reading...
Show less
There's an old saying that describes women as a mystery; however, today we're going to crack the case…well, at least a little bit. This thread allowed men to ask the questions they've always wondered about in a safe, informative zone. This can be difficult in face-to-face conversations where personal or private questioning is not always appropriate.
Keep reading...
Show less
Like male birds with vibrant feathers and complicated mating ritual dances, straight men will go to absurd lengths to win the attention of women.
Go to any bar or club. Scan the room and undoubtedly come across bicep-clenching shirt sleeves and loud male voices screaming into the ear of a less-than-enthusiastic listener on the dance floor.
That's not to say there are plenty of wonderful traits that draw women to men. There's a reason marriage and procreation continues.
But for all those success stories, there are so many instances that involve a man trying to win the heart of a woman using means that are antithetical to what she actually values.
Redditor Londoner421 asked:
"Women, what's the least attractive quality in a man that they usually think is attractive?"
Many women responded by describing the men who apparently feel the need to convince others that they're worthy of attention.
But nobody likes a sales pitch.
Call Now!
"Treating dates like an informercial for themselves." -- zazzlekdazzle
" 'But wait, there's more! Have sex with me within the next 90 minutes and you'll get not one, not two, but THREE extra orgasms! Be the envy of all of your friends with this limited one-time-only offer!' " -- nubsauce87
Wall Flower Opposite
"Over-confidence or the need to show off" -- Glasswall1
"*Famous last words: 'Hey guys! Look what I can do!!'*👍" -- AndringRasew
"TLDR: insecurity" -- lipcrnb
Nobody Cares, Dude
"Bragging about having money" -- lockdownhype
"My love will take you around the world, but my bank account won't get us past the airport." -- InternetKidsAreMean
"Nice. I'm broke af" -- RogueDeku
A Fine Line
" 'Knowing' everything. Sure, intelligence is nice, but it's fu**ing transparent when you start bullshitting just so you don't have to admit there's something you don't know. Especially if I do know it."
-- vikraej
Other women talked about the more toxic elements of masculinity.
Nope.
"Being overly aggressive with other people. Like, you are out at a club with him and he is ready to pick fights with anyone who (he thinks) looks at him or me wrong."
"I think it makes them feel macho but it's a huge turn off for me. It's happened a few times, and the last time I just turned around and took a car home."
Pure Rage
"Expressing the need to be violent without any real cause or hint that they enjoy being violent. It just outright frightens me being anywhere need people that do that."
We Are Not Apes
" 'Alpha male' 🙄" -- justputonsomemusic
"An unstable, early iteration of male. Needs further development and testing before public release." -- DoomCircus
And other women lamented all the men that seem to think attraction is a zero-sum game. These guys apparently felt that the only way to look good is to push a possible "threat" away.
Just Be Nice
"Putting other people down, to make themselves look better."
"No, you are not making yourself look better. You're being a di**."
-- maszah
Again, Nobody Cares.
"The one up man. Almost always dominates the conversation and one ups everyone else's experiences and replies. Shows me you're immature and can't hold a conversation without the focus being on you."
Just Sloppy
"Guys and/or girls who pride themselves on being able to out drink or outsmoke everyone until they're a blubbering mess. Or doing a bunch of drugs."
"They think they're so epic but it's honestly embarrassing when it's a constant and people have to babysit you during a get together."
Hopefully, at least a few men will come across this list and check themselves the next time they feel a fight or a boast welling up.
Want to "know" more? Never miss another big, odd, funny, or heartbreaking moment again. Sign up for the Knowable newsletter here.
Keep reading...
Show less
Despite the toxic stereotype of an unfeeling, "tough guy" persona, men face feelings of loneliness, depression, and other serious issues as well. Unfortunately, not enough people are willing to discuss these sensitive topics as society has put so much pressure on men to hold these things in.
Sadly, although men often experience more life-threatening depression than women they often untreated or hold it in due to stigma. Something we should all be working to break down.
One Redditor wanted to bring to light some of the issues men are facing today that often go unnoticed.
slowskyincog22 asked:
"What are some men's issues that are overlooked?"
Keep reading...
Show less