When you were a kid, what made you look forward to the end of the school year?
All the end-of-year parties and movies during class?
The promise of summer?
No schoolwork for two to three months?
How about the chance to roast your teacher with dank memes?
Angelina Murphy is a high school English teacher. Like many teachers in this day and age, she is active on social media, sharing her teaching games, classroom ideas, and an Amazon Wishlist to add new books to her classroom.
However, she recently went viral for her end of the year tradition.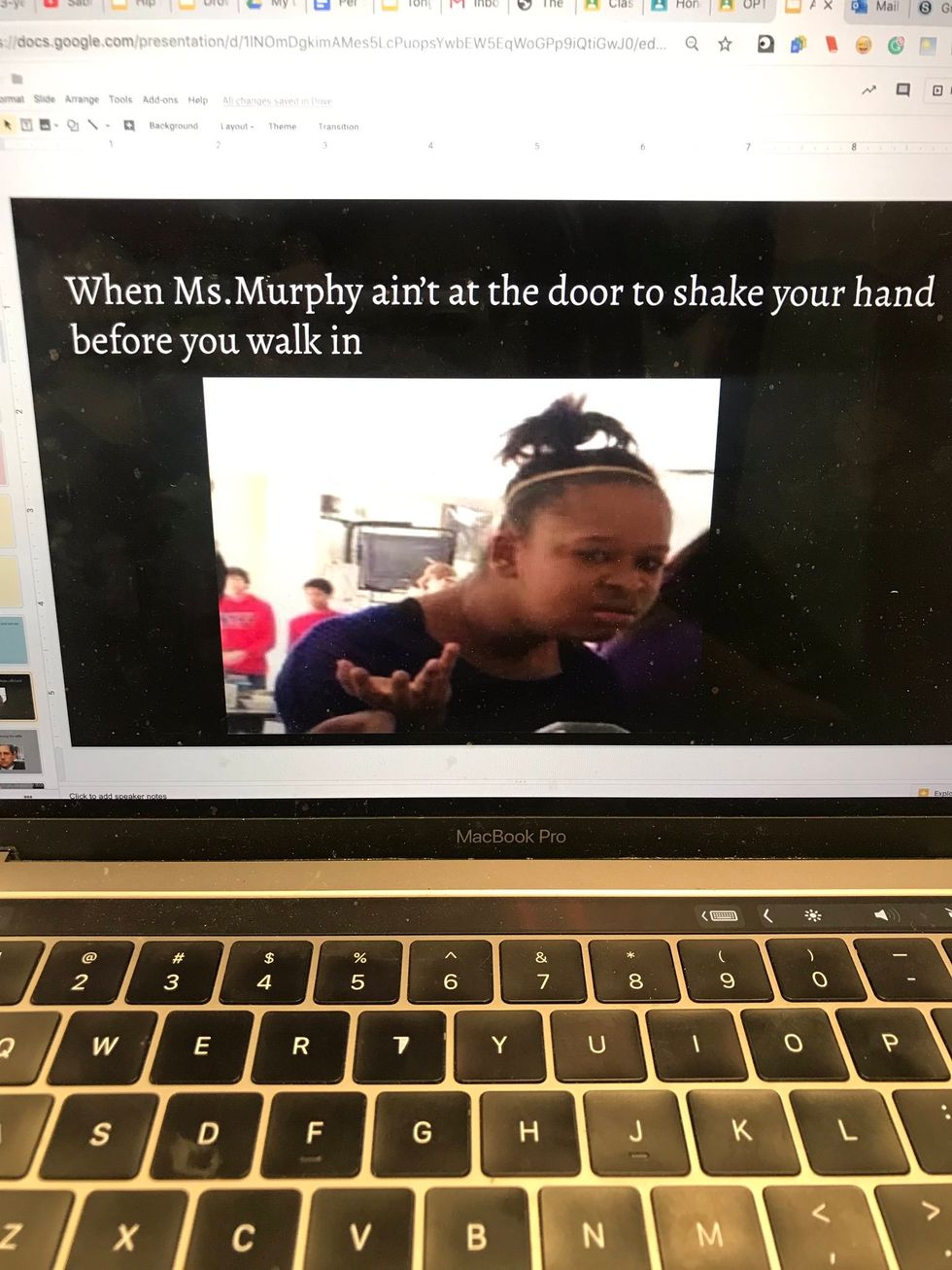 @magicalmsmurphy/Twitter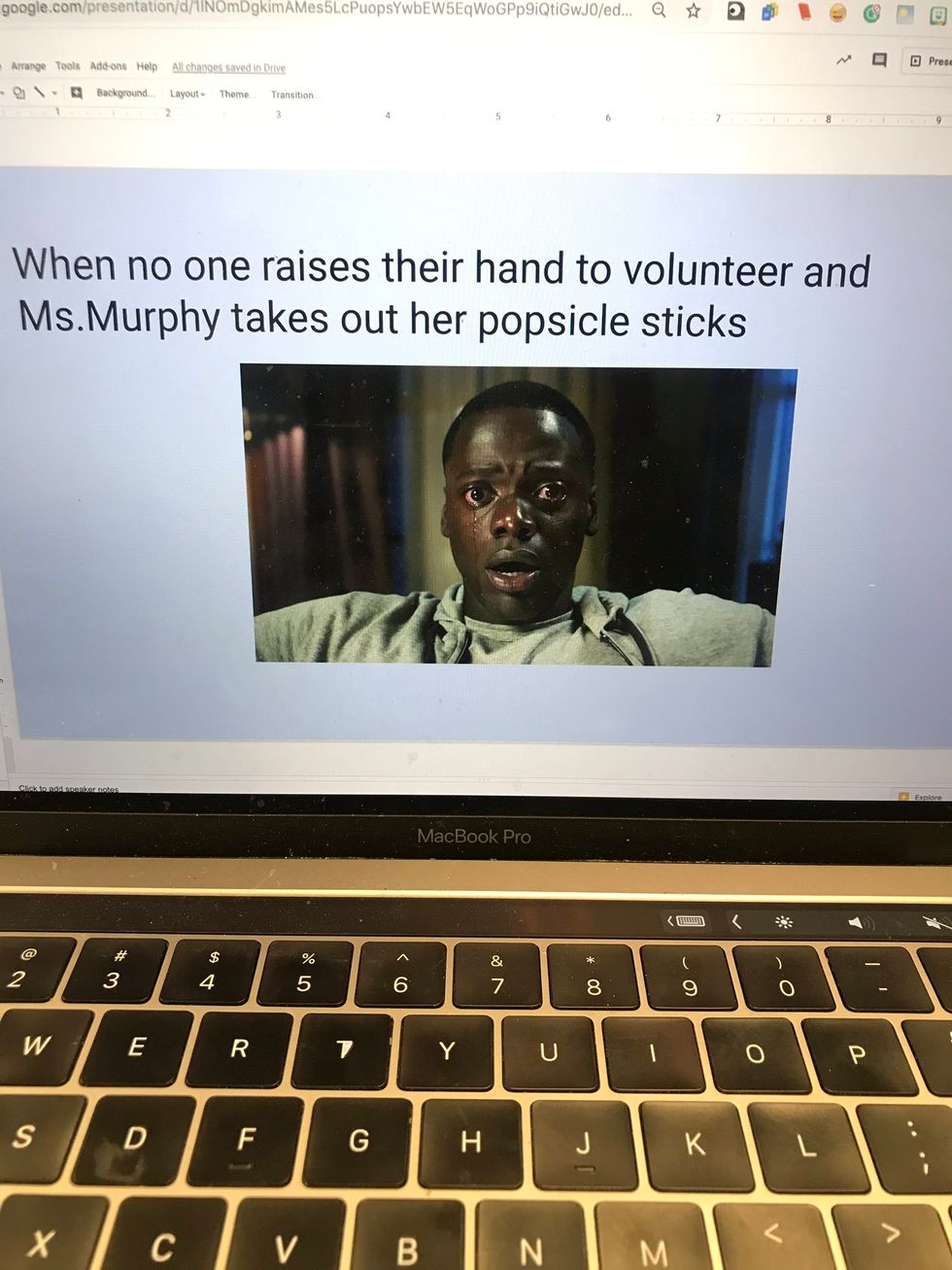 @magicalmsmurphy/Twitter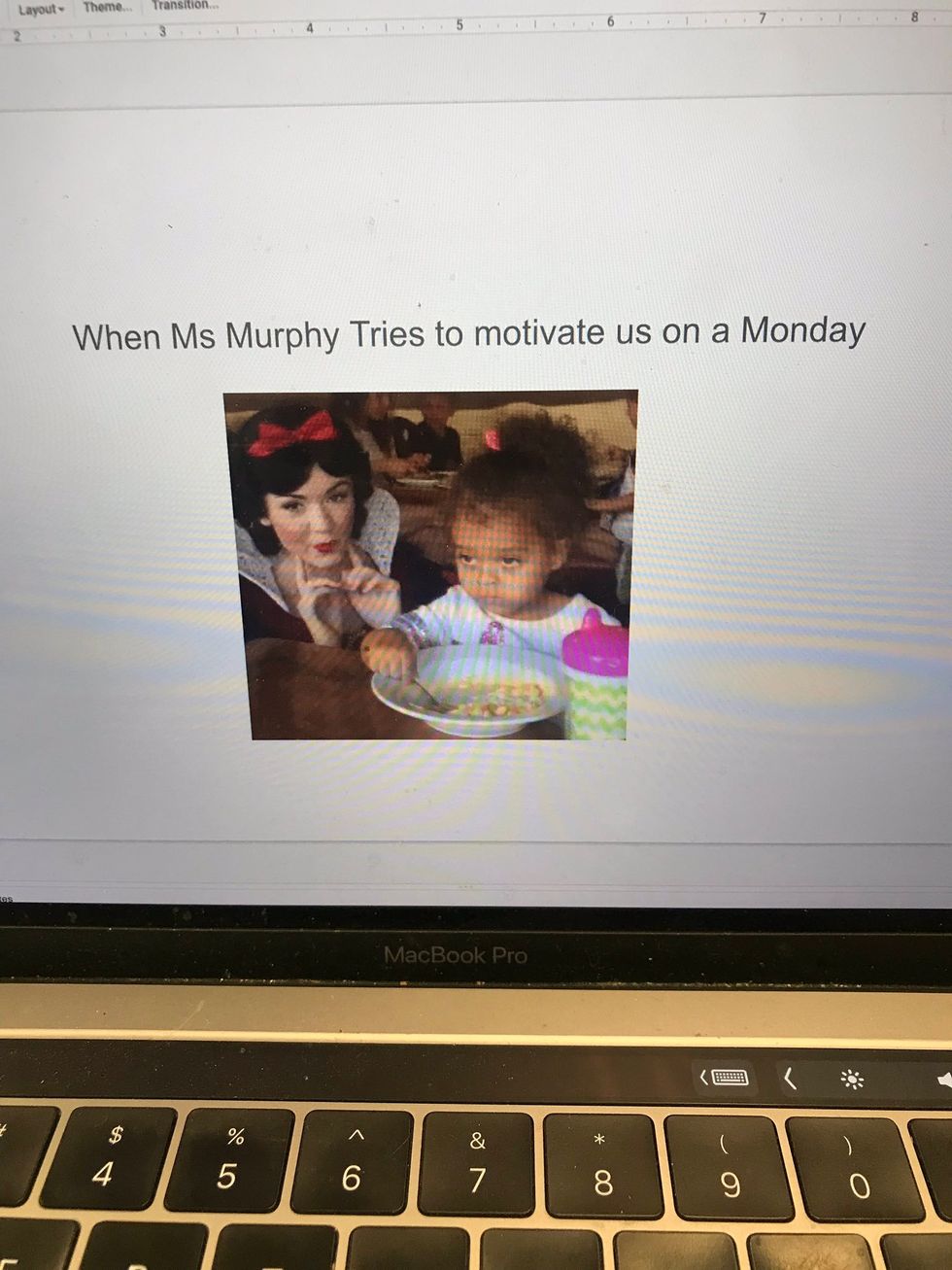 @magicalmsmurphy/Twitter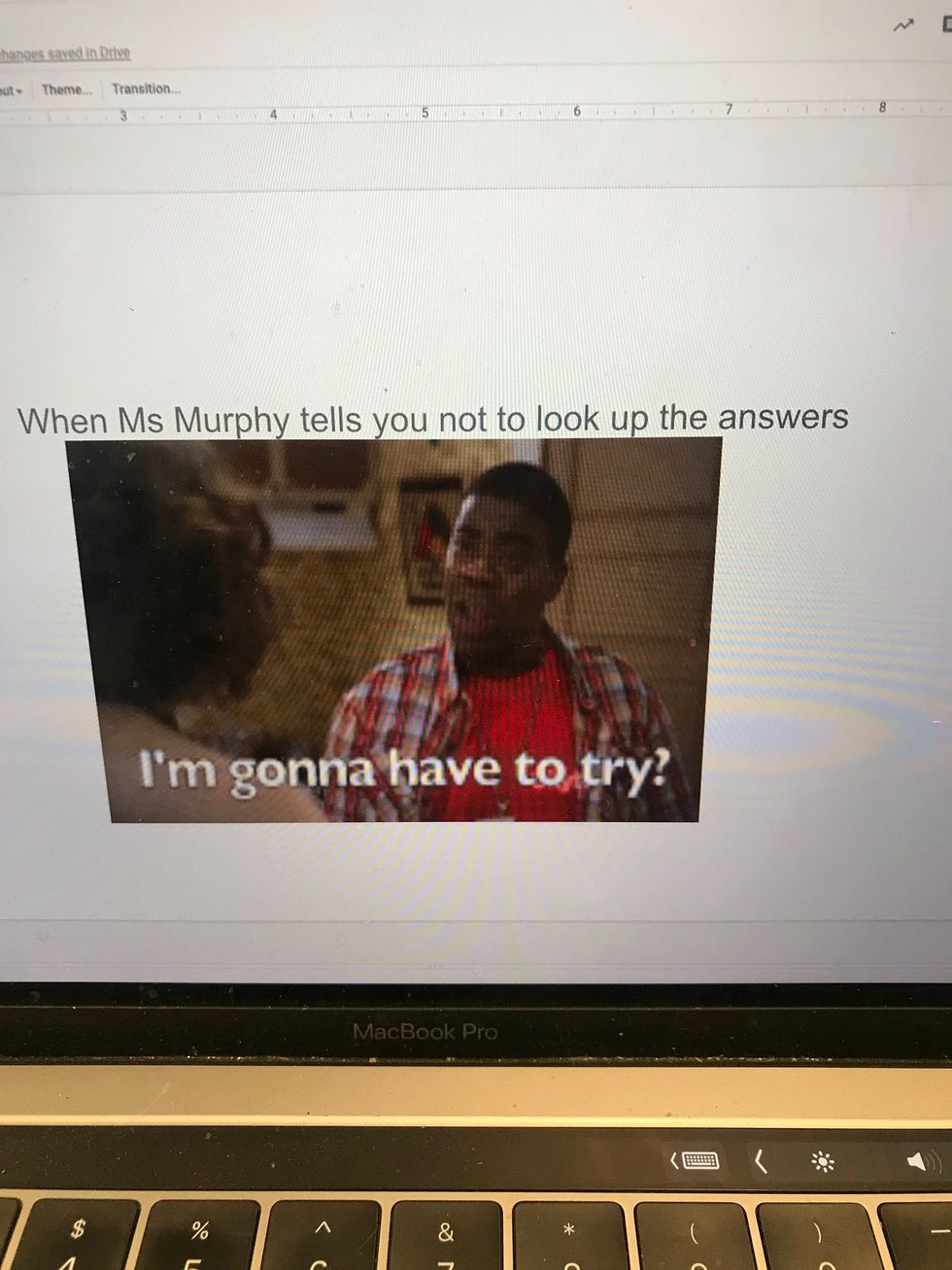 @magicalmsmurphy/Twitter
The cool teach gives her students the chance to submit memes about the year, or her class specifically. She compiles them into a slideshow and presents them back to her students.

As she mentions, many of the students use the opportunity to roast their teacher for her fun quirks and personality, but she's cool with it.
The memes get really creative, and even if a few end up being inside jokes, you can tell the kids love it.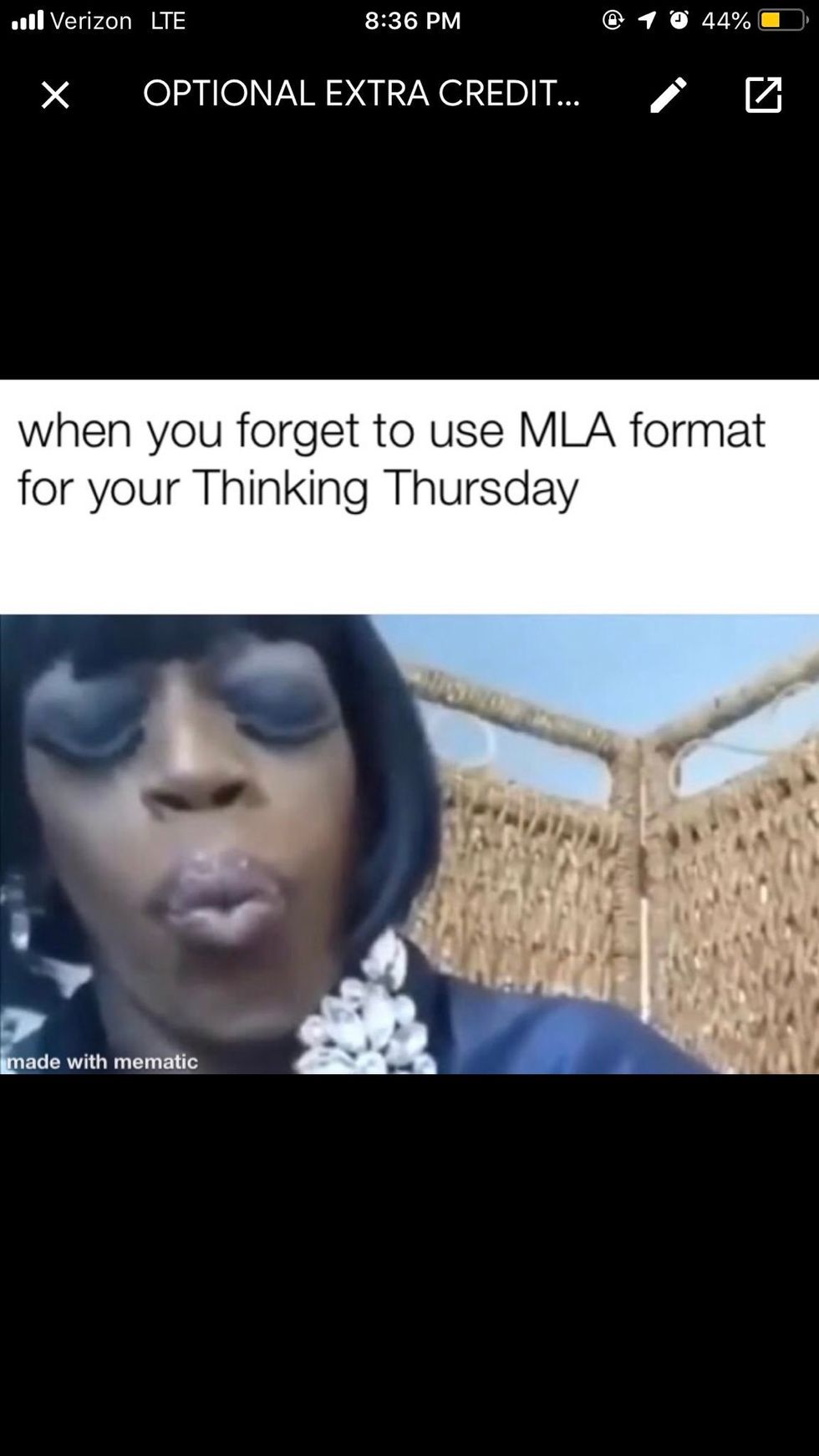 @magicalmsmurphy/Twitter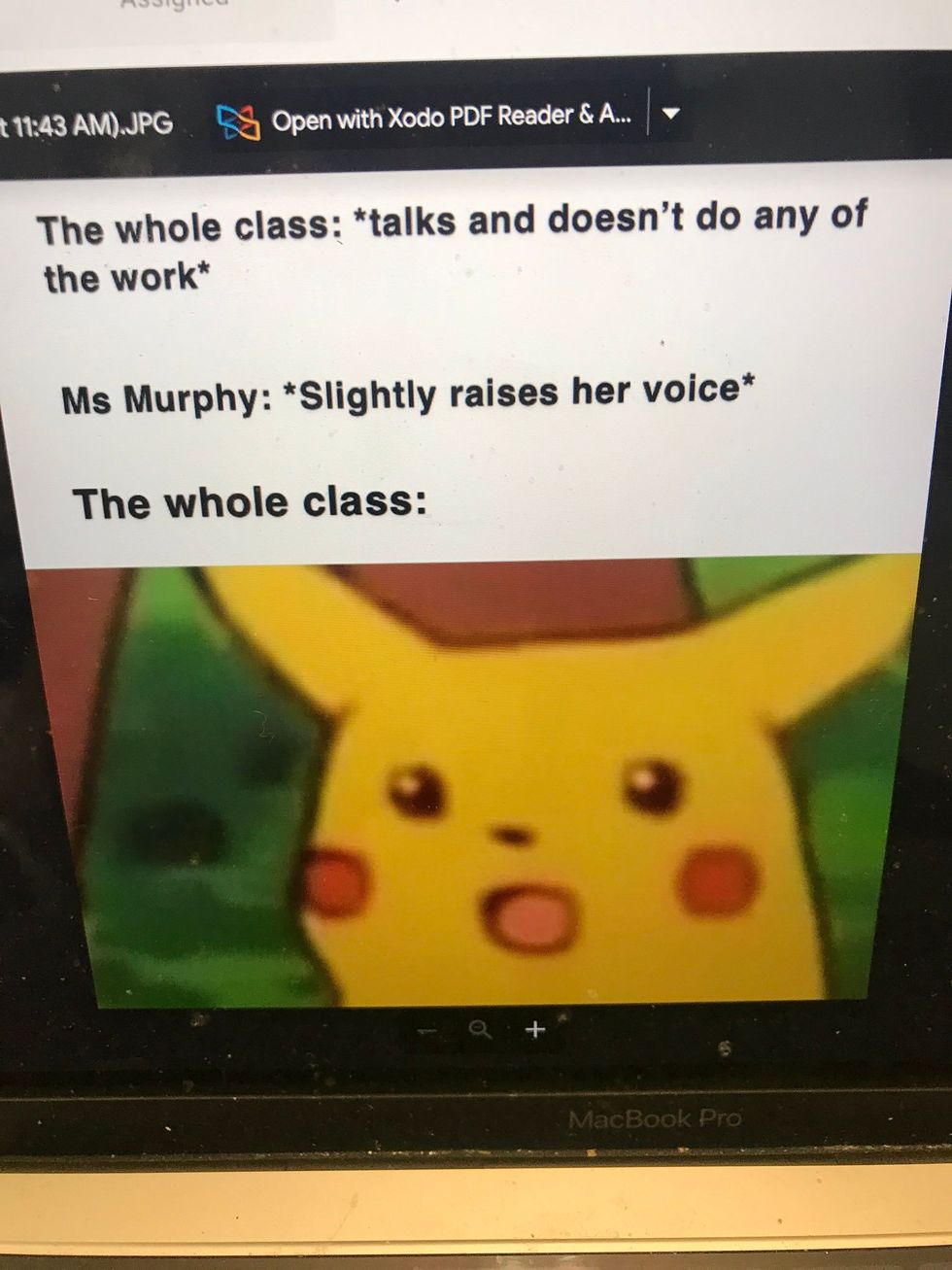 @magicalmsmurphy/Twitter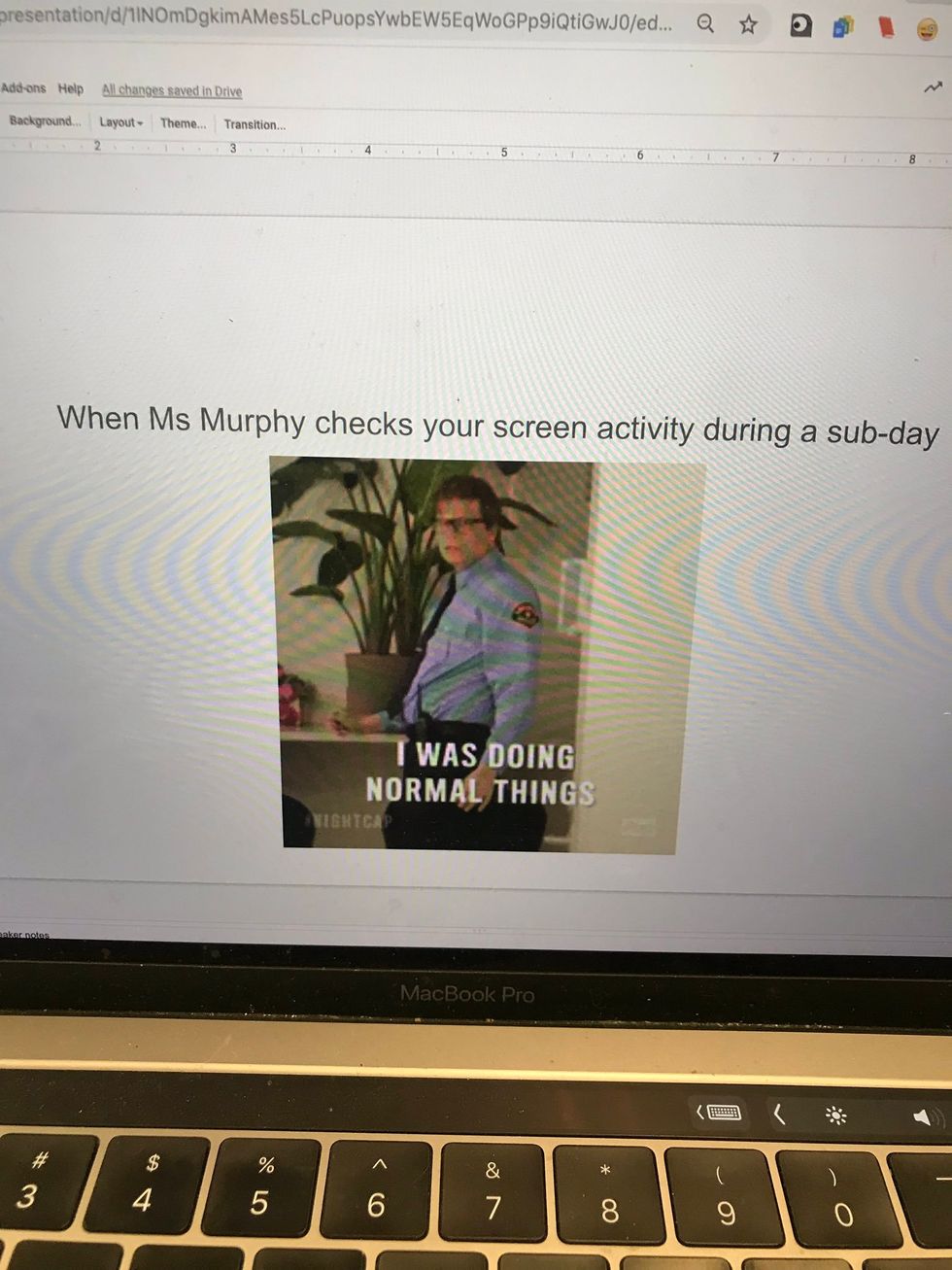 @magicalmsmurphy/Twitter
@magicalmsmurphy/Twitter
Memes of the past few years are well represented, like the "And I Oop" meme, and screenshost from the shows Get Out, Spongebob and The Office.

Ms. Murphy tried to close out the long list of memes by thanking people for following along, but it seems it never ends. People keep engaging with the thread and asking for more, so Murphy is only too happy to oblige.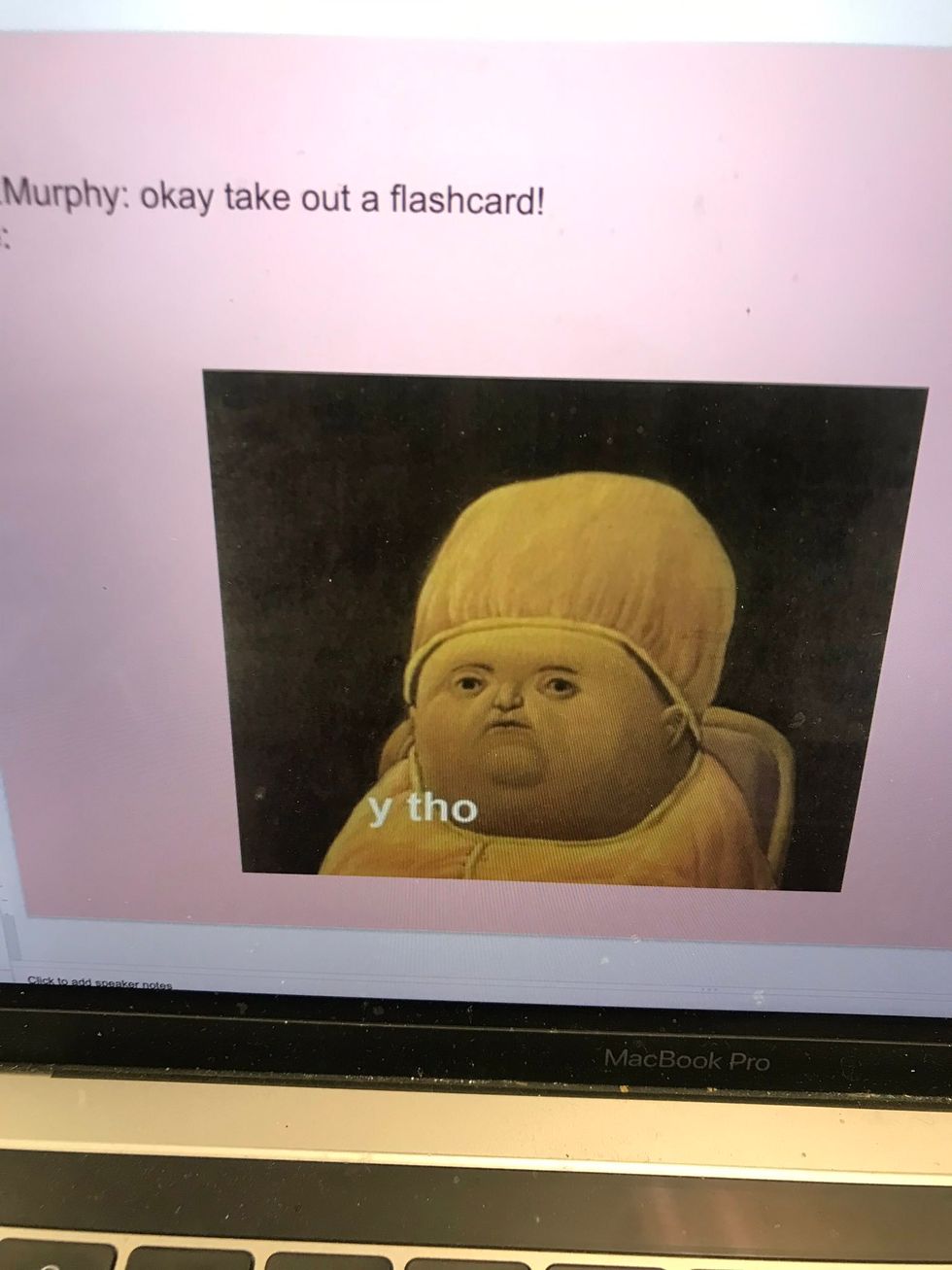 @magicalmsmurphy/Twitter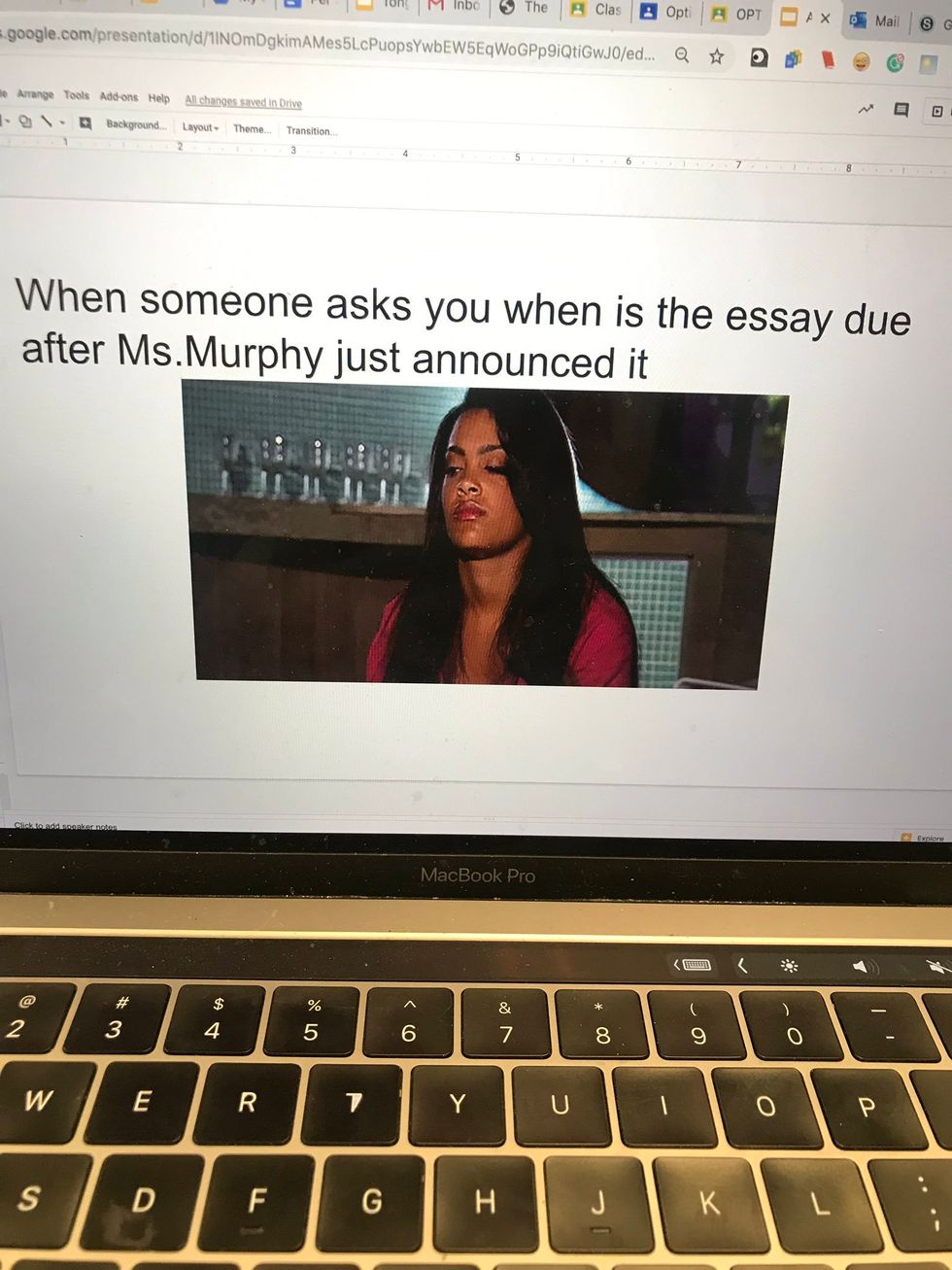 @magicalmsmurphy/Twitter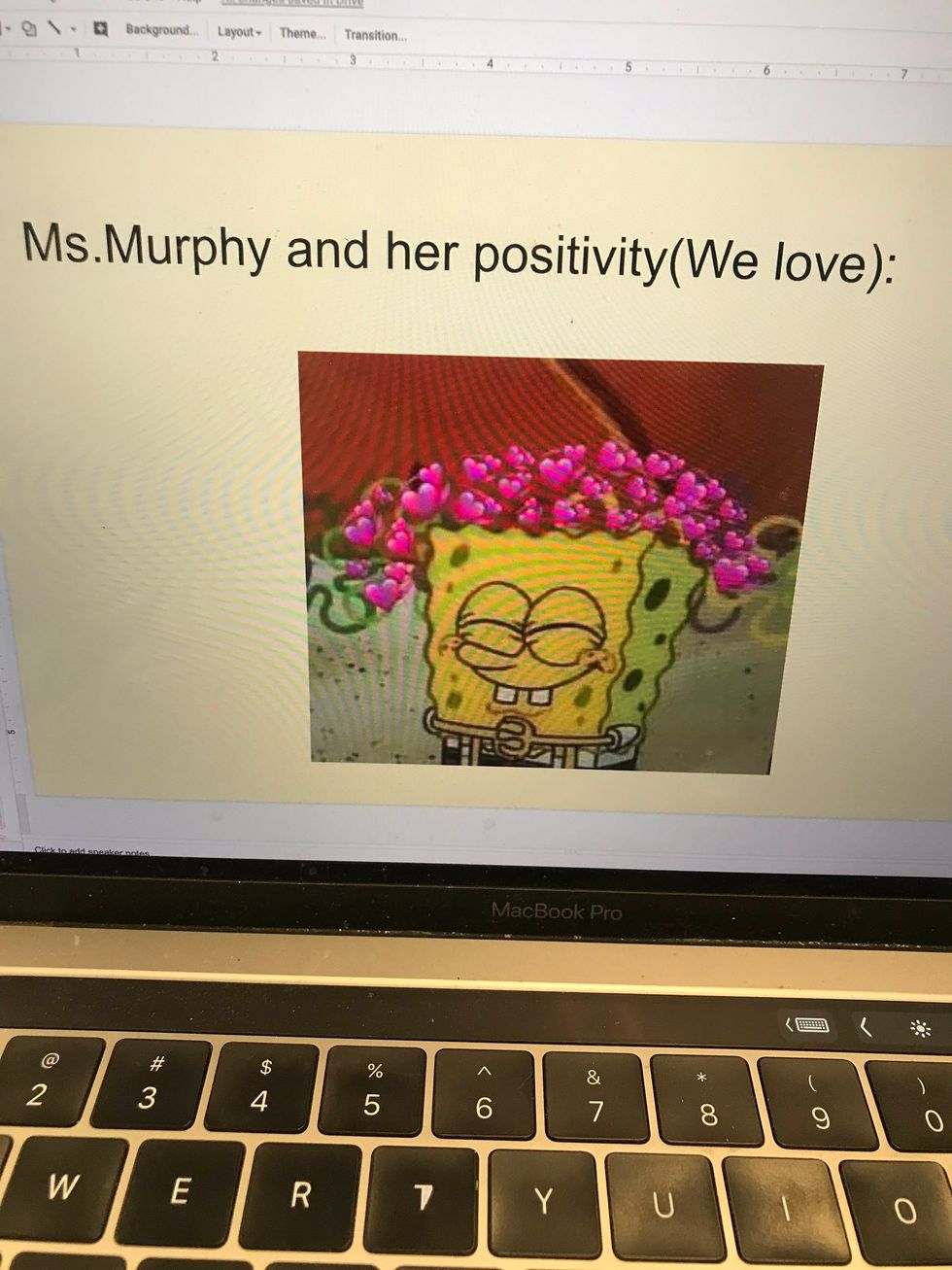 @magicalmsmurphy/Twitter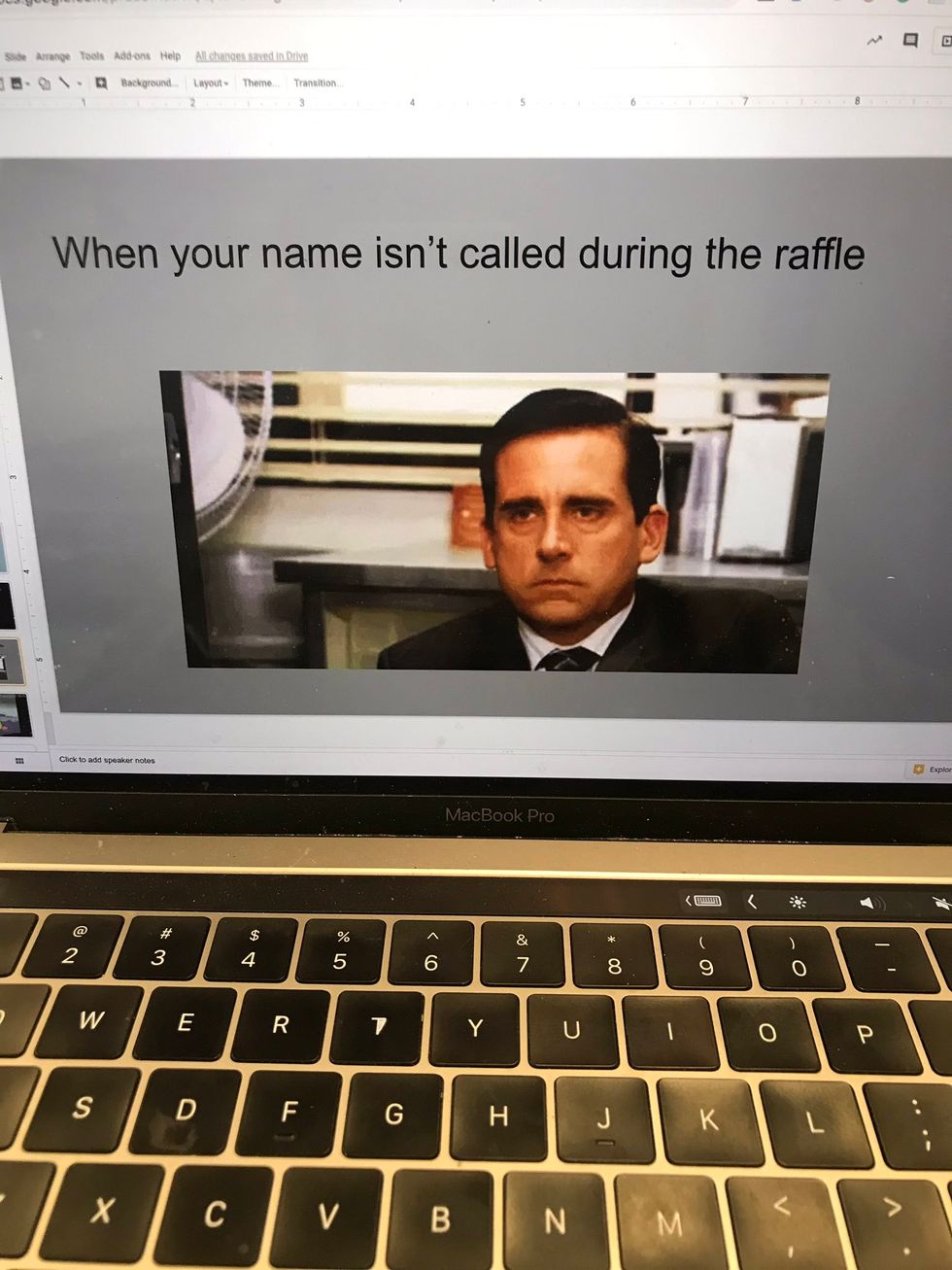 @magicalmsmurphy/Twitter
She was also very active over the weekend, answering people's questions about some of the specifics mentioned in the memes.
Her weekly schedule includes a quick grammar exercise on Monday, literary notes on Tuesday, vocabulary on Wednesday, and a free writing journal response on Thursday.
She also uses popsicle sticks with the kids' name to pick a presenter when the kids are reluctant to volunteer.
It's pretty great to see!
Teachers often share their own habits and tools online through social media. Earlier this year, a teacher's "Check-in" board to help students express their mental health went viral.
It was lauded for engaging students to consider their emotions and take care of their own mental health, as well as share their feelings with someone who shares a good portion of their day.
Ms. Murphy is currently on a social media break as she preps for her last week of the school year, but I'm sure she wouldn't mind if you shared your appreciation for her end of the year tradition.
Keep reading...
Show less
Master of organization Marie Kondo can now show you how to meet that New Year's resolution to tidy up your home. Her new Netflix reality show, aptly named Tidying Up With Marie Kondo, dropped on January 1, bringing fans eight episodes to see how this professional de-clutters people's homes.
You may not get through them all before looking around your own space and realizing a few things could go.
Watches Marie Kondo once https://t.co/C3tqLqvT8i

— Daniel Bentley (@Daniel Bentley)1546529413.0
Damn it. #MarieKondo has me in tears AGAIN! Who knew tidying could be so emotional #TUWMK @NetflixUK

— Dr Karen O'Donnell (@Dr Karen O'Donnell)1546544697.0
I watched one episode of that Marie Kondo show on Netflix and now I'm out of control https://t.co/hRc2aiqgTd

— Adam Hollett (@Adam Hollett)1546543435.0
Who else is watching tidying up? It's literally cured my OCD and Marie Kondo is genuinely the greatest

— megan! (@megan!)1546543144.0
Kondo is famous for her book, The Life-Changing Magic of Tidying Up. In it, she advocates some very specific rules about how to organize your space called the KonMari Method. The basis of her approach is to only keep items that "spark joy."

This mentality is a reversal of how most people get rid of things. In our culture, a status quo bias makes us keep things until we have a reason to get rid of them. By specifically focusing on items that we use or to which have a deep attachment, Kondo is able to convince her clients to get rid of the rest, cutting down on a lot of unneeded things.
It's a lot more to take in than you'd think.
remind me not to let my Capricorn boyfriend watch the Marie Kondo Netflix show

— alex verman-green ☭ (@alex verman-green ☭)1546540147.0
Why yes I have been binge watching Tidying Up with Marie Kondo on Netflix. Why do you ask? #TidyingUp https://t.co/n4HuLY4cTC

— Breann Morgan (@Breann Morgan)1546542195.0
In 2019 I'm gonna need Marie Kondo and the Fab Five to join forces and clean up the mess that is my life https://t.co/hL6IYRDAhD

— محمد بن درويش فخرو 🇶🇦 (@محمد بن درويش فخرو 🇶🇦)1546539979.0
The new Netflix show takes her philosophy and combines it with the house makeover format. It splits between segments showing the family and their issues with clutter, and segments where Kondo addresses the audience directly for instructional interludes.

As part of the process, we see families go through the order the KonMari dictates. Starting with clothes, they take every item they own and throw it on their bed. After going through and removing things that don't spark joy, they fold what remains into small rectangles that have become something of a calling card.
After clothes, Kondo suggests going through books, papers, "komono" or miscellaneous, and finally sentimental items. This order is hammered home in the book, and the TV show displays its effectiveness.
Of course, you have to wonder how this method would fit some situations.
Can't tell if Marie Kondo would designate my dildos as "komono" or "sentimental."

— Bowen Yang (@Bowen Yang)1546444780.0
This account will now exclusively post pictures of Marie Kondo pointing quizzically at piles of shit in people's ho… https://t.co/1SCqR8Yp3R

— Adam Moussa (@Adam Moussa)1546486187.0
MARIE KONDO: hold this book and see if it sparks joy ME: wow, it does MARIE KONDO (removing fake book jacket): that book was mein kampf

— Ben Rosen (@Ben Rosen)1546479701.0
Tidying Up With Marie Kondo (2019) https://t.co/HyWdV7Hxj2

— hulyen🔪 (@hulyen🔪)1546391143.0
The show is available for streaming on Netflix. In the eight episodes, we follow Marie Kondo as she helps de-clutter homes for a family with toddlers, empty nesters, and a family of dogs.

Keep reading...
Show less