It's another ordinary day in America.
So of course that means we've already had a mass shooting or two before brunch.
And aside from the mass shootings, the number of single gunshot wounds or deaths is too high to count.
So let's discuss the aftermath.

Let's hear from the people who have faced the barrel of a loaded gun, or were just a casualty going about their day.
What happens after the bullet lands?
***CAUTION - SENSITIVE MATERIAL AHEAD - TRIGGER WARNING***
Redditor notaninterestingacc wanted to hear from the people who have lived the nightmare. They asked:
"Gunshot survivors of Reddit - What does it feel like to get shot?"
Guns are not a joke. Please educate yourself before you purchase.
Then the pin hit...
"I took a 7.62 to the stomach in Afghanistan. Felt like somebody had smacked with like, I dunno, a flyswatter or something. A short sharp smack. Didn't feel much until I tried to come out of cover and I just... couldn't. Couldn't make my body listen to me. Then the pain hit. I'd put it at like, I dunno, an 11/10. Bullet blew off half my liver."
eyeCinfinitee
Thank you EMS...
"Chest, .357 magnum, through sternum, lung, ricochet off of rib, through scapula. Still have half under my shouldblade. Felt like I was stabbed in the chest with a hot fire poker mounted to the bottom of someone's foot when they drop kicked me. Was not expected to survive (severe blood loss), of course. Very good EMS team kept the liquids where they were supposed to and great doctors and nurses kept me going."
mndyerf**kinbusiness
Knocked Back
"I didn't really feel either of mine until about 10 minutes later. Took a grazing shot off my left arm and one in the right hip that went out my back thankfully missing my kidney. The arm felt like a bee sting the hip knocked me back a step the adrenalin at the time masked the pain."
richwith9
The Masked Men
"I was shot during a home robbery. I'm probably one of The luckiest people alive. The bullet no joke scratched my cheek and then went through the top of my ear and also a bullet grazed my wrist and opened it up. I didn't feel anything but just liquid running down my face and my wrist was burning."
"The two masked men fled, and investigators initially did not have any information about which direction they went or whether they escaped from the scene by car. Both Burke and Fries had been shot and were transported to Hermann Memorial Hospital in Katy. Burke was pronounced dead upon arrival at the emergency room, less than four miles away."
Brandonfries28
Like a Rock
"I got shot in the ankle when I was 10. Honestly I thought a rock hit me. Just a slight stinging feeling. Didn't really hurt, I even kept running with my bike. Later at the hospital was a different story. The doctor tried to remove the bullet without putting me under."
"He said the pain medicine would make me forget everything. He gave up after a few minutes of hell. And, whatever he gave me didn't work as described, but it did oddly make everyone look purple from what I remember. So maybe it half worked? lol."
adamchilders
People really? How in the world do y'all get firearms?
Fleshed Off...
"Right thigh, 9mm, grazing shot across the front of the leg about 4 inches above the knee. It plowed a channel of skin and some flesh off the front. It felt searing hot like someone had laid a hot piece of metal on my leg for a second. Then, the pain went away for a while until the adrenaline wore off. It honestly hurt worse 6 hours later than it did when it happened."
morgen_benner
A slight pinch...
"I was randomly shot while walking down the street with my girlfriend in 2013. I didn't fall to the ground or anything like that. Walked into a store and told them to call the cops. It didn't hurt too bad at first. A slight pinch. The heat builds up and the pain comes in. Some throbbing as the blood pumps out. I was extremely lucky as the bullet lodged between my lower right ribs in the back just above my kidney."
"The aftermath was a really achey back. What I remember most was how everyone around me except for my girlfriend just walked around us like nothing happened. I was suffering and potentially dying and everyone just ignored it. 'Not my problem' I suppose. I lost a lot of faith in people that day."
SoggyPastaPants
Not the Head
"I accidentally discharged my 9 and I was hit in the head. While it was going on I honestly did not feel any pain but everything slowed way down. Healing and recooperating was the hardest. My mouth and jaw was wired shut for several months. Had to have complete facial reconstruction surgery."
"Had to take a piece of bone from my skull and graph it to my nose just so I could have a nose. I also had to have a feeding tube for almost a whole year. I've recovered fully and I'm very lucky. I remember mostly everything. Something's from the incident I don't remember, but for the most part, I have my memories in tact."
No-Kick1632
It Burns...
"My gf was shot, not me, but she said it felt hot and like impact but not particularly painful until much later. She was in shock and went to the hospital, after hours she said it started to hurt."
DntShadowBanMeDaddy
"This was my response too. It feels incredibly hot. It's like getting hit with a bee that's on fire. It burns like hell. But then, and only later, does is f**king hurt. The part two is that you might think you understand pressure, but get shot. It doesn't just hurt, it mashes into you."
trebuchetfight
Ricochet
"A good friend of mine got hit with a ricochet from a 9mm that hit his calf, there was drive by about a block down. He was outside of the bar smoking a cig when it happened, ran inside and felt his leg burning but decided to keep drinking. He had about 3 more drinks before someone mentioned he was bleeding… went to the ER absolutely hammered and was fine after surgery."
PM_Me_UrRightNipple
Please stay sober when handling a weapon. Please be careful in general.
Want to "know" more?
Sign up for the Knowable newsletter here.
Never miss another big, odd, funny or heartbreaking moment again.
Keep reading...
Show less
Warning: some of the stories shared here are extremely graphic and violent.

Who would've thought that Norman Bates, the devoted good boy who ran an adjoining hotel near his home while taking care of mother was a knife-wielding psychopath?
Not audiences who first flocked to movie houses to see Alfred Hitchcock's 1960 masterpiece thriller, Psycho.
But that was why the movie was shocking at the time. It defied expectations about how we perceive people who may seem completely harmless on the outside but are actually unstable and violent on the inside.

What is your perception of people? Do you think you have an individual pegged as a certain type of person based on appearances?

That was explored when Redditor Shanyy87 asked:
"What seriously made you think "oh well that's a psychopath?"
It's a mystery how we fall for certain people and we don't see their colors until it's too late.
When The Relationship Went South

"Was my mother's ex-boyfriend."
"Used to be a great guy- even raised me like one of his daughters by doing stuff like paying for my school fees and buying stuff for me. Don't know what happened but his relationship with my mother turned sour and sh*t went crazy:"
"He locked us in the house and locked the fridge so my mother and I just lived in my bedroom and had to buy a fridge for there and live there."
"Would turn off the hot water in the morning and lock the gate so I would have to bath in freezing cold water in winter and have to climb over the walls to get to school, and."
"When she got a court order to get him out of the house, he would stalk her and constantly ram his car into the gate until the early hours of the morning, I think once he snuck into the yard ad smeared chicken blood all over our door."
"All of this in a span of two months."
– zodwa_wa_bantu
How well do you really know your coworker?
Rescue Animals And Facebook
"I met a psychopath while volunteering with rescue animals."
"Many years ago I volunteered with stray animals. We'd rescue, fix them and find families to adopt."
"After a big rescue, there was a specific animal that was in pretty bad shape and the vet said it should be euthanized. This vet was very reliable and would never suggest such a drastic procedure if the poor animal had a fighting chance."
"Because of this rescue, I was interviewed by a TV station and my picture with the animals appeared in a local newspaper."
"Right after, one of the members of the group said she'd do anything to save that extremely sick animal and wouldn't let it be euthanized The group didn't agree because we had over a hundred animals also in bad shape that could be saved."
"She went rogue, banned everyone that didn't agree with her (leaving the animals with us, except the very sick one) by changing the password to all our pages, organized a big fundraise to save the animal's life and so on."
"She kept posting pictures with the animal on Facebook to gather more money while making up all kinds of lies about the former group members."
"She also lied saying she was a veterinary student when in reality she was only the cashier of a pet store."
"I was too busy with the other hundred animals so just made a new group and didn't pay more attention to her."
"Anyway, months later one of the former group members message me to apologize for not believing in me when we went against that girl."
"The reason she finally believed in me was because she took her own animals to the vet for their annual checkup, and when she commented about how well the sick animal was looking, the vet said 'but he died months ago.'"
"Then she went to the girl's house to confront her, and the girl finally told her what happened: the girl kept the animal's body in her freezer and would take the corpse for pics to get attention and money."
"She was from a upper middle class family and only snapped after I got interviews and not her, so I'm pretty sure she did it all for attention."
"I knew something was wrong with her (attention whore, pathological lier), but the freezed corpse really got me thinking she was a psychopath."
– znhamz
Haven't we learned by now? Don't F**k With Cats. Or all animals for that matter.
Punishment For Kitty
"The ex-husband of my mother tried to snap our cats neck because she misbehaved and didn't listen to him..."
– Skevinger

Cat Killer
"I used to be a social worker."
"Had a client that I knew something was off about. He gave everyone the creeps, especially the women in our office."
"Part of my job required obtaining background checks. We got one on him and it turns out he was arrested for being a cat serial killer."
"Guy was stealing cats from his neighborhood and killing then in different ways. He stabbed some of them, threw some against walls, broke their necks, etc."
"And the police found them in his freezer."
– ApatheticWithoutTheA

The Lawnmower Man

"I used to live next to this dude who was COMPLETELY F'KED. One day I hear his mower going, nothing out of the ordinary. It was around the time on the day he normally would cut his lawn... but on this particular day it took him a few times to start up his mower, which was brand new. I kept hearing it whir up, then spin down, whir up, spin down, over and over."
"I told my dad we should go over and give him a hand since we have both worked on mowers together. As we peeked over his fence we saw 6 kittens buried up to their necks with their little heads poking out of the ground... God this gets me crying everytime I think of it 😥... they were all screaming and howling, you could clearly see them struggling to get out of the ground... we watched him lift the mower up, it whirred up, and he quickly brought it down on one of the kittens face."
"As we busted through the fence my dad broke his leg on a previously dug hole. He called 911. I went to jail for assault but goddammit it was worth it. As I went to help my dad up I saw that there was no less than 10 more bloodied kitten sized holes surrounding him."
"That still haunts me to this day."
– the_ba5ili5k

"Euthanized" Dog
"A man who lived in my freshman dorm complex at BYU was a natural leader, very charismatic and charming. He went on a Mormon mission to Honduras and when he came back after 2 years, we bumped into each other and he invited me to dinner."
"At dinner, he told me a 'funny' mission story about an elderly widow in Honduras. This woman's little pet dog was sick, and he told her that he'd bring the dog to a vet to be healed. Instead, he 'euthanized' the dog. Shocked, I assumed that the vet had determined that the dog was ill beyond help and compassionately put them down (still not ok without the owner's permission). No - this missionary snapped the dog's neck with his bare hands in the yard outside the widow's house. He was chuckling as he told me as if this was a charming, relatable story. He told the woman that he brought the dog to Jesus. This man seemed absolutely normal, no indication whatsoever that he would do something like this. He should have been sent home from his mission dishonorably."
– Nyctut

If your gut tells you something is off about a person, chances are, your instincts are spot on.
Happy dating!

Want to "know" more?
Sign up for the Knowable newsletter here.

Never miss another big, odd, funny or heartbreaking moment again.
Keep reading...
Show less
School is intended to be a safe place.
Children are sent there with the purpose of coming home to parents in one piece.
Physically and mentally.
But sadly, schools have become a hotbed of danger and chaos.
You'll see things that will haunt you forever.
Redditor SuperLeftyAliReddit wanted to know what memories of being a student keep people up at night. So they asked:
"What was the most gruesome thing you saw at your school?"
I remember the run of the mill fights and being mugged. Yeah, school was a blast. But I lived.
Blinded
"Witnessed the end of a girl being jumped by about 6 other girls in high-school. Don't know what exactly they cut her face with but they tried to cut her eye out and did a pretty close job. Sadly she went blind in that eye. That was sophomore year and she graduated with us as the second highest GPA. The amount of blood that was there and the eye almost hanging out of her skull was just wild to see."
skeedlz
Ripped Off
"We used to spray soap on the floor in the shower and do penguin slides. One kid got a running start, jumped and slid across the floor on his chest full speed. Right up until he hit the black grip tape on the floor exiting the showers... Ripped one nipple clean off... Or should I say sanded one clean off."
User Deleted
Turned purple...
"Saw a kid die from cardiac arrest at wrestling practice. I was in 6th grade, he was a seventh grader We were doing a takedown drill. Him and his partner were right next to me. He got taken down and stopped breathing. Turned purple. They rushed us out of the gym. Apparently, he had a hole in his heart and the doctors warned him not to do sports. RIP"
coci222
elementary
"My elementary school used to be a high school. We had a big a** football field next to the paved playground, with concrete ramps going down to the field, dropping probably 12ft in from start to finish, and about 40ft long. Up top, the playground had a little ledge to prevent you from falling down to the ramp, but kids would sit on it because it was perfect kid-seat height."
"I'm sure you know where this is going: there was a spot on the playground where kids could fall backwards 12ft down onto concrete. That's exactly what happened. A kid was standing next to that ledge and a bigger kid thought it would be funny to throw a football at him really hard."
"The kid predictably fell backwards when he was hit by it and landed on his head. We could literally see his broken skull, possibly bits of what was inside. The pool of blood slowly expanding around his tiny body. I'll never forget it. Shockingly, the kid survived. He wasn't quite the same after that, traumatic brain injury and all, but he was a 2nd grader."
"Good chance he'd grow out of it, or at least I hope he did. The 4th grader who threw the ball at him was expelled. It wasn't the first time he'd hurt a little kid."
User Deleted
In self defense...
"Our female gym teacher was a tough lady, built similarly to WWE's Chyna if that helps paint a picture. Anyhow, kind of a rough school district in the city, and the gym teacher had just gotten this f**king rough girl suspended for fighting. Upon rough girl returning to school, word was she was going to attack the gym teacher."
"And well, she did. Only this rough a** girl, she had sticthes in her face from the previous fight, and the gym teacher went right for the stitches, she grabbed them by the handful and just ripped the stitches right out of the girl's face, right there in gym class. In self defense."
Scapular_Fin
I never knew school was such a minefield of terror.
Sad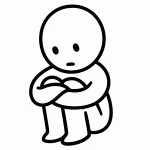 Sad Cartoon GIF
Giphy
"My 8th grade year I saw a kid got run over by a school bus. He died later that day."
spacebarthingy
don't run with scissors!!!
"In Primary School (aged 8-9ish), we'd quite often have those safety scissors, with the rounded tips but still metal, for different crafts and tasks. I remember one time when the teacher had an emergency and had to leave the classroom. The class clown decided this moment was the ideal time to run around the room with said scissors in hand."
"He tripped, fell towards another child and the scissors went into the back of the other child's hand removing a good square inch of flesh to the bone and showering the table in blood. I remember the substitute teacher almost passing out when she got to the classroom. There's a reason they say don't run with scissors!"
WritingFromABasement
Inside... out?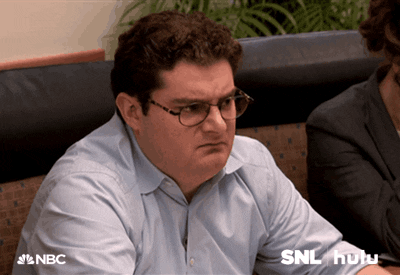 Saturday Night Live Ugh GIF by HULU
Giphy
"Classmate turned his thumb inside out with a table saw. Blood didn't squirt, it just oozed out in big drops. Still picture one guy eating a chocolate cupcake while looking closely at the wound."
Nonamanadus
Blood everywhere...
"A guy in wood shop class turned up a lathe at too high a setting, had some boards glued together I think and wanted to make a bat or something. He revved it up and applied a chisel or something during the process, the wood blew apart and it gouged out one of his eyes. Blood everywhere."
privatemidnight
Dribble
"Our star basketball player died on the court during an afternoon practice - he had an undiagnosed heart condition and that was that. The rest of us players were shuffled into the other gymnasium as a coach grabbed a defibrillator, but at that point it was too late. It was a very sad and surreal experience."
GoFightFoo
Lord, I'm thankful I made it out of school alive. Seriously.
Want to "know" more?
Sign up for the Knowable newsletter here.
Never miss another big, odd, funny or heartbreaking moment again.
Keep reading...
Show less
Human beings are cruel.
Humanity tries its best to sweep that all under the rug, but like dust, truth spreads when you dig deeper.

There are some historical facts and stories that could make one's skin crawl.
And you thought a late-night Dateline NBC episode could give you nightmares.
Redditor DaredevilDude36 wanted to share some sordid details about the past. They asked:
"What is the creepiest historical fact?"
I don't know much about history... so here I go learning.
Death Fear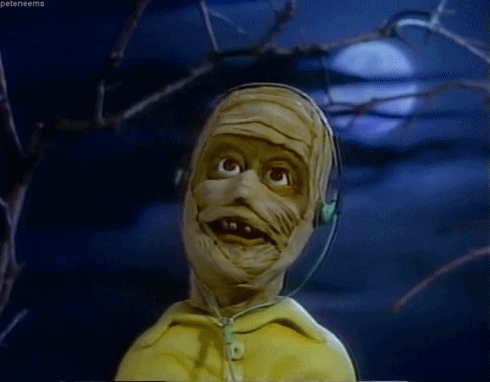 tales from the darkside 80s GIF
Giphy
"Male mummies are found to better preserved because female bodies were not sent for embalming right after their death for the fear of necrophilia."
curiousstrider
"mummy brown"
"In the past, people used mummies for everything from medicines to colors to paint with. There was even a tonic to drink that had ground up mummies as part of the ingredients. As for painting, the color was called 'mummy brown.' It became in such high demand that, in some instances, the remains of executed criminals were mummified and used to satiate the demand of artists."
jlanger23
Stocking Up
"In WW1 there was a Hungarian man that said he was stocking up on oil and was sent off to war. His towns people needed it and opened up the cans to find several dead women in there apparently he also tried to suck their blood and he was never seen again."
AffectionateBat6818
The Yellow Tiger
"Zhang Xianzhong, also known as Yellow Tiger, was the leader of a seventeenth-century peasant revolt which conquered the Chinese province of Sichuan at in the end days of the Ming Dynasty. There he lived the life of a warlord, in constant battle, and eventually descended into madness and barbarism wherein he turned upon his own people in merciless slaughter."
"He would pile the heads, hands, ears and noses of those he had killed, so as to better keep count of his murders. In Chengdu, there was erected a stele to commemorate his murders. It has come to be known as the Seven Kill Stele, and read: Heaven brings forth innumerable things to nurture man. Man has nothing good with which to recompense Heaven."
wogatic662
Oh Cleo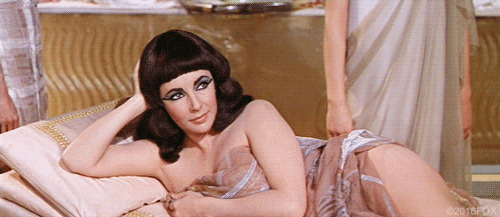 Elizabeth Taylor Cleopatra GIF by 20th Century Fox Home Entertainment
Giphy
"Cleopatra was the product of four consecutive generations of brother-sister marriages."
pivasi5937
History is really littered with scandal. How is so much of this left out in school?
Leather
"The Leather Man was an individual who would walk the same 360 mile route between the Hudson and Connecticut Rivers approximately every 30 days for 30 years. He was named Leather Man because of the hand sewn leather clothes he wore and the fact that he never spoke to anyone other than shopkeepers for supplies and would never divulge anything about his past. He is believed to be French or Quebecois because a French bible was found on him when he died. When his grave was recently exhumed to test his DNA, no remains were found."
figejiy586
No Air
"3 sailors survived the sinking of the USS West Virginia at Pearl Harbor, only to die 16 days later, due to the lack of air. The Navy knew they were there, but couldn't get to them."
pivasi5937
"To add to this: if I'm remembering correctly, they couldn't get the cut open the ship to get them it could flood the whole ship, and they couldn't use a torch as it was covered in oil, it would cause a massive explosion. Marines who were in the immediate area would hear them banging on the hull, they'd cover their ears to block out the sounds."
TalkingFishh
During the Famine
"I live in a city named Halifax in the province of Nova Scotia, Canada. During the potato famine in Ireland thousand of immigrants would land here first before heading on to other parts of Canada. Many did not survive the crossing so mass graves were dug. One day workers who had been loading bodies into these graves went to lunch and upon their return found one person had crawled out."
feyeb41097
It Worked
"Berlioz's 'Symphonie Fantastique' was written by him for the woman he was relentlessly stalking and harassing. His idea was to basically reveal to her that he had written it for her after she attended the performance, which he had pressured her into attending. Somehow, that crap worked, and I believe they married... don't believe the marriage lasted. They literally did not speak the same language."
figejiy586
Painful on Purpose
"Vlad III, better known as Vlad the Impaler. It's said that when he impales the Ottomans, he'd use a stick with a dull tip to impale them from the anus through the mouth STRAIGHT UP. And from what I've heard, he used sticks that has dull tips because it would push the organs aside rather than stabbing through."
"So they won't just die right away but they would have to suffer painfully. I can't imagine being a soldier marching through a forest of my comrades moaning in pain, knowing that if I make one mistake, I would end up with them suffering their fate."
TR45H_Pr0TaT0_69
History is gruesome. It's like real life horror movies.
Want to "know" more?
Sign up for the Knowable newsletter here.
Never miss another big, odd, funny or heartbreaking moment again.
Keep reading...
Show less
Stalkers are a special kind of scary.
That is just a cold, hard fact of life that we must deal with.
And for some reason, these people get fixated on others.
They think they're in love... meanwhile we're calling the police and moving cities.
There is nothing more horrifying than having your life held hostage by someone.
Redditor rentinghappiness wanted to see who would be willing to discuss what it took to live through this scary life experience. They asked:
"People who have had a stalker, how did you realize you were being stalked and what ended up happening?"
I was had an ex who wouldn't take the hint. Keep my phone blowing up for months. I'm lucky though, finally they gave up. Others haven't been as fortunate.
"this is not goodbye"
"It was my ex. When we broke up it was all very dramatic and he got on a bus across the country the same day for whatever reason and sent a long message from the bus ending with 'this is not goodbye' I said 'yes it is, good luck.' Two years later I met my now husband and I suppose he moved back after 3 years. I started seeing him everywhere."
"He followed the two of us around Walmart for 45 minutes until I just posted up near a security guard and slipped out as he tried to wait for me to get away from the security guard. Then I saw him wandering around near my mother's house, but I had at that point moved in with my husband."
"Then I saw him outside of my work. He was clearly trying to get the courage to come in and he was also very clearly high. Some of the regular police officers came in by chance for their coffee and he left when they arrived. Then he figured out the general location where I was living and I saw him sort of wandering around a few times. I didn't go home when I saw him, I went and sat in a public place for a few hours."
"Then I changed places of work and I saw him outside about three times. I was near a major transportation hub so I tried to ignore it. But when he started doing the pacing/tweaking/chain smoking thing again I figured I oughta do something so I waited for a family friend I knew would be in who was pretty domineering and I knew would go to bat for me and let him know who it was and what he was doing."
"He went outside and told my ex off I suppose. And scared him I guess cause he left quite quickly. My family friend was a bus driver so I gave him a picture and he shared it with some drivers along my regular route and as long as I stuck to that route the few more times I saw him trying to get on my bus we drove right past him or the wrong door opened to let people off and not let him on."
"We finally moved again and I quit my job because I had been bouncing around the same chain and was easy to find. Since then I have seen him once but he didn't see me and I think it was unrelated because he actually bought something. I just sat in the camera room and watched till he left. It's been an additional 5 years now so I assume he has figured himself out."
"I got an air of doom every time I saw him. He was kind when we dated, never abusive. But he was anti drugs and anti smoking and so seeing him high and things like that set off alarm bells. I know he was not well when he returned. I don't know what would have happened had he gotten close to me. Maybe nothing. But every bone in my body was screaming danger. So I trusted my gut and took steps to maintain distance and I was okay. The police wouldn't have done anything. No threats were uttered and we were always in public. But all in all it turned out ok."
rkspm
Why are you up so late?
"I had a stalker in high school, and he didn't make it a secret."
"We were friends at first, kind of talking romantically, but I was very shy when it came to relationships or being physical. We had never even kissed before when he asked if he could send a song he wrote about me. It made me very uncomfortable and I asked him not to send it, but he did anyway. I expressed my discomfort and tried to continue the friendship, but it was just not working because he would still write me poems and send me weird songs."
"He started following me to my classes even though his were on the other side of school, but he wouldn't speak to me at all. It was insanely uncomfortable. This continued for weeks. He started sending me mean messages anonymously online and sending me songs with scary titles. He sent me that Smith's song The More You Ignore Me, The Closer I Get every single day, sometimes multiple times."
"Then one day at lunch he gave me a hand written poem and, I can't remember what all it said but the end was something about how he wanted to watch me get eaten alive by sharks. While friends, I had told him sharks were my biggest fear. I showed my teacher the poem and she freaked out and took it to the guidance counselor. She knew all the previous incidents so the letter made her worried. Especially how his handwriting changed when he was writing about me dying."
"I ended up getting called into a meeting with the principal, a guidance counselor, and the teacher I told. They even called my mom in and we all sat down and talked about what would be the best thing to do. The principal was really nervous he would do something crazy, so he said I should just avoid him as much as possible and be polite anytime we may interact. Basically how I was already handling it."
"I'm not sure if they ever spoke to him about it, but the last interaction I had with him still creeps me out to think about. I was up very late, and received a text from him, 'Why are you up so late? You should get ready for bed.' He had been to my place once before and I lived very close to the school. I'll always wonder if he was outside my house that night."
rat-kabob
I may be paranoid...
"It started while I was still in high school, he would be in a few of my classes and we would occasionally see each other around town (a very small, rural town). It slowly turned into him showing up at some of my friend group's hangout spots and saying that I had inspired him to start looking into similar hobbies. We thought it was kinda weird but just brushed it off and avoided him."
"Flash forward a couple weeks into the start of summer vacation. He had found or followed me to all of my favorite places and my work even though both were sometimes towns over from our own. I would see his car at parks where I did outdoor painting, at my place of work as well as at friends' houses, and he would drive passed the house of the family I nannied for during my days on."
"I thought it was creepy and told local authorities, but they told me not to worry. This went on for the rest of high school and up until graduation. I didn't tell anyone what university I was going to and lied claiming it was one hours away from mine. He was accepted and attended there while I left for another. He found out after a semester that I wasn't there and showed up at my dorm hall."
"He tried to break in and convince me and other people in the building to just let him in. I hid out in another girl's room until my friend was able to pick me up and take me to her boyfriend's off-campus apartment. I found out he was arrested the next morning for assaulting an RA. I called and showed them the evidence I had for his persistent stalking and finally filed a restraining order."
"He just got released a few months ago and I have never been more nervous. I'm just happy my current job and living area has amazing security and they all have pictures and his information to be safe. I may be paranoid, but better safe than end up on a true-crime podcast."
MalkiaBahari
From Church!
"He followed me home from church! He left long letters on my car every night for about a week. He was a lot older than me. The police spoke with him and he left town. I know how lucky I am that it was so simple. It was a small college town. I only know what the police told me, which was that they located him through the letters and the description of his car, found out he was not a resident, and told him there would be charges if he didn't move on."
"I realized he had followed me home the first day, so I parked at a different house and even walked into the back yard to try to throw him off. I didn't have a garage so when he came back to the neighborhood it wasn't hard for him to see my car and he started leaving the letters."
ExxoMountain
leave her alone...
"My wife did, it became a real problem. He was a maintenance man at the school where she taught. She was throwing out a lot of old, damaged books, he asked if could have them for his kids, of course. After that he wanted to always be there, wherever my wife was, he was always sweeping or cleaning near her room."
"Then one day in the winter, my wife got a flat right after leaving school, it was getting dark and her new best friend is there to fix it. While changing the tire, he started asking sexual questions, he wanted to know if she ever had a black man. Of course she said nothing."
"It got worse and the school administration was ignoring it, I was now going way out of my way to take her and to pick her up from school, she was scared. Then he said something to her while she was eating in the cafeteria, she lost it, she just started screaming and crying for him to leave her alone."
"They sent her home for a few days paid leave. Since the school was no help I went to see 2 school board members I knew, but not well. I told them that I had hired an attorney and would be suing the school district unless my wife felt safe. They moved the custodian to another school, but it took months before my wife felt safe. The custodian got in trouble at the next school and was arrested. We never heard from him again."
Disposable70
Well that is a mess of scary. How are people allowed to act out like this?
"you again?"
"I have a weird kind of related story… there is a man in my town that for the last 15 years I see him constantly, almost everywhere I go he's there, at least 3 times a month… the grocery store, the corner store, the gas station, Walmart, the liquor store… occasionally we catch each other's eye and look at each other like 'you again?' and kinda laugh it off."
"It has come to be a little bit of a joke where I will come home and tell my husband 'guess who I saw at the store today?' The only catch, he's always at these places first!!! so it's ME who looks like the stalker!"
Pinkiepie1111
Freaky
"I worked as a secretary at an adult school when I was 18. An adult student kept bothering me taking pictures of me outside the office etc... I quit that job and got him banned from the school. Fast forward 3 years later I'm in a relationship 6 months pregnant and I'm working at a drs office."
"A police officer shows up and tells me I've had a private investigator on me for a few weeks but he reported his client to the police because his client said he was my husband but the PI after following me for a few weeks figured out he wasn't and was stalking me. He went to jail for a few days never heard from him again it's been 19 yrs... freaky a** crap."
lola2203
Crazy
"He wasn't subtle about it. He threatened me by phone and email, followed a moving truck to my new apartment, ignored police instructions to stop contacting me multiple times, then contacted me through other people, showed up in random places in my new city."
"It only stopped after he got arrested for assault (on someone else) and ultimately moved to a different city, where he was again arrested for assault. That last part I only know because I was regularly looking him up on court records to see if he was free."
TerrifyinglyAlive
Be careful out there. Stay aware of the people around you.
Want to "know" more?
Sign up for the Knowable newsletter here.
Never miss another big, odd, funny or heartbreaking moment again.

Keep reading...
Show less