Keep reading...
Show less
When we think of cults, we think of creepy chants and sketchy charismatic leaders who victimize vulnerable people. We tend to imagine it as a sinister thing that happens elsewhere and would be impossible for "normal" people in "the real world" to fall into.
We would be terrifyingly wrong.
One Reddit user asked:
Redditors who broke free from a cult, what was it like?
And the responses were more than a little disturbing. Everyday people popped up to share their experiences - and almost without exception people seemed to not even know they were in cults when they were active.
Read through, take stock, and seriously consider the things you get yourself involved in.
Obvious Questions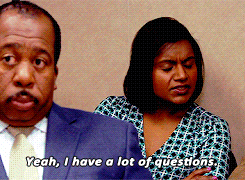 the office questions GIF
Giphy
I was in a doomsday cult for 23 years from my age 13 to 36 (1995-2018). Nothing odd or weird went on. You would genuinely feel good at start. But once we get deep enough you lose any kind of ambition in life and start having a lot of negativity about the present world and people outside the cult. And you're literally waiting for the world to end.
Based on its teachings, this world should have "transformed" by now, into their so-called heaven, and only a bunch of the cult followers should have remained in harmony. I totally believed everything I heard without questioning (probably because I was young and naïve) and followed their "Rules and regulations " to the dot. Like celibacy, food habits, keeping a distance from everyone outside the cult (even close family members) .. etc.

Finally, when some obvious questions started arising in my mind I felt like fool, and totally lost and betrayed. Like 4 years back, I felt like I couldn't meditate or listen to their daily verses. It felt totally off. I had to dig deep inside my mind to find the reason why I am unable to feel anything. That's when I felt that a number of things didn't add up. No outside influence at all.
It took a lot to break free and am still in the process. I'm 38 and married last year. She's a wonderful person. Her love and support helped me move on. I would say I am doing good now.
- ohrlygr8
Confusing and Painful
Confusing and painful.
I was born in a cult and left when I was 18, because I could not bear to live like that any more. They were very hard on women, reducing them to helps who were not allowed to voice opinions.
Leaving was one of the hardest things I have done in my life. It took me years to realize the pain I caused my family was actually not my fault.
Also, I felt so alien in the world. I missed the general background that people have, because the world I had lived in was so different. I was trying to fit in, without knowing how to set boundaries to protect myself.

I was lucky to know people on the outside. The group I was in did live amongst non-believers. We were just not allowed to mingle. When I left, I went straight into a relationship with someone from the outside.
Within days I realized I was in a bad situation there too. I stuck around way too long, trying to make it work and thinking I was the reason it was so hard. I did get an education, so I would be able to take care of myself.
After five years I ended the relationship, moved out and have been doing better since.
Once You're Out
I think the funniest thing about living in a cult isn't what you notice living in it. It's what you notice once you're out.
There were some pretty strange things that when you're long removed from it all you're like, "Holy shit that IS messed up." When you're in it it just seems normal.
When I was a young, I was told in the end of days I would be tortured for my beliefs. They would try to get me to deny Christ. I needed to stay strong, and resist. So 8 year old me was 1, afraid of getting tortured, and 2, afraid that I wouldn't be able to withstand the torture and wouldn't end up going to Heaven.
When I was a mid-teen, it was things like when I masturbated I was supposed to imagine having sex with Jesus....that last one I thought was weird even when I was in the cult, but more of a "eww, I don't want to do that" over a " that is some sick and twisted sh*t" kind of thing.
That's the weirdest part. When you ask what it was like, my first response is to go, "Like any other childhood really..." And then I think about it and go...hmmmm okay, not quite. It's funny how accepting minds can be when it's all you know.
Falling In Line
I broke from a cult. I had gotten sucked in during college.
They prey on college kids who are away from home, searching for an identity and desperate for a sense of belonging. At first it was fun. Nonstop activities. People who genuinely wanted me around. Help. Support. It felt good.
But it quickly took over. Then the pressure started. Subtle at first. Give up all other people and activities because they weren't good for me. Spend all my time and energy with the church. They assigned someone to watch me. To report to. To confess to.
At the same time I befriended the cult leader's wife and spent a lot of time with her. I felt privileged. But I started to see things.
I went to catholic school 13 years and I think that was the best inoculation! Then the whole women's role thing really got me steamed. I started arguing with the cult leader's wife about women being equal and I suspect something I said got to her because the cult leader hauled me into a meeting and talked to me for an hour.
By the end he could see I wasn't going to fall in line and I could finally see him for what he was - a fraud. So he kicked me out. I was banned hard! He was afraid I would infect others. My good friend had to flee in the dead of night and hide in another state. They hunted him. But me - they never even spoke to me again!
Long long ago when I was a preteen I had to stay with some relatives for a while. These relatives were in a 'church' that was run by an openly admitted, formerly imprisoned con man. I was told I had to go to this 'church' too, 3 times a week, or be thrown out of the house with nowhere else to go. Things started off more or less normal-ish and only gradually did it become a fanatical cult.
For the time I was there, I was as sucked in as everyone else and couldn't see that things were messed up. One Wednesday evening I had a bad tummy flu and was left with the neighbors while everyone else went to the church. Friday night rolls around and I'm still too sick and weak to go. Sunday morning comes and I'm perfectly healthy, but no longer want to go. Once again I was left at the house, but with instructions to be gone before they returned. I left and have never regretted it.

What made this 'church' a cult:
I know of at least one young woman in the congregation that had quietly asked around for help because the 'leader' was hitting on her and not taking no for an answer. She soon disappeared and was never heard from or mentioned again. I have no idea if something happened to her, or she just ran but either way it was bad.
At any given time in the last year I was there, at least 3 of the most attractive teen girls lived with the 'leader', an unmarried man, with no supervision, and their parents seemed to think this was wonderful.
The 'leader' would frequently say one thing and then contradict himself in the next sentence, and no one ever noticed or commented on it.
The 'leader' put a great deal of effort into separating his 'flock' from friends, family and the community at large. All holidays became 'satanic' and the congregation was forbidden to practice anything considered normal for holidays.
Years later when I was grown and married, a friend from childhood contacted me to tell me the cult was being investigated by, I don't remember now which alphabet agency. I immediately called the number for that agency that was in the phone book, and told them everything I knew. I never heard anything after that, and have no idea what happened.
-
BouncyFerret
"Altruistic Fellowship"
I left AA in 2011, after ten years of lies, coercive deception, and being intimidated by extreme fear.
Although many may laugh at AA being considered a cult, It has all ten of the 'Sam & Tanner' indicators, that would describe it as such.
As Scientology hides behind it being a religion, AA hides behind its structure of anonymity (at all levels). I was pursued and threatened if I didn't go back, and other members visited my family - at home and at their places of work - to tell them I was going to drink, and soon die if I didn't resume meetings.
As AA promotes the image of an 'altruistic fellowship' the Police are very wary of getting involved. It took me over six years to de-program, and even today, I have troubling thoughts from the incidents I witnessed while a member.

The problem isn't about the twelve step program as writ. The problem is the sick individuals that use Its anonymous status as a hiding place, To sexually predate on the vulnerable, use coercion to control, steal, and intimidate others, use 'sponsorship' to inflate their egos and manipulate.
I could recount dozens of sickening things I've seen and experienced around AA. Thankfully there are now many other legitimate support networks, and alcoholics are seeking them out, and gaining credible results. The 13th stepping, 3%ers, have finally been found out for what they are. I always found it odd, that the sickest conduct was always perpetrated by those with the alleged longest sobriety,
Thank you for sharing this. Indoctrination is scary at many of these meetings. The contradiction and wildly overstepping appropriate boundaries is near constant. I cant imagine AA in it's current state surviving us millenials who question "we do it this way and only this way because we do it this way" and I am forever grateful. Again - thank you.
- jlemo434
Dad Was Sent To Save The World
Not sure if it fully qualifies, but my Dad ran my family like a cult.
He was a fundamentalist Christian and believed he was a priest of the Melchizedekan order sent by god to save a bunch of people before the end times. In reality he was mostly just abusive and pathetic. We had a weekly scheduled meeting where he'd tell me, my siblings and my Mom that we were worthless (based on whatever we did he didn't like that week) and he was our only hope for salvation.
He also would lock me in a closet for days on end if I was more than a minute late mowing the lawn and had me dig my own grave twice (once for insulting my sister, which was a dick move...but not really grave digging worthy and the other time for deciding to leave the house after having been grounded for seven months prior.)

He was religiously popular in all our churches though he hid the whole "saving the world before the apocalypse" thing. I can't say everyone in those churches were bad people like my Dad, but they definitely weren't willing to believe me when I asked for help and were pretty crazy in their own right. My Dad was probably bipolar and a narcissist, I know my Mom was an extreme enabler, though she was abused as well, and I was the black sheep no matter what I did (my sister was the golden child and my younger brother was pretty much forgotten.) We were all, obviously, homeschooled.
I ended up going to a pretty culty fundamentalist university, it's not the one you're thinking of but was just as bad in a more personal way. It was the first time I got a lot of approval, literally had people calling me a prophet. But I realized that I didn't know what the fck I was doing and no one in there right mind should blindly listen to what I was saying and started seriously questioning my faith.
Ended up becoming the first openly non-religious person there. Was harassed, sued and physically assaulted by the campus pastor, personally publicly derided by the campus president and nearly kicked out over a rumor I was Michael Moore's nephew. I was nearly assaulted by a few students over my anti-torture stance, being the straight side of the first gay-straight alliance on campus...and for possibly being Moore's nephew. Was constantly stopped to hear arguments for religion.
Weirdly enough the professors were really good about it all, they disagreed with me but were supportive (I'm still friends with a number of them.) Though they also kind of treated me like a token in the classroom though, constantly asking me to provide the skeptical argument. That was pretty taxing as my entire life became debating religion.
Overall I lost a lot of friend, but some were surprisingly supportive. My Dad obviously hates me even more now. I tried being polite so that I could be there for my brother and I was. A few years back he actually credited me as the top positive influence in his life during an award acceptance speech (that little fcker's way more talented than me.) I didn't speak bad about my Dad until he brought it up during his 18th birthday when I took him out for our tradition Miyazaki film tradition. Prior to that I was just supportive, went nuclear on my parents the times that needed it (they tried to ruin his bugging game programming career in high school...and a lot of other sht,) and giving him old textbooks and computer sht I'd replaced with better so he'd at least have something.

Otherwise my non-religious life has been pretty peaceful and productive. I'm moderately wealthy, have a great career and generally enjoy my life. At the time I thought everyone was like the religious group I was in, but in reality most people don't give a sht. I've explored various other religions but not really found anything. I also tried a lot of psychedelics for a bit, which were kind of the nail in the coffin in explaining away the religious experiences I had as a kid. It's kind of weird how leaving that sht now is just normal (though it took a long time for it to feel that way.)
My Mom died last year from the flu, it kills me she never got away from my Dad. My Dad is a opiate addict, and has been for about two decades. He's also over 800lbs so no one really takes him seriously anymore. I never got an apology from the people I went for help to, though they all speak disapprovingly of my Dad now.
Weirdly enough, despite the sh*t I went through, I'm still friends with the pastors son from my teen years and loosely with the pastor. The son had a better life than me by far but managed to fck it up. The pastor was surprisingly accepting, though disapproving, of my non-religion. Despite being fcking crazy, I'll say that pastor did literally clear his schedule to stay with me while I was waiting in the hospital for my Mom to die - despite my family having left the church for 15 years while their new pastor didn't even show up.
It's weird, it's hard to condemn all the insanity. It's easy to condemn my Dad, but some of the people in that group weren't bad, but just crazy/broken people genuinely trying to do good but hampered by their insanity.
Selling Waterbeds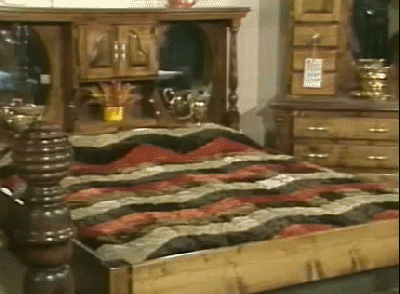 Giphy
I accepted a job as a traveling salesman once upon a time when I was desperate for income. Had no idea that it was a front for a cult.
We sold waterbeds, but anytime someone would tried to leave the company, management would gaslight you, become mentally abusive and manipulative, and try to use your personal life against you. All the other coworkers were honestly like creepy AF. They all behaved like subservient loyal robots literally.
The cult itself, was centered around the owner. They had subtle wording in their company core values and policies that basically referenced that they were a God, if not the God of humanity. It was weird as fck. I was subjected to some really shtty situations, and trying to tell my family and friends about it they wouldn;t believe me. Thought I was a lunatic, it was just a shitty job etc.
But no, there were death threats, other forms of threats, all sorts of just mindblowing crap from management, including attempted blackmailing, framing etc. Company meetings consisted of people getting hazed, but they called it "trust building exercises".
There was also some kind of weird double love triangle going on between some of the coworkers and management. I'm pretty sure the coworkers all fcked each other too. Like you know the movie, what's it called...West World or something? Where all the cyborg robot humans were obviously preprogrammed to act and behave a certain way without fault? That's exactly how my coworkers were.
In the end I realized I had to move across country without warning to get away from them.
Re-Learning The Basics
Having to re-learn basic words, definitions, and thought processes. Oh, Practical Prayer doesn't take up hours of your time? Circular logic is bullshit? Idle hands are NOT the Devil's playground? Being a passive-minded, obsessively-clean, hardworking, frugal SHEEP that gives your blood, sweat, tears, time, and MONEY all to the Church DOESN'T make you a contributing member of society?
- BarGamer
Forgive Everyone Everything
Ex-Mennonite here, from a rather extreme branch of it.
I fcking hate how people idolize Amish and Mennonites and have no idea how fcked up it all is. The physical and spiritual abuse that is carried out behind walls; the sickening way they treat animals; how they force victims to forgive, and cover up the crimes of their own.
People were so surprised and admiring when those Amish whose school had been shot up "forgave" the sicko who did it. Missing from the commentary was that we are told from when we are very young that the only way to enter heaven is to forgive everyone everything. And to be doormats for all the violent men in our lives, whether in or outside the community.
- Hurtin93
How The World Works
Being so completely ignorant of how the world really works was the worst for me. I lived in a bubble just thinking everything outside the religion didn't matter, because soon everything will be destroyed and almost everyone would be dead because they were not Jehova Witnesses.
I had to educate myself when I finally woke up. I read more than 20 books in one year. Trying to comprehend how the outside world really works. But my life has been full of failures because is not the same in theory than in practice. Maybe one day I'll get the hang of it and start succeeding.
Paying Them For The "Honor" of Volunteering
I was in a cult for around 7 or 8 years. It started off great. I was making so many new friends and the congregation was quickly growing... but then after some time I started to notice money go missing from the church coffers. They were always fund-raising to improve upon something for the church, but the amount of money that they would raise never quite added up to what they would do with that money. After a few years they ended up selling the whole church, with the senior pastors adding the profits to their retirement fund... that's just the financial side of things.
They would also take advantage of their staff. They would get people to work for them without paying them. In fact, one of my good friends got roped into doing a 'traineeship' there in which she had to do over 20 hours of 'volunteer work' every week, for which she had to PAY THEM for the honour of completing.
They would also frequently raise money for 'mission / aid work' in third world countries. However, the funds raised for this purpose were always misappropriated on expensive dinners for the pastors and fully paid vacations that they called 'mission trips'.
The worst part about it has the be the brainwashing. They reach you things that are very narrow-minded and they teach you to think a certain way which is very harmful. For example, they put a big taboo around sex.
So yeah, that really only scratches the surface, but that's a bit what it was like. I really had to reprogram the way I thought a lot after I left, after I realized that a lot of what they had taught me was false.
Holidays Are Amazing!
It was difficult. 25 years of not knowing how to think for yourself and suddenly having to, is hard to process. Everything was very routine and once I got out of that routine, I didn't know what to do. Forced myself to meet new people and figure out what "truth" is.
Very happy with who I am now after three years but still learning more about being independent and being open to new ideas and beliefs. Plus, holidays are AMAZING! I love Halloween and Christmas 🎃🎃🎄🎄
- kimv88
Want to "know" more? Never miss another big, odd, funny, or heartbreaking moment again. Sign up for the Knowable newsletter here.
Keep reading...
Show less
Have you ever looked around at your life and suddenly wondered "Holy crap, what did I get myself into?" Most of us had that moment about a friends-with-benefits situation that got a little too comfortable, or that math class you totally weren't ready to take ... then there are these people.
Reddit user jhossuah asked:

People who were part of a cult, when did guy realize "oh, I'm in a cult"?
These folks all came to the realization that were in WAY over their heads. For some it was a literal religious cult, for other people the "cult" took other forms. For at least one person the cult took some weird left turn and ended up with people "writhing" together to the Prince Of Egypt soundtrack.
No, we're not joking.
Things are about to get weird, real weird - the kind of weird that only happens when you start talking about cults. Essentially, we're telling you to brace for a hard-hitting awesome/awful combo pack.
Standing Ovation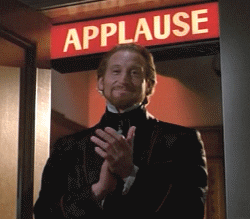 Giphy
When I went to some Scientology event was told I would really enjoy and there's a standing ovation for the founder literally every 5 minutes.
The Evil Other
When they said,"Don't hangout with non-Jehova's Witness people, they are evil." I was in that organization for a long time I was clueless about everything.
I hope it falls down one day.
Middle Aged Ladies In Tie Dye
When I was 17-18 my friends and I (guys and girls) were big hippie stoners, and we would go to this active meditation dance event with the hippie crowd in our city. Then this one time we attended a "private event" called an "intensive" where all these new-agers kind of broke us down and got us to talk a lot about our sexuality and everybody was crying and whatnot.
I left feeling like "that was weird" and then a few kids in my crew went to another one. They reported that it was different in that there were more adults, everybody wore all white, and that at one point they rolled out a TV with a video of Sri Bagavan Osho Rajneesh talking. They were long dead by then, and everyone started yelling, "we love you Osho!!! We love you!"
At that point I was like yeah, probably weird that I'd been spending so much time with middle age ladies in tie dye tights trying to bang me. Taught me how to like dancing, though.
- TerH2
No Photography
I was a part of Sogga Gokkai International, they never really followed Buddhist philosophy, and were quite materialistic. I realized it was a cult when we were to all watch a video from our "president " and we were not allowed to record it or film anything. That's when I realized I was in a cult. Look them up.
Amway Strikes Again
I accepted an invitation to a seminar at the local convention center to learn about how to add some financial stability to my life. It was an Amway recruitment meeting. And I was very ashamed because this was the second time in my life that I got tricked into attending an Amway recruitment meeting. There were obvious ringers in the crowd, even though everyone sitting were supposedly newcomers. I could identify the ringers by their irrationally enthusiastic clapping, and by their frequent use of Amway GlisterMint (tm) Refresher Spray.
- panzan
The Whole Shin-Dig
Grew up Mormon. Did the whole shin-dig:
-Mormon missionary
-Married in the HOLY temple
-Only dated members
-Went to BYU
-Had kids immediately to fulfill my holy gender and didn't finish my career at the behest of church leaders telling me that motherhood is the "holiest calling on earth."
Then when I was around 28 yrs old I found a video about polyandry (men marrying already married women) and I was taken aback. It got me to actually research my religion for the first time.
That was a bomb to my faith and I spent hours upon hours reading the history of the "Spaceballs of Christianity." Basically, I found out the church was founded on pedophilia and adultery.
Left the church. Took my kids out. Marriage suffered a lot and luckily my husband ended up doing his own research and he left as well.
We lost all our friends, community and it destroyed our business that was dependent on other members since we live in Utah. Where we live, it's 80% Mormon and we endured a lot of slander and harassment, even from our own families. It's been hell but it's heaven on the other side.

But let me tell you that it was a learning curve to see how to navigate life outside the cult. I had to learn to order coffee. I had to spend a few hours shopping for clothes since I didn't know my own style out of "Holy underwear." My political views changed 180 and we are now fully tattooed, raising our kids to be unique individuals and made friends with those that love us for us. Marriage was suffering and dying when in the church and we managed to recover and start anew. I'd like to renew our vows since we were robbed of a real ceremony.
You follow a strict list of rules your entire life and then you leave. You discover yourself outside the cult propaganda of who they tell you to be. Living life now is a deep breathe of fresh air.
100 Rounds With Rocky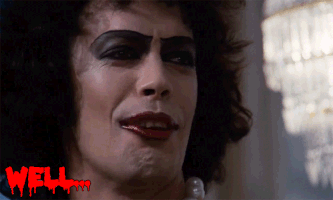 Giphy
I was at the Rocky Horror Picture Show, and they told everyone to stand up like usual at the beginning of a show, and they said "anyone who has seen the show 100 times, sit down," and I did, and that's when I knew I was in a cult.
Owned By The School
I recently enrolled at a "private school" which ended up being more of an elitist cult than a school. We were given an orientation lecture and had to listen to the dean speak. I knew it was a cult or cult-like when the dean said to us,
"When someone asks you who you are, say to them... I come from (school name), I am (school name), (School name) is me."
and then he said "say it with me,"
And then we had to repeat his words saying that our school was our identity. When utilizing career services, we also were required to include the school's logo on the top of our resumé, as if they owned us or something.
Wow, They Really Liked That Soundtrack
I didn't realize I was in a cult until years after I left. I was heavily involved for about a year from ages 15 to 16. The group claimed to be an offshoot of a local Assemblies of God church, but they had no oversight from the church as far as I could tell. The offshoot itself was called "Revive", which sounded innocent enough to me, and there was no literal attempt to raise the dead.
I'm almost certain the group disbanded after a few years, especially since the AoG church vacated town too.
My parents stopped me from attending their cult meetings when they realized that one of our practices was akin to a clothed orgy, not even knowing that weirder things were afoot.
Practices of the cult:
The aforementioned "clothed orgy" - where we would stand or crouch together, sometimes in a "human furniture" type position, and writhe against each other to the Prince of Egypt soundtrack
A "new bible", that didn't include too much blasphemous content, but contained such gems as "why God never intended for us to have fun"
To prove our collective devotion to God, some members would voluntarily "sacrifice" their comfort in the form of setting their clothes on fire or making themselves vomit
Glossolalia, hypnotism, and the occasional bit of physical violence (i.e. wrestling someone to the ground) when the hypnotism didn't work
Exhortation from the adults involved that we were not to tell our parents about what was happening
Why I stayed in the cult:
Peer pressure, mostly
A huge crush on one of the auxiliary youth pastors, a man who now runs a polyamorous "intentional community"
It honestly didn't feel too different from the various fundie churches I'd been carted around to as a kid
The Cult Of AA
AA can be pretty culty depending on the meetings you go to.
I went to one meeting regularly where they didn't want me to interact with anyone outside the program. They also wanted me to devote all my free time to AA by doing service commitments and going to multiple meetings a day. They also told me to use the program as my higher power if I couldn't find my own conception of a higher power.
I thought it was weird to think of the program as basically being God.

Everyone also wanted to know my life story down to the nitty gritty details, and I would get criticized if I didn't want to share something. I ended up feeling worse about myself as a person because I constantly had to re-live all the bad stuff I had done.
I ended up leaving AA and going to different recovery group that was a lot more relaxed. I have nothing against AA as a whole, it has helped millions of people. Also like I said, it depends on the meeting, but the one I was going to seemed a lot like a cult and it made me not want any part of the program.
- Deezax19
When Jesus Buys A Jet
I was briefly in a "prosperity gospel" cult.
I was at a really low place in my life, gnarly alcoholism, and everyone was SO kind! Everyone was my brother, sister, aunt; they always bought me lunch after church!
The "bishop" who was in charge was not actually a bishop, he just called himself that. he started his own church after the old one asked him to leave when he got his side chick pregnant. There was all the theatrics of a black church- people fainting from the holy ghost, him anointing/healing people, etc. all of the services were recorded and streamed on his subscription website. he briefly had a show on Oxygen.
There came a point where I was going to Bible study Tuesday & Wednesday night and two (4 hr each) services on Sunday.
The church was in an unfinished warehouse in South Central LA, bathrooms were Porta potties outside. Everyone I saw was putting at least $20-50 in the envelope every time AND most were tithing. I started putting $1 in envelopes beforehand so they didn't guilt me. A lot of them didn't even have money to take the bus (he very kindly gave out tokens). He has 5 bodyguards, a Jaguar, and a Maserati.
I thought there was something really fishy about that! A woman told me I had to get rid of a Buddha keychain or God wouldn't love me. The absolute last straw for me was when the "bishop" got a private jet for his birthday. I asked who it was from and they were adamant that Jesus Christ bought it for him. No one could grasp the concept that it is all a HUGE scam!
Gaudy Ads Plastered Everywhere 
I kind of realized it operated like a business. You can't advance if you don't shell out cash. We constant meet so the clergy can beg for money. We have gaudy ads plastered everywhere. Most churches don't operate like this. I slowly dissociated myself from the cult after that.
Yoga, Anorexia and Piercings - Oh My...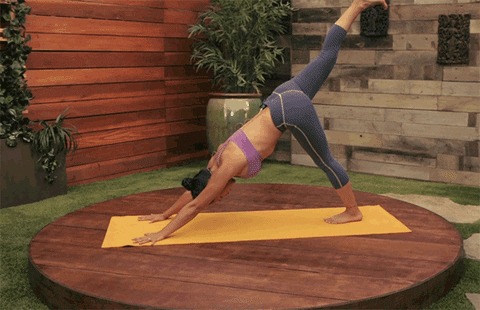 Giphy
I was really into yoga during the summer of 8th grade. I tried a bunch of classes but none of them were a good fit, so instead I started going to this very weird yoga studio sort of far into the suburbs, because I was very weird. There was always just one big group class going on and everyone knew each other. Everyone was older than me but they treated me like an adult so that was cool. I started going to class every single day and eventually they were inviting me to these after-hours (like 7pm) parties they'd have. There was no alcohol or dancing or anything, we'd just sit around listening to the guy that owned the studio talking. He just read passages from different new-agey faux Buddhist books and go off on long tangents in the middle of sentences. Sometimes he'd pick out a word that he thought "resonated with the room" and had us repeat it over and over, or pass it around the circle. So we'd be saying, "Green, green, green," or "health, health, health," or "awesome, awesome, awesome," over and over again.

They also had really shitty food. It reminded me of the oily food my family would make for Hanukkah, but really gross and "healthy". The leader's girlfriend told me that when she first joined she always made an effort only to eat food when she was with the leader. That got into my head, so I stopped eating at home and only ever ate the awful food at the studio when he was around. At one point I was there almost eight hours a day. (My parents thought that I was just with friends or swimming at the YWCA, probably because that's what I told them I was doing.) I watched the group turn more and more cult-like before my eyes. No one ever tried to touch me or anything, but some of the other members would do these "couples yoga" things in front of me, and when I told the leader I was uncomfortable, he got super mad and threatened to kick me out. I was scared because I thought that the studio was the only place I had friends, so I apologized and never said another word against him. We started wearing matching necklaces and earrings, and one of the other members pierced my tongue so I could wear her old ring while she was on vacation. (Gross.)
I came home and my mom saw it and she was like, "What in the hell have you been doing?" And I tried lying to her because I was embarrassed at how creepy the yoga classes had gotten and how stupid I had been for staying that long. That's actually when I realized I was in a kinda-cult, when I saw how disturbed she was by the things I told her. Obviously she made sure I never went back there. My parents were actually really compassionate and nice, but I still ended up with an eating disorder and mild agoraphobia, which I can partly attribute to my time at the yoga studio.
But I can also do a hand-stand and I'm hella flexible, so at least something good came out of it all.
In the end, I was only going there for a couple months. I'm not sure if it even qualified as a cult. I don't think they were doing anything illegal. It's not as if I was brainwashed, I was just immersed in a really weird, unnerving environment for a brief period during those formative years.
Soooo that's my cult story. Not very interesting. I think I'm gonna start telling more people about it though, because it felt pretty good getting it out.
Keep reading...
Show less
Everyone is looking for a tribe; for a community, a group of people who will understand you and nourish you. So when we are on that search we sometimes make a few wrong turns that lead us to groups we have to escape and run screaming from. Groups of fanatics (Cults) are dangerous and more often then not people find themselves accidentally involved.
Redditor u/relatee asked people who were caught up in some drama an important life question.... Former cult members of Reddit, at what moment did you go, "oh f**k, I'm in a cult"?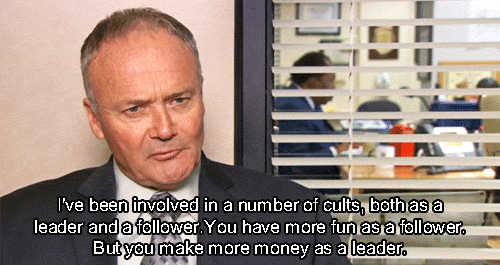 Giphy
That is all crazy scary. Have any of you had any run-ins with cults?
Keep reading...
Show less
https://www.gettyimages.com/detail/photo/group-of-people-silhouette-arms-raised-in-praise-royalty-free-image/157189357
Cults have a very repetitive nature. They offer the promise of a family, play on people's sense of loneliness and isolation, then trap them. Very predatory behavior. There can be a turning point for members, a sense of wrongness, and once you feel it the urge to flee a cult can be overwhelming.

Reddit user, _SxG_, wanted previous cult members to share:
Keep reading...
Show less