At one point in our lives, many of us have experienced the sensation of loneliness.
We've tried our best to fit in but seemed to fail at every turn to join an accepting community of like-minded people.
But that doesn't always come easily, but when it does, we go all in without really doing our research because we prefer to hold onto that initial feeling of acceptance.
Unfortunately, not all groups have genuinely good intentions. Because before you know it, you find yourself having been sucked into a cult.

Or maybe something that isn't but feels like one. But what is that exactly?

Thankfully, Redditor MichaelScottssmug put our minds at ease and asked the Reddit beehive:

"What isn't a cult but feels like a cult?"
Facebook groups can include some very manipulative personalities.

The Dog Owners Group
"Some dog owners groups on facebook are very culty like. Got banned from one group for not crate training my pup. I like her sleeping in my bed as it helps with my anxiety."
– LittleWolfPuppy

"Completely Nutso"
"Yep, and they can be completely nutso in either direction. Some of them are all micromanage every moment of your dog's life, constantly showing dominance so that it knows you're the alpha. Flip it on its back twice a day and stare directly into its eyes until it looks away in submission. Take away its dinner every now and then and make it watch as you throw it all in the trash, just to keep it from getting too comfortable. If it doesn't respond to hand signals and commands in six languages, you've utterly failed."
"And others are like 'if you have any rules or boundaries whatsoever with your dog, then you're basically Cruella DeVille. Your dog's needs and desires should be prioritized over literally everything and everyone else in your life, including your other pets, your spouse, your children, and yourself. If anyone is allergic to/scared of/just not a big fan of your dog, you should instantly cut them out of your life because your dog should BE your life.'"
– ugh_whatevs_fine

Mommy Dearest
"Mommy groups. And even specific groups. Like a cult within a cult."
"Joined a cloth diapering group. I was excommunicated for using Pampers at night."
"Breastfeeding? If you aren't nursing till 4? Bye!"
– dollyprincessb

The One That Got Away
"My wife just left one. For a while, she found some feeling of belonging when she was feeling lonely at home. However, it wasn't worth the toxicity. Even by social media standards, there were some sh*tty indoctrinated people in there."
– caseyjownz84
Consequences Of Soliciting "Mom Knowledge"
"An acquaintance of mine got called out in the most glorious fashion when she got sucked into the local Facebook mommy group."
"She posted asking for 'mom knowledge' of how to handle a teething baby and got the insane responses you would expect. (Giving the baby hard liquor; puting special crystals around the house; you name it) Her husband caught whiff of the insanity, and instead of waiting to get home that evening, replied to the post, 'Perhaps you could ask your husband, the PEDIATRIC DENTIST. He probably has actual, proven medicine for this situation.'"
"I don't know what he said when he got home that night, but she never publicly posted in the mommy group again - probably to the benefit of their son."
– poplardem

It's Competitive

"I have a good friend like this who is always trying to win motherhood. We have similarly aged kids and I'm a pretty laid-back parent for the most part so I make an effort to not compete in any way. She is a great mom, I can't argue with that. But the more I avoid the competition, the more intense her parenting hacks become. She now has an entire household economy based on pom-poms that her kids have to earn and then pay back for things as simple as going outside or reading a book. Apparently this is supposed to teach them… Some thing. And apparently asking my kids to do chores to earn actual cash is somehow harming their psychology but I couldn't tell you how or why."
– pleasure_mango

Legal Matters
"I agree with this 100%. I'm a lawyer the number of times I've had Mom's come to me about something being discussed in their mom group and how I need to make it right is astonishing. It gets even worse when they bring up how Laura said whatever the issue is is illegal and they need to be compensated for it. It's like I'm sorry but no you aren't entitled to compensation because you are concerned about the perfectly legal fertilizer your neighbor is using on his lawn unless there are actual damages or injuries caused by it. And 'as a mother' isn't a sound legal argument either."
– slytherinprolly

Mother's Milk
"Those insane pro breastfeeding groups are very cult like in my experience. (Not bashing breastfeeding, I did it myself. But so many women in those groups talk about formula like it's literal poison)"
"Similarly those crazy free birth types."
– prunellazzz
Certain auto communities make Redditors feel like they're going nowhere fast.
Audi VIP
"Audi ownership (at least in the UK). I had an Audi Q3 as a hire car recently and other Audi drivers were suddenly letting me out at junctions, offering me parking spaces and even stopping to talk to me as if we'd known each other for years. I'm actually serious about this. It was weird."
– GenomeXIII

What The Duck?
"I add Jeep owners to this. They leave ducks on each other's Jeeps??? Why???"
– KromeArtemis

The Duck Discussion
"I only recently found out about the duck thing. I was walking out of the gas station and there's this lady just staring in my jeep, making little apprehensive motions as if she was going to get in. I ask if I can help her and she's saying she wants to leave a duck on the dash but she was afraid my dogs in the back seat might bite."
"She was so determined to give me, a random jeep owner, a duck that she was; standing in the cold, risking dog bites (not really as my boys are friendly goofballs but she didn't know that) and taking the risk that I might perceive this as someone trying to steal my truck/mess with my dogs or any other conclusion I could jump to at the moment."
"Ultimately I took her little Dracula duck and chatted with her for a couple of mins. Nice lady but very eccentric. The entire dash of her jeep was COVERED in rubber ducks. Like a duck army large enough to make her jeep float, no space to spare."
– roostersnuffed
BMW Entitlement

"It still sounds way nicer than "BMW cult" which consists of constant attempt to break as many road rules as possible in certain time."
– ReportInside9923

Some Redditors' cult-like fears hit too close to home.
A Living Nightmare
"My condo association.. No I will not host the ritual at my place again this month, Dave!"
– Birdmanu

Fixing The HOA
"My wife worked her way up to president of our condo association. She's so anti-HOA that she has basically made it non-functional and doesn't enforce anything. One of our neighbors is also anti-HOA and he got elected as treasurer so now they have a majority vote on the board and overrule the other voting member who is a snobby hateful old lady."
"Thanks all for the kind words, I want to clarify when I said that my wife has made the condo association non-functioning, I'm referring to the petty BS like welcome mat size and thickness that the previous HOA board seemed overly obsessed with. As a result, they ignored a lot of building maintenance and my wife is solely focusing on upgrading and fixing issues that were ignored for years or even decades."
– Geng1Xin1
The One To Vote For

"My father made a point of becoming president of any condo association (called Strata where I live). He didn't want power, he just wanted to make sure nobody else abused the position."
"At his previous apartment he was president for 5 or 6 years. He was pretty strict about maintenance. No matter how expensive, if something needed fixing, he levied for it and got it fixed."
"An older member (it was kind of a retirement home) really didn't like that. He wanted to pay as little as possible until he sold his unit. So when a roof levy came through, he went to every resident who was super old and kind of confused. He spun elaborate tales of corruption and got a couple dozen proxy votes in his pocket. He then used those proxy votes to vote himself in as president and vote my dad out."
"My father sold his unit less than 30 days later. He knew the guy was going to run the place into the ground and wanted out."
"Less than a year later the whole apartment complex was sold off to a developer who was going to level it. Apparently the roof maintenance they decided not to do caused big problems they couldn't afford to fix."
– shaidyn
I'm admittedly a hardcore fan of Disney, but let's be real. There are some weird, obsessed fanatics who are literally mad for the mouse, and I'm not even close to that level of mania.
Especially when it comes to merchandise. When I used to work at a Disney park, there would periodically be limited edition merchandise for sale to commemorate a specific event or anniversary. Annual pass holders would line up before the park opens to make sure they can snatch as many of these coveted items are allowed per purchaser so they can sell them on eBay for a king's ransom.
Disney pins are what many of these crazed fans are after, and they show up in line wearing lanyards decorated with their rare collection of pins for bragging rights.
I have no idea what they do for a living since they were always at the parks. Probably living off their eBay money.
I love Disney, but there are definitely others in the cultish community that put my level of passion to shame.

It's human nature for us to feel like we belong. Individuals can't thrive without the influence of others who are part of various communities.
Thankfully, the advent of the internet made social networking easier for like-minded people to find each other.
But the convenience of finding your people also allowed for ominous groups with questionable intentions to flourish.

Curious to hear about the type of cliques people should avoid, Redditor FreshPrinceAV asked:

"What cults are on the rise that should be made aware of?"
These groups use the guise of religion to manipulate the impressionable.
Targeting Teens
"A personal experience of mine. Back in 2018 during my first year in the university, there is a Korean cult that tries to recruit teens and adults. During this time, they focus more in recruiting teens since they are 'easier to fool.'"
"They approached me outside school and asked me if I believe in 'God the Father.' So I said I heard about it but it is a little different from my religion. They proceeded in asking if I live alone and other personal stuff, until they asked me to come with them for a minute and they will explain how I can become a member of their church."
"The moment I heard the term 'God the Mother' as they call a chosen female member (mostly teens and minors) to lead their church with their pastor, I immediately refused. The thing is, it is very relevant in Korea and the 'God the Mother' is their term for the female candidate who is chosen to marry their pastor."
– facel_ess
Claiming "Bible Study"
"I was a well read Christian at some point, so when this group bumped into me they were unable to sway my opinion to their benefit. I even visited their offices in nyc to entertain myself (I wanted to understand a little better how this cult worked)."
"They do lots of 'Bible Studies' that really aren't bible Studies at all. It's simply them telling you their perspective of what the scriptures say. Nothing is up for negotiation. Their interpretation is stated as fact. They feed you the belief system with the Bible, and you're expected to simply believe it. That's the type of 'Bible Study' this group offers."
– -Asher-

Recruiting Them Young
"Youth With A Mission, or YWAM. Maybe it's better in other places, but my local chapter gets them YOUNG and keeps them entirely dependant on them. They get no practical experience, no money, no education. Tons of people there in their 30s with kids still relying on YWAM."
"If you have ever heard the story from FarCry 5, YWAM in the area it's based on is pretty close to that. We even have a pastor that gets worshipped as though he is God. Levi Lusko."
– KhaosElement

People Are Compared To Arrows In A Quiver
"In the U.S."
"Quiverful and IFB (Independent Fundamentalist Baptist). Hard to trace because there are a lot of home meetings and non-organization. A lot of IFBers have basically merged into and taken over regular old Southern Baptist churches as well."
– handle_ah_brah

The Survivor
"I escaped from the Quiverful/IFB "cult" about two years ago now. They've completely brainwashed my family. I can't even have a relationship with any of them now that I've left. I'm constantly having to de-program myself from the harmful messaging the IFB shoved down my throat my whole life. The programming was even worse for me and my siblings because we were also homeschooled. My whole life was church and my homeschool group. I wasn't allowed to have friends or beliefs outside of that protective bubble. It's a scary thing and I'm so glad more people are starting to realize it isn't an innocent movement."
– No_Lobster4141
Growing Up In A Cult
"I grew up Baptist in Tennessee and Georgia. I faced so much neglect and abuse. When my dad found out I was bisexual I was kicked out. I was harassed at my job by church members and at one point they stole my car. The police wouldn't do anything, they were church members as well. It got so bad i had to leave town. And thats not the worst of it. Nowadays my dad is heavily into conspiracy theories and shares a lot of harmful rhetoric and misinformation online as well as to his sunday school class. I definitely grew up in a cult."
– the__adelaide_parade
Deeply-Ingrained Toxicity
"My dad was a fundamentalist baptist pastor before he got sick. So much of what these people believe is toxic to women and minorities but if you call it out in the community you get 'but people who do that stuff aren't real Christians.' (No true Scotsman irl)"
"It's so deeply problematic and getting people out of the church is impossible, even to push them to a more liberal church."
– champagne_pants
Active Recruitment Underway
"Jehovah's Witnesses are the fastest-growing church body in the U.S. and Canada."
– Force_Choke_Slam

"Doomsday Cult" Overseas
"Haven't seen it yet here - Shincheonji. The sect that caused a major covid outbreak in South Korea. They have spread like wildfire to other countries via online classes during the pandemic."
"They are a super secretive doomsday cult. They try to recruit already practicing Christians and people who are searching for something spiritual, offering them counseling and later Bible classes. They are super friendly at the beginning and the classes are very biblically sound at the start."
"Over the time they come upwith more and more weird stuff, guilt tripping people into sacrificing insane amount of their time and even resources, brainwashing them unto thinking their leader Lee Man Hee is the personifies Second Coming of Jesus and everyone with a different opinion is a spawn of the devil doomed to hell."
"The sect is very well organized and they straight up lie about where the teaching comes from until they feel the person is ready to know (brainwashed enough)."
"Steer clear of them people! And for any Christian out there, don't believe anyone who says that the Gospel is not enough"
– kpopcrab
Not all cults exploit religion to go about their manipulative missions.
MLMs
"Agreed. A cult does not need to be overtly religious to be a cult. MLMs often prey on religious beliefs and religious networks, though."
– Kangaroodle

So-Called "Coaching" Groups
"'Coaching' groups. ✋🏻"
"Those organizations will get deep into your skin if you let them, bring you a false sense of security and fellowship, and get sensible information that could be used against you.
"Mostly made out of sensitive people with a lot of issues and insecurities that these 'professionals' will exploit to get money in exchange of 'experiences.'"
"EDIT: by coaching I meant 'Life Coaching' and they go around this 'neuroscience' abstract concept. Allow me to elaborate, for those who had never been in one of those."
"My personal experience was in 2018-2019. I was in a really bad place: low self esteem, unaddressed depression, school burnout, and a recent breakup. The last one was the reason I was lured into one of these groups, when she said that this could be 'a great opportunity to make our relationship work.' I went to her level 2 graduation and she seemed genuinely happy. We had a talk and I decided to take the Life Coach program."
"Level 1: they 'deconstruct' everything for you. Make you 'realize' that all of the things you've done are because you've never payed attention to your life, and promise you that you'll be able to fix it. With their help. For a price. Hours range from 6-8 daily. They encourage you to take the 2nd level, where you will 'explore your potential' and break your 'idea box' (this being all the things you've been taught and make your persona)."
"Level 2: this was the hardest for me. They will put you in a position of compromise such that your failure is everyone's failure, making peer pressure heavy. Strict hours that will open the door to demolarize practices in order to align you with the group's main goal (which is to succeed this course). Hours get heavier: 8 AM to 3 AM next day. They tire you down, which allow the coach to manipulate your feelings. This is also the part where they will make you confess your darkest secrets (mine was heavy, so I couldn't say it) and will make the group to pressure you to give in. I had a mental breakdown at this point, feeling like a hostage. By the end of the level, they will 'elevate' you with the help of previous members (literally, once you beat the final test, every single one of the members in the 3 programs will come and congratulate you; it was so relieving). This sets Level 3 in motion."
"Level 3: you will set goals for personal improvement for yourself. Pressure at this point was unbearable for me. I'd get calls every single hour to let know my progress, even followed around the city to 'bring reliable evidence.' It was at this point where my partner told me that she was worried about things that I did in the 2nd Level (coaches would tell her that I was unstable, and the things I confided to one of them in my vulnerable state, after they sworn to me that everything was private). I felt betrayed, and at this point I saw the thing for what it was, a scheme where vulnerable people would get comfort. For a price (which was getting more expensive each week). After that, I went home, had another breakdown. My psychiatrist recommended to call the thing off and start therapy, which I knew I needed and took the first step forward (I'd say that was the only positive thing about all this)."
"After all this, I decided to quit: they made me pay for the rest of the program and, after the swipe, I was banned from the premises. No one was allowed to look at me, call me, or other sort of contact. Even my partner decided to call the thing off 3 months after and started dating one of the guys she met there. Those were difficult times, but therapy and my nuclear family support was there for me."
"I'm in a better place now, learned from that experience and decided to get my mental health in my own hands from then on. I don't know if it will work for other kind of people, but I'd recommend to go to a certified mental health professional instead of this."

– Abundiz93

While having a sense of belonging is human nature, be careful of the communities desperate to expand their membership.
Research, find out their intentions, and consult your friends.
When you're at a low point in life and feel lonely, your vulnerability is what makes you a target.
So be cautious when you set out to find your people. And don't ever feel obligated to pay money for your "friendships."

We like to think we've risen above the susceptibility for cults. We think we've seen enough documentaries, listened to enough podcasts, and heard enough horror stories about the broken lives and shattered families they leave in their wake, all in service of making some people at the top a little richer and a smidgen more powerful.
Then why are so man of them still around?

Reddit user, barbexaclone, wanted to know what cults you should be keeping an eye out for when they asked:
"[SERIOUS] What strange cult is still active today?"
You've definitely heard of these ones before, but that doesn't mean they should be allowed to hang around for as long as they had.
The Only Church All Other Churches Hate
"Westboro Baptist Church."
"The TL;DR of them is that they are a small (70 person) 'church' in Kansas, US, started by lawyer Fred Phelps that became infamous for protesting military funerals because the gays are evil or some bullsh-t. Several members actually have law degrees so they can basically bully others out of pressing charges. I recommend you look them up."
Atomic-Buddha
The Dorks Who Never Go Away
"The KKK"
IAmJohnnyHardcore
"I live in idaho, used to live in Montana. the kkk is still very much alive and well. Especially in northwest Montana."
Kelly_Louise
"What are they up to now days? Slavery is over what is the point?"
Thekingdeviljin
"Slavery is over but racism isn't"
aniloveslouis
The Ones Who Knock
"Jehovah's Witnesses, of which I used to be a practicing member"
excusetheblood
"My girlfriend was one. I didn't know anything about it when I dated her but since I've learned its f-cking horrifying. I want to help her but her parents are big on it and i barely see her anymore. She would commonly be away from school being "sick" and even then switched to homeschooling."
RandomJellyfish134
You might never have heard of these ones before, either for their obscurity in your home country, or maybe it's because they disguise themselves as something a little more honest.
Name Changed, History Same
"Aum Shinrikyo, the Japanese cult that carried out a sarin nerve gas attack on the Tokyo subway in the 1990s. It's now known as Aleph with somewhere around 1600 members."
ohne_hosen
Glittery? Mummy?
"I just finished watching a podcast over this cult."
"Love Has Won is apparently still semi-active even after their cult leader was found mummified in glitter. There's a branch of the original cult that split off and is now forming a new cult although it's tiny."
SleepyxDormouse
We're Only In The Shape Of Pyramid
"Financial pyramid schemes like World Financial Group. Can't convince they aren't a cult. Shady business practices preying on family and friends for 'investments'."
YEGMusic43
"My boss pushed this on me. Boy was he embarrassed when I enlightened him about what they're about"
bryanthebryan
"I almost lost my best friend to them. She went through all the training and even went to a couple of out of country conferences. I warned her early on and said don't ever ask me for money. Luckily, she realized pretty quickly it wasn't getting her any where. Sucks that they are still around today."
YEGMusic43
You can't be surprised when cults hang around long after they should have been ousted from society. They jump the legal loopholes, they pay the people they need, or sometimes, people just forget you're a thing.
Expect A Call From Cruise's Lawyer
"Scientology"
billybobjimmyjoe
"Scrolled way too far to find this."
"My new retirement plan is to take lots of drugs, write some really bad sci fi, then get tax exempt religion status and recruit an army of rich minions that pay me to abuse them. Worked for L.Ron."
Few-Cable5130
Weakened, But Still Hanging Around
"FLDS - fundamentalist mormonism. Child brides. Assigned marriages. Polygamy. Their cult leader is running the show from prison, where he rots. They still exist & still believe in him and their celestial heaven."
Zesty_Morton
"Yes, but their numbers are dwindling. He used to control all the finances through the church and since he is in prison it has gone to some sort of trust? I didn't quite understand that part. But a lot of the residents were evicted from their homes. There's a documentary series called Cults and Extreme Beliefs made by A&E. Crazy stuff."
MoonLover318
Got A Good Deal On Nike Shoes, Do You?
"Heaven's Gate has about 4 followers and an active website."

AudibleNod
"I forgot about them. I hear they're still responding to emails. Apparently the ones behind the site were asked to 'stay behind'."
barbexaclone
"Heaven's Gate truly was weird."
"Unique among cults is that (while their leader was alive anyways) they allowed members to leave. If you weren't happy, Heaven's Gate wouldn't try to keep you using any weird cult tactics."
AudibleNod
Keep your eyes up, because you never know when someone is going to ask you if you're happy with the way your life is going.
Want to "know" more?
Sign up for the Knowable newsletter here.
Never miss another big, odd, funny, or heartbreaking moment again.
When we think of cults, we think of creepy chants and sketchy charismatic leaders who victimize vulnerable people. We tend to imagine it as a sinister thing that happens elsewhere and would be impossible for "normal" people in "the real world" to fall into.
We would be terrifyingly wrong.
One Reddit user asked:
Redditors who broke free from a cult, what was it like?
And the responses were more than a little disturbing. Everyday people popped up to share their experiences - and almost without exception people seemed to not even know they were in cults when they were active.
Read through, take stock, and seriously consider the things you get yourself involved in.
Obvious Questions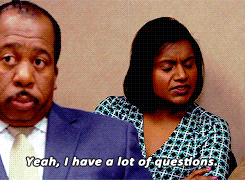 the office questions GIF
Giphy
I was in a doomsday cult for 23 years from my age 13 to 36 (1995-2018). Nothing odd or weird went on. You would genuinely feel good at start. But once we get deep enough you lose any kind of ambition in life and start having a lot of negativity about the present world and people outside the cult. And you're literally waiting for the world to end.
Based on its teachings, this world should have "transformed" by now, into their so-called heaven, and only a bunch of the cult followers should have remained in harmony. I totally believed everything I heard without questioning (probably because I was young and naïve) and followed their "Rules and regulations " to the dot. Like celibacy, food habits, keeping a distance from everyone outside the cult (even close family members) .. etc.

Finally, when some obvious questions started arising in my mind I felt like fool, and totally lost and betrayed. Like 4 years back, I felt like I couldn't meditate or listen to their daily verses. It felt totally off. I had to dig deep inside my mind to find the reason why I am unable to feel anything. That's when I felt that a number of things didn't add up. No outside influence at all.
It took a lot to break free and am still in the process. I'm 38 and married last year. She's a wonderful person. Her love and support helped me move on. I would say I am doing good now.
- ohrlygr8
Confusing and Painful
Confusing and painful.
I was born in a cult and left when I was 18, because I could not bear to live like that any more. They were very hard on women, reducing them to helps who were not allowed to voice opinions.
Leaving was one of the hardest things I have done in my life. It took me years to realize the pain I caused my family was actually not my fault.
Also, I felt so alien in the world. I missed the general background that people have, because the world I had lived in was so different. I was trying to fit in, without knowing how to set boundaries to protect myself.

I was lucky to know people on the outside. The group I was in did live amongst non-believers. We were just not allowed to mingle. When I left, I went straight into a relationship with someone from the outside.
Within days I realized I was in a bad situation there too. I stuck around way too long, trying to make it work and thinking I was the reason it was so hard. I did get an education, so I would be able to take care of myself.
After five years I ended the relationship, moved out and have been doing better since.
Once You're Out
I think the funniest thing about living in a cult isn't what you notice living in it. It's what you notice once you're out.
There were some pretty strange things that when you're long removed from it all you're like, "Holy shit that IS messed up." When you're in it it just seems normal.
When I was a young, I was told in the end of days I would be tortured for my beliefs. They would try to get me to deny Christ. I needed to stay strong, and resist. So 8 year old me was 1, afraid of getting tortured, and 2, afraid that I wouldn't be able to withstand the torture and wouldn't end up going to Heaven.
When I was a mid-teen, it was things like when I masturbated I was supposed to imagine having sex with Jesus....that last one I thought was weird even when I was in the cult, but more of a "eww, I don't want to do that" over a " that is some sick and twisted sh*t" kind of thing.
That's the weirdest part. When you ask what it was like, my first response is to go, "Like any other childhood really..." And then I think about it and go...hmmmm okay, not quite. It's funny how accepting minds can be when it's all you know.
Falling In Line
I broke from a cult. I had gotten sucked in during college.
They prey on college kids who are away from home, searching for an identity and desperate for a sense of belonging. At first it was fun. Nonstop activities. People who genuinely wanted me around. Help. Support. It felt good.
But it quickly took over. Then the pressure started. Subtle at first. Give up all other people and activities because they weren't good for me. Spend all my time and energy with the church. They assigned someone to watch me. To report to. To confess to.
At the same time I befriended the cult leader's wife and spent a lot of time with her. I felt privileged. But I started to see things.
I went to catholic school 13 years and I think that was the best inoculation! Then the whole women's role thing really got me steamed. I started arguing with the cult leader's wife about women being equal and I suspect something I said got to her because the cult leader hauled me into a meeting and talked to me for an hour.
By the end he could see I wasn't going to fall in line and I could finally see him for what he was - a fraud. So he kicked me out. I was banned hard! He was afraid I would infect others. My good friend had to flee in the dead of night and hide in another state. They hunted him. But me - they never even spoke to me again!
Long long ago when I was a preteen I had to stay with some relatives for a while. These relatives were in a 'church' that was run by an openly admitted, formerly imprisoned con man. I was told I had to go to this 'church' too, 3 times a week, or be thrown out of the house with nowhere else to go. Things started off more or less normal-ish and only gradually did it become a fanatical cult.
For the time I was there, I was as sucked in as everyone else and couldn't see that things were messed up. One Wednesday evening I had a bad tummy flu and was left with the neighbors while everyone else went to the church. Friday night rolls around and I'm still too sick and weak to go. Sunday morning comes and I'm perfectly healthy, but no longer want to go. Once again I was left at the house, but with instructions to be gone before they returned. I left and have never regretted it.

What made this 'church' a cult:
I know of at least one young woman in the congregation that had quietly asked around for help because the 'leader' was hitting on her and not taking no for an answer. She soon disappeared and was never heard from or mentioned again. I have no idea if something happened to her, or she just ran but either way it was bad.
At any given time in the last year I was there, at least 3 of the most attractive teen girls lived with the 'leader', an unmarried man, with no supervision, and their parents seemed to think this was wonderful.
The 'leader' would frequently say one thing and then contradict himself in the next sentence, and no one ever noticed or commented on it.
The 'leader' put a great deal of effort into separating his 'flock' from friends, family and the community at large. All holidays became 'satanic' and the congregation was forbidden to practice anything considered normal for holidays.
Years later when I was grown and married, a friend from childhood contacted me to tell me the cult was being investigated by, I don't remember now which alphabet agency. I immediately called the number for that agency that was in the phone book, and told them everything I knew. I never heard anything after that, and have no idea what happened.
-
BouncyFerret
"Altruistic Fellowship"
I left AA in 2011, after ten years of lies, coercive deception, and being intimidated by extreme fear.
Although many may laugh at AA being considered a cult, It has all ten of the 'Sam & Tanner' indicators, that would describe it as such.
As Scientology hides behind it being a religion, AA hides behind its structure of anonymity (at all levels). I was pursued and threatened if I didn't go back, and other members visited my family - at home and at their places of work - to tell them I was going to drink, and soon die if I didn't resume meetings.
As AA promotes the image of an 'altruistic fellowship' the Police are very wary of getting involved. It took me over six years to de-program, and even today, I have troubling thoughts from the incidents I witnessed while a member.

The problem isn't about the twelve step program as writ. The problem is the sick individuals that use Its anonymous status as a hiding place, To sexually predate on the vulnerable, use coercion to control, steal, and intimidate others, use 'sponsorship' to inflate their egos and manipulate.
I could recount dozens of sickening things I've seen and experienced around AA. Thankfully there are now many other legitimate support networks, and alcoholics are seeking them out, and gaining credible results. The 13th stepping, 3%ers, have finally been found out for what they are. I always found it odd, that the sickest conduct was always perpetrated by those with the alleged longest sobriety,
Thank you for sharing this. Indoctrination is scary at many of these meetings. The contradiction and wildly overstepping appropriate boundaries is near constant. I cant imagine AA in it's current state surviving us millenials who question "we do it this way and only this way because we do it this way" and I am forever grateful. Again - thank you.
- jlemo434
Dad Was Sent To Save The World
Not sure if it fully qualifies, but my Dad ran my family like a cult.
He was a fundamentalist Christian and believed he was a priest of the Melchizedekan order sent by god to save a bunch of people before the end times. In reality he was mostly just abusive and pathetic. We had a weekly scheduled meeting where he'd tell me, my siblings and my Mom that we were worthless (based on whatever we did he didn't like that week) and he was our only hope for salvation.
He also would lock me in a closet for days on end if I was more than a minute late mowing the lawn and had me dig my own grave twice (once for insulting my sister, which was a dick move...but not really grave digging worthy and the other time for deciding to leave the house after having been grounded for seven months prior.)

He was religiously popular in all our churches though he hid the whole "saving the world before the apocalypse" thing. I can't say everyone in those churches were bad people like my Dad, but they definitely weren't willing to believe me when I asked for help and were pretty crazy in their own right. My Dad was probably bipolar and a narcissist, I know my Mom was an extreme enabler, though she was abused as well, and I was the black sheep no matter what I did (my sister was the golden child and my younger brother was pretty much forgotten.) We were all, obviously, homeschooled.
I ended up going to a pretty culty fundamentalist university, it's not the one you're thinking of but was just as bad in a more personal way. It was the first time I got a lot of approval, literally had people calling me a prophet. But I realized that I didn't know what the fck I was doing and no one in there right mind should blindly listen to what I was saying and started seriously questioning my faith.
Ended up becoming the first openly non-religious person there. Was harassed, sued and physically assaulted by the campus pastor, personally publicly derided by the campus president and nearly kicked out over a rumor I was Michael Moore's nephew. I was nearly assaulted by a few students over my anti-torture stance, being the straight side of the first gay-straight alliance on campus...and for possibly being Moore's nephew. Was constantly stopped to hear arguments for religion.
Weirdly enough the professors were really good about it all, they disagreed with me but were supportive (I'm still friends with a number of them.) Though they also kind of treated me like a token in the classroom though, constantly asking me to provide the skeptical argument. That was pretty taxing as my entire life became debating religion.
Overall I lost a lot of friend, but some were surprisingly supportive. My Dad obviously hates me even more now. I tried being polite so that I could be there for my brother and I was. A few years back he actually credited me as the top positive influence in his life during an award acceptance speech (that little fcker's way more talented than me.) I didn't speak bad about my Dad until he brought it up during his 18th birthday when I took him out for our tradition Miyazaki film tradition. Prior to that I was just supportive, went nuclear on my parents the times that needed it (they tried to ruin his bugging game programming career in high school...and a lot of other sht,) and giving him old textbooks and computer sht I'd replaced with better so he'd at least have something.

Otherwise my non-religious life has been pretty peaceful and productive. I'm moderately wealthy, have a great career and generally enjoy my life. At the time I thought everyone was like the religious group I was in, but in reality most people don't give a sht. I've explored various other religions but not really found anything. I also tried a lot of psychedelics for a bit, which were kind of the nail in the coffin in explaining away the religious experiences I had as a kid. It's kind of weird how leaving that sht now is just normal (though it took a long time for it to feel that way.)
My Mom died last year from the flu, it kills me she never got away from my Dad. My Dad is a opiate addict, and has been for about two decades. He's also over 800lbs so no one really takes him seriously anymore. I never got an apology from the people I went for help to, though they all speak disapprovingly of my Dad now.
Weirdly enough, despite the sh*t I went through, I'm still friends with the pastors son from my teen years and loosely with the pastor. The son had a better life than me by far but managed to fck it up. The pastor was surprisingly accepting, though disapproving, of my non-religion. Despite being fcking crazy, I'll say that pastor did literally clear his schedule to stay with me while I was waiting in the hospital for my Mom to die - despite my family having left the church for 15 years while their new pastor didn't even show up.
It's weird, it's hard to condemn all the insanity. It's easy to condemn my Dad, but some of the people in that group weren't bad, but just crazy/broken people genuinely trying to do good but hampered by their insanity.
Selling Waterbeds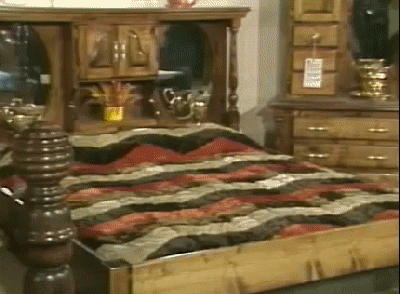 Giphy
I accepted a job as a traveling salesman once upon a time when I was desperate for income. Had no idea that it was a front for a cult.
We sold waterbeds, but anytime someone would tried to leave the company, management would gaslight you, become mentally abusive and manipulative, and try to use your personal life against you. All the other coworkers were honestly like creepy AF. They all behaved like subservient loyal robots literally.
The cult itself, was centered around the owner. They had subtle wording in their company core values and policies that basically referenced that they were a God, if not the God of humanity. It was weird as fck. I was subjected to some really shtty situations, and trying to tell my family and friends about it they wouldn;t believe me. Thought I was a lunatic, it was just a shitty job etc.
But no, there were death threats, other forms of threats, all sorts of just mindblowing crap from management, including attempted blackmailing, framing etc. Company meetings consisted of people getting hazed, but they called it "trust building exercises".
There was also some kind of weird double love triangle going on between some of the coworkers and management. I'm pretty sure the coworkers all fcked each other too. Like you know the movie, what's it called...West World or something? Where all the cyborg robot humans were obviously preprogrammed to act and behave a certain way without fault? That's exactly how my coworkers were.
In the end I realized I had to move across country without warning to get away from them.
Re-Learning The Basics
Having to re-learn basic words, definitions, and thought processes. Oh, Practical Prayer doesn't take up hours of your time? Circular logic is bullshit? Idle hands are NOT the Devil's playground? Being a passive-minded, obsessively-clean, hardworking, frugal SHEEP that gives your blood, sweat, tears, time, and MONEY all to the Church DOESN'T make you a contributing member of society?
- BarGamer
Forgive Everyone Everything
Ex-Mennonite here, from a rather extreme branch of it.
I fcking hate how people idolize Amish and Mennonites and have no idea how fcked up it all is. The physical and spiritual abuse that is carried out behind walls; the sickening way they treat animals; how they force victims to forgive, and cover up the crimes of their own.
People were so surprised and admiring when those Amish whose school had been shot up "forgave" the sicko who did it. Missing from the commentary was that we are told from when we are very young that the only way to enter heaven is to forgive everyone everything. And to be doormats for all the violent men in our lives, whether in or outside the community.
- Hurtin93
How The World Works
Being so completely ignorant of how the world really works was the worst for me. I lived in a bubble just thinking everything outside the religion didn't matter, because soon everything will be destroyed and almost everyone would be dead because they were not Jehova Witnesses.
I had to educate myself when I finally woke up. I read more than 20 books in one year. Trying to comprehend how the outside world really works. But my life has been full of failures because is not the same in theory than in practice. Maybe one day I'll get the hang of it and start succeeding.
Paying Them For The "Honor" of Volunteering
I was in a cult for around 7 or 8 years. It started off great. I was making so many new friends and the congregation was quickly growing... but then after some time I started to notice money go missing from the church coffers. They were always fund-raising to improve upon something for the church, but the amount of money that they would raise never quite added up to what they would do with that money. After a few years they ended up selling the whole church, with the senior pastors adding the profits to their retirement fund... that's just the financial side of things.
They would also take advantage of their staff. They would get people to work for them without paying them. In fact, one of my good friends got roped into doing a 'traineeship' there in which she had to do over 20 hours of 'volunteer work' every week, for which she had to PAY THEM for the honour of completing.
They would also frequently raise money for 'mission / aid work' in third world countries. However, the funds raised for this purpose were always misappropriated on expensive dinners for the pastors and fully paid vacations that they called 'mission trips'.
The worst part about it has the be the brainwashing. They reach you things that are very narrow-minded and they teach you to think a certain way which is very harmful. For example, they put a big taboo around sex.
So yeah, that really only scratches the surface, but that's a bit what it was like. I really had to reprogram the way I thought a lot after I left, after I realized that a lot of what they had taught me was false.
Holidays Are Amazing!
It was difficult. 25 years of not knowing how to think for yourself and suddenly having to, is hard to process. Everything was very routine and once I got out of that routine, I didn't know what to do. Forced myself to meet new people and figure out what "truth" is.
Very happy with who I am now after three years but still learning more about being independent and being open to new ideas and beliefs. Plus, holidays are AMAZING! I love Halloween and Christmas 🎃🎃🎄🎄
- kimv88
Want to "know" more? Never miss another big, odd, funny, or heartbreaking moment again. Sign up for the Knowable newsletter here.