At some point in our innocent lives, we've had wild imaginations in which we've conjured up companions to play with.

And them we devloped something called cynicism as we got older and forgot about these imaginary friends.

But the following parents haven't forgotten about these so-called playmates for their children.

Curious to hear anecdotes from strangers online, Redditor TheCatAteMyGymsuit asked:

"Parents, what weird or creepy stories do you have about your child's imaginary friend?"
Do You Hear What They Hear?
Some people talk about hearing voices in their head. And some would rather not go down that dark memory lane.

The Secret Mum
"A few years ago, my niece kept telling her Mom about her 'Secret Mommy' who lives in the corner of her bedroom, only comes out at night when no one but her is up, and talks to her. The whole family was terrified until they figured out it was actually an old alarm clock in the room set to a talk radio station that went off at 3 am every night. 😅"
Inner Voices
"I asked my parents and apparently I was in therapy for a handful of weeks because I was 'hearing voices.'"
"Around 5 or 6, kids start to develop their internal monologue."
"It was me, I was hearing my own thoughts..."
"Terrifying."
– ichigoli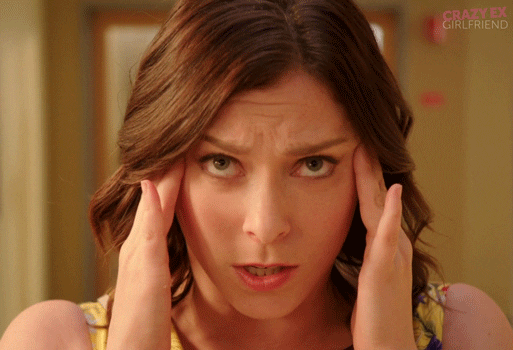 Confused Crazy Ex Girlfriend GIF
Giphy
Visions
You wouldn't want to see what these kids saw.

Being Watched
"Not really an imaginary friend but something still creepy. I don't know if it counts but I want to share. We briefly rented a townhouse while waiting to purchase a house. While living in this townhouse, I had always felt creeped out by my bedroom. It had a wall of windows on one side. Even as a grown woman, I felt uncomfortable being in the room after dark and felt like I was being watched by something in the room. I never mentioned it to my daughter."
"Fast forward to us living in our own house that we bought. My daughter starts having nightmares and is scared to be in her room. One night I asked her about the nightmares. She said it was of a ghost that said that he followed us from the room with all the windows."
What The Daughter Sees
"In the past I have seen things out of the corner of my eye and glance to see nothing there... of course that's just my eyes being weird and I stopped paying attention to those things. Well, my daughter is just a toddler and I had her sitting in my lap reading a book. I see something in the corner of my eye as usual and my daughter quick looks over there. She then stares wide-eyed at nothing and watches it cross through the room. This has happened THREE TIMES. She's not at the point to where she can communicate what she is looking at but we are pretty close. If it happens again I'll ask her what she sees."
– TheW83

Ghost Dog
"Not an imaginary friend but still creepy."
"My older sister had a German Shepherd that had passed away named Harley."
"My daughter was about 2.5 years old at the time and is in bed with my sister watching TV. She points to the end of the bed and says 'that Harley?'. My daughter did not know about the dog and certainly didn't know the name Harley."
– urbjam

They Have Names
Just because they can be identified by name does not always make them less creepy.
Meet Bob
"My daughter started saying 'Bob' before she learned how to say 'mama' or 'dada.' She would say it all the time at random times. One time I was in the nursery rocking her to sleep when she said it and so I asked, 'Who's Bob?' She pointed up at the corner of the ceiling behind me."
"Mr. Sohail"
"This isnt creepy just odd! My 4 year old sons current imaginary friend is Haris Sohail,a Pakistani Cricketer who plays in the national league in Pakistan. He apparantly has the same teddies as my son, cycles alongside him and went on a camping holiday with us last Summer. We are Irish living in Ireland, my husband plays cricket a little during Summer but he cannot for the life of him understand where my son learned about Mr Sohail!"
– Vixen35

Not Just Anybody
"Mr. Nobody."
"He started as the person the kids would blame if one of them forgot to flush the toilet. And then his mythology evolved. For the record, all of this was concieved by 3 of my kids who at the time were 6 5, and 3:"
"Mr Nobody has no eyes, no teeth, no tongue and no nose. He doesn't wear pants and leaves the used toilet paper between his butt cheeks so you can tell where he is by his smell. He doesn't wear a shirt, but has a pocket cut into his skin where he keeps the key to our house. He can be invisible. He had a beard since he was a baby. He bites off his fingernails and then drips blood where he walks."
"A friend of mine drew him at the time: https://imgur.com/D0KX2xp.jpg"
"Thankfully, been a few years since Mr Nobody has been in our house now."
A Concerning Situation
"Out of my four kids, only my eldest son (now 20 years old) had an imaginary friend. It's name was Barsie and it was a giant wolf, but could transform into a boy. Anyway, my wife and I didn't think much about Barsie until we noticed that my son had broken a plastic butter knife and stabbed quite a few of his stuffed animals. He told us that Barsie had told him to do and had even helped. That was when we really got concerned."
"My son had anger issues as a child and the reason for that is that, while I call him my son, he is my step son. His biological father lost custody because of drug related crimes and just abandoned him. My son has always thought of me as his dad, but was still extremely angry about the situation with his biological. Anyway, we took him in to get some counseling after an incident involving a lighter that he found on the ground outside our apartment. He had tried to burn his baby brother's favorite toy."
"While in counseling it came to light that Barsie was planning to eat our family and to pee our blood all over the apartment. This was the beginning of my son's counseling and mild medications. Barsie disappeared over a few months and we were able to take my son off the medication the following year. He remained in counseling for quite a few years, but Barsie was never mentioned again."
Under The Bed
Things that go bump in the night take refuge under your cozy bed. Wanna look?
Nice Monster
"My wife and I were sitting for our nephew. He kept coming downstairs because there was a monster under his bed. So I marched upstairs grabbed the monster from under the bed, dragged it downstairs, opened the door and threw it out into the night."
"Nephew burst into tears and was inconsolable because that was the nice monster and not the nasty monster."
"So 11pm on a dark Saturday night and I am crawling around a damn wet garden looking for an imaginary monster and trying to apologise so my nephew could go to sleep!"
A Bunch Of Croc
"Not really an imaginary friend but I had an imaginary family of alligators that lived under my bed when I was a kid. Often times I'd get so scared I'd sleep in my brothers room bc the Daddy alligator wouldn't come out to scare me if I was with my brother."
I didn't have imaginary friends, but I pretended I was friends was someone I really wanted to be friends with. Does that count?
Probably not.
But I'll leave you with this. My invisible "friends" were more of a sinister type. They wore leather jackets and hats and Ray Bans. They often visited me in my dreams and chased me on their motorbikes.
I think it was from watching an episode of the Twilight Zone that featured a biker gang.
Jealous?

Keep reading...
Show less
Reality shows are extremely popular because it is an ultimate form of voyeurism.
Whether it's on a competition or a home makeover show, pleasure is derived from watching real-life people respond dramatically to inconsequential situations.

But how much of what we see are authentic reactions?

Curious about the experiences of those who were on camera, Redditor S3xySouthernB asked:

"People who were on reality family shows as kids (think super nanny, wife swap etc) how much of it was real and how much was fiction/set up for drama? Did anything change?"
Unreality
The following Redditors frowned upon the concept of being portrayed differently on camera.
The Gamer
"I was on Wife Swap when I was 10 years old. My family had to switch with a farming family and we were supposed to be the 'city family' even though my family and I lived in the suburbs. There were plenty of quotes taken out of context as you'd expect. They also incited plenty of drama. I was framed as addicted to video games so they took my xbox and gameboy color for the week. A few days in one of the crew members came in with my gameboy and said 'look I found this' and handed it to me. It shouldn't be surprising that they sent the woman staying in our house into my room to 'catch me in the act'."
"To be honest not much has really changed in my life except getting snapchats of my 10 year old face when my friends catch the reruns. I'm open to any questions if anyone is curious."
It was Season 3 Episode 13 of Wife Swap"
Update for anyone who was curious about how much money the show gave us. The initial amount was $20k but after taxes it came to around $15k like others had expected."
Crazy On Cue
"My parents were 'dinner guests' in an episode of Nanny 911 and they said literally everything was staged. I don't remember all of the details, but they said the directors had a 'code word' that they would say to the kids when they were supposed to start acting all 'crazy'. And then once the scene was done, the kids would be perfectly normal."
False Front
"My friends parents were on worlds strictest parents. They came to my house on 4th of July and when they showed our house on tv it was a huge mansion rather than our actual house. The camera crew also told the visiting 'bad kids' to steal alcohol from our house."
Hoarders
A glimpse into the lives of those who are unable to part with their possessions is not always scripted TV.

Hoarding For Real
"I worked with a junk removal company for an episode of hoarders and it was actually 99% REAL. The only thing that they would set up a couple times was if they opened a box and found something interesting off camera they would re-open it on camera and act like they just found it."
Laundry Tub
"My mother was (probably still is, we aren't in contact) a hoarder and you don't HAVE to make sh*t up. They're seriously, seriously mentally ill but they refuse help because they don't think they're mentally ill, or 'it's not that bad' or they're 'going to get to it next month' or whatever. Total denial and self delusion, which is, yanno, common with severe mental illness."
"Example: for who knows what reason, my mother started putting dirty laundry in the bathtub. Eventually there was just a mountain of it. She wouldn't wash it despite our washer working fine. She wouldn't move it. She wouldn't let ME wash it. I was showering at school for weeks already when I told her 'Mom the laundry in the tub has to go. This is ridiculous. I'll help with it.'"
"She said 'There's no laundry in the tub.'"
"She actually tried to DENY REALITY. I went in there and was like 'These are clothes. In the tub. This is laundry.'"
"She replied 'Oh I think those are clean.'"
"I said, 'So then put them away?' I knew they weren't clean. I just wanted to shower."
"She said 'I'll do it this weekend when I have off.'"
"I hate to spoil the ending but..... she didn't do it."
"She hired a dumpster once and was going to 'throw out everything'. It got there. Normal sized dumpster. She didn't throw out anything because 'they sent too big of a one'. Paid hundreds of dollars to hire this dumpster and didn't use it."
"Oh. Then. She was going to sell the house. Someone actually wanted to buy it to gut and flip. It was really a cool old house, speaking design-wise. She decided at the last possible second not to sell. Had to reimburse the buyer's closing costs plus a bunch of other fees."

"Then cried to anyone who'd listen how the realtor was a scammer who 'tried to sell her house out from under her'. Like they're just rouge realtors going around, listing people's houses without their consent and selling them."
Drama
Are the emotional outbursts exhibited on reality shows genuine? Not always.
Hairy Situation
"A class mate of mine was on my country's Next Top Model. Before getting into the show she was asked what kind of hair she would never want to get, so that the producers know about it and not make her have it during the makeover episode. My classmate had long blonde hair which she really loved, so she said she doesn't want them to cut her hair off and that she also hated strange unnatural colors like blue, pink etc."
"Fast forward to the makeover episode. The hairstyling team comes in and finds her hair unfitting for a model, so she needs to get a makeover and guess what? Her makeover obviously consists of a pixie cut and green hair to make her look like a 'punk fairy.'"
"My class mate cried throughout the entire process, so I guess the producers got the drama they wanted out of this."
Cue Anger
"There was a family in our neighborhood who was on a show here in Germany. One day, when accompanied by the camera crew, one of the daughters suddenly threw a screaming fit in public, which was totally unusual for her. When the mom was asked later what the f*k had happened, she said, for a tantrum you get 200 bucks extra."
– RayNooze

"A girl I went to school with was on 'My Super Sweet Sixteen'. She was always quiet but well-liked and the kids on that show were usually monsters so we were curious about how the episode would paint her."
"There was one scene where she was checking in on a vendor and they said something might not be finished in time for the party and she didn't have a meltdown or anything but she said something dramatic like, 'Oh no! That's going to ruin my whole birthday party!'"
"After the episode aired her friends who were with her said they did a couple of 'takes' because her first reaction was like, 'Oh, that sucks. Thanks for letting me know.'"
It appeared the majority of Redditors who vouched for a show's realistic portrayal of people on TV was Hoarders.

For Redditor azulweber, the circumstance was relatable.

"yeah my grandmother and her sister are both hoarders and i have no problem believing that it's real. i can't imagine someone who isn't a hoarder being willing to allow a show to do that to their home and belongings just for tv."
Sadly, the exploitation of a person's mental illness seems to make for must-see television.

Keep reading...
Show less
It can be easy to presume that parents and their children get along automatically.
But unfortunately, that is so far from the truth. There are SO many fraught, toxic, and already-destroyed relationships between children and their parents.
Of course, no parent sets off hoping it gets to that point. But sometimes the external circumstances, the other adults in the child's life, or the internal tendencies of that person--who is an autonomous individual--simply drive a wedge that, for parents, is impossible to surmount.
Some Redditors who are involved in a toxic parent-child relationship shared how it got there.
TheHeyHeyMan asked, "Parents who dislike their own children; why?"
A common thread was the negative response that many parents have to their children reliving their own flaws and struggles.
Many parents evidently treat child-rearing as a chance to perfect all the things that went wrong in their own lives. And when that doesn't happen, the all-too familiar person can be difficult to accept.
Churning Out Duplicates
"Probably because they're too much like me. I like to think that as a parent part of my job is to eliminate my foibles by helping my children be better than me. My failure as a parent instead has been to create copies; what I dislike about them is also what I hate about myself."
"Sometimes the harder you try the bigger you fail."
"P.S. I love my children."
 A Flawed Approach
"Because after his mom died , I stopped disciplining him. I thought if I gave him everything I never had ; coolest clothes , shoes, toys , dirt bikes, game consoles etc would make me a good parent. I was wrong."
"He's about to turn 18 and i can't even stand to be in the same room as him. He's manipulative, mean, arrogant and condescending. And it's all my fault."
-- dakipsta
Projecting Onto a Clone 
"I am not a parent, but a child who is not loved. Everything is quite ordinary, I just resemble my father, both in appearance and character, so my mother considered this a great reason for physical violence and discrimination among other 'right' children."
"As a result, my mother and I do not communicate, she abandoned me at the age of 12. The last thing I heard was, 'you should be grateful that I put up with you until you were a teenager.' Thank you for doing your job. Thank you, you disgusting person."
The Last Person He Wanted Recreated
"I hate my daughter bc she has all the bad characteristics of her mother and none of the good ones."
"She's mean, aggressive, demanding, she hits her classmates, gets violent when she doesn't get what she wants, yells loudly to overpower anyone around her when she can't use physical violence. She breaks things that aren't hers. She actually looks down on everyone around her; it's crazy, you can actually see it. She's six."
"....obviously, I am not the one who raises her. She's got a hard life ahead of her. Poor girl."
-- FBreath
Others were more puzzled by the person their child turned out to be. These parents could not understand how, given the upbringing they provided, their child could ultimately be so unkind.
Choosing a Different Version of Community 
"He has no conscience. He has brutalized people over rumors, you could watch him steal something, catch him with it, and he would lie. He ended up shooting someone."
"He grew up with an upper middle class suburban family that no one had ever even been arrested. My wife and I come from good families, he had so many aunts uncles, grandparents, cousins who all supported and loved him. He could have gone to college for whatever he wanted."
"He chose to join a gang. Then we found out he tells everyone he turned out this way because his mother beat him and I was always passed out drunk (neither are at all true.)."
"I can't deal anymore. It put me in the mental hospital multiple times."
"I just had to write him out of my life."
"His brother had a great childhood and is pursuing his Doctorate."
Too Late to Turn it Around?
"I'm not a parent but my uncle and aunt really hate their son because he's accomplished nothing in life and is a complete failure but still has an ego higher than the Mount Everest."
"He's always mean to everyone."
-- 6Butcher6
A Whirlwind Debacle
"He did terrible in school, became a drug dealer, squatted in a house owned by the family, decided it'd be a good idea to start a METH LAB in the basement of said house, and then hired a crappy tv lawyer to blackmail us into selling the house back to him!"
Others discussed the ways external circumstances--particularly around the birth of the child--that played into growing dislike as they grew up.
Cannot Accept What Happened 
​"my mother wanted a boy, had one before me but it was a miscarriage, i was conceived a year after, i was an early delivery, she was in coma for 2 weeks and after that she did not take me or touch me or look at me or even fed me for days."
"my dad took care of me and looked after me. she still curses me and wishes it was a boy"
The Product of Infidelity 
"My father was sober for 18 years before I was born, then only started drinking again once my mom got pregnant with me. This eventually led to my father cheating, and my parents getting divorced. Since my birth was technically to blame for this, both of my parents despise me."
"I'm not old enough to move out of my mom's house yet, so I'm spending just about every day hiding in my room, making as little noise as possible, and trying to bother as few people as I can."
-- HexagonPenis
Arm's Length 
"My mother does not like me because she never got attached to me at birth. A year before my twin sister and I were born, our parents had triplets who all died after a few days. Untreated trauma followed. I was born nearly suffocated and poorly, so my mother, wanting to protect herself from more trauma, never attached to me. She did however to my twin sister who was born healthy and thrived."
"Years went by and this initial lack of attached turned into resentment or dislike during my childhood because by the time we were eight years old, our parents were divorced, and I physically resembled my dead-beat father. This only worsened during my teenage years as I was beginning to act up years of neglect and became depressed. She disliked the signs of her own doing neglectful parenting and lack of love in me. I remind her of that."
"Ever since we have pretended to get along, but the relationship is never really there. I am a mother of two myself now and have taken all of this on board trying to do better. I am also trying to understand her. That ultimately this was not her fault."
There's no question about it, this was a very depressing list to read through. But hopefully there are some lessons we can glean from these posts.
Maybe you surmised a way to make sure you don't do the same thing if you already have or plan to have kids.
Want to "know" more? Never miss another big, odd, funny, or heartbreaking moment again. Sign up for the Knowable newsletter here.
I'm sure we all remember the excitement we felt as little kids when we lost a tooth. The concept of getting money from the Tooth Fairy for simply getting rid of a baby tooth was enticing to a child who knew nothing about money, and when we become parents, it's a fun thing to pass down to our children.
Here are a few funny stories from parents on Tooth Fairy duty, courtesy of Reddit.
​Some of the funniest stories come from the kids trying to catch the Tooth Fairy in the act.
Outsmarted.
Once, my son got the bright idea to con the tooth fairy. He made playdoh teeth and left them. As he was totally naive about this, he shared his plan with me. He anticipated untold riches! However, the fake teeth only yielded fake money - chocolate coins in gold-colored foil!
I did that once as a kid with a little shred of popcorn. Since I didn't tell my parents, it was still under my pillow the next few mornings. I figured the tooth fairy wasn't fooled, so I wrote an apology note for trying to trick her.
Everything is explainable by magic.
I have 3 kids and it's not hard to do it without waking them. Once the kid lost a tooth at night and we didn't have anything smaller than a $20 so we told him that means he lost a super special tooth.
The other parents in his class heard about it and were annoyed with us because their kids thought it was the going rate.
When my middle kid got money for his first tooth he tried really hard to loosen another to make a quick buck. He swallowed it at lunch and was so upset but we paid him anyway and told him the Tooth Fairy could use magic to get it.
Logic.
My youngest had the idea that the tooth fairy wears a blue sparkly dress. He would ask me if I was the tooth fairy so I let him look through my closets. No blue sprakly dress.
Next summer was my parents "turn" for a visit and what does my son find in my mama's closet? A blue sparkly dress! Grandma's the tooth fairy!
That's a smart 3 year old.
My daughter (younger than my son) saw her big bro getting loot for his newly lost tooth. She was maybe 3 years old and wanted in on the action. I caught her putting something under her pillow one evening and said, honey what are you hiding under your pillow? She looked at me and whispered "magic coins". I said uhhh, what? She had placed Chuck E. Cheese tokens under the pillow and when I asked why, she said that if she left some money that a secret fairy would come and leave her some teeth.
Of course, that night I chipped small pieces off a block of Parmesan cheese and dipped them lightly in ketchup "blood", placed in a bag and made the exchange.
A much better deal than being out a five spot every time my kid sheds a tooth.
This is so wholesome.
Years ago, my son decided he was going to catch the tooth fairy on camera by setting up his tablet to record in his room. When I walked in, I saw what he had done and walked over to it and knocked it face down. See, his tablet recorded in 30 second increments. So standing behind the tablet, I took a picture with flash on so it would light up a room like the tooth fairy. Counted to 30 and stepped out.
The next morning I scrolled to find the places with me in it and deleted them before he woke up. The result was a few dollars under his pillow and a video with a flash of the tooth fairy showing up. He was so excited!
Perhaps the funniest stories come from when parents forget to make the switcheroo.
Gotta come up with a good excuse.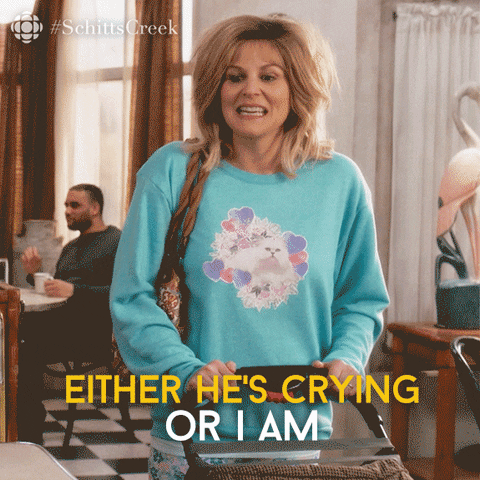 schitts creek crying GIF by CBC
Giphy
When my daughter lost her tooth I completely forgot to do the swap and she told me the next morning, I made a letter from the tooth fairy explaining how she couldn't leave her money because of how messy her room was that she hurt herself trying and would come back when her room was all tidy. Gave me time to get some cash and a reason for her to tidy her room.
A serious problem.
I don't have kids but here's the story on how I found out the truth.
I woke up in the morning looked under my pillow and tooth was still there, no money. So I of course told my dad later on and he straight up said "oh crap I forgot" and pulls out some money and gives it to me...
No explanation no fancy story no nothing, I didn't even question anything. But I was pretty surprised
Edit: they never were into the whole Santa, tooth fairy, Easter bunny, etc. They even said "if you see a fat white man coming down that chimney there's gonna be a serious problem"
Nice save.
My husband and I fell asleep and forgot to take the tooth and leave money a few weeks ago for my 6 year old. My brilliant husband was like "it's because of covid". So we told her the tooth fairy wasn't collecting teeth because of covid and was just sending kids robux (currency in the game Roblox that they play) in lieu of leaving money under the pillow, due to social distancing requirements. I quickly added $10 worth before she logged in to check, and she was thrilled.
I don't know how they do it, but sometimes kids just manage to not notice anything through the entire ordeal.
That's slick.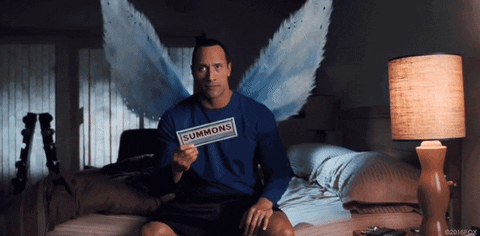 dwayne johnson wings GIF by 20th Century Fox Home Entertainment
Giphy
I'd do it right in front of them without them noticing.
I had a very small velvet beggar's purse type of bag for the kids to put their tooth in when they came out. I actually had two of these bags but they didn't know that. They'd put their tooth in the bag then put the bag under the pillow. I'd have the other bag with money in my pocket.
I'd sit on the end of their bed and talk or read a story for a few minutes. Then I'd say it's time to go so I'd stand up, lean over them to kiss them all over their face and hug them using one arm while swapping out the tooth bag with the money bag. Never got caught.
The Tooth Rat sounds terrifying.
When I was a kid my parents told me about the tooth rat, not the tooth fairy. We left our teeth behind the bedroom door instead of under the pillow. Now I know it was because they tried to test the pillow thing and I woke up.
The best part about being a kid who believes in the Tooth Fairy is when she manages to slide us more money than we expect. I remember getting $5 once and getting so excited! It's the best when the magic is still there.
Of course, we all eventually grow up and find out the truth. But until then, it's fun to believe in something so magical
Keep reading...
Show less
They say honesty is the best policy, but does that apply to EVERYONE?
It most certainly does not. Kid-level honesty is pretty much hilarious, but as grown ups we could absolutely not get away with that same comedy routine.
One Reddit user asked:
What is the funniest thing a child has ever said to you?
... and listen, this is comedic gold - IF you can get away with dropping these hits.
The Happiest Day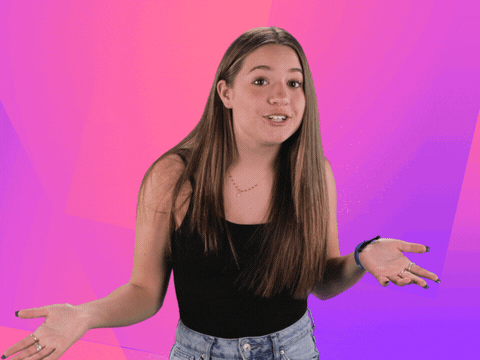 Mackenzie Ziegler Whatever GIF by Kenzie
Giphy
I was standing at a chain link fence watching an excavator tear down an old school. A boy about seven years old came to join me and we watched together for a while.
Then he turned to me and said, "This is the happiest day of my life." I guess for a boy, seeing an excavator and it was tearing down a school... well, it just doesn't get any better than that.
I'm nearly 40, and watching them tear down my old school last year was the happiest day of my life. I fully expect it to remain that way.
An Adult
I was playing a game with my 4-year-old nephew. I (32 years old) couldn't figure out how to put it together.
He turns to me and says "I think we need an adult"
My 1 year old asked my 22-year-old to take him to the park. She replied, "No, we need an adult to go to the park." I just stared at her then started laughing. She somehow hasn't connected that she's the adult.
Little do they know we're all as clueless as them, and maybe even more so.
Pokemon Stadium
My friend's little cousin was giving us all Pokémon names.
When he got to my biggest friend he said "And you can be Pokémon stadium!"
I love how he skipped Snorlax or Wailord and just went straight for, "Pokémon Stadium"
That's is the sickest burn. I'm going to use it.
Panda
We were on a tour of China a few years ago, and the group was taking the bullet train from Beijing to Shanghai. The tickets for our group had us all sitting on one side of the carriage, and the other side was all Chinese locals. It was the middle of summer and everyone was wearing shorts.
Halfway through the five hour trip a young Chinese girl, about three years old, starts walking up and down the aisle tapping everyone's bare legs as she walks past. She's got the attention of the whole carriage by now.
The Chinese people on one side all have smooth legs. But when she gets to one of the guys in our group, a Mediterranean type with thick black hair on his legs, she stops in her tracks. Pokes it. A couple of times. Then says something in Chinese and half the carriage roars with laughter.
One of the locals announced "She said Panda" and the other half of the carriage lost it too.
Surprise, Roasted! 
I was about 18 working at a boy scout camp during the summer. Store manager.
Kid comes up (M 10?11?) and he points at his face "We have the same!"
Me: "The same?"
Him: "We have the same!"
Me: "Same what?"
Him: "Your teeth are messed up just like mine"
He definitely did not mean it rudely, but how it came about was hilarious. Out of nowhere roasted by a child lmao
Raging At Richard
When I was about 4 or 5 years old, we had a big tree in the front yard with a couple branches low enough that I could climb it without assistance.
I was such a monkey, I could climb to the middle of that tree (a little higher than our single story home) with an ice cream cone in my hand. It was very much my happy place.
My uncle Richard came over one day to trim some of the tree away from the chimney. For whatever reason he also cut away the low branches I used to get up in it.
I could no longer get up into my happy place. I was so mad that he ruined my tree that I went up to him, in all my 4/5 year old fury and snapped at him "Richard, are you pregnant?!"
Yes, he had quite the belly.
Demonstrating Consideration
My younger brother was four at the time this happened. My parents taught all of us kids to be kind and not make fun of people.
We were walking into the grocery store and as we approached the entrance a rather large man was walking in our direction.
Right when he got alongside us my younger brother turned to my mom and said in a very loud voice, "Mom, we don't say, 'hey big fatso' do we?"
He was obviously trying to show that he was being considerate, but was quite the opposite. Fortunately, the gentleman must have had a sense of humor, because he started laughing. My mom did not laugh. She nearly died from embarrassment.
- m0resn0w
Unintentional roasts aren't the only way kids tend to be hilarious.
Sometimes it's just about how they see things.
Good Boy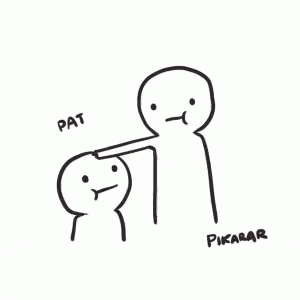 Good Boy GIF by memecandy
Giphy
My mum loves to tell people that as a toddler I very seriously told off a man for trying to cross a road without holding his mummy's hand.
He was definitely an adult, and did not know the elderly woman standing next to him but they dutifully held hands and crossed the road together.
I told him he was a good boy.
As a mom to a toddler and obviously an adult myself I find this extremely charming and I can guarantee you that you spread joy in the world that day
Both that man and that older woman went home and told stories about this for weeks.
A Horsey Suit
My 4 year old nephew asked me why there was a man in a field dressed in a horsey suit. He was looking at a horse.
That kid is going somewhere. Maybe not Harvard, but definitely somewhere.
He's going to the optometrist.
On The Green Part
This might not be as funny on text as it was in person but I was babysitting a little girl and asked her where she got her Build-A-Bear bear from. She was 4.
Her: you know the globe?
Me: yes?
Her: you know how there's a blue part and a green part?
Me: yes?
Her: I got it on the green part.
Do You Live Here? 
During a lesson as a swim teacher
Kid: So do you live here?
Me: What do you mean?
Kid: Once the lesson is over, do you like live in this pool?
I can just see this as a scene in a Will Ferrell movie where he plays a has been Olympic hopeful turned kids swim instructor.
- insidli
Well, you didn't answer the question, are you an aquatic creature?
Chocolate Money
Saw a cute little boy, probably 3 or 4, smiling at me while in line at a grocery store checkout.
I smiled back, he said 'Hi,' so I said 'Hi,' back. His mom was smiling, and I said, 'What a handsome little man.'
He said, 'If you come to my house I have chocolate money.'
Best offer I've ever had.
- MopsyMom
Best pick up line I've ever heard
The Best Mispronunciation
My daughter has said quite a lot of funny things but the one I remember the most was when we were playing some space-themed mobile games.
I think she's around 6 at the time. She's passionate while playing kinda likes trash talk. So when she manage to acquire an asteroid, she screamed at the top of her lungs, "ASDESTROYED".
I lost it and just laughed out loud. No, I didn't explain to her what @ss means.
Papa Jesus
Not to me but I can't help but share.
One time my toddler cousin Martha* and her family visited our grannies. Their place is a big, gated area which comprised of their house at the front, and a short driveway to the back leading to a building. It's mostly used for retreats and meetings for a Roman Catholic org they're part of. Anyway, Martha wandered over there and found the housekeeper cleaning a large crucifix on a table.
"Is that Papa Jesus?"
"Yes, Mart. This is Papa Jesus."
She then proceeded to look around the place.
"Is this Papa Jesus' baby?"
Confused, the housekeeper looked over where she was pointing.
It was a smaller crucifix.
This story was told to me by the housekeeper and I couldn't stop laughing. Kid logic is just hilarious sometimes haha
- 1395CL
Vietnam
I was in the nail salon with my kids for a quick fix to one of my nails. The men and women who worked there were Asian and spoke in their language amongst themselves. My 5 year old son finally turns to me and says "Mom, I don't know what they're saying. I don't speak Spanish."
The nearest female employees all busted up laughing, and he was so confused.
And that's how my son ended up receiving a geography lesson about where Vietnam is located, and that they do not in fact speak Spanish there.
Kid-level honesty is the sort of thing we should all aspire to ... or maybe not. lol.

We kind of feel like kids can get away with this sort of thing because they're small and cute. Offering the woman behind you at the grocery store "chocolate money" to go home with you probably won't end well as an adult.
Do not try this at home.
Keep reading...
Show less