The desire to raise a family can either make or break a budding relationship, no matter how much a couple is in love.
However, there are times when things don't necessarily go as planned and a couple conflicted about having kids suddenly find themselves having unexpectedly crossed the threshold into parenthood.
And they wind up having no regrets after they realize they happily raised a family in spite of everything.
But there are couples in which the two people involved are mutually on the same page about not having kids.
Would they have regrets when they are older?

That is something Redditor ADreamyNightOwl wanted to explore and asked strangers online:
"[Serious] People over 50 that chose to be childfree, do you regret your decision? Why or why not?"
The following Redditors explained why they have no regrets in their decision to not have kids.
Lacking Parental Instinct
"I explain it to people like this - you know that feeling you get where you just can't wait to teach your kid how to play baseball? or whatever it is you want to share with them? I don't have that. Its basically a lack of parental instinct. Having children was never something I aspired to. My SO is the same way."
"Don't get me wrong, I have nothing against children. And I get really angry at people who harm them or mistreat them. I just never wanted my own."
– IBeTrippin

Better Off Without Them
"Yeah same, it took me years to really come to terms with this whole 'I completely lack a desire to have kids' thing. First i thought I would magically develop the desire when I got older, and then I thought I was broken in the head, and then I thought I needed to just 'talk myself into it,' or have a kid and hope the feeling came."
"But I'm in my mid-thirties now and still don't have ANY desire to have a child. People always ask 'why' I don't want kids. Like, I have 100 reasons why."
"But the most important reason is literally 'because I don't want them'. As in: 'I don't WANT them'. As in: it is simply not something I actively want. Why would I force myself to do something that I have no natural desire to do. Seems like a good way to mess up my life and some poor kids."
– PaganDreams

A Perfect Match
"No and I found a partner who feels the same. We are the cool aunt and uncle."
– laudinum

These people gave their affirmation that life is good without being a parent.
Words From A Septuagenarian
"I'm in my mid 70s and happily child-free."
– civex

The Good Life
"I'm 52 and I'm in bed watching the morning sky over the ocean with a mug of tea and a book. Quiet music and no one is demanding cereal or needs a diaper change or the car or to sleep in my bed."
"Later, I will walk around a museum without a stroller and a screaming, hungry, wet baby or a gloomy preteen. Yes, there would be times that the kids would behave, but what's the percentage? BI will cook for one, not one vegan, one who only eats chicken nuggets, and another who will burn water if I let them near a pot."
"I've never regretted my decision ever."
– Fredredphooey
Mixed Feelings
"I have mixed feelings. I don't care much for children and I think it would have been disastrous for us to have them. I was also able to retire at 52. Pretty sure that wouldn't have happened with kids. So yeah, absolutely the right decision."
"But I love my family and I do wonder what it would be like to have my own, to teach my child the things I know and not to be without someone who cares about me at the time of my death."
"But again, absolutely the right decision and at 55 I'm very happy NOT to have them. This is reinforced every time I'm exposed to other people's kids."
– ProfessorOzone

The "Wisdom Of Her Decision"
"57 years old and childless. I don't regret it at all. I sincerely believe that I would have been a piss-poor mother. I'm an extreme introvert, and seeing my sister with her sprogs clinging to her all the time, wanting something or other -- food, attention, a toy, whatever -- and calling to her, mommy mommy mommy, convinced me of the wisdom of my decision."
"If I had had children, I would have been driven to suicide or homicide in short order. My sister's kids are grown into wonderful young adults, and I love them to death, but I need lots of alone time to remain sane, and you don't get that with kids."
"If I'd had them, I might have become one of those horrid humans who feed their kids Benadryl to make them sleep, just for some peace and quiet. Childless is better for me."
– booboocita

These Redditors were indifferent about their views on parenthood.
Part-Time Parent
"I'm almost 50 so I'll chime in. I never wanted kids, just never had the urge. But I wound up helping raise my niece and nephew after their mom, my sister, died in a car accident when they were 7 and 5 respectively."
"I didn't have the full time, but split housing them on weekends while their father worked and his b*tcha** wife didn't want them around. I had them every other weekend and about half of each summer for years. They're now 21 and 19, so I wound up as more parent-ish than aunt."
"They were a handful so I'm glad I didn't have any of my own, it was exhausting enough being a part-time parent substitute and, of course, I wish their mom hadn't passed away."
"Full time parents, you're awesome, I couldn't do it. At least their dad gave me money for all the time I took care of them, sharing my sister's social security benefits so I could feed and clothe the kids and give them some fun activities and camps."
"I love the hell out of them, but still glad I didn't have babies of my own. They're good kids, I love them to death, but they've also broken my heart a fair few times acting up, making dumb decisions, but all kids do that. I'd beat the ass of anyone who messed with my niece and nephew."
– gambitgrl

An Uncertain Future
"My wife and I chose long ago not to have children, but always left it open for renegotiation. We're 40 now and feel absolutely no regrets about not having children. Still feels like the right choice for us. Hopefully, we'll still feel that way long into the future."
"Lots of folks ask us questions like, 'who will take care of you when you're old?' or 'what if something happens to your spouse?' No judgement, but to us, those have always felt like pretty selfish reasons to have children."
– lyingliar

Possible Regrets
"I don't necessarily regret not having them, but I regret the fact that I wasn't in a healthy enough relationship where I felt I COULD have children. I regret not being stronger to leave the abuse earlier, if I had been stronger, I think maybe I could have had the choice at least."
"So yeah... I have regrets."
– MerakiStudioMe

A Bonus
"No. I knew what I was getting into when I agreed to marry my husband. He had two sons from his first marriage and a vasectomy. He was worried because I was so young (comparatively, he's10 years older)."
"I did think it over seriously and concluded that a life with him compared to a life without him but (perhaps!) with a baby I didn't even have yet was what I wanted. It worked out for us, we've been together for 26 years. As a bonus I have 9 grandchildren. All the fun without the work of the raising!"
– ZubLor

Generally, the people who never wavered in their decision not to have kids early on seem to be happy.
And while some in the thread expressed concern about who would take care of them when they become elderly or widowed, it didn't seem to cause enough anxiety to have any regrets.
Because as someone mentioned, basing their decision to have kids just so they are taken care of is an unfair, and selfish, approach to parenthood.
Want to "know" more?
Sign up for the Knowable newsletter here.

Never miss another big, odd, funny or heartbreaking moment again.
Keep reading...
Show less
There is certainly a lot people put up with they shouldn't have to.
While these "common practices" are generally accepted in day to day living, stopping for one moment to think about them for more than a second could lead to you going, "Why do we put up with this? Why is this acceptable?"
Turns out there's quite a few practices like this.
Reddit user, ImproxAi0li, wanted to know what we shouldn't be on board with when they asked:
Whats a common practice that shouldn't exist?
Why is it okay to be a jerk? Obviously, it's not, but we sure let a lot of people get away with it, don't we? Maybe we want to avoid conflict or maybe because it's easier to let it go while we focus on our own business.
Still lets jerks exist in the world.

You're Just A Bad Driver
"Road raging. Not worth it, not changing anything. I don't think anyone has ever seen a middle finger, and thought "Gosh, I should improve my turn signal usage". I've known people to go out of their way to follow a car to scream at them. I just think "Way to go, this person inconvenienced you for 3 seconds, now we'll be spending the next 20 minutes circling around because we missed our exit because you just had to get your say in". ~ gh0stm4k3r
Behave Like A Child, Get Rewarded Like An Adult

"Being rewarded for throwing temper tantrums in public at retail or service workers" ~ aflowerandaqueen
"Pisses me off to the Max. They should be treated like children. Negative behavior=negative consequences" ~ Kkmiller_
"My boss when I worked in retail would usually give in when we had to get her involved but she would always be super b-tchy about it and make sure they knew she was not pleased. I miss her" ~ AffectionateBug5900
Litter, Litter, Everywhere
"I'm from Switzerland. If we're out in the middle of nowhere drinking beer and eating food, we will carry empty cans, cigarette filters, bottles and empty packaging it for hours if necessary to find a bin, often by hand."
"When drinking with Americans from a large part of the east coast and part of the west coast of the US they seem to LOVE throwing empty beer cans on the roof of buildings or chuck cigarette filters on the floor..... it's a bloody shame & I despire Literring. ((IT'S SO EASY TO AVOID FFS))"
"If you ever have the pleasure of visiting Singapore, take note of & get inspired about how clean their streets are; not 1 chewing gum on the ground & I bet they'd reprimand you severely for throwing a cigarette filter on the floor." ~ legalizenuclearwaste
How you spend your money on what you want is your business, until it starts to hurt other people.
Tough, But Fair
"buying single ply toilet paper for your employees. Like, f-ck free coffee, f-ck free snacks, f-ck free beer, I just want to be able to wipe comfortably." ~ PrisonIsOppression
"My sister started a business and she promised me she would only have nice tp for her guests, she runs a wedding venue. Then her septic system got clogged as it can't handle nice tp at the rate it gets flushed at weddings. I now understand why businesses use crappy tp. They flush way more than an average home." ~ Mean_Parsnip
Yet Somehow Exactly The Same
"Purchasing political favors directly with cash AND somehow it's not a bribe" ~ reb0014
"That's a campaign contribution and it's totally different. Totally different." ~ 251Cane
You're Caring For Another Living Thing
"Buying a pet out of boredom"
"In my opinion, you should need to pass an aptitude test and have a license to own a pet or raise a child. Only reason that isn't the case is because it would be impossible to implement or enforce" ~ LunarLeopard67
It's hard to accept things when it affects children. Somehow it feels worse, as if they had zero say in the circumstances now surrounding them and the adults should know better.
Yet, here we are, in the year 2021, where family vlog accounts are still a thing.

Time And Money That Could Be Going Elsewhere
"Child beauty pageants" ~ Adventurous_Yak_9234
"All beauty pageants. Why are genetically inherited features even being judged?" ~ cheesedessertsrlife
"Parents spend ridiculous amounts of money on these pagents." ~Asleep_Case7854
Look At My Cute Kids But Love ME
"Using your children for social media clout" ~ BlackenSphinx
"So disgusting! Then they get upset if something is said about the kids or them using the kids. Their children don't have a say in the matter and shouldn't be targeted. But, of course there is always going to be trolls." ~ Apprehensive_Lead755
Living Their Entire Lives On Camera
"Family vlogs. Absolute disgusting" ~ xmoxi69
"Selling their children's childhoods for that sweet YouTube money." ~ Jealous-Network-8852
If you see something you don't agree with, don't engage with it. It's as simple as that.
Want to "know" more?

Sign up for the Knowable newsletter here.

Never miss another big, odd, funny, or heartbreaking moment again.

Keep reading...
Show less
Being a kid comes with a lot of things that never happen again--including an insane amount of recovery and durability. Kids do dumb things all the time--like fall out of trees, touch stoves, spill hot coffee; the list is really endless.
But sometimes it seems like the thing you did as a kid really goes above and beyond on the "stupid" spectrum. And you can't help but internalize every single second of that cringey memory.
Redditor TheFacelessMann asked:
"What is the stupidest thing you did as a kid?"

Here were some of the answers.
Starting Off Stupid
"When I was 16-17 I called the school, faked being my dad( they didn't know what he sounded like, they always dealt with my mom) got myself excused from school, then stole my dads truck and drove around all day with my then-girlfriend (who just didn't show up that day and her parents could have given two sh*ts). No big deal, right?"
"It wasn't until I got home later that I realized I was going to be in Big Trouble with Dad. I had assumed I would have enough time to get gas on the way home, but being a stupid teenager, I forgot."
"So I'm sitting there in my house, 20 minutes before my folks get home with a gasless truck and no way to explain what happened."
"But then, inspiration struck. I would simply put gas into the truck using my dads gas cans he kept for generators/lawn mowers or whatever. Sure I didn't know how much the truck had been filled, but if I filled it all the way, maybe he'd-- I didn't actually put this much thought into it."
"I ran out to the garage to discover that the gas cans were empty. Which was my fault, since I did all the mowing, I was responsible for filling the cans. F**k. Past me is an a**hole. Then I noticed that the tractor was full of gas."
"Getting yelled at for the mower and cans being empty = not the same punishment as stealing the truck. So I got to work. Only to be immediately impeded by the fact that I couldn't find the siphon. Great."
"Time was running out and I was panicked. So I grabbed the only thing in the garage that provided suction. The wet/dry vacuum. Somewhere in the resources of my mind I knew that gas and electricity didn't mix."
"But my panicked lizard brain didn't care. All I wanted was to stay out of Big Trouble. So I jammed the hose into the gas tank of our lawn mower and flipped the switch. The resulting explosion was heard three houses away. I'm lucky I didn't die. I lost my shirt, eyebrows and my license for six months."-LinkLinkerson
Standardized Tests
"So we had a test called the MAPs once a year in elementary school. Basically it was reading and math and it was online on a computer. I remember in 2nd grade sitting in the computer lab thinking that I cracked the code and I was a genius!"
"I realized that if I randomly guessed and/or got the answers wrong for math the questions became easier and more fun! So I could breeze through it!"
"Turns out that wasn't a good idea and I was getting a horrible score on the math section. And the reason the questions were getting easier was because it thought I was worse and worse at math."
"Thankfully someone caught me doing it and realized what I was doing afterwards and adjusted that score so it would not have hurt me."
"But thank goodness that test didn't matter in the long run or effect classes since I did so bad. Anyway I'm still only just ok at math but the complex stuff confuses me and I have to study extra to remember those super long formulas. But hey I have passed by math classes."-ravenpotter3
Ah Yes, The Traffic Game
"When I was like 7 or 8ish my friend was moving so he had a crazy amount of boxes at his house we decided to take a couple huge ones put them over us and sit in the front yard, then when we hear a car we'd jump up and run around to I guess scare the driver of the car making them think the boxes were alive?"

"Yes I ran into the street and got hit by a car while in a box. Not how I intended but I'm sure I scared the sh*t out of the driver."-Chuggs400
What you did as a kid might have been dumb, but there is a certainly a line where things get irrevocably stupider.
Gotta Focus On Listening Skills
"I was like 9 years old, I guess. Biology teacher wanted to show us some sort of salt crystal iirc."
"He had a small plastic can/box with loads of them and we were supposed to look at them a bit (they had this magnificent blue colour), put them back and pass the box to the next person until the entire class has seen it."
"Now, the box looked a lot like those chewing gum or mentos boxes, and little me who wasn't paying any attention suddenly got this box from my friend next to me..."
"I was so zoned out, I just took one of those crystals out of the box and f*cking munched it like an idiot (out of habit...?). Entire class looked at me in disbelief."
"I was like 'huh..?' and my friend whispered 'dude... these are poisonous, haven't you listened??'...well I didn't get any poisoning, but I got into huge trouble that day..."-L_Flavour
The Question Becomes "Why"?
"When I was 2 or 3 I had a humidifier in my room. Somehow I got it into my head seeing the vapor coming off the top that it would be fun to sit on."
"Don't ask me why. This being the early 80s though, and the somewhat more lax product safety design, for this thing to work it had an exposed heating element on the top."
"My mom still has the receipt from the emergency room for treatment of 'burned scrotum.'"-sharrrper
The Strangest Superstitions People Actually Observe | George Takei's Oh Myyy
The world can be a superstitious place. If you've ever knocked on wood or thrown salt over your shoulder then you've run into one or two throughout your life...
Ah Yes The Good Old Bleeding Child
"Me and my brother built a giant ramp of saw dust and crap. Then we jumped it with our bikes. Or rather, he jumped it. I flew off into the air and split my head open."
"So, bleeding and confused, I walked over to the nearest house, and frightened the absolute soul out of the poor lady that answered the door."
"I ruined the towel she gave me. Just, blood everywhere."
"I'd say oh gosh, except it was extremely funny to watch a housewife try to take care of a kid while I was just in pain, yet saying yo no this hurts but I'm good."-Throwaway583thisdumb
Good Luck Sleeping After This OneKingCapo18
"As a kid (9 years old) me and my friends spent a lot of time in the woods. But this one specific time it was just me and another friend playing and building little tree forts."
"This guy then came out of the brush of the woods and asked how we were doing and if he could play with us and teach us how to build better forts. And as a kid I didn't see anything wrong with it, I thought that it would be fun and cool."
"Obviously my other friend wasn't really comfortable with the idea but just went along with it. It was a nice short day of building forts with a random guy I met in the woods, but he then said it was time for him to go."
"So he told me if I ever wanted to play with him, he lived right on the other side of the woods and pointed behind him. I thought that was nice. Later the next day I run into the woods and go looking for him."
"I run all the way across to a couple cabins side by side to each other and thought 'oh this has to be his house' but the closer I got the more eerie it started to feel. The cabins were old, run down, and sort of looked abandoned."
"I thought I could hear someone inside but I wasn't sure, so I went closer for a better look. I then see a girl inside but she was crying and sitting on the floor under a table and didn't seem to notice me."
"She looked to be maybe a teenager but I can't really remember since I was a little kid at the time. But then I suddenly heard yelling and screaming, so I bolted back through the woods and went home. I've never heard of or seen the guy ever again."-KingCapo18
It's truly that these people are all lucky to be alive--each of these incidents, in a different world, could have gone much differently.
Poor Habits
"Basically just being a bit of a wastoid in general. I didn't take good care of myself. Terrible sleep, bad diet, poor basic hygiene."
"I didn't apply myself enough in school, even where I got pretty good grades overall, I tended to only do the minimum required and rarely tried to stand out or excel."
"Had a collection of comparably wastoid friends who we all just enabled and reinforced our bad habits and acted like the world was the problem, not us."
"That sort of attitude in life just isn't worth it. It's so hard to communicate that to someone when they are young, and trying to can sometimes only make them want to dig their heels in even more about it."
"But it's just such a limited, dead-end sort of way to live and there's just so much more out there that is worth doing."
"As I've gotten older, you start to realize that many of the cliches are true, youth is wasted on the young and all that, and I don't fundamentally regret my youth outright, more just that I wish I had snapped out of it sooner."-iuytrefdgh436yujhe2
Pretending To Be A Statue Works Great In Concept
"When my cousin and I were like 5 or 6, we thought it'd be fun to stand at the end of the driveway and pretend to be statues, then throw rocks at cars going by..."
"And thought they'd be so shocked and confused by the rocks coming out of 'nowhere' because we were statues!"
"Yeah, we were dumb and yes a woman did pull in and tell our parents and we got in big trouble."-ChickenGoose
A Hand We Are Lucky To Have
"I was about four. My older brother (14) was mowing the lawn with a loud traditional motor mower with rotary blade and collecting basket at the front."
"I decided I wanted to sit inside the collecting basket as he mowed. I called for him to stop while I got in. He couldnt hear me so I tried to physically stop him - by thrusting my hand into the rotary blades."
"Tore the whole of the back of my hand off, it hung on by a bit of skin. I was hysterical and wouldn't go to the hospital. My Dad placed the back of my hand back in place and bandaged it up. Hand healed beautifully. Brother got a bollocking."-Jagermeister_UK
These people nearly saw the ends of their lives because they did something so dumb it would have fully caused them to die had it gone even a tiny bit different.
We live, and we learn--but we need to live, in order to learn. Remember caution is your friend.
Want to "know" more?
Sign up for the Knowable newsletter here.
Never miss another big, odd, funny or heartbreaking moment again.
Keep reading...
Show less
When we're young we'll believe anything. That's because we rely on the adult world to guide us.
Why would we doubt what we're told?
Once you hit a certain age though, it's astonishing when you look back and realize... "Lord how gullible was I?"
Santa, the tooth fairy, the Easter bunny, a fair democracy... we really thought anything was possible.
I miss those days, even if they were a facade.
Redditor CuriousGeorge2007 wanted to talk about how easily we were entertained when we were young, they asked:
"What is the stupidest thing you believed as a child?"
I think the Easter Bunny is my most shocking... "You actually believed that?!" I had to though, that's how I got the Cadbury eggs!
Proof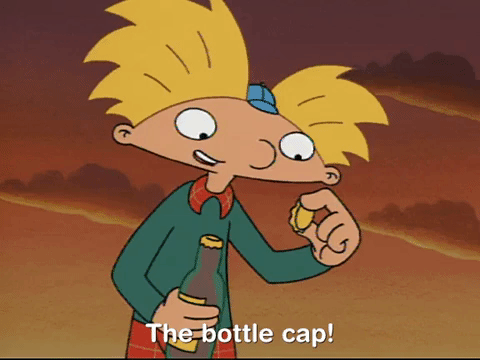 Animated GIF
Giphy
"I asked my parents how the bottles with the child-proof locks knew that it was a child trying to open them." ~ itsaanya
So Fancy
"For some reason my brother and I thought the smaller the salt and pepper shakers, the fancier the restaurant. McDonald's- big shakers, not fancy. I told this to a friend and he bought me some exceptionally tiny salt and pepper shakers when we moved to a new apartment to make my home as fancy as possible." ~ sensualsqueaky
The whole package.
"Once when I was two I climbed a chair and took my sister's meds. The whole package. Needed medical attention and everything. Growing up, my sister always told me that her medicine capsules were filled up with pepper. I hated pepper, so I wouldn't even touch it. I kinda wondered why she would need pepper everyday, but believed her nonetheless. To me, all capsules were pepper." ~ OphrysAlba
Twitching
"For a long time I had a weird superstition about twitches. When I'd be thinking about something and got a twitch on my right side I thought that was my subconscious giving me an affirmative answer. Left side was negative. It got to a point where I'd flat speak to it directly. Asking yes/no questions."
"But at some point it seemed to start messing with me. Always leading me astray. So, it flipped. left become yes, right became no. But it eventually figured that out and started freaking with me again. So it became a thing of trying to trick it, but eventually I just couldn't trust it either way and stopped listening." ~ Gr1pp717
"no exit"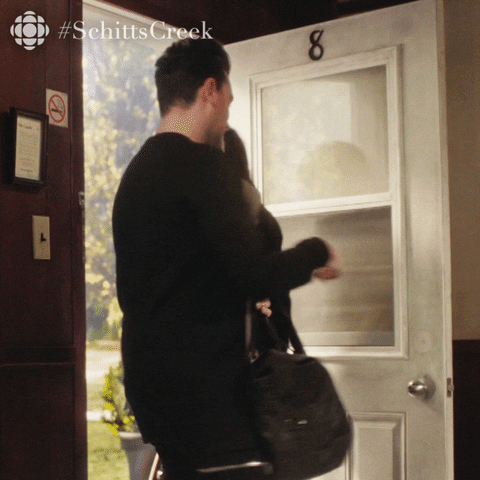 Leaving Love You GIF by CBC
Giphy
"That "no exit" signs on certain streets meant that once you go down the street, you can never leave. Needless to say I had a full on meltdown when I found out the house we were moving into had a "no exit" sign on the street. I equated it to basically being imprisoned." ~ Horror_Lumpy
Kids, kids, kids... always question authority! Nobody told us that as quickly as they should. I'm sure that's part of the plot though.
BAHHHH!!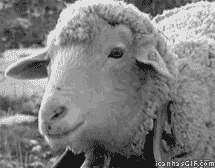 sheep eating GIF
Giphy
"Steel wool comes from sheep that graze in iron-rich pastures." ~ Back2Bach
The Large Hole
"I thought the Easter bunny lived in the sewer drain pipe next to the local gas station. My logic was that bunnies lived in holes, I thought the Easter bunny was human-sized (person in a rabbit costume) and thus needed an appropriately large hole to live in most of the year. The largest hole I knew was the drain pipe (the kind that looks a little cave in the steep grass area next to the road)."
"I thought it was the gas station one specifically because there was always candy wrapper trash thrown into that area. So essentially I thought of the Easter bunny as a homeless guy dressed up in a rabbit costume, bumming it in the gas station sewer." ~ sneakylilthang
Show me your teeth...
"It's not that I didn't believe in the tooth fairy, it's just that I thought I had a better plan. Instead of getting a dollar every time I lost a tooth, I decided to save all of my teeth and then cash them in for around $20. $1 couldn't buy anything, but $20 could buy a pretty cool toy. By the time I was old enough to have all my baby teeth, I was too old to believe in the tooth fairy and my parents refused to give me the money. So instead, I have a jar full of baby teeth." ~ NeedsMoreTuba
I Hear You
"I believed everyone could hear my thoughts. So I would try and regulate my thoughts in the presence of other people. Some coincidences used to happen that made me feel like it was all true (for example I would have a rude thought about a teacher and they would turn around and mad dog me, or I would have funny thoughts and randomly some person in my vicinity would start to laugh)."
"This went on from ages 9 to 15, and I didn't bother to speak to anyone about this because I assumed they would all lie to me anyway. I became a very paranoid person with a schizoid type personality." ~ Outrageous-Monk-6281
Just Walk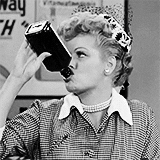 drunk GIF
Giphy
"Drinking and driving referred to all drinks. Used to be so scared when my parents had a soda or something." ~ Lameguy95
Drink all the soda you love. Just remember, sugar is not your friend. And have a good laugh at the person you used to be.
Want to "know" more?
Sign up for the Knowable newsletter here.

Never miss another big, odd, funny or heartbreaking moment again.
Keep reading...
Show less
You can pick a lot of things in your life. Sad to say your parents are not one of those things.
Being a parent, a good parent, is asking a lot of a person.
Put aside your ego, making all decisions around another living individual, and having consideration and care for their feelings can be too much.
Since not everyone is capable of doing these, it leads to stories like these.
Reddit user, Angry_Cheesecake_, wanted to hear how your parents made you feel awful when they asked:
"What is the thing that your parents did/say to you that still haunts you to this day?"
Matters of love are a sensitive subject, requiring a sensitive ear to listen.
Clearly, not everyone is equipped for this.
Does Someone Have A Little Crush?

"When I was a kid, if my parents even suspected that I liked someone, they would mock me mercilessly for it. My mom would seriously even threaten to look up their phone number, and tell them embarrassing lies about me if I misbehaved at all. Because of this, I still feel a deep sense of shame about anything remotely romantic, and am extremely secretive about my love life." ~ dinipa7059
"My parents did the same thing when I was a child. Like wtf? I never felt comfortable going to them about anything and I still don't. Finding out I was pregnant and was going to get married in Vegas was a shock to them since I never told them anything. Pretty sure they thought I was going to be a nun." ~ BooBooPony30
Taking The Wrong Side
"I was dating an absolute monster of a human being through college and for a couple of years right after. He was 14 years older than me (I was 18 and he was 32) and appeared to have his life together since he had a good career, a beautiful house, and a lot of nice material things. He also happened to be abusive in every single way you could be abusive to another human being."
"When I finally decided I had enough, I broke up with him and my mother told me she would never forgive me for taking away her favorite son (talk about an insult to my 2 brothers!). I told her EVERYTHING he had done to me over the last 6 years and she took his side on everything. She basically said I provoked him and that I deserved everything. She invited him to thanksgiving and Christmas the year we broke up and I refused to go. I had my first Friendsgiving that year and spent Christmas alone."
"As years went by we moved past it but I will never get over it." ~ Heysandyitspete
Unable To Look In A Mirror
"Back when I thought I was asexual (I now know I'm a lesbian), I got into an argument with my mom over something rather small and insignificant. In that argument, she decided to cut deep with, "You should be glad you're asexual because no one could ever love you, and if they ever did, they would get fed up with you and divorce you."
"Interesting words coming from a divorced woman. Also, I've been in a healthy relationship for almost four years." ~ disneyfoodie2020
Not One Thing, Lots Of Things
"My father always loved my boyfriend more than me. It sounds funny, but it's true. We live in a different country and sometimes come to visit. Every time I am on my phone with my parents, my dad asks when is my boyfriend coming and said multiple times that I don't have to come with him. (Mind that I travel to my home country max 2x a year and so I would expect my dad to be more excited to see me). My boyfriend likes my dad, but is not as "wild" about him."
"For another specialities of my dad belongs quotes like "oh, wait until he finds out how horrible you truly are and leaves you for someone better" usually finished with laughing."
"You used to be so bright and smart as a kid, now look at you - getting dumber every year"
"Nothing is enough for him. I struggle with self worth because of him." ~ irmaminerva
Perhaps some parents aren't meant to be parents because they feel like their lives have been inconvenienced. Making room for another human is tough, but these individuals showed us the true bottom.
Cut Out Of Everything
"My mom told me when I was 15 that all of their assets, all the money, house, vehicles etc go to my brother when they die because he is the carrier of the last name. If I wanted to inherit anything, I should look for a man who is an only child to marry."
"The whole idea of being cut off from inheriting anything really affected how I felt about my parents from that point forward and still does to this day. Dad is gone now, but my mom is 100% my brother's burden to deal with when she goes senile and can't live alone anymore. F-ck her." ~ imnotacrazyperson
The Strangest Superstitions People Actually Observe | George Takei's Oh Myyy
The world can be a superstitious place. If you've ever knocked on wood or thrown salt over your shoulder then you've run into one or two throughout your life...
Carefully Consider Your Words
"Maybe you could run a few laps"
"One year when I was 12 I attended Christmas at my stepmom's parents house. It was cool. They get us a few things including some jeans from jc Penny's. They were the right size but when I got to his house I tried them on and they didnt fit, so I told him they were too small. He responded with "maybe you could run a few laps". He always made off handed comments about my weight but this is ingrained in my brain" ~ hillern21
Not Believing You When It Matters
"I was sick for a year and a half; no doctor could figure out why I was in pain. My dad told me that I'm wasting all his money because my "sickness was all in my head." Im having a hysterectomy next month because the "sickness" was endometriosis that spread and keeps coming back." ~ Qu33nM4ry
Dismissing Everything You've Ever Loved
"That's stupid" said in respnsne to every interest I had my entire childhood."
"You never have done anything to help me. Ever." And called me a b-tch. This was our last big fight, after I turned my life and new home upside down to move her in with me (after cleaning her disgusting apartment she was no longer capable of cleaning or taking care of), get her on assistance needed for her medical issues, drove all over the city multiple times to get her medication and needed items, etc etc etc all for not even a thank you. Just more abuse." ~ scaly_friends_4me
Regretting Everything
"Many things my father has said has stuck with me. The one that sometimes still hurts when I think about it is when I was 19 and came home for winter break from college and was told 'Things are so much easier when you aren't here.'" ~ Purple_Daisys
And then there's parents like these, people who should never have been graced with the responsibility for another.
Bringing The Shame

"You are a disgrace to your father" He died months before i was born so i never knew him. This was just because i hid my report card from her."~ Syntt_
Going Down The Same Path
"Mom just got off a call with my grandma when I was 9 and said:"
"If I ever turn out like her I want you to kill me."
"She's just like her now and sends me the exact same belittling emails her mom sent her. I really oughta carry out her past-self's wishes." ~ NextLineIsMine
Bringing Up The Past
"You have the ability to ruin absolutely everything" in the middle of an argument and started listing a lot of family holidays where there had been arguments. For some reason I never forgot that and every time we argue I can see it in her face that she thinks of that but doesn't say it." ~ ridiculouslycomplex
Maybe Find A New Mom?
"You have no right to grieve his death. You were only married for 3 years when YOUR husband died. I was married 30 years when MY husband died. You have NO right!!" my mom yelled in my face as she jabbed me in the chest with her finger, leaving a bruise."
"I didn't grieve my first husband's death for years and it ruined a couple relationships along the way." ~ littleblackwienerdog
Maybe Find A New Dad
"My brother and I were beaten because we made my father breakfast for Father's Day. We were young and didn't realize that he had been working graveyard shift and had only been in bed for an hour. He stormed out of bed in a rage, grabbed his belt and went to town on us."
"Brother was 4. I was 8." ~ endorrawitch
"This makes me so sad and I just want to hug 8yo you and your 4yo brother." ~ ThatCharmsChick
"I'm not sad anymore. I got mad instead! He's a horrible, ignorant racist and I severed connections a while back. My father was in the Klan. My mother was horrified when she found out. They divorced in 1976. I didn't find out until the mid 80s. I'm much better off, trust me!!" ~ endorrawitch
Being a parent takes a lot.
Never forget that and always consider it.
Want to "know" more?
Sign up for the Knowable newsletter here.
Never miss another big, odd, funny, or heartbreaking moment again.
Keep reading...
Show less