"Reddit user Shinfekta asked: 'What red flag is an instant break up reason for you?'"
When you're in a relationship, it's important to stay alert.
Yes, you of course want to give in to love.
But when you start seeing red flags, be vigilant.
You're gut always knows more than you give it credit for.
Sometimes those flags are a sign that it's time to jump ship.
if you see them... run.
Redditor Shinfekta wanted to compare notes on why people would immediately end a relationship, so they asked:
"What red flag is an instant break up reason for you?"
The signs are always there, but I tend to put on blinders.
I need to do better.
A Big Deal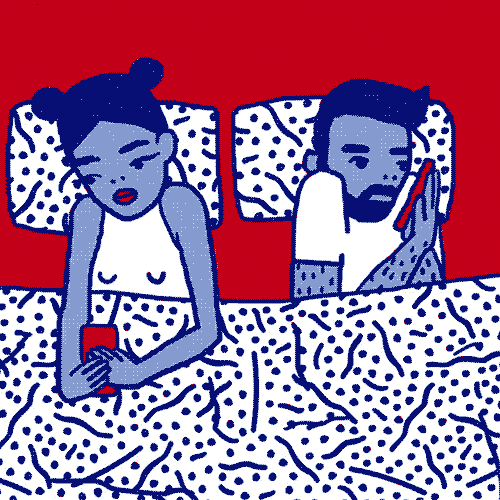 Illustration Text GIF by Jacqueline Jing Lin
Giphy
"Someone that casually says they've cheated. There's no way around that for me."
Kitchen-Bid-8235
"Or worse when they treat cheating as somehow noble."
2diceMisplaced
Hear Me!
"Wanting and demanding my attention but not reciprocating whatsoever."
Cranky_Windlass
"My ex. She would get pissed when she would talk to me about something while I was working and I wasn't giving her my full attention. But every time I wanted to tell her something while she was doing nothing, she would get 'ADHD distracted' and completely ignore me or interrupt me to say something completely irrelevant."
ModestMustang
"I had a friend like this! he literally completely ignored me for 6 months and then blew up at me for not responding to him within an hour. Very strange."
KindBrilliant7879
Wronged
"Never admitting a mistake."

Curious-Force5819
"I know a total hottie that is notoriously known for not being able to admit he's wrong, sucks because he's a gem outside of this. Don't get me wrong, he's a fair and responsible person in general… but he 100% can't admit he was wrong in banter or a light argument even when he realizes he realizes he's wrong hahaha lost confidence in him ASAP."
Zomgirlxoxo
"This is a big one, even when these types of people apologize they still pass the blame. 'I'm sorry for my behavior but you made me really angry.'"
space_being135513
Never Again
"Unmanaged mental illness. Never again."
RuggedHamster
"I was with a girl that had that and I helped her through all of it and it was so hard to deal with it all but somehow I managed but when she felt better she just left me for her best friend's ex and I was left with all that trauma because I loved her with all my heart and soul but she was just using me to feel better… and when she broke up with her best friend's ex she came crawling back begging me to be with her again but it was too late.. the damage has already been done and I can't do that again even though I still love her but I can't tell her that... sorry for venting."
d7oomy998899
Afterthought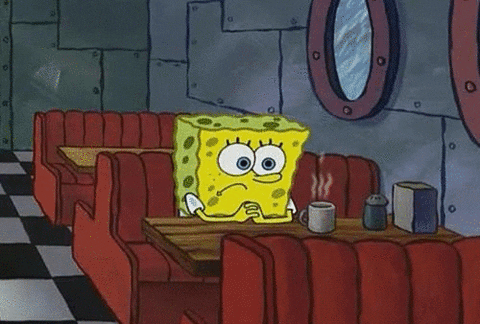 Sad Sponge Bob GIF by SpongeBob SquarePants
Giphy
"If someone makes you feel alone, that you don't matter, or if you are a second choice on most of the occasions, you need to leave."
​Mycatsnameislegolas
Always know when to acknowledge your feelings.
And know when to depart.
Behavior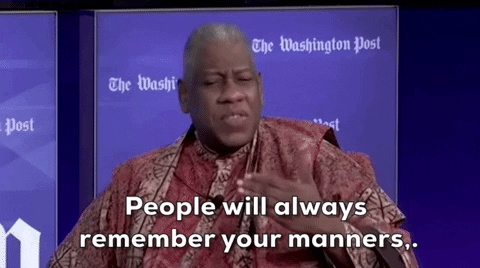 Andre Leon Talley Manners GIF by GIPHY News
Giphy
"How they treat animals, children, elderly, handicapped, and service workers."
REDDIT
"A wise man once said: judge a person not by how they treat their equals, but by how they treat their inferiors."
Major-Ad148
Just Kidding
"Being mean as their 'thing' or 'just a joke.'"
netsbr
"'I'm just sassy!'" No, you're a bi*ch."
BansheeShriek
"I'm going to be honest, with certain friends I am absolutely ruthlessly mean, to the point that people are actually concerned it's just bullying."

"However with strangers, I'm nothing like that. And the friends that I am meant to, they do the exact same thing back to me. We also know that if we need each other, then the meanness is dropped instantly, and it's nothing but support and love."
5tr4nGe
​Well-Meaning
"Zero accountability for anything. Everything they do is absolutely justifiable because, well, they mean well."
Throw_thethrowaway
"Yeah, I was looking for this answer! And it's true outside of romantic relationships also! I had to end a friendship over this exact behavior- it was never her fault, always the victim, and her hurtful behavior shouldn't be addressed because she 'meant well…' but my feelings are still hurt so why don't I matter?!"
helibear90
"This. Can't stand people who always play the victim or blame everyone else and never take accountability for what they do."
_5minutesalone
Boundaries
"This one may take a while, but I would break up if I notice them creeping over personal boundaries, and not stopping when I tell them about it."
"People cross each others' boundaries all the time. I'm happy to give the benefit of the doubt until it becomes apparent that they have no intention to respect me."
"For example, if I don't like tickles or being startled, don't do that. It's not about the tickling, it's about them respecting me. And if there's no respect, there's no relationship."
Ptatofrenchfry
Talk to Me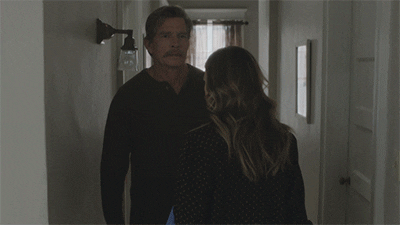 Sarah Jessica Parker Hbo GIF by Divorce
Giphy
"If I'm hearing about a problem in our relationship from someone else rather than the partner. It shows huge trust issues."
"I've seen three divorces in my life, and they all were the result of the girl venting to her mother and her friends about issues she should have discussed with her husband."
michajlo
Communication is key.
If you're not talking to you're partner, why are they you're partner?
An important contributor to our overall health and happiness is the quality of our friendships.
We may not have a lot of friends, but the more important factor is the depth of those relationships.
But we've all had one of those friends who turned out not to be a very good friend at all.
Redditor Both-Support-7110 asked:
"When did you realize your 'friends' were just a**holes?"
Putting Them Down
"After I realized that other people don't s**t on each other on every possible occasion in their circle."
"And that it isn't right when a 'friend' uses every known insecurity as an argument against you when you do not behave the way he/she would want you to."
- fobopi9445
"I luckily made a couple of friends that would just be supportive about stuff. So I slowly started talking to them more than my older friends as I saw the disparity between their responses."
"One side purely would be purely judgmental and try and bring me down, and the other would just be excited for me or be there to listen or whatever. Who wants to talk to the former when you have the latter?"
- Universeintheflesh
Using Them as a Convenience
"They only bothered with me when it suited them. I'd rather have nobody than have to deal with that."
- fobopi9445
Trying to Keep Them Small
"When they were nice at first but then cut me out of conversations, telling me not to 'butt in.' A friend doesn't dictate when you're allowed to speak."
- leatherwolf89
"Total a**hole move to have conversations in front of you only to tell you it doesn't concern you and mean it. . . Like making plans and giving details about how someone like you could be included but specifically telling you not to invite yourself; making plans in front of someone and not inviting them is awful."
- dearlysacredherosoul
Using Them as Entertainment
"She got a boyfriend and would let him listen to our phone calls and not tell me, even if I was crying about personal stuff that I would only ever tell her."
"Then they both started lying to me about my crush liking me back, forcing both him and me into awkward positions (telling everyone we liked each other so they'd play along, swapping places constantly to make us sit next to each other, pressuring him into giving me a lap dance, making him kiss the prettiest girl in the room, etc), and encouraged me to shoot my shot more and more."
"All the while they knew he didn't like me, he had told them both directly. One night, I was crying on the phone because I was so confused why my advances weren't working, and they just kept explaining it away, blaming some other bulls**t reason and telling me to try again."
"The next day, they told me they were laughing throughout the whole call because I didn't get it and I was so upset. I should add I had no dating experience at all and nobody had ever liked me at this point."
- vixayib976
Using Them to Feel Superior
"I didn't have many friends in grade school, but the times the kids actually gave me the time of day, it was to make me 'it' when we'd play tag. That's what I was there for. To continuously be 'it' so they could run away and feel superior. Because they knew I would agree to it no matter what."
- lunayoshi
Having Questionable Morals
"I had a friend that was a very promiscuous girl, I had no issue with that, until I found out she was using me and my innocent personality then, to distract her mom and make her think she was like me."
"Then she used my house as a literal hotel once, with my family here and everything... I knew that was it."
- luffve
Making Fun of Them
"When I made new friends and realized that it's not normal for friends to constantly beat on me and make fun of me."
- vatonef494
Prioritizing Money Over Them
"When they stopped being my friends after I went through a rough financial patch."
- fobopi9445
Becoming Flaky
"I had a group that I was in from 2019-2021. They became a**holes over time, and it took me longer to see that. It was when I failed my psych 101 class (I'm not the best with online classes and tried the best I could) and when they heard about that, they laughed to my face, called me stupid and a failure."
"Early 2022, I met up with them again thinking it would just be a 'listen to this concert for someone we all know and go on our ways' thing."
"My one closer friend offered to drive me and I accepted, and then afterward she joined the group, made eye contact after the concert was done and said, 'bye,' and left with them to the doors. They doubled back and said, 'You can come with us to another town to a friend's place or I can get my mom to drive you home.'"
"I was so overwhelmed and embarrassed that I just went with them to the other town. I called my brother to come to pick me up after an hour, and when he was on his way out, everyone else left. Haven't been into contact with them again after that."
- shortedgyasain
Disappearing When It Counts
"They pretty much abandoned me in a time of pretty intense need. It solidified my decision to leave the area and go do something worthwhile."
- verisimilitu
No Reciprocation Allowed
"When he does s**t to me and acts like it's no big deal, but then I do the same back, and he gets offended."
- vatonef494
Excluding Them From Plans
"I've got two examples here. One from childhood and one from adulthood. Pick your favorite."
"Childhood: Kid I knew when I was 8 or so. We used to hang out a lot of the time and often played together, doing the usual kid stuff. Then one day, he has to move away because of a change in his parent's financial situation and I was pretty bummed out about it."
"On the last day we were supposed to see each other, he hung out with someone else instead and when tried to join them, he physically shoved me away and told me I wasn't welcome. That one stung."
"Adulthood: When they keep telling me about plans they made and things they did together or wanted to do together, but never bother to invite or include me in any of it. There's one of them I get along with and he'll invite me to things as long as it's just with him, but when he's with the group, he excludes me."
"I remember one example in particular where they were discussing a new site to do some photography and they fell short a man. One of them looks at me like I'm the spare tire in his car and goes: 'I guess you can come with us this one time.', to which another replies: 'Nah, he doesn't want to go. He doesn't like photography.'"
"I told him I was perfectly capable of answering for myself and didn't need him to act as my answering machine, but it lost a lot of impact because he was right. I don't like photography and didn't want to go. I just didn't like being talked about that way."
"Good luck making that clear to them, though. All they heard was: 'If he was right anyway, then why are you b*tching about it?'"
"I no longer hang out with them. I eventually got sick of being treated like the spare guy they can use in case none of the 'main crew' was attending, so I dropped them."
- Kuliari
Terrible Priorities
"In 2006, my then-best friend wanted to go to a big German metal festival. I did not want to go because my Dad had end-stage cancer."
"Dad died on August 8th, a couple of days after my friend returned from the festival. I called him because I needed someone to talk to."
"He very bluntly stated that he had no interest in my Dad's passing but wanted to tell me how great the festival was."
"You can't imagine how disappointed I was. For years, I'd been there for him whenever he got dumped, and the one time I needed a friend, he wasn't there for me. I told him to shut my door from the outside and lose my number."
- fobopi9445
Undesirable Behaviors
"I was 15, we were hanging out in the alleyway behind my friend's house as we did almost every day after school."
"One girl was there from the year above us and they started prank calling the child protective services emergency line, pretending to be a child in distress, and they all laughed."
"After a few rounds of this, I felt queasy and left. Never hung out with them again. I still feel bad for not saying something or putting a stop to it, but the girl was older and 'cool.'"
- Brasscogs
Taking Advantage of Them
"I've been posting on him recently, he was my former neighbor and friend. We didn't immediately hit it off but after a while, we became good friends."
"I tried helping him out (he's an unemployed single dad of two special needs kids). He eventually saw my kindness as something to take advantage of, so late last fall, he either broke into my house (or enabled someone else to do it for him) and stole money from me."
"When I confronted him about this, he physically attacked me."
"I can't say it doesn't hurt."
- llcucf80
Friendships are incredibly important, but we're unfortunately not meant to be friends with everyone. Some people simply do not turn out to be the friends we thought they were.
We may know that this happens, but that doesn't make it hurt any less.
If we think back to our childhood and school years, we likely can remember someone who was always getting into trouble.
The assumption at the time might have been that this child was going nowhere, but as some will point out, these troubled kids can wind up being just as successful as everyone else, if not even more so.
Redditor bluewhalebluejay asked:
"Teachers of Reddit: Do you have a former student who you thought was doomed but ended up making it big? What's their story?"
Being Someone's Beacon
"I've had a few kids stand out."
"One of my first ones was a kid who was in my grade 10 drama class. Nice kid to me, with no major issues. Funny, not super academically inclined, but started to really like drama and we got along."
"He missed class somewhat frequently for excused absences that were noted as 'court.' I assume mostly weed related... just because of reasons. But I never asked."
"Anyway, halfway through the semester, he came in and announced it was his last day because he was being sent to juvie and he was upset he wouldn't be able to continue in drama (his other courses they could manage through distance education type things)."
"Was subbing back at the school the following year and ran into him. He'd caught up on all his missing credits while in juvie because he 'had nothing better to do so why not get some s**t done.' He was going to now graduate on time and was super proud of himself. Not sure where he's ended up now ten years later, but weed is legal now so as long as he's not dealing, so hopefully he's doing okay."
"Different school and where I ended up getting a permanent position so I stayed in the same place for a while, had this girl show up in grade nine and had her for Arts and English. She was... a lot. She would fully shut down and just not do anything. Or talk. Or she'd have a full-blown tantrum. She was exhausting."
"I drug her along through the Arts class and got her participating some days, which was apparently huge because in elementary, she was just left to do nothing all day because she wasn't disruptive. I jokingly suggested she take Drama with me the following year, but she hated speaking in public so figured that was a no-go."
"Did get her to do the lighting for the school show, though. She took drama every year. By the end of grade 12, she engaged with people, she could speak in front of the class, and she was completing credits (slowly and with a lot of support), but you could get work out of her. Apparently, I became her favorite teacher and I was one of the only ones she would do work for initially. But my god was she a lot of work some days. Glad I stuck it out because we got there eventually."
- somethingclever1712
Imposed Limiting Beliefs
"I had a teacher tell me I'd probably end up managing a Borders, but they went under in 2011, so the joke's on her."
- Kyengen
"My math teacher in high school moved me to the back of the room and told me to sit there and just look out the window. She said I'd be working at McDonald's one day. I made $300k last year. She's dead now."
- albatross_the
Reality Check
"Not a teacher, but I knew a kid who was your stereotypical couldn't give a f**k student."
"He never did his work, p**sed off teachers, cut class, did all kinds of drugs, and always had detention. I remember the highlight of his work was writing an essay on why he was Black, despite being white. About mid-senior year, he dropped out, and he kinda just disappeared. I honestly thought he'd end up in jail at some point."
"In 2019, my job sent me over to a site to do a survey for a company installing our AV equipment. Lo and behold, the guy leading the project was the same wild and crazy kid from high school."
"We chatted and caught up on things, but the guy really turned his life around. He got his GED, quit drugs, took up trade jobs, and worked his way up to a senior position in that AV installation company. It's interesting to see how people change like that when they enter the real world."
- draiman
Lack of Interests
"I had a student who was supposed to be a high school dropout but ended up graduating law school with honors."
- Somerset76
"That sounds like that was a case where the kid was smart but bored and needed a passion to find."
- whatproblems
"This sounds like my father and his brother. They were the same, screwing around in high school with bad grades, smoking weed and drinking and pulling pranks and playing poker all lunch, until college when they found what interested them. Now my uncle is a surgeon and my father is a scientist."
- jkssratmolo
Such a Small World
"I taught geography to a very talented (and now famous) footballer. He wasn't particularly academic but is now a multi-millionaire. The tabloids loved his scandals, but I dare say he's loving his retirement now."
- reiveroftheborder
Mental Health Assistance
"I did some volunteer work in mental health services for teens, specifically with music."
"Probably obviously, teens with mental health problems can be incredibly self-conscious and reserved. This one girl, in particular, was quite timid most of the time when there was anyone with her who wasn't a close friend."
"Over the course of a few years, I managed to coax her into singing in front of me, then to the group, then at a fundraising event for the group."
"The last thing I heard about her was a post on Facebook that a friend showed me. She was complaining about there only being about 50 people at a gig that she was playing! I still remember having to talk her into that first performance with just one or two people there!"
- Raephstel
Unbelievable Outcomes
"Son of two teachers, not a teacher. Our class criminal was acting out in grade school. He was a bully. He'd push kids down the stairs. He grabbed the boobs of the first girl in our class to have them."
"When he'd get in trouble, he'd run away from school, and the principal would get in his VW Bug and chase the kid down."
"In Junior high, he was suspended as often as he was in class it seemed. The same was true in high school. He didn't so much as graduate, as was passed on a plea bargain."
"Many years later, I saw him on Facebook. He's an oil man in Texas. His house is bigger than my yard, by a lot. He has a beautiful wife and daughter. On the surface, he made it and is living the dream."
"Now, he may still be a criminal. Financial success doesn't make one a good person. I don't know who he is these days. All I can say is growing up, I pictured him in jail or maybe in a trailer park as an adult. I never pictured him in a mansion living the high life."
- mike_e_mcgee
"The money may be nice but I'd rather have a small house than work on an oil rig, that's a dangerous life."
- whoamIreallyam8
"I bet he started on a rig or in a field, but he looks like a suit and tie guy these days. I agree 100%, though. My job gets me by (barely), but I'm safe and have a good work-life balance. I'd rather barely scrape by than be financially well off and either in danger or stuck at work all the time not enjoying the fruits of my labor! 40 hours a week is as much as I care to put in (I'd prefer less to be honest)."
- mike_e_mcgee
Deeply Underestimated
"I taught a first-year university course. It was the fall semester, so for many students, it was their first semester at university ever, and I had one student who struggled. She was young, it was her first time living away from home, and she seemed perpetually overwhelmed."
"I think she was just naive and inexperienced. About a month into the semester and her grandmother passed and they were very close. She came to my office to tell me she had to go home for the funeral and would miss a couple of classes."
"She was sobbing and I comforted her and told her not to worry about class. When she left my office, I honestly thought that I would never see her again and that she was going home permanently."
"I was wrong. She came back a week later and she was laser focused. She started speaking out in class and asking questions, she came to all of my office hours and study groups, and she began to make connections with other students in the class."
"She absolutely blew it out of the water, aced the final exam, and finished the course with the highest grade. We stayed in contact and I was actually her reference for an intensive internship that she was very excited about (and she got it)."
"I will never forget her and she truly humbled me. Was really a lesson for me not to underestimate people."
- littlepinch7
Measurable Success
"I worked administration in an elementary school. But I did take kids with low reading scores to the side to give them tutoring whenever I could."
"One kid stuck out. 15 words read per minute despite being eight years old. She had no confidence in herself, was too terrified to talk to anyone, and burst into tears at any mistake she made."
"Let's just say her family was... unsupportive and difficult. I did not see progress for MONTHS. I was worried about her future in school if she continued to lag behind and be too anxious to make it in the world."
"But eventually, she started talking to me. She stopped crying at mistakes, repeating my mantra ('It's okay to make mistakes, mistakes mean you're learning'). The words per minute score went up little by little as she began to show interest in different reading materials."
"By the end of the school year, she was looking forward to seeing me and her teacher said she was excited when the class took library trips. That teacher and I convinced the school to let me continue monitoring the student into the next school year. They agreed."
"One more year of tutoring passed. That shy, terrified girl became confident and happy. She talked to everyone, helped out in class, and demonstrated a fascination with learning new things. The new teacher told me how this kid was always trying to sneak books in-between classwork. In second grade, when we began, this student was one of the lowest-scored readers in her grade but by mid-year of third grade, she was the highest score. She was even helping out other kids!"
"I worked for a couple of years after she 'graduated' from my tutoring so I got to see her in the hallways. She always liked to tell me what she read in class, what she read in her personal time, and see what I'd recommend for her to read next. By the time I left my job, she was going to middle school and I knew she'd be just fine."
- SkysEevee
The End of the Bullying Era
"I had this classmate in high school who was the biggest d**k I saw in my entire life."
"He would beat people up if he didn't like the way they walked or whatever, would make teachers so angry in class that one of our teachers was rushed into the hospital due to hypertension."
"One day in our senior year, his mom and dad were tragically killed in a car crash, leaving him responsible for his three younger siblings."
"I didn't see him for a few weeks then one day came back and the principal was kind enough to accept him again back to school, but was informed that he may not graduate due to his very low grades."
"I have never seen such a sudden change of personality in my life. The dude became so focused and determined on graduating high school, it was scary."
"Fast forward 20 years to the year 2022, I had some legal issues to deal with, and one of my friends recommended me to a lawyer, and I was surprised when I saw him. All changed, turned his life around, saw the graduation pictures of his siblings displayed on his office wall, and has a beautiful wife and a daughter."
- Newbietron21
Talk About Leveling Up
"A stoner kid I knew who did nothing but doodle on everything ended up being some big shot at Lucasfilms and then Disney."
- hahahahthunk
Coming Full-Circle
"I am a coach and through a coincidence, two kids who used to be my neighbors came through my team. When we were neighbors, their house was known as the crack house. It ran off a generator for a while and the dad was siphoning gas out of neighborhood cars to run the generator."
"Their dog was left outside barking for two nights in a row (another neighbor and I decided if it went to night three, we were taking the dog, the weather was fair). Finally, the house was foreclosed and the pics of the inside lived up to the crack house name."
"Fast-forward some years and I took one of the kids on my team home. We happened to go past my house and he pointed and said he used to live down there. I put it together and asked if he used to have a dog named Oscar, and he did!"
"So it turns out his dad eventually went to jail for stealing cars and his mom was in recovery for addiction to pills. They had to move in with his grandfather in the local trailer park who was an alcoholic."
"So the older brother did well. He's in college in the next state and is gonna be okay. The younger brother, though, is about to graduate high school as the valedictorian and has a full ride to Cal Tech."
- kjm16216
A Different Perspective
"My husband had a teacher tell him with his efforts he would always be a B student, a B husband, and a B father. Another teacher, when learning of us getting married a few years later, said of me, 'Bless her heart.' He was a difficult, under-challenged student."
"I consider him an A+ husband and father, who runs his own 35-person company, a company that puts employees over profit. I'm just sorry those teachers didn't see what has always been clear to me."
- merryrhino
An Irreplaceable Teacher
"For my primary school teachers, I was probably that kid. Never spoke and could never finish a worksheet to save my life. Had all the tutoring in the world and I just couldn't understand numbers. Didn't understand punctuation for a while, either. Luckily, English just clicked for me one day and I went from an F to an A in a week."
"Turns out I had undiagnosed Autism and the way they were teaching these fundamentals didn't slot into my head right. God bless my extra help teachers because they sat me down and gave everything the most arbitrary rules so that it would make sense."
"I can't remember them properly now but I just remember explaining my young self's logic of the world to her and she made all the punctuation and math symbols slot into those rules so I could use full stops and multiply things without going crazy."
"Now I'm in university studying STEM, probably still applying a lot of Mrs. Brown's logic without realizing it. Bless that women's patience because I wouldn't have been able to get into top classes in secondary school without her."
- h0n3yst
The Perfect 'Thank You'
"I was the special ed kid who was regular all along."
"I was semi-nonverbal as a kid, and wouldn't really do school work in Kindergarten through third grade. I didn't really have a support system at home and had no interest in learning to read or do schoolwork, really. I just wanted to go home and play Nintendo."
"Towards the end of second grade, they started actively monitoring me and another young child. They would sit in on my school day, take notes about my behavior, and leave. They wouldn't talk to me at all, and I didn't realize their presence had anything to do with me until much later."
"Based on those reports, they moved me to Special Ed. I'm not sure if they thought I was just slow or on the spectrum, but every day, I would leave class for half the day and go to direct one-on-one class with an aide. She taught me all kinds of fundamentals I should have had before then. I was in the third grade before I learned how to tie my shoes, for example. She taught me how to read. She taught me how to communicate."
"By the fourth grade, I didn't have to go to Special Ed anymore. I was vaguely normal. It would take until the eighth grade before I finally made friends, but it would have never happened with her."
"Unfortunately, much of my childhood is kind of a vague blur. I can't even remember which of the elementary schools I went to where she was. I wish I knew how to unlock this memory and find her if just to write a heartfelt letter of appreciation."
"Wherever you are, whoever you are, thank you for saving me."
- Mmmslash
These stories were both surprising and heart-warming, and they are a great reminder that no two lives look exactly alike, but also, a tough start does not necessarily mean a dark and terrible life.
One of the great things about ZOOM is that it's given us the ability to visit with others more frequently.
And we get to mingle from the comfort and SAFETY of our own homes.
You take your life in your hands when visiting other people's places.
I've seen family brawls.
Marital destruction after years of bliss.
And once I accidentally became witness to the theft of a shoe collection.
Not to mention, no toilet is cleaner than your own.
Redditor Suspicious_Boss3635 wanted to hear about the worst of times when visiting other people's homes, so they asked:
"What was your worst/weirdest experience at somebody else's house?"
In my home, I try to be the best host I can be.
Learn from me.
A nice shade of crimson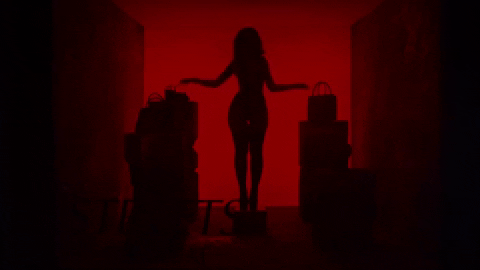 Say So Red Light GIF by Doja Cat
Giphy
"Stayed at my friend's house one time and found out her family only uses red light bulb in their house because an astrologer told them to do so."
SuvenPan
From the other room...
"Went to a friend's house. We came in and somebody started yelling and swearing at him from another room. For no reason and impromptu. Scary , threatening and abusive sounding. It was his dad and the dad didn't realize I was there. The kid was cool about it, just kind of, maybe we should just go for a walk. It was how cool the kid was that unnerved me. Just his day to day."
jonas00345
How about a sweater?
"In college, I went to this girl's house during a free period with six or seven friends. We arrive, and she opens the door, says hello to her father, and immediately strips down to her bra and panties in the living room. We spent 45 minutes hanging out with her and her dad, and the whole time she's walking around in basically nothing."
"I asked her dad about it at a different time, and he nonchalantly says she's always done this and acted like it was a completely normal thing to do. Also, bonus points for her goth friend who sat there playing with a knife the whole time."
COLONEL_ROOSTER
Sit with me...
"As a 12 yr old we shifted to a small town from our cattle property so we kids could go to high school, I didn't know anyone at school till the weird kid befriended me, invited me home after school one day. There's me thinking great I'm making friends. When we got there her mom was obviously slightly drunk, no father around that I could see, just sitting in her room talking crap, when her mum calls us into her bedroom."
"So we went in and her mum is lying on a single bed and there's a double in there that we both sort of lounged on, then her mum starts crying. The girl tells me her dad died about six months ago. I'm going 'so sorry to hear that,' her mum starts telling me how he was a bad alcoholic and they'd gone to bed one night, he was 'spooning' her when he died in his sleep with his arms wrapped around the mum, cause she was drunk too she didn't wake up till quite late and his body had started rigor mortis."
"She realizes and starts screaming, daughter runs in, dad is dead and mum is stuck in his arms. They had to call police to help apparently, she couldn't get out. Best bit though was I was sitting on the bed where he'd died 6 mths previous but they'd never changed the sheets or covers, they smelt musty, no wonder the girl acted weird, they both really needed therapy but this was nearly 50 yrs ago."
chookiekaki
HER!!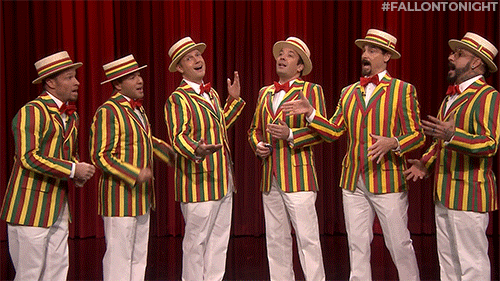 Jimmy Fallon Singing GIF by The Tonight Show Starring Jimmy Fallon
Giphy
"At someone's birthday party at her house. She divided us into groups and made us write songs about her."
Main-Not-For-Porn
Ok. I may actually try this at my next party.
"They"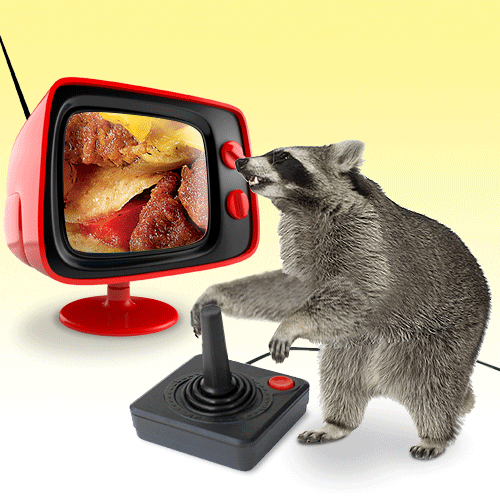 Video Games Lol GIF by Robbie Cobb
Giphy
"When I was a kid I went over to a friend's house. At some point they went to have dinner. 'They' meaning the whole family. I wasn't at any point asked to join them. So while they ate I sat in the living room and played on their Atari."
frank-sarno
We stopped to help
"A buddy and I were walking down the street and noticed a drunk guy bothering a woman outside a store and his b*lls were hanging out of his shorts. We stopped to help. And so does some guy in an army jacket. and after the cops come by to deal with the drunk guy, Army guy invites us over to have a beer. We were about 14 or so at the time. We said sure!"
"Get to his apartment and he gives us a beer each. And shows us his big knife. Tells us how to gouge out eyes. And how to shoot someone under the chin at the throat pointing up so if by chance they survive, they will be paralyzed. Then proceeds to demomstrate on me a choke move he was taught."
"Which freakin' hurt. My friend had the knife in hand just in case army guy didn't let go. After I was let go and able to breath we peaced out of there FAST. The longer we sat there. The more scared I was getting. Haven't thought about that for some time."
KraftDinr
Eat carrots instead...
"I remember when I was a kid, probably around 10 or so we went to friends of our family's for dinner. The husband and wife got into a very loud screaming match over whether to serve creamed corn or frozen corn. I'm talking in each other's faces and being shrilly loud."
"Ten year old me was fascinated by how such a mundane object could arise such passions, and of course I wanted see how it turned out but we were instead quickly ordered into the car and left. Still never understand how corn caused such a disagreement. I found out later they got divorced."
llcucf80
Pour it back...
"When I was 8 I slept over a friends house. For dinner they had pancakes. Everyone ate together. After I put the syrup on my pancakes I was scolded by the dad for using too much syrup. I then noticed everyone at the table only put a tablespoon on their pancakes. After I ate the pancakes, they took my plate and tried to pour the unused syrup back into the container."
jaiframsey
Sometimes it's just better to stay home.
Do you have any crazy experiences to share? Let us know in the comments below.
We all like to say we accept people the way they are.
We don't judge anyone without knowing them, and even once we do know them, we try to give them the benefit of the doubt. There may be a reason they can't be authoritative parents, or they have bad table manners.
Truthfully, however, we all have something we judge people for.
Sometimes, we're overt about it. More often, we judge people secretly, but we still judge.
Redditors know this all too well and dished about what they judge people for.
It all started when Redditor lukiiiiii asked:
"What do you secretly judge people for?"
I'd Rather Not See That
"Shoes off in public places. Like I saw a person at a soccer game. He had shoes and socks off, and cracking his toes on the top of the seat in front of him"
– ASP204
"In my country, (NZ), It's quite normal for people to walk around the streets in barefeet. But that, the is just nasty."
– muffin_eater1
What's In A Name?
"Parents giving their kids awful "trendy" names"
– urbexbabe
"Or take two common names and combine them into a new name. I'm looking at you, Utah."
– lordhalibut
"I hate when people b*stardise good names like Jaymee instead of Jamie."
– Minime1993
Pets Are Family; Now Treat Them Well
"Irresponsible pet ownership. Your dog shouldn't have matted fur and should be housetrained, the fact that half of your outdoor cats never came home should be considered a sign you're doing something wrong, that lizard needs enrichment, Guinea pigs should live in pairs, and ffs stop torturing fish to death in a bowl!"
– Redqueenhypo
How Do You Write?
"Bad grammar and spelling"
– you_will_be_the_one
"Lose and loose, affect and effect are ones I find most infuriating. I think because they're not just the wrong words, but they're pronounced differently so when I'm reading my brain has a hard time seeing the word "loose" and pronounce it like "lose.""
– bikewrenchsucks
"I agree with this 100% I don't get how some people, even adults, can still not know the difference between your and you're."
– YouInevitable2999
Judge The Judgey
"The only people I judge are those that are overly judgmental and gossip about everyone for everything, especially when it's something someone can't help, or hasn't had the privilege to "buy" themselves out of."
"I don't give a sh*t if you don't like her hair, Barbara. I don't give a sh*t if you think he acts weird because he's quiet, Harold, and Nancy, I CERTAINLY don't care about your pretentious a** opinion on your neighbors not living up to your personal lifestyle. I don't give a F*CK. Let people live."
– KPal93
Be Polite
"When they don't have basic manners (thank you, please, excuse me, etc)"
– CoyaiPijao
"Don't forget chewing with their mouth open. Annoys the hell out of me."
– Tra1nGuy
Everyone Deserves Respect
"How they treat service employees."
– MissKleenex1990
"I don't. I openly judge them for that. The biggest fights I got into with my old roommate was over his treatment of waiters and fast food workers. I refused to go out to eat with him ever again."
– PhreedomPhighter
Words Should Sound Right To Be Right
"When someone pronounces the word frustrated as FUSS-trated"
– captainpennyfarthing
"I don't understand, you're going to have to be more pacific."
– MrSleepless1234
"Or when library is pronounced "lie-berry""
– HammerHorrorWhore
Do It Safely
"I know I'm not supposed to, but smoking."
– Ghost9283
"For me it's not whether they smoke but how they smoke. Smoking in doorways or near kids or ignoring/being rude to people who politely ask them to stand down wind or something. It's super disrespectful"
– breakingswipev
Maybe We Should All Just Say Accidentally
"When people say "on accident.""
– brokenmike
"Same, but it seems like more people say "on accident" than "by accident". I asked some friends because I thought on accident sounded stupid but they all said they say it that way so I'm confused"
– stealthman55
​Unhygienic
"Long fingernails..like unnaturally long. It's germ city and most people don't wash their hands properly. 🤢🤢"
– TakeMyrtleHiking
Gathering Likes
"Posting their kids on social media - even if they (the adults) don't mind putting their kids on there, the kids may not like it when they are old enough to understand."
– Cautious_Action_1300
Human Nature
"Their appearance though I think everyone does that once in awhile. It's wrong but it's something you see first about people before you actually speak to them"
– LifeParty964
It's Not Hard To Be Kind
"Being mean to their kids. Not just losing your cool a bit, but when I hear people publicly call their own kids stupid, or swearing at them. I don't think much of those people."
– asleepattheworld
"Also just the general use of profanity around your kids. I will secretly and visibly judge you for that."
– _From_dust
There's An Order!
"If they put milk in the bowl before the cereal"
– evilcj925
"Monsters like this exist?!"
– deer_riffs
Yeah, I would judge people for that too!