There's a show on Hulu called A Teacher that made me think about the repercussions of a teacher having an illicit affair with a seventeen-year-old student.
While the controversial topic is justifiably subject to condemnation, the show delicately depicted each characters' emotional turmoil and their families in the aftermath.
While many in these types of forbidden relationships don't end well, Redditor Sadebiru was curious to hear from those familiar with the situation and asked:

"[Serious] Redditors who slept with their teachers, what was the fallout after it happened?"
Consequences
These Redditors faced immediate disciplinary consequences for their involvement in their respective intimacies, but one suffered emotional trauma for years.
The Trauma Of Being Used
"My English teacher used me as a sperm donor. She slept with me until she got pregnant and then stopped. She didn't even bother to switch schools so I wouldn't know. This was about 50 years ago and it still crosses my mind and bothers me. So the fallout on my side was being mentally messed up for about 4 years and not being able to have a normal sexual relationship for a long time."
– readit2U

Predatory Soccer Coach
"I had a very inappropriate relationship with the assistant soccer coach. His contract was not renewed the next year and I was the subject of gossip, obviously, and labeled the school sl*t by my classmates. It was a very small private school so there was literally no way to keep anything secret. It was only later on I realized he'd taken advantage of me and was, obviously, a sicko who knew I'd fall for the flattery of an older guy the rest of the girls on the team thought was cute."
Sleeping With The P.E. Teacher
"My cousin Adrian slept with the physical education teacher. It was in the mid 1980s, and it right near the end of the school year. She was immediately transferred and he lost his school reference and was suspended for the remainder of the year, which was like four weeks from memory."
"he was no angel. He was an absolute player and he said he has no ill feelings about the whole thing at all. It didn't affect his schooling any further after that and he said he absolutely seduced her, it wasn't the other way around."
Left "Morally Conflicted" About Taking Action
"It was horrible. I was groomed by my English teacher. He said all the right things and I thought I was emotionally mature enough to handle it. I was not."
"I realized when I was 19 how messed up it was and very quietly told the bishop and the Victims of Sexual Misconduct Councilor (catholic school). My worst fear was that it was going to be a big public scandal and I didn't want my family's name dragged through the mud. So he permanently lost his teaching license."
"He is now dating a woman and I want to reach out to her so bad to her to ask if she knows, but at the same time I want that chapter of my life to end. I'm very morally conflicted."
– DeezMags

No Fallout
Instead of suffering a fallout per se, the following Redditors reflected fondly back on their romantic affairs.
Consenting Adults
"Nothing since I was 6 years out of high school by that point."
"We became friends a couple years after I graduated, eventually I told her I had something of a crush on her, she thought it was cute and flattering and sat on it for a while. One day she invites me out and we meet up, have a good time, we leave. Later that night she texts me when I'm work says she's got feelings too and wants to pursue it."
"We go on a couple more dates, see a movie (The Watch for those wondering), make out in her car afterwards like a couple horny teenagers. We do the deed that night, good times."
"Anyway, the age gap was something she couldn't get over, I was 25 and she was 48, different places in our lives with different goals. We still chat though."
The Chinese Teacher
"She was my Chinese teacher at a Confucius Institute, and is almost 10 years older than me, but I always had a minor crush on her."
"When her contract was about to expire and had to leave my country, we went out to dinner. She was leaving for one last trip before returning to China, so this would be the last time I would see her. I decided to take a shot and told her about my crush. We slept together that night."
"There wasn't really a fallout. We are still in contact, but don't really talk about that night."
Good Memory
The following academic flings were either highly erotic or wound up being blissful.
"Too Riskey To Continue"
"A few people found out and gave me sh*t about it, but really not a big deal for me personally. It was obviously more difficult for her. Rumours got back to other teachers who were not cool with it and she had some awkward conversations to navigate with the headteacher. She admitted we saw each other outside of school but denied anything sexual, which they did not seem to believe. She was told never to be alone with me and had restrictions placed on her ability to act as a chaperone on school trips etc."

"It didn't last as it was obvious it was too risky to continue but there was no bad feeling between us."
The French Teacher
"I slept with my French teacher about 5 years after leaving school, she was just as as I'd always imagined."
"Afternoon Office Nookie"
"It was in college, we slept together before we knew I was in her class. It was one of those lecture only classes with like 200 students in it so it wasn't a big deal."
"No fallout beyond some late afternoon office nookie now and then."
"She would text me pictures of what she was wearing under her outfit that day. I miss being young."
"The Best Thing That Ever Happened"

"I started dating the grad student that was teaching one of my undergrad classes, although because I took time off before going to uni and he started early I was actually older than him."
"The uni had rules against the sort of thing, of course. We weren't found out until the spring quarter, at which time we were told to cease and desist, but by the time this happened we were engaged."
"The administration were happy for us (and we were all friends there, the department was like one big family), so instead they told us that for the rest of the year my exams and juries would have to be handled by another professor and that our class sessions would be recorded to be sure there was no funny business or nepotism."
"20 years on, we're still married - it was the best thing that ever happened to either of us!"
In rare cases, some students have glorified their dalliances with teachers and bragged about their conquests among their peers.
Some – as those participating in this thread – expressed the absence of fallout or lack of emotional trauma.

But let's make one thing clear: a teacher having sexual relations with a minor student is considered illegal by the law and court opinion in most states, and children under the age of 18 cannot give consent to sexual conduct.
An improper relationship with a student can lead to a criminal conviction and imprisonment.

Keep reading...
Show less
Teachers have a TOUGH job.
They mold the minds of the future, and literally provide childcare for 8 hours a day for countless kids all over the place. The profession demands our utmost respect and gratitude.
Fortunately, there are some perks for those who choose the role of educator.
And one of the best bonuses has to be having a front row seat to the truly bizarre things that kids say and do. The not-yet-formed humans of society are a trove of illogical conclusions and confident absurdities.
Lucky for us, some teachers on Reddit filled us in on what's been going on in that classroom.
Spacedoggo73 asked, "Teacher's of Reddit, what is the strangest thing one of your students has done in your classroom?"

For some reason, food comes into play quite a lot.
Several responses in the thread centered around the weird behavior that kids exhibit whenever food and eating comes into play.
First Things First 
"I had a student who was new to the class and didn't speak English. In his first few days in the class, I looked around and didn't see him. I had a moment of panic but then happened to look down."
"He was sitting under his desk eating an entire ear of corn. He just looked at me and gave me the biggest smile, I had to let the man finish his meal."
Just Going For It 
"I have a 'you can eat in my class as long as the food isn't loud. At any time if your food disturbs me or your peers your privilege is gone' policy"
"Most of the time, zero issues. Everyone agrees no chips or anything crunchy is allowed, no cans of soda etc. Most kids have a sandwich or a banana. At worst, a loud apple."
"One kid, well, he didn't break the rule, but it totally f*cked me up. I'm lecturing about whatever, and right there in the front row, this kid is eating an Orange like an apple, peel and all."
"No noise, but I couldn't get over the fact that he was chewing up the orange peel like it was the best part of the orange. I had to stop lecture and literally address him. Like, you eat the peel dude? What the fu-heck?"
"I didn't want to embarrass him or anything, but I could not really let go of it. It was bizarre. Later I learned some cultures are pro peel eating. Weird"
-- bad_scribe
Chaser 
"Not a teacher. It was in 4th grade."
"Somebody came in with a snack and a bottle of hot sauce, and when finished with the snack downed bottle."
-- C1NN430N
Other people focused not on what kids did, but what they said.
Again, children tend to make some strange--and hasty--logical leaps based on very minimal knowledge of the world. This can make for some truly fantastic acts of free association in the classroom.
That's a Fact 
"6th grader, who the week prior told me he was getting moved to honors science, stuck a paperclip in a light socket that caused a very short-lived fireball."
"Another time an 8th grader asked, 'when you die, how long before you become a ghost?' Before I could answer, his friend (with the utmost confidence) said, 'yeah, after 10 years.' "
"I couldn't get him to divulge his source for such information"
-- Qerfuffle
Everybody Now 
"Wasn't my class, but had a friend whose entire class stood up and simultaneously said 'butt lickers,' and then they all sat down." -- Douglas_Funny1989
"The hivemind has influenced them" -- The_darter
Where Did That Come From?
"Why must I only pick one? Okay I love this story. I had the kids sitting on the rug completely silent while I was writing the morning message (I teach young elementary).
"Out of nowhere one of my students yells 'ride that bi***.' "
"I was crying, trying so hard not to laugh. I called his mom later and had to repeat what he had said without laughing."
"She said 'where did he learn that?!?! I'm married to a woman". Why are you asking me? I have no idea.' "
"I have like 50 more stories, but that one always makes me smile."
-- JLG113113
And finally, some interpreted the prompt in the broadest sense. They simply shared the weirdest antics and behaviors to ever grace the four walls of their class.
Queen Forever 
"A first grade girl was making a tiara during free draw time (I teach art)."
"She apparently couldn't figure out how to attach a strip of paper long enough on the front of the tiara she drew and cut out, so she ended up gluing it to her forehead."
"She was super proud when she showed me."
-- gghigh
All Planned Out 
"Middle school teacher here. Had a girl come into homeroom, open her backpack, take out a fully inflated balloon (which has taken up a Lion share of the space in her backpack; I don't remember if she had actual supplies with her that day) and began hitting her friend over the head with it."
"I couldn't stop laughing."
At Long Last 
"My first year teaching high school, there was this kid who always asked me 'Sir can I throw my chair at the wall?' And I can tell he was serious. The answer was always no."
"Christmas holidays roll around. Him and his friend were the only ones to show up to class. We're last period before end of the day. Bell goes off, 2 weeks vacation."
"He asks again, 'Sir, can I throw my chair at the wall?' "
"... 'ok, you get one throw. Merry Christmas.' (I specified he throw it at a particular brick wall, so nothing was damaged)"
"He put everything he had into it."
More Alarming Than the Rest 
"A kid in my class handed me some scraps of paper and asked if I would throw them away. I looked in my hand and saw what appeared to be ripped up money."
" 'Yeah, but it's fake. A kid on the bus was handing them out. He gave me these too,' the young man said as he handed me two very real hundred dollar bills."
"It turns out a kid broke into his parents' safe and stole $1300 of his own family's money so he could hand it out on the bus. This was money that his family was planning to spend on Christmas gifts. This was not at all a wealthy family. Fortunately, it was all recovered."
-- Dorseywhite
And so, if you find yourself debating if teaching might be the right career for you, be sure to ask yourself: "Do I enjoy fielding bizarre questions and hanging out with miniatures versions of The Three Stooges all day?"
Want to "know" more? Never miss another big, odd, funny, or heartbreaking moment again. Sign up for the Knowable newsletter here.
Keep reading...
Show less
As a former teacher, I can tell you that the goal is to always hype up and encourage your students to reach their goals and be their best selves. As a former student, I can also tell you that not every teacher is like this. Unfortunately, there are a handful of teachers out there that use their position of authority to make them feel like they have power. I've seen it happen firsthand, and it's awful.
Sometimes, the people who we depend on for our growth are also the people who hurt our confidence the most. Here are a few examples from former students, who discuss the worst things a teacher could ever say to a growing kid.
U/f1rebird1523 asked: What's the worst thing a teacher has said/done to destroy your self-confidence?
It's insane how full-grown adults can get away with abusing children while getting paid to do it.​
Even the other kids knew this was messed up.
I watched this happen to my friend in 7th grade. It was social studies class and my friend was one of those students where the common core curriculum was horribly suited for the way he learned.
One day he asked me if he could borrow a red pen (the teacher was too lazy to grade the papers herself so she'd have us do it at the start of every class)
The teacher caught on to it and literally yelled to me "don't you dare give him that pen." And proceeded to chew him out saying that he was a sad excuse because he was too lazy to remember a simple pen, called him worthless, and told him that he'll go nowhere in life because he can't keep track of simple things.
She spent the first half of the class continuously belittling him to the point where students were asking her to stop. Despite the fact that half the class reported this terrible treatment, she was not punished.
Way to permanently damage a child.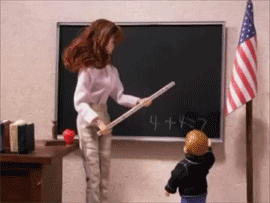 bad teacher fighting GIF
Giphy
I had a Dutch teacher that used to pick on me always. Once before a presentation she told me that no matter how good my presentation was she wasnt going to give me a grade higher than a 5. I ended up almost having a panic attack in front of the class, told her to go f*ck herself and stormed out of the classroom. Got a 4 eventually.
This is so unbelievably petty.
I was nominated for a place in the Gifted and Talented program at my school. I was 10 or 11, and had precious little that I was proud of, but I could write like nobody's business. I was nominated for writing and was promised that I would not be tested on mathematics (worst subject then and now).
The teacher giving me the exam had a beef with my mom, and presented me with the mathematics test. I told her that I'd been told I didn't need to take it. She said it wouldn't count, just to do it. I did.
I don't remember much else between that moment and sitting in front of the panel, between my parents, silently crying and trying not to make eye contact as I was told I'd done so wretchedly on the mathematics portion of the test, which I wasn't supposed to take, that they were considering pulling me back a grade, and that the nomination had been a horrible mistake and should never have been made in the first place because the Gifted and Talented program was for "students of an outstanding nature and SkepticLinguist just didn't meet our expectations in mathematics." Did I also mention that the teacher who gave me the test was on the panel?
Saw that teacher later on, and she always gave me the smuggest smile before she flounced away. I was kind to her, as that was really all I had going for me at the time, but that messed me up for years, and still keeps me awake at night some times.
Jokes on her, though, I'm a published author now.
​Sometimes these things happen in the high school and college world as well, and can be equally traumatic.
What happened to constructive criticism?
I'm an architecture student and in my design class we'd usually have a panel of guest professors to critique on our projects. In one of them a professor just outright said "your design is boring" and that was it, no other comments or suggestions for improvement. I think another panel member noticed and quickly added in a constructive comment to save it. But that moment still hit me and I've lost a lot of confidence in my designs since then.
Why would you assume that?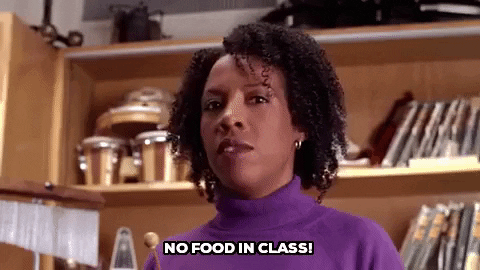 mean girls no food in class GIF
Giphy
When I was in high school I had this English teacher that was basically a washed up mean girl in her 50s.
She gave us an assignment about our goals and where we wanted to go after highschool. I wrote about my interest in music. She shot it down and told me that it would never happen, I would be lucky to get a job as a fast food shift worker.
I remember some other time I was casually talking to her and she asked where I lived for some reason. I described it to her and she got all confused, then asked me if if I lived in an actual house. She said she was surprised I lived in a house because she assumed I lived in an apartment or trailer or something.
This is a mess all around.
My mum would not allow a PC in the house, she saw them as the devils devices. (She's very old fashioned and a bit mad if I'm honest) She was convinced that no high school in the world could demand an essay written on a PC.
One of my teachers asked for an essay and said it needed to be written on a PC and printed out. I tried to convince my mum but she was having none of it. She told me to tell him we couldn't afford one. I straight up did not want to say that because it was a lie and I knew the teacher wouldn't buy it and I knew that regardless, I would be bullied for being poor. I was already being bullied pretty bad at the time due to not having expensive trainers and clothes, so I wanted to avoid adding to the list.
I wrote the essay by hand, in the best possible handwriting, stapled the pages in order like a little book and put it in a little plastic thingy. I did my best.
Teacher ripped it up in front of the whole class and threw it in the bin. He refused to beleive there was a household in the world that didn't own a computer and yelled at me for being a lazy little smart a**. He compared the essay (which he did not read) to a dish rag. The class actually went silent and the bullies actually eased up a bit which I did not expect.
I returned home miserable and angry, told mum what happened. She still refused to allow a PC but conned someone else's mum to let me use theirs. The last was so nice to me and I could tell she felt sorry for me. Mum called her up and said "we are too poor for a PC can my daughter use yours?"
IF WE COULDN'T AFFORD IT I would have been ok with it. But we could. We could have got a second hand ancient little thing with just Word on it. It was just lies and that still irritates the f*ck out of me. And I hate to think what that a**hole teacher put other students in not-so-great circumstances through. More than anything I hate that there are people walking around that thought it was ok to make someone's life miserable because they were (as far as they could tell) too poor to have nice things.
​But more than anything, middle school seems like the worst spot for kids getting bullied by teachers. Here are some of the worst cases.
That's the worst attempt at "motivating" I've ever seen.
Oof. Okay. Middle school seems to be universally bad for everyone but my older sister died the same year middle school started for me. Dealing with grief and undiagnosed ADHD + dyscalculia meant I was not a good student. People were decent that first year, but by the new school year and approximately 1-2 years after my sister's death I was being told by one of my teachers that I needed to be over it.
12-13 years old by then, struggling immensely and I can't adequately explain why doing things was hard for me so she just took the bad approach: I needed to stop using my sister's death as an excuse and get my grades up or else I was on the path to repeating 8th grade.
Other teachers were bad there too, with many of them using public humiliation against me having bad grades as an attempt to "motivate" me, but all it did instead was lead me to believe I was a failure.
That one teacher though hurt me so bad. I'm almost 31 now and I am realizing still how much shame I carry over my ADHD, the distrust I have for authority figures, and the fractured confidence I have that I'm capable of doing things. I work full time with a stable job, I have a boss I like working with, and I'm loved and married and have friends, but this still follows me.
That's not only bullying, but also sexist.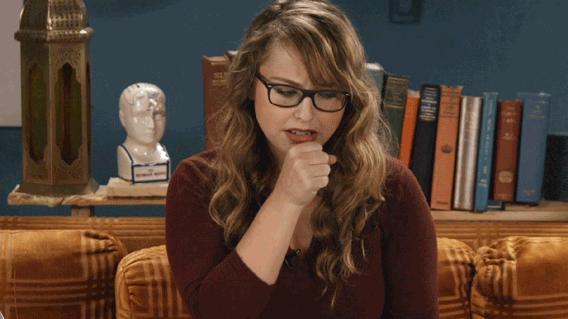 sexist laci green GIF
Giphy
I was doing poorly in school ~2006 because I was horrifically depressed. My 6th grade teacher took a special interest in "helping" since she knew my sisters so one time she made me stay after class and in a roundabout way accused me of being lazy and said "what will you do if your husband dies? how would you support yourself" and I burst into tears because all of my home issues stemmed from my dad dying from an aneurysm very suddenly the year before.
My grades started drifting even more after that so uh. Thanks Dr. Alexander.
That's gotta be hard to begin with.
I moved to Germany as a pre-teen, and I didn't speak the language at all upon arrival - had to learn it as I went.
In my second year here, my mother decided to put me in an all-German school. My language skills were still quite shaky, so it was quite difficult. German class was the hardest.
I had this teacher who took a disliking to me for being a foreigner. He would constantly pick on me, and make me repeat things, saying he couldn't understand what I was saying due to my accent.
The cherry on top was when we had an exam, and we had to write an essay on a book we had read in class. I had severely struggled with the book, as it was written in a Berlin dialect - at the time I was barely able to read normal German, let alone a book written in a very heavy dialect. My teacher failed me completely on the exam, saying that I had not understood the task and my spelling and grammar were atrocious. At the time, my mother had a colleague who was a German teacher. She looked over my exam after I had gotten it back and was surprised that he had failed me - I had by no means done brilliantly, but it was still worth a passing grade.
Needless to say, I was devastated and was convinced that my German is terrible and I was no good, and I would never be any good and I simply suck.
Even today I am still a little self-conscious when speaking German, especially in public settings. Which is quite unfortunate, considering that I'm an interpreter...
Why would a child lie about that?
I had a teacher in middle school who would pick on me constantly. One time in the sixth grade there was this math problem and it had this banking term I wasn't familiar with cause you know I was 11 and didn't go to the bank. So I tried to do the problem on context clues and got it wrong.
The next day when she collects the homework she told me how could I get such a simple problem wrong. I tell her I didn't know the meaning of one of the words. She says I'm lying and even if I didn't I should have asked my parents. I told her my parents are immigrants and only my dad can speak English fluently and that he was at work when I wading doing my homework. She says I'm lying again about my mom not knowing too. She berates me some more until I have tears in my eyes.
Overall, as a former elementary school teacher I am getting so angry reading about all of these stories. However, I am of firm belief that if teachers were paid a better wage, we wouldn't end up hiring these kinds of teachers, and see this kind of behavior happening.
Teachers, treat your kids better. They're just small people that don't understand everything yet.
Keep reading...
Show less
Think back to your K-12 days. You had A LOT of teachers in those 13 years.
Let's ball park it with some quick math. K-6 you probably had one main teacher, maybe a few more with "specials" like library or gym. That's 3 per year for 7 years, so 21.
So think back to the handful of teachers you remember from your time in school. There are probably a few mean ones, but plenty of great ones too.
What made them great? What was the moment you knew it?
Want to "know" more? Never miss another big, odd, funny, or heartbreaking moment again. Sign up for the Knowable newsletter here.
Keep reading...
Show less
Taking a written exam is like deliberately entering a fugue state.
Under beaming fluorescent lights, pen in hand, you flip the paper over and feast your eyes on on of the more stressful inanimate objects out there.
You blast through the questions and give the best answers possible. Hopefully you're prepared and the experience isn't pure panic and quickened breath.
But even if you did prepare it could still happen: you draw a blank.
You stare at a question and you haven't the faintest clue what to say. You stare for minutes, look around at the other poor saps also under the gun, and reread the question roughly 87 times in a row.
You have to write something, anything. And maybe, on the off chance, you'll guess right.
JXSTYLES asked, "What's the dumbest thing you wrote in a test that ended up being valid?"
Want to "know" more? Never miss another big, odd, funny, or heartbreaking moment again. Sign up for the Knowable newsletter here.
Keep reading...
Show less