Hearing people open up about their near-death experiences is fascinating and it can reignite a sense that life is precious and can be taken away from us at any given moment.
But while a renewed perspective on life after narrowly avoiding accidental death is affirming, nothing is more terrifying when considering those who've managed to avoid death when it was motivated.

Curious to hear from those who were lucky to survive violence at the hands of someone with an intent to kill, an anonymous Redditor asked:

"Murder attempt survivors, what happened?"
These Redditors experienced sharp pains after being sliced. They live to tell their story.
Ultimate Defender
"9 years ago, buddy got jumped at a house party. I jumped in to pull the guy off of him. Attacker ended up pulling out a knife and shanking me in the stomach before fleeing to a getaway vehicle."
"Police were called. Caught the guy. We were supposed to come into court to point at him and be like 'he did it' but the day before he pleaded guilty. No idea what happened to the guy after that or what his punishment was but he probably didn't learn anything from the situation."
"Me? I feel completely fine. Sometimes I forget that I even got stabbed. I feel a little uneasy whenever someone has a knife in their hand and its not dinner time, but that's about it as far as trauma goes."
– TheBadman9001

Disturbed Patient
"I was working as a support worker for people with mental and physical disabilities. My client had schizophrenia and BPD due to childhood and substance abuse."
"She stabbed me three times in the chest (once in the heart, penetrating my right ventricle and severing a major artery) after I advised her against a medication (nicotine gum). I almost died, doctors said that it was a miracle I survived, with a 3% survival rate due to the severity of my injuries."
"That only happened back in August this year, I'm still in recovery and I'm dealing with PTSD. She's completely ruined my life, and I'm now struggling with my identity and what I want to do in life."
– fridaskahlo

Targeting The Paramedic
"A pregnant drunk lady called an ambulance. I was working with a junior colleague but a female one. The patient said she thought she was in labour and was sat on the floor legs open knees bent with a blanket over her lower part. There was a small table next to her, glass top wooden coffee table thing. My colleague asked to examine her and for some reason she got angry and insisted I examine her not my female colleague. After a bit of back and forth I knelt down and went to lift the blanket to have a look when there was a sudden crash. My colleague had put her foot through the glass table and was standing on the patients hand which had a huge knife in it. Turns out she wanted to stab a paramedic and when we turned up she chose me. My colleague saw it just in time and saved my life."
"Patient had already had several children who were in care and had foetal alcohol syndrome. I was asked for a statement when the next one was born and they were also taken in to care."
"She got away with the premeditated attempted murder on grounds of mental health."
– AsleepPipe371

Parents are supposed to raise you, not kill you.
Going For A Spin
"I was 17 at the time. I was wicked sick one weekend and my mother decided I needed to go to the hospital. She had been drinking all day, as she was a terrible alcoholic. It turned out that I had strep throat. So they're typing out my discharge paperwork and my mother approached the desk where the nurse was sitting. Clearly stinking of alcohol, the nurse told my mother that she wouldn't be allowed to drive me home because she was clearly intoxicated. This sent my mother into a drunken rage, swearing and threatening the nurse. Who told her if she left the police would be called. My mother grabbed me and hurries me into the car. I start yelling at her about how irresponsible she is and how she is ruining her life with alcohol. This pisses her off even more. We only live less than a mile away but my mother has taken a different route than normal, when I ask why she just says it's the long way and she doesn't want to get caught. As we're traveling down this dark, Maine back road she begins speeding like crazy. We were doing at least 90 mph when she looks over at me with a blank face and says I'm sorry. She then pulled the E brake and cut the wheel sending us flying off the road."
"The next thing I remember is sitting in the front seat of a pickup truck with an EMT shining a flashlight in my eyes along who the president was. I responded that Bill Clinton was the president (2000). Apparently she had crashed us into a huge rock at the end of someone's property, directly on my side of the car. Apparently I crawled over her and staggered to the door of the property to ask for help. They put us in different ambulance and we headed back to the hospital we just left. Upon arrival, the nurse my mother fought with said 'I knew you'd be back'. My mother in a drunken semi conscious state kept saying I'm sorry I tried to kill you, I love you, over and over. She suffered several broken ribs, a broken collar bone, broken nose and cracked vertebrae. I had a concussion and some cuts on my face from the door window basically exploding on impact with the rock. She was sentenced to some alcohol program through the courts and some community service. She suffered severe depression and six months after this she took her own life in another car accident. She actually asked me if I wanted to go for a ride with her that night and I told her no, I'll see you when you get home. That was the last thing I ever said to her."
– Sentient_DMT_Crystal

Violence At Home
"my mum was incredibly abusive. on one occasion, I was around 12 and she came into my room while I was sleeping and stabbed me in the chest with a kitchen knife, puncturing my lung (I didn't know this at the time). obviously this woke me up and I just rolled out of bed and ran around the house screaming. someone on our road noticed the noise and called the police. just before the police arrived, she started choking me and I lost consciousness. I later woke up in the hospital and (mostly) recovered. she's now in jail. this is not the only time that she tried, but it was the most dramatic and came the closest to actually killing me."
– 1BUK1-M10D4

Don't Do Drugs
"I was 15 and my dad plotted to murder me. My dad had only been back around for a few months after being homeless for a while due to his 20+ year meth addiction. He had never been violent towards me before, but I later found out he had tried to kill my mother just months prior and she brushed it off as him having a PTSD episode."
"I came home from school, he surprise attacked me by suffocating me with a pillow/strangling.
"I ended up being able to get up and run to the bathroom- the only room in our house with a lock. He grabbed the door but I found a sharp object in the bathroom and told him to back up or I'd kill him. I somehow was able to shove the door shut and lock it. He tried to get in the bathroom but couldn't."
"He actually said 'I'm leaving!' and open/closed the front door to try and lure me out. It was quiet for a while but then I heard him breathing outside the door. He eventually left after a few hours, taking my money I had hidden in my bedroom, and called a relative telling them I'd been in a terrible accident and he needed a ride to the hospital. He ended up running when dropped off and was missing for a year. Most terrifying year of my life."
"His body was found by a fisherman at his favorite lake growing up. They found high levels of meth in his system."
"Later, when investigating the home I was attacked in, they found hammers/duct tape/knives under my mom's mattress and looked like he very much so intended to kill me."
"Edit: Thank you everyone for the kind words. Certainly the craziest life experience I ever hope to have and therapy was a long journey. The craziest part of it all was that my dad from childhood was still there simultaneously with the horrid attacker. He cried outside the door for a while telling me he was so sorry and I wouldn't ever see him again, but would switch to trying to lure me out and being aggressive. There were many moments I could hear the duality of who he was. The murderous cracked out crazy person and someone who was regretful and really sad inside. Idk- just thought that was an interesting thing to add for context. It's not always just so cut and dry between a crazy/bad person and a good/normal person I've learned."
– livinlavidaanxious

Gun violence survivors share their harrowing stories.
Obsessed
"Not me but my friend's mom. A coworker of hers was stalking her, obsessed. Convinced he was in love with her and nobody else deserved her, that kind of thing. Eventually he came to their office with a revolver."
"She was bending down to put files away, or something similar. He quickly approached her from behind and shot her in the back before immediately shooting himself in the head. She survived obviously, though the wounds were significant. Incredibly fortunate she wasn't hit in the spine or major organs."
"I often wonder how different it would have played out if she had been standing, or facing him. More than likely she would be dead."
"This was before my friend was born, and his mom made a mostly full recovery. Still has chronic pain and PTSD, but she can walk and has a job. Not reclusive or unfriendly to strangers. Terrified of guns, of course, but that seems fair. Both my friend and her are extremely lucky."
– Cutter9792

Never Welcome Strangers
"At the beginning of October my husband was trying to buy a PS5 on letgo. He wanted to make sure it actually worked so he gave the guy our address. I told him a dozen times that he was going to get robbed. He still had the kid come over."
"As soon as he got there he pulled a gun, grabbed the cash and shot twice. One hit my husband in the abdomen. The second went through the stairs behind him and traveled 30-40 feet to the kitchen."
"I heard the commotion and ran downstairs and chased him away from the house. We got to the front gate and he pulled his gun again and shot at me. He missed my head by less than 2 inches."
"He was caught and is being charged as an adult (16) for 2 counts of attempted murder and a variety of other charges."
– jmrobins00

Fortunately, these examples are of people who were extremely lucky to share their stories after a near-death experience since not everyone is able to escape their fate.
But just because one managed to avoid having their life taken from them, it doesn't mean it gets easier in the aftermath.
The lingering PTSD can be unbearable to live with, and anything can be a trigger that brings survivors back to a scary incident.
We never truly know of the trauma or horrific history of anyone around us.
With that in mind, remember that kindness in general goes a long way.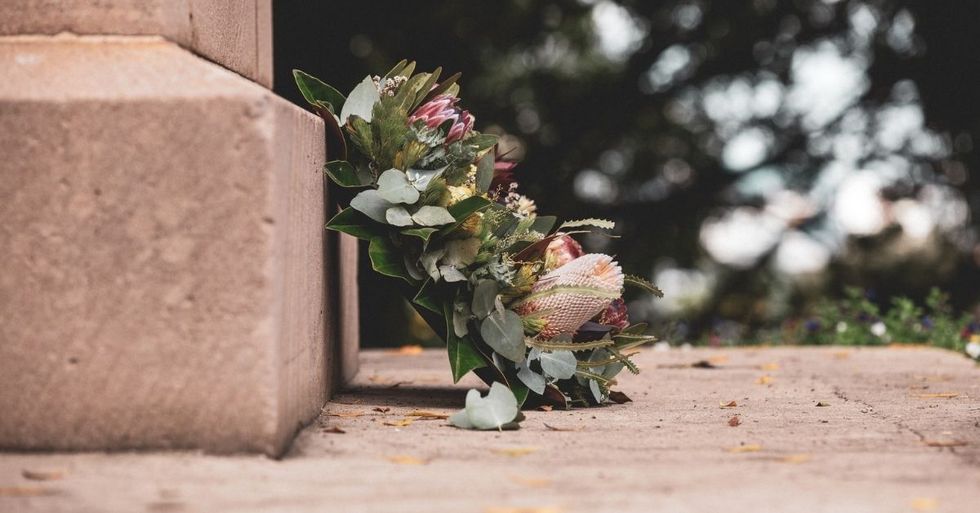 Tradition is important. And grief is equally important. Both never go away. Sometimes you have to find a perfect union for both. And others may not understand. Case in point… Redditor throwaway_4746749 wanted to discuss their story for some feedback. So naturally they came to visit the "Am I The A**hole" (AITA) subReddit. They asked: […]
More
Stalkers are a special kind of scary.
That is just a cold, hard fact of life that we must deal with.
And for some reason, these people get fixated on others.
They think they're in love... meanwhile we're calling the police and moving cities.
There is nothing more horrifying than having your life held hostage by someone.
Redditorrentinghappinesswanted to see who would be willing to discuss what it took to live through this scary life experience. They asked:
"People who have had a stalker, how did you realize you were being stalked and what ended up happening?"
I was had an ex who wouldn't take the hint. Keep my phone blowing up for months. I'm lucky though, finally they gave up. Others haven't been as fortunate.
"this is not goodbye"
"It was my ex. When we broke up it was all very dramatic and he got on a bus across the country the same day for whatever reason and sent a long message from the bus ending with 'this is not goodbye' I said 'yes it is, good luck.' Two years later I met my now husband and I suppose he moved back after 3 years. I started seeing him everywhere."
"He followed the two of us around Walmart for 45 minutes until I just posted up near a security guard and slipped out as he tried to wait for me to get away from the security guard. Then I saw him wandering around near my mother's house, but I had at that point moved in with my husband."
"Then I saw him outside of my work. He was clearly trying to get the courage to come in and he was also very clearly high. Some of the regular police officers came in by chance for their coffee and he left when they arrived. Then he figured out the general location where I was living and I saw him sort of wandering around a few times. I didn't go home when I saw him, I went and sat in a public place for a few hours."
"Then I changed places of work and I saw him outside about three times. I was near a major transportation hub so I tried to ignore it. But when he started doing the pacing/tweaking/chain smoking thing again I figured I oughta do something so I waited for a family friend I knew would be in who was pretty domineering and I knew would go to bat for me and let him know who it was and what he was doing."
"He went outside and told my ex off I suppose. And scared him I guess cause he left quite quickly. My family friend was a bus driver so I gave him a picture and he shared it with some drivers along my regular route and as long as I stuck to that route the few more times I saw him trying to get on my bus we drove right past him or the wrong door opened to let people off and not let him on."
"We finally moved again and I quit my job because I had been bouncing around the same chain and was easy to find. Since then I have seen him once but he didn't see me and I think it was unrelated because he actually bought something. I just sat in the camera room and watched till he left. It's been an additional 5 years now so I assume he has figured himself out."
"I got an air of doom every time I saw him. He was kind when we dated, never abusive. But he was anti drugs and anti smoking and so seeing him high and things like that set off alarm bells. I know he was not well when he returned. I don't know what would have happened had he gotten close to me. Maybe nothing. But every bone in my body was screaming danger. So I trusted my gut and took steps to maintain distance and I was okay. The police wouldn't have done anything. No threats were uttered and we were always in public. But all in all it turned out ok."
rkspm
Why are you up so late?
"I had a stalker in high school, and he didn't make it a secret."
"We were friends at first, kind of talking romantically, but I was very shy when it came to relationships or being physical. We had never even kissed before when he asked if he could send a song he wrote about me. It made me very uncomfortable and I asked him not to send it, but he did anyway. I expressed my discomfort and tried to continue the friendship, but it was just not working because he would still write me poems and send me weird songs."
"He started following me to my classes even though his were on the other side of school, but he wouldn't speak to me at all. It was insanely uncomfortable. This continued for weeks. He started sending me mean messages anonymously online and sending me songs with scary titles. He sent me that Smith's song The More You Ignore Me, The Closer I Get every single day, sometimes multiple times."
"Then one day at lunch he gave me a hand written poem and, I can't remember what all it said but the end was something about how he wanted to watch me get eaten alive by sharks. While friends, I had told him sharks were my biggest fear. I showed my teacher the poem and she freaked out and took it to the guidance counselor. She knew all the previous incidents so the letter made her worried. Especially how his handwriting changed when he was writing about me dying."
"I ended up getting called into a meeting with the principal, a guidance counselor, and the teacher I told. They even called my mom in and we all sat down and talked about what would be the best thing to do. The principal was really nervous he would do something crazy, so he said I should just avoid him as much as possible and be polite anytime we may interact. Basically how I was already handling it."
"I'm not sure if they ever spoke to him about it, but the last interaction I had with him still creeps me out to think about. I was up very late, and received a text from him, 'Why are you up so late? You should get ready for bed.' He had been to my place once before and I lived very close to the school. I'll always wonder if he was outside my house that night."
rat-kabob
I may be paranoid...
"It started while I was still in high school, he would be in a few of my classes and we would occasionally see each other around town (a very small, rural town). It slowly turned into him showing up at some of my friend group's hangout spots and saying that I had inspired him to start looking into similar hobbies. We thought it was kinda weird but just brushed it off and avoided him."
"Flash forward a couple weeks into the start of summer vacation. He had found or followed me to all of my favorite places and my work even though both were sometimes towns over from our own. I would see his car at parks where I did outdoor painting, at my place of work as well as at friends' houses, and he would drive passed the house of the family I nannied for during my days on."
"I thought it was creepy and told local authorities, but they told me not to worry. This went on for the rest of high school and up until graduation. I didn't tell anyone what university I was going to and lied claiming it was one hours away from mine. He was accepted and attended there while I left for another. He found out after a semester that I wasn't there and showed up at my dorm hall."
"He tried to break in and convince me and other people in the building to just let him in. I hid out in another girl's room until my friend was able to pick me up and take me to her boyfriend's off-campus apartment. I found out he was arrested the next morning for assaulting an RA. I called and showed them the evidence I had for his persistent stalking and finally filed a restraining order."
"He just got released a few months ago and I have never been more nervous. I'm just happy my current job and living area has amazing security and they all have pictures and his information to be safe. I may be paranoid, but better safe than end up on a true-crime podcast."
MalkiaBahari
From Church!
"He followed me home from church! He left long letters on my car every night for about a week. He was a lot older than me. The police spoke with him and he left town. I know how lucky I am that it was so simple. It was a small college town. I only know what the police told me, which was that they located him through the letters and the description of his car, found out he was not a resident, and told him there would be charges if he didn't move on."
"I realized he had followed me home the first day, so I parked at a different house and even walked into the back yard to try to throw him off. I didn't have a garage so when he came back to the neighborhood it wasn't hard for him to see my car and he started leaving the letters."
ExxoMountain
leave her alone...
"My wife did, it became a real problem. He was a maintenance man at the school where she taught. She was throwing out a lot of old, damaged books, he asked if could have them for his kids, of course. After that he wanted to always be there, wherever my wife was, he was always sweeping or cleaning near her room."
"Then one day in the winter, my wife got a flat right after leaving school, it was getting dark and her new best friend is there to fix it. While changing the tire, he started asking sexual questions, he wanted to know if she ever had a black man. Of course she said nothing."
"It got worse and the school administration was ignoring it, I was now going way out of my way to take her and to pick her up from school, she was scared. Then he said something to her while she was eating in the cafeteria, she lost it, she just started screaming and crying for him to leave her alone."
"They sent her home for a few days paid leave. Since the school was no help I went to see 2 school board members I knew, but not well. I told them that I had hired an attorney and would be suing the school district unless my wife felt safe. They moved the custodian to another school, but it took months before my wife felt safe. The custodian got in trouble at the next school and was arrested. We never heard from him again."
Disposable70
Well that is a mess of scary. How are people allowed to act out like this?
"you again?"
"I have a weird kind of related story… there is a man in my town that for the last 15 years I see him constantly, almost everywhere I go he's there, at least 3 times a month… the grocery store, the corner store, the gas station, Walmart, the liquor store… occasionally we catch each other's eye and look at each other like 'you again?' and kinda laugh it off."
"It has come to be a little bit of a joke where I will come home and tell my husband 'guess who I saw at the store today?' The only catch, he's always at these places first!!! so it's ME who looks like the stalker!"
Pinkiepie1111
Freaky
"I worked as a secretary at an adult school when I was 18. An adult student kept bothering me taking pictures of me outside the office etc... I quit that job and got him banned from the school. Fast forward 3 years later I'm in a relationship 6 months pregnant and I'm working at a drs office."
"A police officer shows up and tells me I've had a private investigator on me for a few weeks but he reported his client to the police because his client said he was my husband but the PI after following me for a few weeks figured out he wasn't and was stalking me. He went to jail for a few days never heard from him again it's been 19 yrs... freaky a** crap."
lola2203
Crazy
"He wasn't subtle about it. He threatened me by phone and email, followed a moving truck to my new apartment, ignored police instructions to stop contacting me multiple times, then contacted me through other people, showed up in random places in my new city."
"It only stopped after he got arrested for assault (on someone else) and ultimately moved to a different city, where he was again arrested for assault. That last part I only know because I was regularly looking him up on court records to see if he was free."
TerrifyinglyAlive
Be careful out there. Stay aware of the people around you.
Want to "know" more?
Sign up for the Knowable newsletter here.
Never miss another big, odd, funny or heartbreaking moment again.

Content warning: suicide.

Cherish every moment.
That is a saying we just keep taking for granted.
Another second is never promised.
Sometimes we check ourselves when the death of the young happens.

The unfairness of it all is almost too much to handle.
Let's share some stories.
And maybe learn to appreciate life a little more.
Redditordeadmoby5wanted to see who would be willing to share about the not-so-great days in school. They asked:
"Has anyone ever died at your school/college/university? What happened to them?"
Death is inevitable, but it's intended to be much later in life.These stories are so sad.
Fallen
"Yes, in front of the whole school. I was maybe 10 yo or younger. The girl was 6 or 7. Everybody was gathering for the national anthem. She just fell on the floor dead. I think it was something on her brain, I'm not sure."
Fun_Computer_8401
"Probably a brain aneurysm."
dndaresilly
Very messed up...
"Someone jumped in front of a train. He had a horrible home situation where his dad died and the mom was on the verge of dying. He was really close with the teachers so they were crying all the time. Very messed up. My mom had a friend that got driven over by a truck. They were waiting for the light and this truck backed up with them in the blindspot. My mom doesn't like trucks anymore."
onixdog
broken cable...
"A guy I know was working on a dredge when a cable broke, cut the top of his head off and his brain popped in the water just before him. It took 4 days to find his body."
"P.S. always wear a hard hat when in a construction site."
WokeUp2
"Hard hat might not have saved him. I have seen countless pics of fatalities from motorcycle accidents where the helmet just prevented brain spillage. The brain still came out of the skull."
Nairbfs79
'tripped'
"When I was a sophomore in high school a girl who I only slightly knew dropped dead during a soccer game. While I wasn't in attendance I knew a few who were. She was on the team and running when she 'tripped' with a hard fall. She didn't move at all or try to pick herself up so the ref, coach and medics came to her aid."
"She was stone cold dead, her parents weren't at the game as she was a junior and had her own car. I can only imagine that phone call. We learned later that she had a brain aneurysm and was likely dead before she hit the ground. She was a very promising student, in a lot of clubs and very friendly. It's crazy to think at any point that can happen to anyone."
GellertsEyes
Behind the Wheel
"A senior girl died in a car accident my freshman year, fell asleep behind the wheel. The school made it a whole thing. A friend of mine died in car accident (he had a heart attack while driving) our junior year and he got ignored."
carmelacorleone
Well this is a lot to take in. So young. So much sadness.
Oh Lord
"My class administrator of my electrician course. It was a TIFU because when I entered class, everyone looked very sad."
"I asked 'Gee, who died?'"
"The answer was 'Mr. CA.'"
"My answer was 'F***, I was only kidding.'"
Khaos_Gorvin
babies
"A set of twin boys died from leukemia. I was probably about 8 when the first one passed and then 10. Idk what specific one it was because I was young myself."
fauxfomo
"I remember we had a set of identical twins at my school they were teenagers girls and both had leukaemia as well, both died in the same year. It was really really sad for our community."
Any-Difficulty-8694
Not Sure
"In my elementary school this girl died in first grade and I don't actually know what happened but there are two memorials for her: one is three trees, two benches, and two places to play chess that no one uses to play chess, and a statue of her old dog. Yeah, idk either."
"There was another girl who was my best friend at the time who died when she was in first grade and she died by falling off a tree and cracking her head open. She was put under a medically induced coma and never woke up. She didn't get a memorial."
unicornGenocide12334
Lies?
"Our teacher always told us that a girl fell and got run over by other students while a fire drill happened. We never figured out if she was lying or not but she looked a little bit too serious for my taste."
thatwasmyfoota**hole
Wild Days
"My school was wild. None legit in school but in general. Someone my age died in... kindergarten? Idk who they were but a seat was left open at graduation for her. In high school someone a year younger had cancer. Someone in my grade committed suicide over the summer. Some guy was chopped up by a boat (idk boat parts but it was the back thing). A dad went crazy with his wife and middle school daughter."
"Then every year in high school we had a safety week for the last week of school and one major part was a girl who was killed by a drunk driver in 2012 when I was 12. Since I graduated in 2018 I think there's been 3 or 4 deaths of people I knew and 1 or 2 current students."
ItsNowDaisy
This was back in 1998...
"This girl who was my friend in my primary school (In UK ages 5 - 11) class died one weekend when she went to the local fairground. The roller-coaster she went on had a faulty safety bar. Going round the track it came loose and she fell out. This was back in 1998. She was only 8 years old."
"I actually happened to accidentally visit her grave in my home village where the school is located just the other week. (we were taking a walk as it was a lovely day and came upon the graveyard) so I went and said hello. Was quite emotional as I had my 2 year old daughter with me."
ZPM89
One Weekend
"A PhD student in our department went water skiing one weekend. The tether he was on became tangled, and he was pulled under the boat, where he drowned. I'll admit, I didn't know this guy particularly well, so I didn't feel overly sad from this, but it was still a shocker."
"It was also strange seeing everyone with whom you work, including professors, suddenly switch from being professional to being upset. I honestly didn't know how to respond to it."
deadmoby5
Everyime
"A girl in my high school committed accidental suicide. Sort of. Every time her bf broke up with her she overdosed and told him she was trying to kill herself, and every time he called an ambulance and got back with her. But the last time they broke up he told her he was actually done and not to do anything stupid because he wasn't going to answer his phone."
"And he shut his phone off, and the next day he found out she overdosed. She had texted him after she took the pills like she always did but his phone had been off and he didn't get the text. Her family blamed him and put him through hell."
TRANSparent-Ink
first year of university...
"When I was in my first year of university, a kid committed suicide in his room in the student dorms. He was at a party with his friend and left saying 'I'm away guys, I'll see you all later' (or something to that effect) and no one knew what he meant. In the same year, a kid I went to school with when I was a bit younger died after some internal bleeding in his head."
"He had walked into a shop when there was an armed robbery happening, got his nose broke when the guy hit his face with the handle of the gun. He avoided going to hospital because he didn't want to be put on painkillers since he was preparing to go to the navy. The nose break caused bleeding from the brain and he died alone in his flat a few days later."
Cyanide_Revolver
"going places"
"There was a guy I went to school with who was very bright, funny, and was one of the ones you could tell was really 'going places.' We spent an afternoon chatting in an abandoned auditorium once and he was just a nice guy. Had an aneurism and now needs constant care and is severely mentally disabled. Just out of nowhere. He was healthy. Terrifying."
sylvanwhisper
Tragic
"I'm a senior in HS right now, and every school year (without fail) at least one of the our teachers will commit suicide. Every year. None of us know the reasoning behind any of their passings, for the most part. One of the teachers that committed suicide was an AP World History/European history teacher who was exposed (for lack of a better word) as being a pedophile."
"And having inappropriate relationships with students. The same day everyone found out about the investigation is the same day it's reported that he committed suicide. But, other than that, we don't know why our teachers keep killing themselves. It is very tragic."
kai-lan
Falling Back
"A girl at my high school. She was ripped apart and eaten by dogs. She went round to a friends house, which was a proper council estate death trap. Her friend wasn't in so she decided to let herself in and go sit in the garden. She was eating a pie at the time and her friends 5 dangerous dogs were in the garden."
"One of them jumped to get the pie out of her hand, knocking her over in the process. Once she fell on the ground pack instinct kicked in and they all dived on her and ripped her throat out. The neighbors were the first to see the remains and call the police. The dogs were all shot on sight."
dave-505
In the Trunk
"This kid I knew in high school was murdered by his girlfriend's ex boyfriend. He beat him, put him in a trunk and drove him to a cave, he then pointed a gun at him and told him he would kill him unless he swore to never see her again. This guy, was much older maybe 21 and the kid was only 15, the girl, 14."
"He ended up killing him and then killing himself. The 15 year old boy lived just long enough to say what happened. So, he didn't die AT the school, but he was beat up and put in the trunk at the school."
AccomplishedAd6025
Head first...
"Yeah. Um- This kid- middle school- we had a two story middle school which the second story was a inside balcony if you could call it… Group of boys went Up to him and cornered him and told him to jump. They even went as far as giving him a lift. I guess the poor boys hand slipped and he fell over. Head first. At least 40 feet. There was a crack in the tile downstairs where he landed. May him and his beautiful soul rest. God bless that boy and his family."
Altenalo
DOA
"Girl living in a house off-campus was shot by police, who were responding to an armed break in at that same house. I almost lived in that house, but chose a different one up the street. My house too was robbed at gun point, though the perps got away before police arrived."
Mitch_from_Boston
That is a lot of tragedy. I'm sorry for everyone's loss.
If you or someone you know is struggling, you can contact the National Suicide Prevention Lifeline at 1-800-273-TALK (8255).
To find help outside the United States, the International Association for Suicide Prevention has resources available at https://www.iasp.info/resources/Crisis_Centres/
Want to "know" more?
Sign up for the Knowable newsletter here.
Never miss another big, odd, funny or heartbreaking moment again.

Life is not guaranteed. Every second is fleeting and could be your last! Feel better about the state of the world? I do.
I'm not here to coddle you, I'm here for truth kids. Danger abounds like mosquitoes in summer. But... there is hope.
We can survive. Everyday we all face insurmountable, life threatening situations, just by crossing the street, or going to Starbucks. And in some instances we survive actual near tragedy.
Who hasn't heard the tales of people walking away from the jaws of life with barely a scratch scratch? It can happen, but often it's rare. So let's discuss them.
Redditoru/CrownedBirdwanted to hear about some major miracles by asking:
What moment made you say "Yep, I'm definitely dead", but survived with no major injuries?
When I was in college my friends and I were constantly out galavanting, and of course, liquor was involved. One night on the way home from the most fabulous club I thought it was a great idea I drive because... wait for it... "I was the least drunk!" Perfect reasoning right?
Without a Scratch...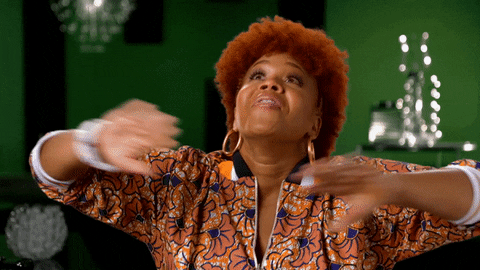 thank god singing GIF by WE tv
Giphy
"I survived a car crash that wrecked my car."
"Rolled twice, landed upside down, learned the hard way that I didn't have airbags (or at least they didn't deploy). Did have my seatbelt on though, that probably saved me. Paramedic said he hadn't seen a wreckage like that and have it end well. Not even a hairline fracture."
200 Stitches
"Not me, but my mom before I was born. She was riding in a convertible with a friend of hers. They came to an intersection and the friend wasn't paying attention and lost control of the vehicle. There was a big rig going through the intersection and they went right under the trailer. My mom ducked, the driver didn't not."
"Driver was decapitated, my mom was lucky and only ended up with a scalp full of glass and some serious psychological trauma. She had to get over 200 stitches in her scalp But nothing else significant. I think about it all the time and think how close I came to never being born at all."
- Laszerus
"dude let's climb it!"
"I had an idiot friend and we were hiking. We got to this waterfall and he goes "dude let's climb it!" I said no freaking way. He says "well I'm gonna do it and if I fall and die it's on you for not coming." So I climbed it with him. Got stuck halfway up on a slick a** rock. Pinched a nerve in my shoulder, so my right arm was useless. I thought I was certain to slip off the rock to my doom, but we managed to get me unstuck. That was the beginning of the end for that friendship."
Point Break
"I went out for a surf on a stormy day and thought to myself, "no one else is out, those idiots." Before being held down by 2 waves after eating it on the first wave of the set. First wave of the session. Was thrown down and held under and while being tossed around my leg rope wrapped around both my legs and one of my arms so I was probably being held at around 5ft under with only one arm free while my board tombstoned (board tip is barely visible at the surface but floats vertical like...a tombstone)."
"Finally managed to catch a breath between sets before taking another 3 or 4 on the head and for sure just thought... well this is it. No ones out, fishermen will find my body or my board. Managed to get my other arm free and got to shore very quickly and then avoided the ocean for a few days even though the waves were absolutely perfect. There's a reason no one was out, everyone else was 10 minutes down the road at another beach where the waves were smaller and cleaner."
Both Sides Now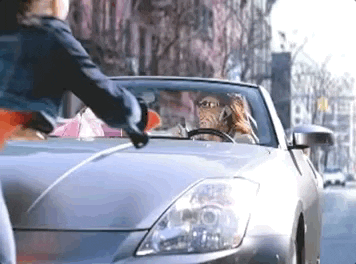 Giphy
"Tire popped going over a two lane road with steep drops on both sides."
"My car jerked to the side hard, and my car went sideways. Half my car hung over the side and luckily it's low so it bottomed out. I climbed into the back seat and jumped out the back door. Some dude in a truck pulled me out and I drove on a flat to the other side and swapped my tire out."
That all sounds about right...
And so when my besties and I were driving along the road we got lost in conversation, about boys. Like you do when you're blitzed and should be paying attention to the road, like many others...
Jump!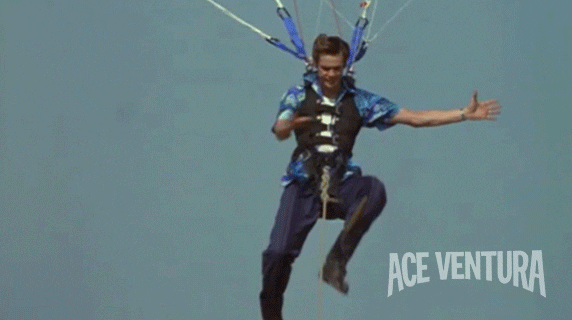 jim carrey falling GIF
Giphy
"Parachute deployed but failed to open. That was one of those moments, then training kicked in. Cut away failed chute, deploy secondary. But for a brief moment life was about to be over in my mind."
Games
"When I was a kid I was playing hide and seek with my siblings and I got the brilliant idea to hide in the trunk of the car. I meant to leave the trunk barely open so that it didn't latch but accidentally closed it too far and it latched. Mind you this was before they put handles in cars to open trunks from the inside so I was legitimately stuck."
"It was almost completely dark so I started seriously freaking out and I thought I was going to die, so I started yelling for help as loud as I could and was kicking at the back seat thinking maybe I could break the latch that keeps the seat from folding."
"I was probably only in there for about 5 minutes before someone heard me and let me out but it felt like an eternity. To this day I firmly believe it was because of this incident that I developed some minor claustrophobia. I still have serious fears about being in small, cramped and dark areas."
A Terrible Choice
"I was driving down a highway, doing 65 MPH, and suddenly my car started to shake. I tapped the brakes in reflex and my entire car flipped 180 degrees. I'm now facing oncoming traffic, including a semi truck. I was so close I couldn't see the driver compartment."
"I screamed and jerked the wheel, bringing me in front of a sedan with two people screaming as they watched me appear out of nowhere. I kept screaming and floored the gas pedal. Made it to the side of the road and cried for a long time. I had blown a rear tire. Hitting the brakes was a terrible terrible choice."
At least 90...
"I was driving home from college on one of those highways with only one lane in either direction and no shoulder. A guy in the oncoming lane didn't see me as I was in a small car. He thought he could pass 4 18 wheelers in one go and pulled into my lane going at least 90. There was no where for me to go. He flew off into the ditch to avoid hitting me head on, likely did severe damage to his car, but I lived!"
On the Gauley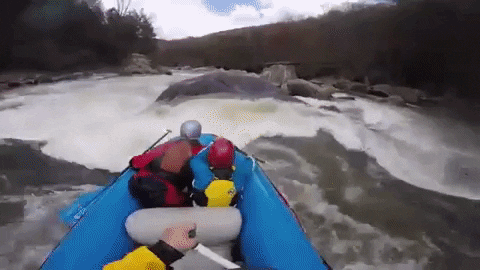 Rafting Raft GIF by Kern River Outfitters
Giphy
"Went white water rafting on the Gauley river and my raft flipped on pillow rock (one of the most famous class v rapids). Scariest moment of my life but, other than unexpectedly swallowing some water and almost vomiting, I came out completely unharmed."
See... everybody needs to pay attention more. That's the lesson.
Just like my friends and I. When we were not paying attention, and in all of our drunken glory, we hit the medium and flew across lanes. We plowed into a fence and did two... TWO 360 turns. We thought we were dead! We literally flew! But we all lived. And what I remember most is my friend Kate screaming... "TELL MY MOTHER I LOVED HER!!"
Be better people!
Want to "know" more? Never miss another big, odd, funny, or heartbreaking moment again. Sign up for the Knowable newsletter here.